The Sound Science of Hustle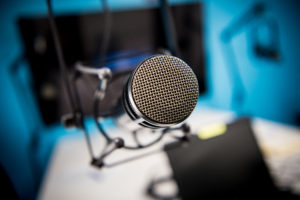 Whether it's on your commute, at home, or on a break during the work day, you've probably listened to a podcast. Podcasting has become a very popular media outlet over the last few years – so much so, in fact, that according to industry source The Podcast Host, 51% of people in the U.S. have listened to at least one podcast.
That's a 23% increase from 10 years ago.
In 2018, there were 550,000 active podcasts out in the world. Now that number has nearly doubled in just two years. As of January 2020, there are over 30 million podcast episodes available, which translates to millions of hours of consumable audio content.
At memoryBlue, we believe our alumni have invaluable lessons and tricks that every salesperson could benefit from. Because of that, we've always involved them in efforts to educate our current sales pros through a variety of ways.
From featuring alumni guests at in-person fireside chats to hosting annual Alumni of the Year awards programs and all-hands Town Halls, tapping these beacons of sales knowledge and experience is a priority here.
This led us to ask the following question: Why not combine these two powerful elements and use podcasting to share their expert sales knowledge and career advice with a broader audience?
Just like that, the Tech Sales is for Hustlers podcast was born.
What Can You Learn from Tech Sales is for Hustlers?
The memoryBlue podcast aims to create tangible value for current employees, alumni, sales professionals and any individual that might want to launch a tech sales career. Tech Sales is for Hustlers is made by our community and for our community.
The format is simple, too. Company Cofounders Marc Gonyea and Chris Corcoran welcome a new guest each week into the memoryBlue studios. These guests speak candidly about their professional journeys. Along the way, we uncover the untold stories, the secrets of success and the winding pathways that have led to their big-time tech sales careers.
The SDR job is hard. It can be extremely frustrating, and at times you may not be able to see the light at the end of the tunnel. All memoryBlue alumni have been there and gone through the same training, experienced the same challenges, and encountered just about every situation in the sales playbook.
As a result, alumni have accrued knowledge that is extremely valuable when distilled down into countless tips, lessons learned, career advice and more than a few humorous stories. We are sure every listener can learn a thing or two from these highly successful sales pros.
While sales is not a linear career path, memoryBlue alumni consistently show a clear path to success. In a comprehensive alumni survey, we found concrete proof of this reality. Statistics showed that 60% of our alumni earn over $100,000 less than three years after leaving the firm. 70% crack the $150,000 level just five years later. And a whopping 64% earned better than $250,000 10 years after departure.
These high-achieving individuals know exactly what it takes to thrive in professional sales and grow into critical sales leadership positions.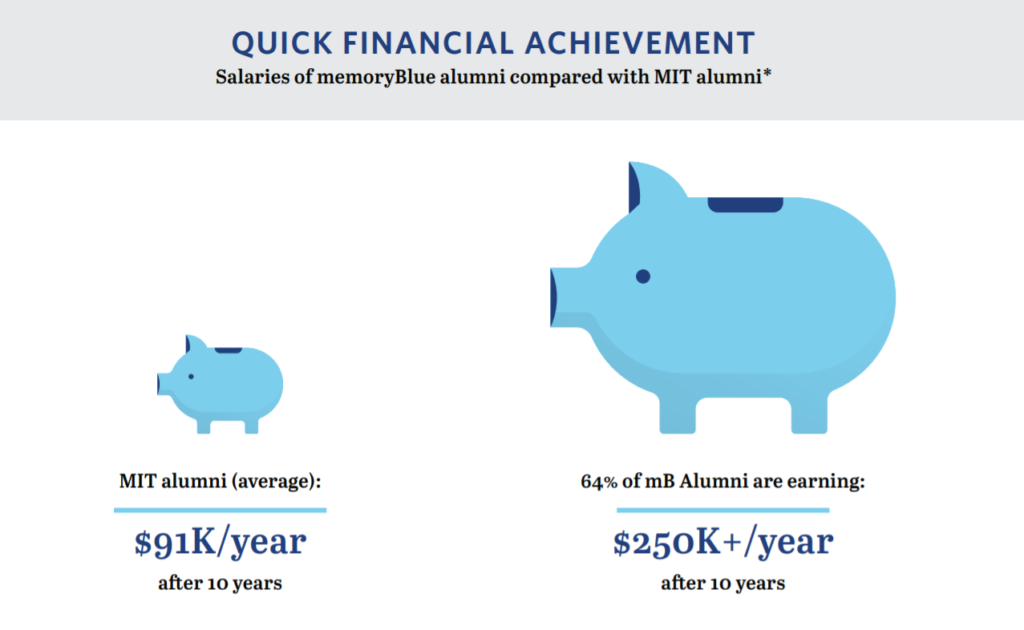 The Origin of the Alumni Network
memoryBlue started as a result of the tremendous gap in the way aspiring sales professionals could get their careers launched. Successful SDRs departed the SDR position very quickly, leaving a gap for the companies that still needed those vital services. Making matters worse, struggling SDRs were often under-trained or not trained at all with the sales skills that they needed to succeed.
These two parallel issues created pain for high-tech companies looking to grow fast, as well as a barrier to entry for individuals looking to crack into the high-tech sales world.
The big turnover rates in tech sales were a problem. But instead of fighting that massive uphill battle, memoryBlue pivoted to embrace it early on – which is how our alumni network was born.
Instead of pushing away companies looking to snatch up great sales talent, we added it to our business model. A client is absolutely encouraged to hire out our SDRs if it fits their business plan. A memoryBlue alum is someone who launches their sales career with us as an SDR, and follows one of the following paths:
They get hired out by a client.
They complete a "Tour of Duty" with us (typically a 15-month contract period).
They earn an internal promotion (we call this getting elevated) onto another team within the firm (Sales, Talent, Client Delivery, etc).
Through blood, sweat, and good old fashion sheer determination, these hustlers earn the distinguished honor of calling themselves a memoryBlue alum.
And that alumni network is growing exponentially today. With five offices spread across all four U.S. time zones, and over 125 SDRs company-wide, we're adding 50-60 new alumni to the high-tech sales marketplace every year.
There are now over 350 seasoned high-tech sales veterans who call themselves memoryBlue alumni. Every single one of these elite sales pros started their careers as SDRs with us, but they have risen to the ranks of high-level deal closers for multi-national corporations, as well as serving in critical leadership roles such as SDR Managers, Sales Directors, Sales VPs, and even CEOs.
We couldn't be prouder of our vast alumni network and we're honored to bring their stories directly into your headphones every week.
What's in a Name?
There were a number of ideas before the Tech Sales is for Hustlers podcast title came to be. We toyed with "From SDR to Big Time" and a few others. But, after a few weeks, none of the myriad options seemed quite right.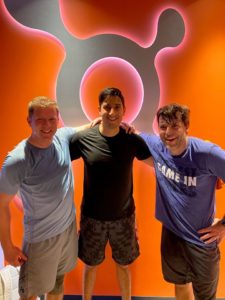 A number of the executives on our Leadership team are regular visitors to the fitness gym Orange Theory. Marc loves to sport classic memoryBlue t-shirts to these workouts, which feature some of our core slogans such as "The Biggest Game in Sales" and "Tech Sales is for Hustlers" for all to see.
A light bulb went off over his head after one workout wearing his Tech Sales is for Hustlers shirt. Why not stick with a name that would ring familiar to everyone we've ever encountered? Tech Sales is for Hustlers not only embodies the memoryBlue spirit, but it truly encompasses what this podcast is about. While all alumni come from different backgrounds, they each have one big thing in common: a firm commitment to hustle.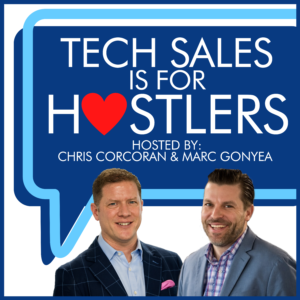 These accomplished sales pros passed every single test memoryBlue had to offer, and each has gone on to accomplish great things. On the podcast, you'll be treated like a "behind the ropes" VIP as they discuss how they chose professional sales, what their experience was like at memoryBlue, and how they survived the tough beginnings that every SDR faces in order to find the footing to thrive.
So get out there and discover Tech Sales is for Hustlers wherever you find your podcasts. The podcast is available on all major platforms, including:
Subscribe, listen and drop a 5-star review if you like what you hear!
To learn more about the podcast, catch new episodes online and find full episode transcriptions, click here.