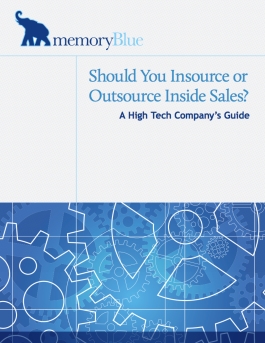 How should you scale your business?
Your company is ramping up sales development efforts in order to grow faster. That means you have a choice:
Build a sales development program internally
Bring in an outside firm for help
This is a huge decision. If you make the wrong move, you could slow down your growth considerably.
Expertise you can bank on
Over 500 companies have trusted memoryBlue for sales development help, both as a services provider and as a consultant for those who choose to build a team internally. When asked whether it makes sense to seek outside help for this function or create it from scratch in-house, our answer will always be: It depends.
To expand on that answer we've created this eBook, in which we break out the advantages and disadvantages of each option. We've also included a handy "Takeaways" chart that you can print out and take to the boardroom as your team decides what to do.
Fill out the form here to download your copy right now. And of course, don't hesitate to contact us if you want to discuss a sales development challenge you're facing.