Episode 07: Austin Leybourne Eyring – The Closer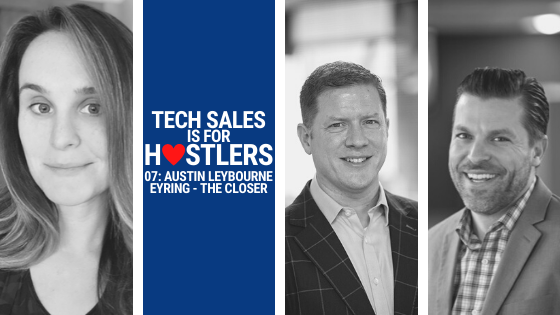 When Austin Leybourne Eyring first started her sales career as an all-star intern at AroundCampus, she was nicknamed "The Closer" by her peers. There was no greater rush to her than having a prospect sign the dotted line. That rush has propelled her throughout her successful tech sales career and led her to her current position as an Account Executive at Rapid7. In our last episode, you heard Brandon Eyring's side of their "How we met" story. This week Austin shares her side.
In addition, you'll be treated to hearing Austin explain why she pushes leadership, the reason why she almost left memoryBlue too early (and how Brandon helped her through it), and the pros and cons of working from home.
Full Episode Transcript
Name: Austin Leybourne Eyring
Title: Account Executive
Company: Rapid7
Exit Year from memoryBlue: 2016
Months at memoryBlue: 16
Alumni Path: Hired Out
***Introduction***
Austin Leybourne Eyring:
Every failure that I've had has been an opportunity for me to look at why I failed, and then grow or approach my next opportunity with the knowledge that I take, and the perspective that I take, and the ego hit that I take every time I fail. I think that so many times I've made mistakes, especially in my younger college years, assuming that I knew everything and I think that's so dangerous. I've tried very hard to be more humble, be the dumbest person in the room. Because when you think you know everything, you don't really know anything and you're not open to learning and listening.
Marc Gonyea:
Learn the other side of the love story, Austin Leybourne, I mean Austin Eyring Account Executive at Rapid7 is in the studio today. Austin talks about the day she almost quit, but Brandon helped her through the hard times and she has a very exciting announcement.
Marc Gonyea:
Hi, I'm Marc Gonyea.
Chris Corcoran:
And I'm Chris Corcoran and you're listening to Tech Sales is for Hustlers. Tech Sales is for Hustlers is a podcast where we catch up with memoryBlue alums and reminisce about their start in high tech sales with us.
Marc Gonyea:
Let's go get some Corcoran.
Chris Corcoran:
Gonyea, you know I'm ready.
***Episode 07: Austin Leybourne Eyring***
Marc Gonyea:
Hello Austin Eyring in the house. Thank you for joining us today Austin.
Austin Leybourne Eyring:
I'm glad to be here. Thanks for having me.
Marc Gonyea:
You're welcome.
Chris Corcoran:
Austin, ALE, if you will. Looking forward to the follow up from your husband.
Austin Leybourne Eyring:
Brandon probably had a lot to say, so I'm excited to get started.
Marc Gonyea:
Let's get into it. So Austin, what were you like in high school? Were you a job person? Were you a sports person? Or a chorus and theater person?
Austin Leybourne Eyring:
I did color guard. So in high school I'm pretty sure I was really annoying. Just to be clear, I had to grow a ton for myself. In high school I did color guard and chorus. I was more into language arts, anything creative that I could do because I think that when I was growing up, my siblings were so intelligent and I always had like an insecurity about how smart I was. I loved that I went into sales because it was the perfect caveat to moving over into, I don't have to be the smartest person in the room. And I'm proud that I'm not, and I, we can talk about that a little bit later.
But I developed that skill as a kid because my siblings were coming home, straight A's. I was like, Dad, I promise I'm going to go to college. I was like A's and B's and one C maybe occasionally. It wasn't occasional. If you got points for being an extrovert in school, that was me. I was disruptive. I challenge leadership naturally. So I was disruptive to my teachers, but sometimes they like the push, sometimes they didn't. I mean you run into a lot of different personality types when you're in school. And I did in college too.
Chris Corcoran:
And that's a tradition you brought forward into the professional rankings.
Austin Leybourne Eyring:
Tradition – more like something I can't help. It's a built-in for me to push and challenge the people that are leading me.
Marc Gonyea:
All right, so you ended up graduating?
Austin Leybourne Eyring:
Yeah, I got to Appalachian and got a degree. Dean's List most semesters probably, I mean except for one. And then I did a sales internship. I got a degree in Communications.
Marc Gonyea:
So let's talk about that real quick. I love it. I want to break it all down. So why did you major in communications?
Austin Leybourne Eyring:
So you want the truth? I went in for business and then I hit a business calculus class Sophomore year. I was doing a business calculus class and I could do hand derivatives, but there was some software that they used that I was like, what is this? And I could not stand it. So I got a D in business calc and you had to get a C to go into the business school. And I was like, you know what? You know what I need to do, communications, I need to do something that I can focus on my strengths. I got a minor in business. It's completely okay to fail.
Marc Gonyea:
Actually expand on that a little.
Austin Leybourne Eyring:
Of course. So every failure that I've had has been an opportunity for me to look at why I failed and then grow or approach my next opportunity with the knowledge that I take, and the perspective that I take, and the ego hit that I take every time I fail. And I think that so many times, I've made mistakes, especially in my younger college years, assuming that I knew everything and I think that's so dangerous.
I've tried very hard to be more humble, be the dumbest person in the room because when you think you know everything, you don't really know anything and you're not open to learning and listening. And so when I failed that business class, I was like, Oh my gosh, this is the end of the world. I'm never going to get a job. That's just a domino effect thinking that's just negative. And so I had to respond to it and find something that I was truly passionate about, which actually led me to advertising sales.
Chris Corcoran:
When did the sales flower start to blossom?
Austin Leybourne Eyring:
This is a lesson in being humble and learning and failing too. So when I started my degree in communications, I decided to focus in advertising, I was sitting in class one day and I thought, man, I'm just taking class. Like if I'm gonna actually pursue a career, I've got to do something else. I can't just take class. I have to expose myself to new opportunities.
And this guy that sat next to me, he was a, I think an editor at the time. He became the chief editor for the newspaper, the Appalachia newspaper for the school. And he told me there was a business manager position or sales positions open in the business office for the student newspaper. And they had every position open, I guess because the team were graduating or something and they had two sales positions open, one assistant manager position open and the manager, the one in charge of the whole team.
And so, I called my dad, which I typically do when I'm making decisions related to my career or a prospective job. So I was like, should I go for the sales job? And he goes, you should go for the business manager job. And I was like, Oh, okay. The business manager job. And he's like, yeah, it's the top one on the team. You'll get experience leading and if you can get that job, it would be great. So I followed suit and I went for the business manager job. I got it. I was a business manager for the student newspaper. I had to hire my own assistant manager, I had to hire a sales team and I had to train them. Now mind you I was a sophomore in college, little to no sales experience.
As a kid I was a top cookie dough tub salesperson in the chorus. So that was exciting. When I was in first grade, I put all my stuff in a box and went to the neighbor's house and tried to sell it door to door because I wanted money for model magic, beause my parents wouldn't buy it for me.
Every fundraiser that the school ever gave me, I was like, let's go. I didn't want to be last. I wanted to win. But the, so back to the business manager position, I started doing that job and I hired a sales team and I thought I knew everything right? Because I was the manager. But leadership isn't given to you and trust with your team isn't handed to you. You have to earn it and you have to build it just like you do a relationship with your family, with your friends, with your spouse.
And so, I thought just because I was the manager, I was in charge and I could make the decisions. And I had a guy that was on my team and his name is Addison. He was a fantastic salesperson. But I didn't know it and he pushed me, and he would go out and he would try to sell these businesses. So the idea was you go sell to local businesses in Boone, right, advertising. And he was coming up with all these ideas trying to write scripts. And I thought I knew everything and I would shut them down or I would, you know, say, Oh yeah, this is good, but this idea might be better. And then he got frustrated and I was frustrated. It just wasn't a good experience. We ended up hitting our number, but it was, it was begrudgingly, it wasn't a team culture.
And then I was like, okay, I need to learn more about the sales game. I don't know everything. And so my manager at the time approached me about an internship and the way he sold it to me, he said, "Hey, there's this internship. You can sell some advertising for the planner. A lot of people don't do a very good job, but you can live up here for the summer. And I'm pretty sure most people come out of it and making, a little bit of money." And I was like, I can interview, you know, like I can try it. That sounds intriguing.
So along comes Ryan McLaughlin who was my regional manager for University Directories at the time. So the University Directory specialized in student planners and directories for public universities. Mostly they would provide the one that's handed out at the business school or wherever you go. It's the one you get when you're a freshman or a sophomore year on campus with all the information.
Marc Gonyea:
And what would you sell within that?
Austin Leybourne Eyring:
Sure. So you would sell different advertising ads, right? You would sell ads for the front cover, the back cover inside the consumer guide, and then there was also an online platform and then the directory. And it's funny because like I had never opened a directory, but you know from what maybe it was at 20 years ago, people relied on that thing.
Marc Gonyea:
Oh yeah, I remember looking for the wings deals.
Austin Leybourne Eyring:
There you go. So you were looking for coupons. So they had coupons. And then a mobile app and everything. So my job was to go B2B door to door, introduce myself to these business owners and sell cold calling door to door sell these ads. And App State was one of the oldest markets in the company because, the president of the University Directories, Jim O'Brien, he, he sold at App State when he was in school.
Marc Gonyea:
So that was your, so talk to us about Ryan. He was your first manager?
Austin Leybourne Eyring:
Ryan was the first manager that I really clicked with someone that would really roll the sleeves up, get his hands dirty, taught me how to sell a super engaging and empowering. And when I would just be up to my knees and frustrated, I could call him and he wouldn't necessarily talk me down. He talked me into a mindset that I needed to teach myself to do on my own so that I could continue to be resilient on the doors.
Chris Corcoran:
You were essentially in Boone, North Carolina on your own working. They may have given you a draw, but essentially on a hundred percent commission, a hundred percent commission and how you spent your day and what you did was entirely up to you, completely sink or swim and you had to go and hit these doors and convince the business owners in Boone, North Carolina to advertise in a planner. Is that essentially what you were doing?
Austin Leybourne Eyring:
90%, so the 10% that I would change is the University Directory sales training academy that they did was extremely extensive. So you would go to Chapel Hill for a whole week. Everybody there, I think 500 interns nationwide that would carry bag into their university and sell. They had a whole week academy sales foundation, that they would train and you would learn the script and they would teach you all these different things and then the model for what to do when you went back to your market. So, I was actually the team lead, because of my management experience with the newspaper. Yeah, I was in charge now. But it was humbling because as I was selling and going through that experience, but I thought of Addison, I was like, man, he really was going door to door talking to these people being shot down. And I was over there saying this is how you do it. Not really knowing what was going on. And it was extremely humbling to go through the experience.
Chris Corcoran:
So you were the team lead in your first year selling. And so how many people were you leading?
Austin Leybourne Eyring:
So it was me and two others.
Chris Corcoran:
Two others in Boone. And then how did both you and the team, how'd you guys do?
Austin Leybourne Eyring:
So we hit our number, we hit our numbers $130,000. A part of that was I don't know the exact numbers, but part of it was inside renewals that contributed to that number. But my team scraped in and celebrated at the end. And actually our team went through trial because we had three people to start and then after. And so the territory was geographically divided. So it was three territories. And then we had somebody in territory who would, we learned would come to our morning meeting, look pumped up and excited, then go home and sit on the couch because there's no way to monitor that. And that was a detriment because we had so much territory that wasn't being worked. And then he ended up quitting. And so my teammate and I ended up splitting the university geographical location. And we just had to go hustle every day.
And I think it's a matter of keeping yourself accountable. And for me, when I was there, I actually am going to re implement this into my life. I've done it a little bit, but I remember how impactful it was for me. So I'm sure you know who Eric Thomas is, right? He's a speaker. So he is a motivational speaker. But the more detailed point of what I'm getting at is there's a video called how bad do you want it? And I don't know if you've ever listened to it. It's got explosions in the sky, in the background, and he's talking about, yeah, how bad do you want it? And you should want to succeed as bad as you want to breathe. I listened to it every day before I went on the doors every day.
And Ryan showed me that video and Ryan was an extremely integral part of my development for becoming a salesperson. But that video alone, I think of it now as the time that someone would spend in the morning meditating or briefing or gathering their thoughts or putting their mindset first or creating their bucket of resilience. That's what I was doing every day on the doors without realizing it.
Chris Corcoran:
So you had you hit goal your first year and then did you come back for a second summer?
Austin Leybourne Eyring:
I did I was 15th in the country out of 500 interns, I was in the top 3%. So I went to a management position.
Chris Corcoran:
So what do you think you were doing that the other 97%?
Austin Leybourne Eyring:
They called me the closer in the office. I was obsessed with getting the signature on the line, like, and I would call my manager and I'm like, I got two and he's like, go get four. And then I look at my pipeline, I'm like, okay, where is it? And I'm looking at all the names of the businesses and who I've qualified the best. And I didn't even know I was doing these things. But now that I've trained and studied and read and practiced more as a full cycle salesperson in the software world, it's so funny to think about how these moments really defined my career.
Chris Corcoran:
Wow. Self-taught, self-taught in many ways. But you learn by doing, there's no way you can replace the experience that was a sink or swim internship completely. I mean one of your contemporaries went home and sat on the couch. So you came back for a second helping the following summer. Did the role change at all?
Austin Leybourne Eyring:
Yes, I was in an area sales manager role and so my job was to go from market to market within our region every other day. So I went to NC state, Elon, UNCW, ETSU is one of my markets. Appalachian, I think it was either 11 or 14 universities that I would travel around regionally. I would do ride alongs, sit next to my sales reps and go into meetings and show them how I would close and how I would talk about the consumer guide, how I would ask questions and listen. And it was actually a really rewarding opportunity because I know that I didn't do it right first time when I was in a management role and I was able to take that experience and apply it toward listening and helping
Chris Corcoran:
You finished up there as an area sales manager and then how did you hear about memoryBlue?
Austin Leybourne Eyring:
memoryBlue is a career partner of Around Campus. So I went to the sales academy foundations networking event and I was like, I'm going to find my career here. And so I was actually in college, I competed in the national collegiate sales competition as well with Appalachian. And I represented my university in that. That competition meant a lot of different vendors that were there trying to recruit.
Chris Corcoran:
Did you go to Orlando or Kennesaw, Georgia?
Austin Leybourne Eyring:
I went to Georgia. Yeah, it was my first time selling software. ADP was the product. memoryBlue was a career partner of Around Campus at the time. And I went to the table and I called my dad
Chris Corcoran:
Who was there at a table?
Austin Leybourne Eyring:
Oh my gosh. Julianne Sweat. She was at the table. Yeah, I remember her walking around and Candace Cross. She was good friends with Julianne. And I think that she might've made the introduction or anything cause Candace and I were roommates at the sales academy foundation, for the management year because she did the management role as well.
Marc Gonyea:
So, at the booth you called your old man, you called your dad?
Austin Leybourne Eyring:
Not at the booth. When I was contemplating career choices, my dad said if you go into technology sales, the more valuable you become with a technical sale, then the high more highly regarded you'll be in your industry. And so I was like, okay, well if I go to software sales college student, I'll make a bunch of money. So that's where I'm going to go. You know, cause I considered Henry Schein, I considered, which is dental medical sales, all these different avenues. I considered insurance, but software sales was the ticket to being rich.
It's so much more than that. But I didn't as a young student who wanted to take my ambition and channel it into something else. Also what I liked about memoryBlue was that I had the door to door B2B cold experience, but I did not know how to pick up a phone and call somebody. And I thought to myself, if I can get on the doors and I can go into a business and introduce myself, I can call somebody on the phone, but I haven't built that skill. And it's completely different.
Chris Corcoran:
So did you know, did you know Julianne prior to stopping by the booth.
Austin Leybourne Eyring:
I don't believe so.
Chris Corcoran:
So she was wildly successful here and was wildly successful at Around Campus. Did that help you saying, Hey, if someone who came from Around Campus was successful at memoryBlue?
Austin Leybourne Eyring:
Totally. Yeah. And she would talk about the other, alumni at this point that came from Around Campus. And I loved that memory Blue valued sales stars that was their thing. And I think it was a fun culture to be introduced to. And you know, the age group of my peers. And what I really like about memoryBlue is that when you're in college and you take a class and then like you're like that class was worthless. I was talking to Brandon about this and I said, I took an econ class and I remember a price ceiling was mentioned. I'm not an economist, so that's really the only buzzword I can give you. But I don't remember a lot. But with memoryBlue it was an opportunity to go through sales training in a way that you're one, you're being paid, which is nice. But also it's an in depth, specialization into sales. And not all universities offer that.
Marc Gonyea:
You obviously probably nailed the interview process. Do you remember any of that?
Austin Leybourne Eyring:
I did. I got a top score on the personality assignment that you guys did. Mishler scooped me up I was on his team when I came in, it's funny because, and this is where we venture into Brandon. When I interviewed at memoryBlue that day you all invited me to go to a happy hour.
Marc Gonyea:
Brendan Eyring your now husband who worked here at the time you joined the firm?
Austin Leybourne Eyring:
He did. He started in, I believe it was May or June, and I started in October. So I met my husband at memoryBlue. I went to a happy hour. I didn't know Brandon at all. I had not started. I was interviewing, it was the day of my interview and I believe, I think Chris invited me. I interviewed with Chris and he said, Hey, there's a happy hour. It's First Friday. We do it every quarter and you should come. So, Chris invited me to the happy hour, and I walked in, I brought my friend Zach he was living up here at the time.
He and I went together, and I met Brandon there and Brandon was like, Oh, you're the girl from the email. And I was like, what? Excuse me, what email? Like I hadn't heard about this before. And he said, yeah, some all-star candidate coming in. And we needed to be nice to. And I was like, wow, okay, that's pretty nice. It's very validating that I was in an email and he's like, so you're the girl from the email. And so we started talking and he immediately intrigued me. And it was really exciting to be a part of the culture and learn how, the delivery managers interact in that setting. It just felt very comfortable for me. And so that's where I met Brandon and that's where I experienced memoryBlue from a social standpoint and what the culture was like. And it was a no brainer for me.
Marc Gonyea:
So let's talk a little bit more about the memoryBlue experience, if you will. There's some things I remember from your time here that I think we should get into. But before we get into any of those, what advice would you give your 22 year old self the night before you came to work for us?
Austin Leybourne Eyring:
I it goes back to that how bad do you want it video. There's this line in there. Don't cry to quit. You're already in pain. You're already hurt. Get a reward from it. And when I was here, I struggled through those first few months I was in pain. I was ready to quit and I didn't. And I'm glad I didn't because I wouldn't be sitting in this chair and my career would look very different. But I wasn't ready for the way that we were training. Cause I came from a very different drink, the Kool-Aid environment to a new environment that was me. Very different ways of thinking and getting on the phones and hustling. I remember one day I was sitting in my blitz chair reading a book about habits and you walk through the floor and you're like, Austin, it blitz. Marc walked through, Austin. It's blitz time. You're reading a book about habits. Get on the phone when the blitz starts.
Chris Corcoran:
So how close did you come to quitting?
Austin Leybourne Eyring:
I was very close. So I believe there's a ramping period where you can leave. I don't remember the details before there's a consequence of making a decision. But I called my parents. I was like, I don't know if this is for me. I'm ready to go. And my mom, I call my mom for these conversations. She was okay sweetheart. You know, I'm her daughter who left, I left North Carolina to go to DC I was by myself. This is where Brandon comes into the story for me heavily and I don't think he shared this with you. So, the day that I was sitting on new hire row.
My desk was behind Mishler and I was sitting next to Lauren Madelmayer and I remember I was the only one that was there. I had to stay late and everybody else was done with new hire. And I had this guy from American Airlines that I called earlier in the day. You know, it's funny. On my first day memoryBlue, I got four leads and then I didn't get a lead for two and a half more weeks. I got four leads in my first day. I had like this confidence, I'm just going to call these people. I mean, I don't know how many of those occurred, but I certainly got the meetings, but then I was just as stressed and I think I was overthinking it, which if I could give advice to someone onboarding at memoryBlue, try not to overthink it and just take the advice that you're given and structure if you're introduced to Sandler training, take advantage of that.
Utilize upfront contracts, utilize, the a la carte. I still use the lemonade statement with everything I do just to set myself up to be able to take a deep dive. But I didn't know that at the time. So if I'm giving myself advice when you're in pain, keep pushing and I wish I could have told myself you're going to be in pain. It's okay. Keep pushing because you don't have that mindset when you're sitting there in the trenches hurt, you know?
Marc Gonyea:
You called your mom and your mom gave you some validation.
Austin Leybourne Eyring:
Yeah, she was like, come home my baby bird, she would jump in front of a truck for her kids. I mean, she's a great mom, but Brandon was on his way out the door and remind you, Oh, American Airlines, so this guy I was on, he goes, Oh yeah, call me later. Call me around 6:00 or 5:30 or something and when they push you off and they're like, yeah, call me back. And I thought this guy is going to answer the phone, he's going to take a meeting, this is my moment. I was on Foundation DB at the time. They got acquired by Apple. Hannah Chi was also on that account with me. She was my mentor. Brandon, I told him I was doing a no sequel account, no sequel account databases. He went, ha, good luck. Like the first day I started and I was like, okay, sure. His name was at the top of the leaderboard in Boone on the wall. And I had to sit next to it every day, look at it.
So American Airlines, so Brandon's walking through the office at the end of the day and if anybody knows Brandon, he always has headphones in. He still does it. We both work from home. He walks around the house with headphones on now. And I have to take them out if I want like him to listen to what I'm saying. So, he's always listening to a podcast, absorbing information, listening to motivate, like whatever audio book.
He walking out and he said, Oh, how was your day? And I was like, it's good. You know, I'm fronting like I don't want to look stupid cause I liked him. But I didn't know how much until this moment really. And he, I slammed my hand on a desk and I said, you know what, I'm over this. I started bawling my eyes out. I was crying hysterically in my cube, at memoryBlue cause I was over it. I had hit the point of just exhaustion with it.
Chris Corcoran:
I think tears is part of the onboarding experience you're getting onboarded into sales development and the memoryBlue experience. So you're frustrated and you burst into tears.
Austin Leybourne Eyring:
I had a big ego coming into here. I was a top performer, 500 interns. I was like this is going to be a cake walk, it is not. And I wasn't prepared to have my ego bruised and to not know what was going on and to fail.
Marc Gonyea:
So you were there at the desk venting your frustration.
Austin Leybourne Eyring:
I was like, you know what, it is training program and me and like I said, whatever it was, I'm just going to rail on it in that moment, which to parallel that I ended up being the new hire trainer and I trained like two or three classes and had five proteges. So I eventually bought onto the training model here. But at the time I just didn't see it and I came from being an Allstar sales intern to being at the bottom of the barrel. And It felt bad.
So, I was venting, and Brandon took his headphones out and sat down really slowly and sat in a chair across from me it was Mishler's chair and he was looking at me and he just let me finish. He just let me finish getting all my frustration out and now I have to call this American Airlines guy. He was like, okay just breath. Like he's trying to coach me through, at the time Brandon wanted to be a delivery manager. So he didn't know he wanted to go to Tommy's team. He wanted to be a DM. So he's like, this is my moment. This is the protege that I've been waiting on and I know I'm going to mentor her and she's going to be great. And so, he's trying to push me, and I called the American Airlines guy and I got the meeting, I booked it, I booked the meeting.
I think I really just needed to have that cathartic moment of release to clear my head and refocus on the mission of what I was doing. But he noticed how frustrated I was and he tells me that's one of the first moments that he realized that he wanted to be with me because of how much I cared about process and the passion of it. He picked up, this is really funny because like I said, I was on the brink of quitting. I think Mishler knew it.
Brandon picked up all my stuff and moved it to the open cube next to him. We didn't ask Mishler we moved all my stuff that day. Mishler came in the next day and thought I quit and just packed up and left. And then I walked in the office and actually cause I was on vacation that following Monday. And so he was like, Whoa, Whoa, Oh my gosh, where did she go. And then, you know, I sat next to Brandon and that's when I was around Jim Gandolfo. Agne. Joey Cohen. So that was a lot of fun and I actually was able to change my environment and I started just thriving and it was a lot of fun.
Marc Gonyea:
What was it about the transition? Cause here's what I remember. I remember sitting down with you and you're like, man, I'm a closer, I'm a closer and now I'm sending them the meeting and like well let's talk about that. Was it just the difficulty in doing it?
Austin Leybourne Eyring:
So the difficulty of why I was doing it I think was hard because I'm one of those people that really has to know why I'm doing something or I feel like I'm wasting my time and if I'm wasting my time I'm not interested. That's just how I think.
Chris Corcoran:
I think you're understating it even more, I mean she went from not only closing, she had more responsibility in that and she's out in the field and she can go wherever she wants, she can look at her forecast, figure out where her next deals are going to. That's a completely different environment where it's transactional sales face to face, full control to over the phone calling all across North America, highly structured, solution-oriented, selling the invisible, all of those needs. So it's completely different metrics driven. So even though it was still sales, it was completely different.
Austin Leybourne Eyring:
It was a new world. And when I really started to shift my mindset and become more successful and really able to hone in and the practice that it took to be a great SDR was when I realized I'm still closing, I'm closing the meeting. And if I go into every conversation and I still do it, I still do it to this day when I go into set next steps, I'm not here to sell you. I'm here to close you, want a meeting. Because if it doesn't make sense to talk, I don't want to continue talking to you. So that's when my mindset shifted and that's when I could really take a deep dive into, flipping discover org over and learning how to circle of leverage and prospect and build a quality list that it's not just going to be a waste of time. I learned the techniques that it took and a skill set that you need to build a list that is going to be efficiently used. So that was great.
Marc Gonyea:
And you started to figure things out and then talk a little bit about it. You mentioned it about building the program or working with new hires or mentor protege.
Austin Leybourne Eyring:
With Frank Taylor. We were doing the new hire program. I think it started after I had a couple of proteges. Lauren Montross was my protege. And what's funny was Brandon had her as his protege until he was promoted to Tommy's team. And then she was handed off to me and we had this weird feud of she's my protege. No, she's my protege. She calls us mom and dad now as a joke because, we're together.
I had a couple of proteges, Kevin Barr, Nate Casa, Sean Shada, Shannon Davis. And so with that, I was able to help develop the new hire program in conjunction with the leadership that I pull from my internship days. It wasn't lost, it was still in my archive. And so that's why, being a manager and being a leader, I have a different mindset about what it means to be a good leader than I used to, and I think that that's really valuable and I've just been able to hone in and craft that experience and help share my knowledge at memoryBlue so I have, I have news for you guys. Yeah, let's jump into the news.
Marc Gonyea:
Nothing with Brandon had anything to do an Audi?
Austin Leybourne Eyring:
To be clear I liked him first, then I liked his car, but I saw that he had an Audi. So what I learned about Brandon was he actually had a really, really crappy car before he was a top performer. He was there for me when I needed him. He was working on Wealth Engine at the time and he was using social media before social media was even something that we really tried to hone in on. And I remember people calling him to set up meetings and then the dude would go play Xbox. And I'm like, what are you doing differently? What are you doing?
And you know, the Audi was nice. He had a girlfriend at the time, of four years. Things started to shift and I'm actually a huge reason why he sold that Audi because we need to make a decision. We moved in together after dating for like a month.
So, to be fair, the Audi is important to Brandon because it symbolizes something to him. It's not just about being able to drive an Audi. It was what the Audi, it was like the signature on the paper for us. For him it was having that Audi because he comes from a background and he might've talked about his dad, very blue collar. His dad was a master plumber there in Baltimore. He's always said, I want to recreate my family name. I want Eyring to be something brand new and I want to do that with you. And so like that's something that we both, I think that the Audi is just a symbol of that drive.
Marc Gonyea:
It's very touching. You guys are both awesome people. So what's the big news?
Austin Leybourne Eyring:
Okay, so we're moving to Boston in four days. I quit my job yesterday I'm going to Rapid7. We got a place in high rise right next to TD garden. We're packing up and we're outta here. I haven't posted about this on social media. This is the first public forum in whichever, revealing that or leaving it. It's a big deal to us because of we've up and left and gone to Seattle and come back before. I mean we've, we've taken risks together and I think that we, he took that risk for me and he got a huge promotion and, and you know, he's growing his team at ZeroNorth and t just made sense. It was, time for us to go to Boston.
Chris Corcoran:
I love that you guys are living life that way. But when do you start at Rapid7?
Austin Leybourne Eyring:
March 9th. I'm extremely excited. It's going to be a new opportunity.
Marc Gonyea:
What are you going to be doing?
Austin Leybourne Eyring:
I'm an account executive. So I'm working West coast hours, which is different for me. I've never worked West coast. I was strictly East coast at Ekahau while I was there. It's going to be an adventure. Vulnerability management.
Chris Corcoran:
Well let's just go back to the memoryBlue days. So you're there and you call the guy in American Airlines, the lead booked. Brandon takes all the credit. Well you obviously don't quit. You end up sticking with it. Talk to us about your experience. What clients were you on and kind of what lessons did you learn? You obviously took on a leadership role and became a very active mentor and then walk us through those things.
Austin Leybourne Eyring:
Yeah. So I was on, I think I had four clients while I was there. Foundation DB got acquired so they didn't have a need for us anymore. But then I was on part time with Quantum was one of them. And I think it was Cloud Physics, but the reason I was on Cloud Physics was because BDNA was one of my big clients while I was there, and they were located in the same area for their headquarters. So, I was helping, work on an account that was geographically similar.
But anyway, not to derail BDNA was my big client while I was there. I was on that account for I believe, nine months or something before they bought my contract out. And I was on a federal team. I was doing fed and so fed was completely different than commercial and I loved it. I thought I was going to have a full career in fed after being with BDNA so, that was exciting and I learned a lot about how to think tank with people that memoryBlue Robbie Connors, Yacine Allaoua, they were both on federal accounts and we'd be like, Oh, did you meet the CIO of whatever? Oh cool, great. No, this is the same. Like this is gatekeeper, this is what she likes. And we're like, like literally it's all going back and forth strategizing about how we can dominate the federal lead practice at memoryBlue.
Marc Gonyea:
Those two are sales professionals, definitely in a good, good sense of the word obviously. As things are progressing with BDNA and they obviously kind of float by the idea of you going to work for them. What went into that decision when you decided to go work for them? Cause you could've stayed with us. You could have gone worked for another client.
Austin Leybourne Eyring:
So my management I loved, I loved the VP of federal his name's Clark Campbell. He's a character. And that's where I learned to be the dumbest person in the room. He taught me that from an early stage. So he and the team of five directors that were working there Frank Young and Jerry Rakowski were two of the directors that I supported and they were integral in my development and understanding a strategic approach to how to navigate a sales process. Because not only were they allowing me to work with them from a business development perspective, these sales directors were taking me under their wing and teaching me how to be strategic in conversations. They would bring me in the fold in person meetings and I knew that it was going to be a good fit for me based on the culture of my team and the management.
Marc Gonyea:
You're dropping some really good insight and some pearls of wisdom. It's funny how you say, they taught me to be kind of the dumbest person in the room, and then you immediately segwayed into the strategic value of selling and having conversations with people and the sales process, that's great. What does it mean to not be the smartest person in the room?
Austin Leybourne Eyring:
So I think it's about being curious. I think that's the fundamental element of it. If you go in with a mindset of being curious and asking questions and wanting to learn more, instead of this is what I have to sell you and I know about security and this is what you need for your environment, it's a completely different experience. It's a totally different conversation. So I've always said asking questions is my weapon when it comes to selling. Because you can sit back, ask questions, you get your buyer talking the more they reveal, the more pain they reveal. Then if you knew how to strategically listen and navigate a conversation, then it's a natural close. And it's a huge reason why I had so much trouble wanting to top the funnel because I got a glimpse of that at the start of my career that I had to rear back learn some new crafts and some skills that eventually brought me back to that moment. I was even more equipped.
Marc Gonyea:
Being the least smart person in the room means don't assume you know everything.
Austin Leybourne Eyring:
If you think you know everything, then you really don't know anything. I mean you have to be curious. Clarke, he'd go into a meeting and if the customer was technical he would do a high level. And then if they had technical questions, he would lean back and lean on his engineer. And he actually taught me to empower your resources and your team in a way that supports the entire process of the selling process. It's a great lesson.
Marc Gonyea:
You were there for three and a half years.
Austin Leybourne Eyring:
I include my memoryBlue time, but yes, they were acquired by Flexera.
Marc Gonyea:
That's right. Did you change roles within the organization there at BDNA?
Austin Leybourne Eyring:
Well my role naturally developed. I changed to an inside sales rep, but that meant different things at BDNA. So for the federal team, when I was an inside sales rep, I still was doing BDR work, but they were pulling me into the process to coach and train me to become a field rep in that circumstance, so I didn't need a title shift or anything like that. But I did source a, a really large deal with a three letter agency for one of my DOD directors and he helps show me that whole process. So it was really enlightening.
Marc Gonyea:
Maybe people were thinking about commercial versus federal from an SDR standpoint, what do you think the biggest difference is when you're out there trying to book qualified meetings?
Austin Leybourne Eyring:
Commercial and federal are different to me because of the community that you're in. I think paying attention to the initiatives that federal has and learning to speak fed, right? So learning how learning the three letter agencies, the department levels, being able to say every acronym in the book, not every acronym, I don't think it's important to overwhelm yourself, but that's real relevant to your day. Understanding that that's different than commercial and in federal, it's a small community. It's just a small community.
And if you pay attention to the events that take place, a lot of CIOs will just go on stage and talk about their initiatives. And then it's content for you is, it's relevant. You can bring it back to your conversations and you can say, I saw this person say this. And it's relevant because this. I think the commercial has elements of that, but because federal is so tight knit, it's navigated differently. And the way that budgets are navigated and fed are entirely different too. So learning how to prospect in a relevant way is unique.
Marc Gonyea:
Got it. Okay. So, moving on from BDNA, when did you decide to leave and what did you decide you wanted your next step to be?
Austin Leybourne Eyring:
So I left BDNA and Troi Meyers he was working with a company at the time and he pulled me into his team. Unfortunately, the geographic location of that didn't work out well for me cause I couldn't move to the Mid-West after being there for a while. But it was a great experience. Working with Troi was a lot of fun because he had worked with Brandon and I think that was a really great experience because it was my first exposure to being a full cycle sales rep and he taught me a lot about navigating the top of the pipeline to identifying and qualifying and what that looks like to move through.
Chris Corcoran:
Was this when you were competing head to head Brandon?
Austin Leybourne Eyring:
We had an NDA on the fridge. I don't think he told you that because we were direct competitors and so we were both selling fantastic services at the time. And there were talks of me moving into his specific territory, but I mean we had an NDA on the fridge. We wrote it out and sign it because we thought it was silly. But it was very serious too because I can't compromise company information just because my spouse works for a competitor. And Troi knew that going in to be clear. Because Troi was with Cigital with Brandon.
Chris Corcoran:
So that was when you transitioned into a closing role. So think back to when you were at Around Campus and you were selling advertising, you were in the field and that was a closing role. What would you say to someone who said, Hey, I'm already closing and I'm just going to continue to close versus I'm going to go into the inside and learn how to sell software. People are at a crossroads and so would you advise doing that or looking back, would you always want to be a closer?
Austin Leybourne Eyring:
So I think that's a great question. I think that there two answers to it. For me personally, I wouldn't change what I did. I wouldn't change going inside. I think there's a lot of value in going inside because you can sit down and you can learn different techniques and you have a group of people in the environment that you're in. memoryBlue created a culture where I was able to learn. It's like it's getting another degree essentially. That's why we're alumni, you know? I mean it's a whole program that we go through and I think that it brought relevant experience to my closing roles with software.
I don't think I could have navigated from being a door to door advertising sales rep to becoming a software closer in that path. But I will say that if you're in an outside role as well and you find an opportunity that's a field position where you feel that you can be mentored and trained and taught strong practices to influence the path that you believe you want to take. It's not linear. Your career path isn't linear, it's horizontal, zigs and zags. You fail, you succeed. I think choosing the right opportunity for you is important. But I will say that I would not change again what I did.
Chris Corcoran:
So Austin, when I think of you, I think of Google. I don't have to and you can't make me, your picture comes up. So talk to me about that. Do you disagree?
Austin Leybourne Eyring:
So it's not that I disagree because like I said, I pushed my leadership so I can see why that Google image would come up for my management team when they searched my name. But for me, I mentioned this a little bit earlier, I have to understand why I'm doing something. And I think that was a big challenge for me because coming into memoryBlue, I didn't get, this is what we're doing, this many dials, these are your lists, you're calling these people. And I was like, okay. Why? What am I doing? And so I have carried that practice through time and I challenged my management because if they asked me to do something, I want to be efficient with my time.
Chris Corcoran:
And I don't have to and you can't make me. So I would argue that that's probably your biggest strength. And it could potentially be like, as with many strengths that are so prevalent. And that's also like the biggest opportunity or area for improvement. But I think that more sales people need to have that mentality. And I think that that's why you're so successful is because of that mentality. And it would at times was frustrating. But we had a little dustup. And listeners who know me will not find this surprising.
Austin Leybourne Eyring:
So I was at Courthouse location and the headquarters there and I was in the Boone office first, so I wasn't directly in the same offices. And so when California office opened up and I stayed back in Virginia, I was in headquarters.
Chris Corcoran:
And for the listeners, so we had two offices in Tyson's Corner and they were a hundred yards apart. And then at the time we had an office in Austin, Texas and San Jose, California. And I would go to the Austin and San Jose office more frequently than I would go to the office that was 100 yards away.
Austin Leybourne Eyring:
It's true. Like with Mishler's team, we had fun, but we worked hard. That was the thing, in that order. He was an unconventional manager, but it worked well for the team that he picked. But anyways, so Chris one of my favorite things to do and actually it made me extremely nervous and I've always said if it makes you uncomfortable and it challenges you, then maybe you should do it and you should highly consider doing it anyway. So, Chris, when his door was closed, he didn't have a window on his office so he couldn't even see who was on the other side knocking. So I have no idea what that was like for you. But when your door was closed and I knocked on it, I always, would get a little bit of a wave over me before I would do it. And I think that that was a lot of fun and I think our dynamic was awesome.
I'll tell my version that I want to hear yours. So I was in culture club, which is something that memoryBlue does to help enhance the culture at the location. So you have a different culture club for each office. So I was in the culture club and Chris would come into the culture club and we would have all different ideas of what we wanted to do and how we wanted to implement things. And I think Kristen Wisdorf and I did like hot dogs for the 4th of July. And so, I had talked to a couple of people that I sat around, I headquarters, and hockey came up, and going to the Capitals game and everybody was really excited about the idea.
And I approached Chris and I said, Hey Chris, we should consider going to a Capitals game. And he's like, I don't think anybody would want to do that. And I said, I think people do want to do that. And he said, no, they don't, that's not happening. And I said, okay, we'll talk again. So I went back and I did some research and I got some numbers and I figured out how much it would cost for each person. I built a case cause I had to close him and he told me no, but I knew I could go back, and so, and he wasn't like, no, I'm leaving room for you to follow up. It was a no ma'am.
I didn't listen and I was like, you can't make me. So I Googled it, I got the pricing and then I canvased door to door cube to cube, and got signatures. I got all the votes. And so what I did, there was a minimum that we had to hit as far as attendance to make the numbers make sense. And I went 20% over that number to create margin and I knocked on Chris's door and I was like, Hey Chris. So you remember that time you told me that no one would want to do the Caps game? Yeah, I've got 60 signatures with the commitment of a financial amount next to it that say otherwise. And he was like, Oh I guess we're going to the game. And it was a blast.
Chris Corcoran:
It was, we still do that to this day. That was one of the best ones that we ever did was that first Capitals game. I mean it was, we had a private suite, it was all you can eat and drink. We had a lot of fun. I don't remember ever going into the game and it was a ton of fun. We had a suite on the hallway. And it never would have happened if I wouldn't have said Austin is not happening. That was a lot of fun.
Austin Leybourne Eyring:
What's your side of that story though?
Chris Corcoran:
Almost identical. So the cool thing about culture club is it's a volunteer participation. But there's a lot of ideas for people who don't execute or follow through. And so typically when it's an idea that we haven't done before or it's a little outlandish and requires a lot of support for the entire company, it just doesn't get off the ground. And so my default answers, I don't think we're going to do it. But once you heard that your response was, it's on, it's going to happen no matter what. It's was awesome. I think that interaction between you and I, Chris set the tone for the rest of our professional relationship. The dust up. I think we both crave it.
Marc Gonyea:
So Ekahau you went into a role there former memoryBlue client. Tell us about that in your evolution as a sales professional.
Austin Leybourne Eyring:
Sure. So when I was at Ekahau I was in a player coach role, which was hard it was the hardest position I've had to this point in my career. I was carrying bag with a quota of 1.3 million I think is what it was. And then my team's goal was 3.2. And it was all direct sales. I had a team of two people below me and with me. So they were also carrying the bag and I was next to them. So I had to really think about how to implement. I run in SalesLoft at the time so they didn't have SalesLoft at the time and I, I knew that we needed something to create cadences and lean on my experience with memoryBlue, understanding what a drip campaign is and how important it is to be able to track data to make decisions around what you're doing and utilizing your time.
Because like I said, again, if I don't understand why I'm doing something, I don't want to do it. So I need data to drive how I function in my day. And it was challenging because bringing on new projects and hitting a number at the same time and managing a team that needs one-on-ones, that was difficult. I didn't feel like I had enough of me to go around and at a time in the day to make it work, but we made it work. I hit my number and so did my team, which was great, but hard.
Marc Gonyea:
How has that evolved your view on what you're doing, what you're going to do four days from now or whenever you start moving in four days. So how has that, how the experience evolved to where you decided what you want to do next?
Austin Leybourne Eyring:
I left Ekahau after an acquisition. And when I left I decided to go try something different. I went into staffing and recruiting and I was an account manager. That's the job I quit yesterday. I was an account manager. It's a great company. ProTask is a great company. I enjoyed working there and I do want to say that, but staffing and recruiting is a different kind of animal and it requires a hand that I had not practiced. And I think that the background that I brought to the table was relevant and valuable, but it wasn't as exciting for me to close on, candidates as it was to sell software.
And I think that that resonated over and over again for me. I want to sell software, I've got to sell software. And so when Brandon was given an opportunity to go to Boston, it made so much sense for us, in a natural way where I could go back into something that I was passionate about and that I loved to learn and grow that gave, provided the resources in a CRM that I could function and make data decisions around that was really important to me.
Chris Corcoran:
I have some questions for you in terms of just your experience. I know for a fact that you've worked from home as well as the office. So what are the pros and cons of working from home?
Austin Leybourne Eyring:
So I worked from home right out of memoryBlue. So I went from, a thriving office culture, hustle, blitz time to me myself and I and at first it was difficult. So I think some people have a tendency to overwork when they are at home, but I immediately felt this like freedom, like a kid, in college just left and I was ready to be on my own. So, I struggled with, with structuring my day. I had to go back to my practices at memoryBlue, t set up my blitz times to chunk my calendar, which I got from Fanatical Prospecting about chunking your calendar, blocking your day. And so those kinds of practices really made a difference in my day because I still had to hit a number. Then I went back home, like, okay, time to focus. I hit an initial challenge there.
I like working from home now because after going through that experience, uh developed practices and behaviors and understood timeline and how when you're working from home, it's really important to over communicate with your management because if you're at home and you don't have established trust yet because like I said, the trust is built and earned. It's not given. So if you start from a remote role, I advise you to over communicate, ask a ton of questions, be relevant, be present even though you're from a remote capacity and that's going to be a game changer for you and set the tone for how you interact with your team.
From a remote role, Ekahau was a full in office position. So I went from being a hundred percent remote to being 100% in the office every day. I will say that there are ups and downs to being in an office. The people are really an important part about where you work and how you interact. And that's my most positive takeaway from being in an office environment is getting to talk to people. But that can also be really distracting for me. I'm an extrovert so if I have an opportunity to get up from my desk, I'm up. I don't do well sitting at a desk. I just don't. I have to be walking around, I have to be moving. I have to be interacting with people, thinking about stuff. That's been a challenge for me top.
Marc Gonyea:
Alright, Austin Leybourne Eyring.
Chris Corcoran:
Congratulations and best of success to you and your husband up in Boston.
Austin Leybourne Eyring:
Thank you so much for having me. This was a lot of fun.
Chris Corcoran:
We appreciate it.