Episode 09: Nelson Imade – The Comeback Kid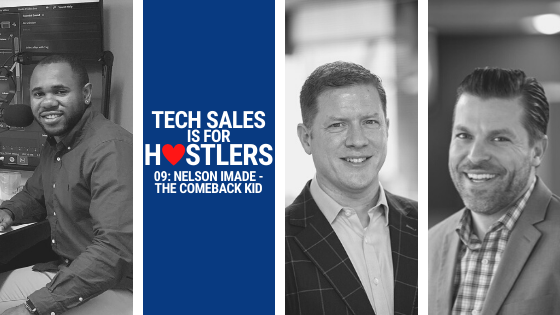 When faced with a challenge, some people make peace with defeat. Finding the courage to conquer immense hurdles and come back stronger takes an ocean of inner strength. Nelson Imade, Sales Executive at Babel Street, is one of those rare hustlers. Early on, when launching his tech sales career at memoryBlue, Nelson was put on a Performance Improvement Plan twice. Those distant moments proved to be mere speed bumps. Tough times are the crucible in which high performers are born. Nelson smashed those barriers and ultimately came back to become the top SDR in the entire company.
In this week's episode, you'll hear the story of how Nelson, a UVA grad who hails from the Bronx, took a bus from New York just to interview at memoryBlue. You'll learn about his unwavering perseverance during the challenging moments at the start of his career, and you'll discover how he manages to have a work-life balance despite the rigors and demands of high-tech sales.
Full Episode Transcript
Name: Nelson Imade
Title: Sales Executive
Company: Babel Street
Exit Year from memoryBlue: 2013
Months at memoryBlue: 17
Alumni Path: Tour Completion
***Introduction***
Nelson Imade:
Only focus on what you can control, you can't stress about everything and be like "Aw man, this client hates me." Just really focus on this is what I can control. I know I can come into the office at this time. I know I can make this amount of calls. I know I can put in this amount of time outside of the office to really hone my craft. If you really focus on that and just your own attitude, I mean that's just a game changer.
Marc Gonyea:
On this episode, we have Nelson Imade, Sales Executive at Babel Street and longtime New York Knicks fan. Nelson walks us through how he took a bus on his own dime from the Bronx just to come interview at memoryBlue, how he stayed determined despite being put on a performance improvement plan twice and how he manages to have a work life balance.
Marc Gonyea:
Hi, I'm Marc Gonyea.
Chris Corcoran:
And I'm Chris Corcoran and you're listening to Tech Sales is for Hustlers. Tech sales is for Hustlers is a podcast where we catch up with memoryBlue alums and reminisce about their starting high tech sales with us.
Marc Gonyea:
Let's go get some Corcoran.
Chris Corcoran:
Gonyea. You know, I'm ready.
***Episode 09: Nelson Imade***
Marc Gonyea:
Nelson Imade, thank you for joining. Chris and I are super pumped up to see you.
Chris Corcoran:
Nelson. Great seeing you again.
Nelson Imade:
Thanks for having me. Super excited to be here.
Marc Gonyea:
All right. All right, cool. Let's get into it. Nelson. So just for the edification of the people who are listening, we want them to get to know you a little bit. We talked about it a little before we got started, Chris and I did, but let's start with where you're from. Born and raised.
Nelson Imade:
So I was actually born in, Benin City, Nigeria. Moved over to the States when I was one. My Dad was out here, driving cabs, and me and my Mom. We moved over when I was one back in 1990. So, I grew up in the Bronx, spent essentially my whole life there. Ended up moving out of the Bronx to go to college, at UVA, down out in Charlottesville. So, I went to UVA, ended up going back to the Bronx for a little bit and then moving down to the DC area, after I started here at memoryBlue.
Marc Gonyea:
So let's talk about Nelson Imade growing up. What kind of kid were you growing up? Were you a curious kid?
Nelson Imade:
Yeah, I was definitely a curious kid. I'd say I was somewhat of a class clown to a certain extent. I was a kid who, I got good grades, but my conduct was always bad. I hated the day when my parents had to go to the parent teacher conference and I knew that I would have the unhappy face on conduct because I was like, Oh, he's talking out of turn throwing stuff in the class.
And I was definitely that kid. I'm super into sports, wasn't necessarily super good, but was definitely into that. Just a normal kid in high school. I was pretty active in terms of clubs and stuff. I did FBLA, I was in the poetry club. I wrote for the school paper.
Marc Gonyea:
So you did a bunch of things in high school. You went to UVA as you mentioned, how did that happen?
Nelson Imade:
Yeah, so it's funny, I didn't even intend to apply to UVA. It was actually my Dad's idea. I was looking at more of the Northeast schools. I was looking at Syracuse, I was looking at Boston college. I was looking at Penn State. And so my Dad, we would go through some of the rankings. I knew I didn't want to stay in the city. I just wanted to get an outside experience.
And so my Dad recommended UVA and I didn't know much about Virginia. I'd never been to Virginia. Outside of my time in New York, I had been to New Jersey, Rhode Island and Texas. Those were the only states I've been to. So it was definitely somewhat of a culture shock, like seeing deer and cows and all that stuff. I just fell in love with the campus. I went to visit at one time and I was like, "Man, I have to come here." You know? So it was a great curriculum. Just the overall great experience.
Marc Gonyea:
So what were you like in college? What'd you do? What did you study? Did you work too? Tell us about that.
Nelson Imade:
I think I kinda went crazy, when I like just got out of my parents' world. My first semester, I still came in with like the high school mindset and just studying before a night of a test and just crush it. In college that was not flying. You know, my first semester was rough. I think I got put on academic probation my first semester just because partying and not really having the right mindset. And so that kind of corrected itself over time. But yeah, college, definitely a lot of partying just like a typical college kid.
Marc Gonyea:
When you say your parents' world, what do you mean? So your parents were highly involved?
Nelson Imade:
Anyone who has West African parents, same with, in Asian culture, Indian culture, education's a big deal. You gotta be on top of those books. So it wasn't a lot of room for error. There was a lot of discipline. And so going to college was just kinda my way of just letting loose, having that complete freedom.
Marc Gonyea:
Did your parents ever talk to you about why they left Nigeria to come to the United States?
Nelson Imade:
Yeah, I mean, it was just essentially for opportunity. My Dad at the time was, he was applying to a bunch of jobs and he felt like the direction that he wanted to go in life, he felt like there'll be more opportunity elsewhere. I had another uncle who was living in Texas at the time and he kind of followed his path. He came out here, didn't know anyone, he moved to North Carolina and he went to school down there and ended up getting a job in finance and just kind of he started doing really well for himself and he started telling his family back home, "Hey, you guys should look into trying to get your papers right to come to America." My Dad made some connections in Nigeria as well that kind of helped him get through the whole citizenship process, the whole visa process. And he came out here.
I was born in February of 1989. He left in April of 1989 so I was born and two months later he came out here. And it's funny, when we first moved out here, it was me, we were in a small row house. So there was another family who owned the house and it was me, my Mom, my Dad and three of my uncles, we were all just kind of just shacking it up for about a year or so, before everybody kind of made their own way.
Marc Gonyea:
That's great. So thanks for sharing that with me. So, UVA, well, actually, besides the party and when you kind of get your s*** together after that first semester, what were you like?
Nelson Imade:
Yeah, so I definitely got more into the books. I was really, really into the liberal arts essentially. I love the psychology classes, the sociology classes. I went to Catholic school and going to college, it was just like I was meeting kids from all types of backgrounds where it was the complete opposite of what I experienced out in the Bronx. And so just learning about different cultures was just always appealing to me.
I'm naturally more gifted in English and writing and that sort of thing. So I naturally just gravitated towards that. My Dad wanted me to go to school and study finance, I ended up doing anthropology and economics. Finance just didn't work out for me. But that was essentially the path that he wanted me to take, but I ended up kind of carving out my own lane.
Marc Gonyea:
Okay, cool. Cool. So anthropology was the major, economics the minor. What'd you think you're going to do coming out of Charlottesville?
Nelson Imade:
I had no idea. I knew ultimately, I wanted to like, long-term, I wanted to get into some sort of entrepreneurial work. So coming out of college I'm like, okay, I go back home, I'm working for a security company at the time. And I'm like long-term, what do I really want to do? I knew I didn't want to go to school. I don't want to go back to school. I didn't want to go and get more debt and spending two to three years in college.
So when I looked at my options, I figured what could I really work super hard at and maximize my earning potential? And that essentially drew me to sales. I looked at sales as there's a relatively low barrier to entry when it comes to sales. It's not like getting in the medical field or trying to be a lawyer. And so when I was looking at my different options at the same time, my girlfriend at the time, now wife, she had just been accepted into Howard Law School, so she was moving up to the DC area.
And so I started looking at jobs and, down here as well. And then I remember when I was looking, I think I applied here, applied to Carasoft. And then a host of others. But I remember what really stood out about memoryBlue was you guys branded yourself essentially as the Oak Hill of sales. And as a basketball fan, that stood out to me.
It's just the whole idea of you can come in, get about three years of experience within 18 months, as a millennial, you want things now. So that was just music to my ears and just kind of coming down here talking to Tiana and kinda hearing about the company. She was great. And I mean I felt like it was the right place for me to be. I knew that this would change the trajectory of my life.
Chris Corcoran:
So when you were saying up in the Bronx, you were doing security, were you a security guard what were you doing?
Nelson Imade:
Yeah, so my dad actually ended up opening up a security company and so he came over, he was driving a cab. He ended up doing that at the same time. I don't know how he did it man, super salute to that man, raising a family, he was going to school at the same time as well. He ended up getting an accounting degree. So, he worked for this, it wasn't a hospital but some sort of resident home doing their accounting work. And for him he just, he saw sort of his path and he was like, this is not going to get me to where I want to be. I've got four kids, how can I really, get to the next level when he decided to open up a security company, cause he had worked security himself, he had to work that like different, like parking lots in Manhattan, used to take me to one when he would work, it was like close to Madison Square Garden. So he worked there from time to time.
And over the course of time with him being there for so long, he was able to be able to qualify to get that business license. So he ended up starting a company in 2004, I believe. And so when I went back I'm like,, what can I do to help to grow this business essentially. And so I was working with him a bit. My uncle was actually working there as well. So I was mainly doing operation stuff, so I was, responding to bids. I was doing some of this, an interview. I was doing some cold calling, different construction companies and I had no skills. I'd get on the phone. My dad didn't do much of it. I was just trying to like, how can I get some more business? And I was still living at home at the time. So with my girlfriend moving up to the DC area as well as me sort of wanting to hone my craft and just learn new things, I felt I had just kind of leave the nest for a little bit. I did payroll. I would go out to Brooklyn and deliver paychecks. I would go submit bids.
So he provided both people armed and unarmed guards to different companies. So he would work with the MTA, he had a contract out in Brooklyn with MTA. When there was a big construction project for think it was the seven line. He had a contract there as well. So he had like 10 to 15 guards who essentially man, make sure people weren't like stealing construction, equipment and that sort of thing.
Chris Corcoran:
So your dad is highly entrepreneurial drive, you're an entrepreneur and started this company, you're an entrepreneur and you saw that and you had that desire as well.
Nelson Imade:
And sales was just a natural progression in that it's not necessarily owning your business, but in some ways it is your own catalog of business.
Chris Corcoran:
So when did you graduate from UVA?
Nelson Imade:
May of 2011.
Chris Corcoran:
How much do you remember about your recruitment?
Nelson Imade:
I remember it was a long man. I remember I first interviewed in like February first time I spoke to Tiana. I don't think I did my final interview where we got the role call conversation with Marc. I think that was in March. I think, there was a period where I think you guys were, there was like some clients coming in. It was a bunch of folks being hired. And then I think there was one, you were telling me that there was a client that you guys were trying to land and then I would come in, I think it was like Infocept I think I believe at the time.
Chris Corcoran:
So Nelson, what I remember about it was, I remember talking to you and being impressed, about you being in the Bronx and we had a conversation on the phone, I'm like Hey, I want to interview you. We got to meet and we're not going to pay. And, and so well because we didn't pay for anybody to pay for it. We didn't have any money. And we didn't pay for anybody just cause it was kind of a barrier to entry because yeah, how bad would you potentially want it? And the job is going to be harder than the interview process. And we also had candidates who were local that we would interview. So you heard that and do you remember what you did?
You took a bus down here, you paid your own way, jumped on a bus and came down to interview. So that said a lot to me in terms of how serious you took it and how you were willing to bet on yourself. And most people aren't willing to do that. And we've had a couple other people kind of fund their own way, whether it be a bus or a plane. And in all of those circumstances, we've ended up hiring the individual and they've done really, really, really well for us. So it was awesome to see you bet on yourself. Okay. So you went through the interview process. Did you have any idea what you're getting yourself into?
Nelson Imade:
No. I mean Tiana kind of gave me some heads up. Ut I remember walking in being, somewhat nervous, but then once I sat down and actually started talking to you guys put me at ease. But I mean that's almost with anything like any meeting, you kind of have that. You don't know what to expect feeling. But yeah, I really didn't know.
Marc Gonyea:
So tell us about that. With most people we get that answer right. Like they don't really know what exactly we're getting. Cause it's hard to describe and if you aren't from the sales world and not that people aren't exposed to it. Yeah.
Nelson Imade:
Yeah. I was a little bit worried too. Cause there at the time there was all these companies out there were being stood up that were not real companies. They would bring people in and you'd go door to door. And at the time this was before this was before the current website.
Chris Corcoran:
So back in that era, our objective was when we were recruiting people was to try to talk to them and don't let them go to the website. It would be a deterrent. We want people to go to the website, but back then it was just get them on the phone, get them interested and have them come in. But we fortunately we were able to get past that challenge with you.
Marc Gonyea:
So you were working what do you remember? The first couple days or first couple of weeks on the job?
Nelson Imade:
I remember coming in and it was pretty small. I remember the first person I saw was, was Arash Almasi. He got me some coffee. I remember him walking and nudging somebody and was like, yo, this guy's nervous and I remember, I remember a guy's names tall dude. Max, not max. He sat next to Max. He was Max Burn. He used to f*** with Thaddeus Walsh all the time. I remember coming in sitting next to Ian Robert. And I mean, Ian Robert still keep in touch to this day. I just remember I went through a low period where I don't think, the client at the time had signed fully signed up yet.
So essentially a few weeks I was just listening to Ganesh a whole bunch and there's only so many times you can listen to it. It's not, so you really get on the phones and I think that probably hurt me more than help me because I started building up how stressful a call might be, and I got more and more self-conscious. It's a point when I finally got on the phone, I'm not even just thinking about the call, I'm thinking about what I'm saying and what are people thinking? You know what I mean?
Chris Corcoran:
So looking back, what advice would you give to yourself the night before you started at memoryBlue?
Nelson Imade:
Do not wear a suit when your first day. I think I wore a suit my first two days on the job. I don't know what I was thinking. I came in such a square. I got my first real job in DC. The advice I would give you just got to hone your craft, put in the work outside of the typical nine to five, you gotta be on the phones at what, 8:30. But for me, where I saw the most success was when I really started putting in the work after five, spending the extra time list building and not just that, but I remember coming in on the weekend and just rehearsing my calls, I would just come in and just replay calls in my mind and just do that over and over and over again. So the point where once I got on the phone, it was just easy. It was almost like I knew the questions that they were come back to me with before I even asked it. So just honing the craft and putting in that extra effort because if you really don't treat it like a craft, it's like having that Mamba mentality, as Kobe would say you really need to hone that craft then, put in that extra effort outside of just what's expected of you.
Marc Gonyea:
For sure. What else do you remember? What else do you think you did that you recall that kind of got you where you needed to be? Because it's not always highs, right? There are all sorts of lows in figuring out how to get through what we do here.
Nelson Imade:
I think one of the more character building experiences was when I had a client, Three Pillar Global and I remember our point of contact, there was this woman named Nicole Gillen and she's a tough cookie. I mean, but she was great. Looking back on it, that helped me out so much. I mean, she would give me like, she was brutally honest, which it can be tough if you don't have thick skin that can destroy you. But I mean, that was nothing for me.
She would give me good advice, slow down and, when I messed up she would let me have it. But just going through that process of listening to calls with her and she would just dissect everything. I think that helped me out in the long-term as far as me being just as hard on myself when I would have set my own calls and making sure that I was constantly improving my game.
Marc Gonyea:
So do you have a fondest memory of memoryBlue?
Nelson Imade:
Oh yeah. And it involves Three Pillars as well. So I was going through a rough patch and it's at a point where I wasn't even going to be on the account anymore and completely turned it around. I went from Nicole just not thinking I was good enough for that account. Again, to the point where she wanted to hire me out.
It was after I had gotten a bunch of leads, like PBS. We got Showtime and I ended up getting a lead with Madison Square Garden. I'll never forget this. I remember Thaddeus is just he had a call with her and he comes running, Nicole wants to hire you. And I'm like, really? They had an opening at the time, but it ended up falling through, not because of me, it was other reasons internally within the company. But just to go from that I can go from just putting in the work and that extra time get rewarded for that effort that really meant a lot to me.
Marc Gonyea:
The job is difficult to master, but there's a lot of psychological trauma that goes on in the job from the rejection to not understanding the tactics to having clients that are well intentioned but might be kind of naive because it's been awhile or they've never done it before and they think they know how it should be done. So they're all sorts of these obstacles that get in the way. And I remember everyone has their fair share of them. There's no doubt. But I definitely remember you and you had a little cadre of guys you rolled with who you worked here, who you all kind of went some of those bumps together.
Nelson Imade:
I did work with Matt Bright. He's a great guy. I was at Michael Breslin's place not too long ago. And we were talking about tech corner and just the grind that was tech corner. Like the long walks to Safeway, Lost Dog after a rough morning. Christian Mory and, Ian, who else was out there? I think Arash was there for a little bit. Nicole Devlin. So yeah, that was the little tech corner crew. I'm sorry, what was the question?
Marc Gonyea:
What'd you learn from that? What do you learn from the failure?
Nelson Imade:
I think for me, what I learned, and this is another thing I'll tell people is only focus on what you can control. You can't stress about everything. Like, Oh man, this client hates me. You just have to block all that s*** and just really focus on this is what I can control. I know I can come into the office at this time. I know I can make this amount of calls. I know I can put in this amount of time outside of the office to really hone my craft. If you really focus on that and just don't worry about how hard your account may be, or how tough that account may be really focused on just your own actions, your own attitude. I mean, that's just a game changer.
Chris Corcoran:
I want you to think back to your first semester at UVA and you were telling us earlier what happened with you academically, academic probation. So I remember you had a sort of a similar start with us. Do you remember what happened?
Nelson Imade:
Yeah, man, I think I had a lead, it was a s***** lead too, but probably my first or second month and I just went through several months of goose eggs.
Chris Corcoran:
It was a slow start. And so I remember your manager, or as a company, we had to put you on a plan, performance improvement plan and some of those performance improvement plans are just thinly disguised and they're just dressed up to just fire someone. But that's not really how we wanted to do it. What we want to try is to really put together a path forward to get someone to put in the work, to get the results, to get them effective. And what happened when he got on the plan. And we do that a lot around here, by the way. You have to do that quite a bit.
Nelson Imade:
So my whole mindset going into it was like, okay, this is just another challenge. It wasn't like I'm just going to quit. And I remember vividly just kind of using this as motivation, definitely getting that look around the office. Like, Oh, this guy's a dead man walking into that. Just lit a fire. And it was like, man, I'm going to beat this s***. And then, and yeah, and that's really where I kind of kicked it into high gear.
At the time I didn't have a car, so I was coming out, I was living in Silver Spring. I remember coming out. When I first got down here, I was staying out with a friend of mine out in Herndon, so I was making that commute. And then I got my place out in a Silver Spring, me and my girlfriend at the time. And then that was probably about maybe hour to hour and a half.
Chris Corcoran:
So you were commuting an hour to an hour and a half to come in to work at a job that's harder than you thought it was going to be. You're on a performance improvement plan, which means that your job could be in jeopardy and at the end of the day you have to jump on a train and commute home for another hour, hour and a half.
Nelson Imade:
Yeah, it was a super tough, and then like looking back on it, it's like, man, but just again, I knew I could only control what I could control at the end of the day. And so I looked at that as a challenge and I'm like, okay, I know whatever happens, happens. But I know that if I believe in myself and if I put in the work that I can beat this plan. And that's what happened. I went from the client almost hating me, I think. And to them, especially loving me. I mean I definitely gave them a ton of opportunities.
Marc Gonyea:
Nicole Gillen wanting to hire you that's the highest compliment. People ask me. How do you know when it goes well? It goes well when you come to me and you tell me that you want to convert the person to come work for you because they pay us money for that and they've seen you in your best and the worst and it's a lot harder to work at memoryBlue. And then just nine times out of 10 to work for the client because for some reason there's something weird about being a little bit harder on the consultant than it is being harder on your internal staff. So dude, that's a freaking grand slam home run.
Chris Corcoran:
So you were on plan, you worked your way at yourself off of it.
Nelson Imade:
Yeah. Again, I was just spending extra time just mastering my game. It wasn't necessarily as much about learning about what I was trying to pitch, but it was what was I doing wrong? And where could I really improve? So it was just slowing down on calls and just really being a little bit more casual and like trying to appeal to the human aspect of the other person who was on the line and tone matching and there's just so many little things that I had to be conscious of. One of the things that really helped me out a during that time was, I think it was Jack Wagner sent it to me, Susan Berkeley's voice shaping. Yeah, that was, that was great for me. because I definitely have a dryer voice.
One of the things I learned that over the phone, your voice may not always translate the way you may want it to be. So I would smile really hard. I think you gave me a mirror just remind myself smile and calls and all those little things I think really started to pick up. I would just notice the difference, it may not necessarily translate to a lead, but you can tell how the other person answers your call and how they sort of respond to your questions. Definitely made an impact.
Chris Corcoran:
So, you were on plan, you worked yourself off of it, and then I remember you were performing and then you had a relapse. This is one of my favorite stories. You had a relapse and we had to put you on another plan. And I remember normally from almost anybody that we've worked with or a lot of people that would have been it, they would have just thrown in the towel and said, it's not for me.
But I remember you were on that second plan and it was a Saturday. I remember it like it was yesterday. It was a Saturday and I had to come into the office. It was over the summertime and our office they don't run the air conditioning or the weekends or the heat on the weekends. And so I came into the office just to pick something up on a Saturday afternoon in the summertime, it's like two or three in the afternoon. And lo and behold, I see you sweating like you were doing manual labor. I remember you were wearing a white tee shirt. The look in your eye, it was, I will not be stopped. I will not be stopped. And I was blown away.
And what I remember from there is obviously you work yourself out of that off a plan and then you became the number one rep, the number one SDR in the company, and you won first place for the quarter in the magnificent seven. So that was amazing. So walk us through that because I've never seen that burning desire to succeed.
Nelson Imade:
Yeah. I think honestly what happened was I definitely got sort of comfortable, you kind of have some success like coming off of Three Pillars. It's like, I mean I got this, got to have a few cores with some solid bonuses. I kinda got comfortable and I think I got to the point where I don't feel I was challenging myself as much as I should have. I had had other things going on in life and you know, things just kind of, I wasn't putting in that extra effort outside of the office and that definitely showed.
And I'm definitely one of those people who I'll take any sort of adversity as a challenge. If someone tells me no, regardless of who you are, I'm looking at that as like, okay, you're challenging my ability. I remember when it happened and me thinking this is no big deal. I'm going to beat this s***. I had no fear going into it. Like, I'm not going to lose my job. It wasn't happening.
Marc Gonyea:
So you got back on top of the mountain and you're like, okay, I got it. When did you kind of figure out, okay you know what the sales thing, because sometimes people get a little twisted in the sense of the word that they come in and they do the sales development job, that's what we call it now, sales development. And they think, Oh that sales isn't going to be a career for me. And what I try and do is talk them out of it and say listen, you haven't experienced full sales yet. You've just done this very hard piece and it's a very difficult part of the piece. But you've got to see it through. So when did you kind of decide, okay I think I want to keep doing this, I want to take my game to the next level. Was that with us?
Nelson Imade:
That was definitely with you guys. I went to happy hour once and I forget the guy's name. It was one of the alumni and we just started talking and he told me how he was doing and he told me how much he made for the year. And I was like, so you're one year removed from memoryBlue and you're able to do that. And he kinda told me his whole story. I can really do this. So just kinda hearing that and seeing like, okay, this was sort of the rainbow after everything. And it was that moment.
And then there was a particular call I had with a guy, I think it was a lead I got for I don't think it was Three Pillars. It was one of my other clients. And it was just one of those conversations where the guy, he picks up the phone and he's just immediately like, dude we have no money. We're not going to do anything. We went from starting to qualify that to him taking a meeting. And I don't even think he knew why he was taking a meeting. It all went well. I remember we played that at the Wednesday meetings where like everyone has to judge your call, and it was one of my best calls. I think I still have it to this day. And it was just like, and at that moment I was like, man, I can do this. I know it, I can make a career out of this. I can make someone go from zero to a hundred.
Chris Corcoran:
So speaking of that, I remember, I'll never forget this. So Marc and I, we met when we were in high school in 1990 and Marc had just moved back, moved to Northern Virginia from Germany. And when he moved, his favorite song was by Snap! "I've got the Power" and I was playing it. Nelson walked by my office when I was playing it, he was like, yo, that's my old man's jam.
Marc Gonyea:
I forgot about that. So you ended up working for TVAR after you departed memoryBlue? Let's talk about that. So why did you go there? Because you had obviously had some options. I remember you were doing some interviews and you could've kept interviewing and gotten multiple offers, but you went to TVAR and you had a good run there.
Nelson Imade:
To be honest, I wasn't even super ecstatic about it because I remember getting the offer letter and it was very underwhelming. So I had a few conversations. I spoke to Justin Brown at the time. I spoke to my Dad and my wife and I'm thinking the upfront money isn't there, I'm not getting the base I want it, but I recognize this was a great opportunity.
I had an opportunity to now go into a whole new market and selling into the federal government. I had an opportunity to be an outside sales rep at the time I was 24 years old. So in understanding that opportunity, it was like, okay, let me give this a shot. I know that I'm betting on myself and I've done that before and I have no problem doing that again. It was absolutely phenomenal. I was at TVAR for about three or four years. So, I started at TVAR in October of 2013. I was an account manager selling into the Air Force. And that was a good experience because it exposed me to so many different technologies.
Chris Corcoran:
What are you selling to them? Mostly?
Nelson Imade:
So TVAR was a value added reseller. So we're essentially selling everything, whether it's software security, whether it's data storage, whether it's a network security. So it exposed me to different technologies and different parts of the tech industry. And I definitely saw sort of the trends that were occurring. I saw cyber security and security in general was just going to be big for the foreseeable future. I started hearing about cloud and started seeing that wave coming.
I'll never forget the first really big deal I closed was to a USA ID. It was a for Symantec, data loss prevention licenses. Now I remember having to really, really press the manufacturer Symantec at the time for this certain level of pricing to make sure that we got enough margin to really try to impress my boss at the time. And try to make sure I got a pretty solid commission from that. And I remember closing that deal. And that was my first real big first real big paycheck.
And I remember taking a part of that paycheck and actually giving it to my Dad, actually giving him the actual stuff so he could see what I could make at the time. And he couldn't believe it either. He was like wow. I remember when the direct deposit hit and I couldn't sleep that night. I'm like, Oh man, this is about to go down. And I remember when I saw it, I just started laughing. I was like, this is insane. This is great.
And I remember that ultimately, that helped me get engaged. I got engaged that that same year and the following year I got married but just kinda going through all those humps, taking a chance on myself and not just quitting on a PIP and taking a chance and going to TVAR. It all really paid off and really changed the trajectory of my life.
Chris Corcoran:
Absolutely. Buying a bus ticket, going down to see this crazy company in Northern Virginia.
Marc Gonyea:
When you told your pops you're going into sales.
Nelson Imade:
He wasn't with it at all. Sales? What kind of job is this? Sales you want to do sales? He was not having it because he wanted me to do finance. Something more traditional. He had no real exposure to sales and he was like most parents are from West Africa or not. He's like, you went to UVA, you should be paid way more than this. And I'm like, that's not how it works. His mindset was different and I was living the reality of post financial crisis and, not everyone's coming out of college and making six figures off the bat. I knew that there were certain steps I had to take. He wasn't too super fond of it. I don't think he thought I was going to make it cause I got the offer letter and I was out of the house that same weekend. I got on a bus and crashed on my boys' place and the rest is history.
Marc Gonyea:
Did he begin to understand? My Dad was in the US army and he did it. He kind of pointed me to tech, but nobody ever grows up thinking their kids' going to go into sales. And it's different now than it was when we got out of school. Chris and I. And different when you and Special K got out of school, it's all changed a little. But did he begin to kind of come around to it and was it before the big payday?
Nelson Imade:
It was definitely before. I started educating him on sort of the services we actually provide. So exposing him to the tech industry and how big it was and how it's just something you can't escape. And how every company has some sort of need to have some sort of mission that they're trying to accomplish. And there are hundreds, thousands of companies that can help them get to that mission. And in order to get there, they need people like me who can essentially be a conduit to actually get to that mission and provide them with some sort of service or a product that can help them do their job more efficiently.
Marc Gonyea:
I remember when I first got a decent paycheck, I remember being like, I can't really believe this. And we did a podcast with Toby Haertl, he was here when you were here and he brought you specifically as somebody who helped. He was like, that guy was the man – that's his words. And he remembers you telling him to be more relaxed. And they're just people and you may not realize this, but you had a positive impact on a bunch of people in the office and Toby talked about you specifically.
Nelson Imade:
Oh wow. That's a huge compliment.
Marc Gonyea:
That's great man. So even if you were having your ups and downs, you don't realize it at the time, but everybody's a little leader and a role model and you were definitely leader and a role model for a bunch of people in the office.
Nelson Imade:
Yeah, not to keep talking about Kobe, but that was one of the things that I remember kind of watching him in a bunch of interviews about him. And that was one of things that towards the end of his career he really honed in on. You have all this knowledge, there's so many obstacles, you actually overcome. You need to pass that down. It doesn't make sense not to help others. And I saw some of myself in Toby at the time and it's like, if I can do it, I know you can do it.
We're all the same. We all have the same challenges and just spreading some of that wisdom. And you know, sometimes you just need that. This job can be rough. You're constantly getting rejection every single day. I don't know if there's any other profession where people are literally telling you over and over and over and over again no. I told some of my friends about what I do and they're all like, I could never do that. It takes a lot of humility and a lot of persistence to actually make it here.
Marc Gonyea:
So you got the check at TVAR and tell us about how you grew your game there. Cause you were there for a while and my guess is you had some muscles you have when you showed up there. So what were the muscles you learned to exercise?
Nelson Imade:
Yeah, one of the biggest things I learned there was selling wasn't just to the customer. There are so many other moving pieces. You had internal sales, managing expectations and managing relationships internally with partners selling an engineer, you know, Hey, I got this great lead for you. Let me tell you why this is good. Understanding org charts, understanding, I was selling into the Air Force, which is just a crazy organization. My first day, they're throwing all these acronyms at me. I have no idea what this stuff means.
I had to learn patience really quick because with federal sales, you're not making most of your money until September. Everything's not really closing until, you will likely close some things from, April to June. But that September, August timeframe is where if nothing happens, then you're pretty much screwed. That was my first time actually going to customer meetings, flying out to meet with different folks, whether it's the Air Force at a different, offices here in DC and just learning from others as well.
I'll go with a partner who was trying to sell their product and it's kind of picking up how they carried themselves in a meeting and how they would pitch their tool. So that sharpened my game. What I would evangelize for them. I would just pick up little things. It just made me be better in person when I would say talk to those customers.
Marc Gonyea:
What a great experience. And what was something from the memoryBlue gig that you still used in that job?
Nelson Imade:
Cold calling is always relevant. It's funny, I'll talk to older reps and they'd be like, how do you get these meetings, cause they were at the mindset where they may or may not have ever cold called or they had a guy who worked for them who set those meetings up, that inside sales rep or whatever. And actually had that too at Recorded Future. But what I realized was because you can control only what you can control, there was no substitute for just picking up the phone and trying to find your own opportunities.
Marc Gonyea:
It's true. It never really goes away. Like you still gotta pick up the phone.
Chris Corcoran:
So Nelson, you talked about a win. I want you to think back of all the deals that you've closed, which one is your favorite deal or your biggest deal?
Nelson Imade:
Yeah, the biggest one was, was that a Symantec deal that I mentioned. I think my favorite deal might've been one I closed when I was at Recorded Future. It was a deal I close with an organization in New York state and it just had like a lot of road bumps. We set up a few meetings. They say they said they didn't have much money. I kind of overcame that objection. And then at the end I set up an executive call where we're at the finish line, we were kind of in procurement and I set up a call between the CEO of our company at the time and the head director of the customer's organization. And that call actually didn't go well.
Chris Corcoran:
What happened?
Nelson Imade:
The CEO came back to me and he's like, Hey, I don't think these guys are buying. And I'm like, what? All signs pointing to this deal was going to, so I'm like, did the CEO say something was, are these guys bluffing? I just had no idea. I just got the CEO on a call. And it didn't go well. And so ultimately what ended up happening was it looked like there was essentially a lack of communication internally on the customer side the deal did ended up closing. Everyone's pretty happy. I mean the CEO apologized, he send me email. Sorry about that. Cause he thought it was just wasn't gonna happen. And you know, that's great.
Chris Corcoran:
What about the most painful loss? Any deal that haunts you?
Nelson Imade:
Yeah, when I was at TVAR I had to deal where I just got too greedy. I was trying to get way too much margin. The customer was trying to negotiate down and I thought I was calling her bluff. You got you definitely got it. I ended up losing the deal. It would've been a sizable opportunity. It was about 750K worth of licenses. And I think they wanted us to come down to like, you know, four or 500K and I was advocating that we just don't budge. And lo and behold they didn't opt to continue to contract. That was pretty painful.
Marc Gonyea:
Nelson, what what's something that you think you're world class at? You've been working on your game and since you started at memoryBlue and TVAR you mentioned Recorded Future that's a great company too. What do you think something you're exceptional at as a sales professional, what's your go to move?
Nelson Imade:
Yeah, I think now one of the things I have a good knack of is profiling customers. Identifying a potential shift at an organization or profiling a guy where I really understand what messaging is going to resonate with him and being able to sort of shift the conversation. Knowing how a conversation with an analyst, it's going to be completely different than a conversation I'm going to have with a CEO. And just knowing when to really step back and , bring on that reinforcement whether it's colleagues or whoever. Just knowing how to essentially be a chameleon when it comes to different buying personalities, I think I've definitely mastered that.
Chris Corcoran:
So now Nelson, you've worked for a VAR value added reseller, at TVAR and you've also worked for technology manufacturers, direct manufacturers. Which do you prefer? What are the pros and cons of both?
Nelson Imade:
With a reseller you don't control as much because the manufacturer ultimately owns the product and they want to own it. Sometimes in some instance they want to own that relationship with the customer. At the same time you have a whole suite of tools so you never have to get really good at selling. You can still learn and know enough to be dangerous at just different segments of the market.
Whereas with a manufacturer you can really sort of become a specialist. You can control way more. You can cut out the middleman essentially. But if I had to pick one, I'd probably say probably say manufacturer. Just having that control, I like the feeling of being in control and knowing that I can really shape a deal and there's nobody who can potentially mess up a deal if something would have happened, you know, just having that control.
Chris Corcoran:
What's your favorite thing about fed sales?
Nelson Imade:
The government always has money to spend.
Chris Corcoran:
What about your least favorite or the biggest challenge?
Nelson Imade:
The sales cycles, I mean, you're looking at 9-12 months on average, that sucks. And also the government isn't always as forward thinking as the commercial space. They're always lagging behind in adopting new technologies, moving to cloud there, almost a decade behind. There's a lot of stipulations when it comes to dealing with government customers. You can't pay for certain things or once it's procurement, you can't call certain people. That's always a challenge.
Marc Gonyea:
So we hit on this earlier, but you mentioned that you've got a bunch of friends that you talked to about being in sales. But what have you found is a big misconception about being in sales?
Nelson Imade:
A lot of people think sales is all commission-based. You don't really make any money. That sales is really, really hard. I don't think sales is really as hard as people think it is. I think sales is in some ways it's like a microcosm of life and that you're going to get back what you put into it, some of us may be born with certain advantages like you may like inherit an account that's just super sweet.
But at the end of the day, it's just going to come down to the amount of effort you put in and I really think that if you have any sort of persistence in you, if you are in any way self-driven, you can make it in sales. If you're creative, you can make it in sales. One of the things I learned was I had to really use more of my personality on the phone. Put some swag on my calls so to speak. People appreciate that. People want to talk to real human beings. They may not gel with everyone, but people do appreciate that. You don't want to just get on a call and just read off a script. People scope that out quickly.
Marc Gonyea:
Nelson, what's more important, the company you work for or the manager you work for?
Nelson Imade:
I have a fantastic manager right now, Brian. But definitely the company because if you don't believe in what you're doing, if you don't believe what your company is selling, if you don't believe in the culture of the company, it's going to be really hard to wake up every day and keep doing that job. No matter how good your manager is, I mean, you can have a bad manager. It might make your job a little bit tougher, but you gotta believe in it. You have to believe in that company because all that stuff trickles down at the end of the day, you know? I think it's a lot easier to sell a product that you believe in rather than just selling a product that you're just trying to make money off of.
Chris Corcoran:
So how do you keep your sales skills sharp?
Nelson Imade:
So whenever I feel like I'm getting rusty in my role now, I don't make nowhere near as many cold calls as I used to do, but one of the things I do is just go back and listen to sales audio. Susan Berkeley's always good for me. I sometimes listen to some of my old calls or I'll just read. Is still have the Challenger, Sale. That's always good. There's always some good nuggets from that book.
Chris Corcoran:
So you have a library of your calls kind of a greatest hits.
Nelson Imade:
Yeah. I remember I got this one call and it was a bad call. He got pissed off. The guy was in a bad mood and I was in a little bit of a bad mood. It was a rough morning, but I had called it the guy the day before and didn't realize he had a West Coast number. I'm just kinda going through my list and he's like, he's like, dude, it's six in the morning. I can't talk right now. And then I call him again the next day around the same time, he's just like take my name off the list and I'm like, I'm not going to take you off the list. Listen, calm down. What I am going to do is I'm going to make a note to say, not to call you again, but I can't take you off the list because if I do then someone else may call you or I might get your name again and this is going to happen again. And he and that just sent him off the rails. He got on Twitter. I think you guys got a call from Hitachi.
Marc Gonyea:
Let's talk about a little work life balance cause you and I were talking about it before we turned the mics on. How do you manage the work life balance? You have demands of being a highly paid, highly successful professional sales rep, but you also got the demands of being a husband and a father.
Nelson Imade:
Yeah. Time management is crucial. Usually from the hours of like from 6:00-9:00, I'm not doing anything work related that time is dedicated to them, to the kids, to the wife. I'll get home and spend some time with the kids. Once the kids go to bed my wife and I try to spend at least an hour, hour and a half kind of doing our own thing. You want to make sure you find an employer who's respectful of that too. Making sure you work with other people who have families. I think that's really big because they understand what you're going through. They understand certain times I might not want to bug them unless it's super, super crucial.
Chris Corcoran:
Nelson, looking back, what, what's the biggest mistake you see from your former contemporaries at memoryBlue in their careers?
Nelson Imade:
Not continuing to hone the craft. I think it's very easy to get comfortable. You start moving up in career, you've got a solid base and you've had some opportunities and you kind of just fall into this period of stagnation essentially. I think that definitely happens and it's easy for that to happen, but maintaining the same hunger, the same drive that we all had when we were working at memoryBlue, literally coming in 8:30, you're on the phones and you're banging out a 100, 150 calls. That's really tough to do. But I think sometimes it's really easy to lose that drive. But I think if you do have that, if you can get to continue to hone your craft and continue to keep that drive alive, I mean there's no doubt you'll be successful.
Chris Corcoran:
So how do you keep yours?
Nelson Imade:
I'm just trying to set challenges for myself. If someone says something that's remotely doubtful, I'll just keep that back in my head and I gotta prove that wrong. He's on my s*** list. You know, he may not know it, but I know I have to prove something to this guy now because that fires me up.
Marc Gonyea:
Mount Rushmore. We asked you this in your interview. I don't know what the answer is now. If you could put one person, on Mount Rushmore who would you put? Living, dead past, present thousand years ago.
Nelson Imade:
I'd probably say probably Muhammad Ali.
Marc Gonyea:
Tell us why.
Nelson Imade:
I think it's always telling when you believe in something and you're willing to stand by it, even at an event where you're willing to lose everything. And I think he's definitely a testament to that. He was someone who mastered his craft and that was boxing and matured over the course of the course of his life and just made an impact on the whole world. I don't think you can go in anywhere in the world where someone doesn't know that name. And I think that's really a testament to a life well lived when you can leave a lasting impact and you're just someone who stands on your own principles and you don't back down for no on.
Marc Gonyea:
Well said. Nelson.
Chris Corcoran:
Nelson, this was great. Yeah, man, we appreciate you coming back.
Nelson Imade:
This was phenomenal. Appreciate you guys.