Why We Focus on Alumni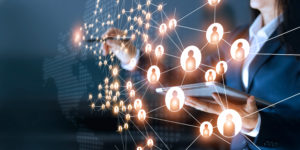 What sets a business apart from the competition? Companies that struggle to answer this important question typically struggle to gain traction in the marketplace.
At memoryBlue, the answer is our people. The business is built on the bedrock foundation of hiring, training and unleashing the potential of the brightest future professional sales stars. These top-level performers make an immediate impact on the bottom line of their high-tech clients and leave a lasting imprint on our firm's DNA.
The mutual value this builds – for our company and for our clients – keeps us hyper-focused on the personal growth and professional development of our people. And it's exactly that growth which inevitably results in employees leaving memoryBlue to challenge themselves in new professional ways.
We call these trailblazers our alumni network – and it is growing at an exponential rate.
Hitting a Tipping Point
In Malcolm Gladwell's breakout book, "The Tipping Point," he discusses the "magic moment" when an idea or trend ostensibly goes viral. After adding over 300 new alumni to the high-tech sales marketplace in the last seven years (a rate of over 40 per year!), it feels like we're getting close to this Gladwell state.
memoryBlue celebrated ten years of business in 2012. We were on the doorstep of earning what would become the first of seven consecutive appearances on the Inc 5000 annual list of the fastest growing private businesses in the country.
And we hit a major milestone that year – producing the 50th distinguished member of our alumni network.
Fast-forward just seven years (to today) and the company now has over 350 alumni from coast-to-coast. These sales pros occupy key positions and leadership roles for firms competing in almost every technology space imaginable.
The continuous growth of memoryBlue, due extensively to the achievements of our people, produces a strong tailwind which fuels the rapid rise of our alumni network.
That network creates additional opportunities for existing memoryBlue employees. Consider the following examples:
13 different alumni helped bring memoryBlue professional services to their respective businesses in the last year. These deals create new opportunities for a wide range of existing memoryBlue employees. They are an inception point for new careers, and they represent the faith former team members have in the brand. In turn, the businesses where these alumni work grow faster thanks to the sales development services memoryBlue provides.
Over the last 12 months, memoryBlue alumni have been instrumental in hiring half a dozen current SDRs directly into their companies. Alumni understand the extensive training and professional sales skills that come with a new hire emerging from our firm. It's a natural choice.
In that same time span, alumni have referred in multiple new hires to memoryBlue, in effect, completing a continuous cycle of mutual benefit.
And finally, as memoryBlue grows, we're able to offer opportunities back to our alumni. This includes outstanding professionals like Stacey Suggs out of our HQ office. Stacey started her career at memoryBlue as an SDR in 2014, joined the alumni ranks in 2015, and re-joined the firm in a management position in 2017. It also includes Justin Brown, a member of the company's leadership team and the head of our internal and external talent acquisition practice.
None of this is by accident. It's part of the very fabric of the firm.
We Celebrate Alumni Success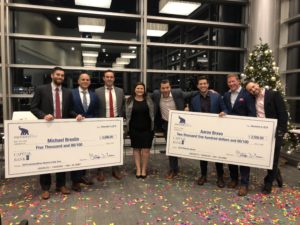 This past month we honored two distinguished members of the memoryBlue alumni network: 2019 Alumni of the Year Award winner Michael Breslin (Director, Corporate Accounts, CenTrak) and 2019 Phenom Award winner Aaron Bravo (Field Software Sales Specialist, Motorola Solutions). The recognition ceremony for these two professional sales success stories also featured each of our prior Alumni of the Year Award winners – Sohale Razmjou (Director, Federal, BAI), Taylor Pierce (Regional Vice President, ZeroNorth), Julianne Thompson (Sales Development Manager, Outreach.io) and Michael Daversa (Director of Enterprise Sales – East, Workfront).
The former winners traveled from places both near and far to be part of the ceremony. They spoke with our current employees during a post-ceremony fireside chat. They extolled the virtues of launching a career at memoryBlue and reminded our team of what's possible with a "sales education" from this company in your back pocket.
As Julianne Thompson put it, "It's not like leaving any other company (when you leave memoryBlue). As opposed to any awkward feelings with the people who remain there, it's more like 'Go out and be successful, and wear our name on your back!' – which I do with pride."
"It's not like leaving any other company (when you leave memoryBlue). As opposed to any awkward feelings with the people who remain there, it's more like 'Go out and be successful, and wear our name on your back!' – which I do with pride." – Julianne Thompson
Building connections between current and former memoryBlue employees while encouraging a future positive exit is a priority for the firm. This is a model followed by professional service global powers like McKinsey and Bain, and it is an exciting dynamic discussed out in the open during the recruiting and hiring process.
In fact, the first blog post we published (back in 2012), carries the title, "We Love When You Leave: Sales Employee Turnover." Written by company Cofounder Marc Gonyea, the piece highlights the pivotal moments leading towards the alumni network concept at memoryBlue.
But alumni awards programs are just the tip of the iceberg when it comes to building alumni connections. memoryBlue hosts local alumni happy hours and dinners, frequently welcomes alumni back to all four offices to speak to current staff, invites alumni to current employee culture events and much more.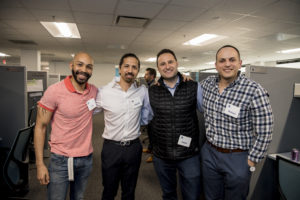 In early 2019, the company welcomed back over 150 alumni from the DC area for an Alumni Open House at our Tysons HQ location. The evening allowed friends and former co-workers to share laughs and reconnect, while taking time to celebrate how valuable it is to stay in touch with kindred professional spirits.
Choose Your Own Adventure
It is rare to find an employer who embraces employee turnover quite like this. And while memoryBlue fits in this category, it's certainly not the only path available to the current staff. Multiple members of the company leadership team elevated into top positions after starting a career here.
Nimit Bhatt (Managing Director, Austin), Tommy Gassman (Director of Sales), Justin Brown (Managing Director, Search), Joe Reeves (Managing Director, Silicon Valley) and Jeremy Wood (Managing Director, Boston) all fit into this distinguished category.
The company consistently works to do what is best for each individual and places no restrictions on what that might mean. Scores of alumni elevated into internal manager positions prior to departing the firm. Others get recruited directly by existing or former high-tech clients. And in many more cases, those who complete their initial tenure at memoryBlue (12-15 months) receive direct assistance from the firm as they seek out their next professional sales opportunity outside the company's walls.
These budding stars comprise the memoryBlue alumni universe. And, while the sky may be the limit for these high-tech sales pros, it's filling up fast.
To learn more about our alumni programs and get a better understanding of what it means to join this sensational group click here.
Kevin Harris is the Director of Marketing at memoryBlue. A seasoned professional with over 23 years of experience in public relations, marketing and content management, Kevin oversees all major internal and external communications programs for the firm. He holds a Bachelor of Science degree in Communications from James Madison University.