Michael Daversa, 2018 Alumni of the Year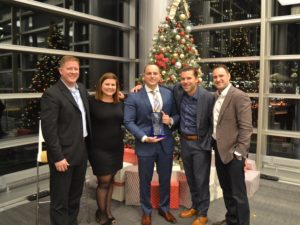 The fourth annual memoryBlue Alumni of the Year winner was Michael Daversa. Michael had a sensational year in 2017 as a Senior Sales Director at Infor (one of the largest enterprise software companies in the world).
Michael led a team of Enterprise Sales Professionals covering all of North America for $3B tech company Infor in 2017. Due to his personal leadership, coaching, training and management efforts, his team produced dizzying numbers last year. Some of the accomplishments included:
$5.4M in total bookings in Fiscal Year '17 (calendar year 2017)
Increased rep productivity (on his team) and sales efforts YoY by 254%
Increased his team's revenue growth YoY by 211%
These major achievements, along with numerous other accomplishments, led to Michael receiving Infor's "Getting it Done, Doing it Right" Leadership Award for 2017.
To view Michael's full finalist application and professional recommendation, click here.
Julianne (Sweat) Thompson, 2017 Alumni of the Year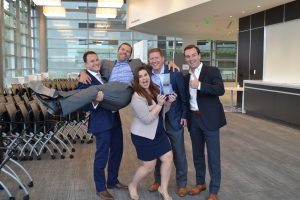 In what was one of the best (and fun!) fields we could have ever dreamed of for the third annual competition, Julianne Thompson was named our 2017 memoryBlue Alumni of the Year. Julianne had a terrific 2016 professionally in her work as a Sales Development Manager at KiteDesk. The voting was tight and each of the three finalists had strong claims on the title, but in the end there could only be one winner. Julianne joined (at the time) past winners Sohale Razmjou and Taylor Pierce as the three winners of our most prestigious Alumni honor.
Julianne was an absolute machine in 2016 – and it's worth noting that she not only applied for the award herself, but was also nominated by her company's CEO and CMO. She led all reps in her company in terms of total revenue generated, total number of deals closed and new logos brought into the firm. She literally accounted for over 30% of her company's work in each of those areas despite being on a team with 12 other sales pros. As a result of this amazing work, Julianne was elevated to the role of sales manager that year.
To view Julianne's full finalist application and professional recommendation, click here.
Taylor Pierce, 2016 Alumni of the Year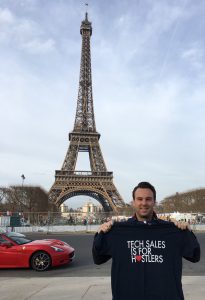 In 2016, Taylor Pierce bested a field of 30 applicants and two amazing finalists to become the second winner of our annual Alumni of the Year award. The race was incredibly close, and we heard from numerous people on our judges' panel commenting on just how hard the decision was — but in the end, Taylor took home the title and earned the $5,000 dream vacation on us.
As Senior Director of West Coast Sales at Cigital, Taylor led Cigital's West Coast region to become the highest performing practice across all of his company. Although he had a number of spectacular key accomplishments in 2015, the following items were of paramount significance for his business:
In 2015, he exceeded a "New Business" quota of $3M by 254% (closing over $7.6M of net-new sales) and ultimately closing over $10.5M in total sales for the year.
He personally developed three enterprise accounts in the Bay Area from under $250,000 to over $1.1M in sales over the course of one year and multiple work streams across various several business units in each firm.
To view Taylor's full finalist application and professional recommendation, click here.
Sohale Razmjou, 2015 Alumni of the Year
We kicked off our Alumni of the Year program in 2015 with over 50 amazing applications received. In the end, our 2015 award winner was Sohale Razmjou. His accomplishments and incredible success in 2014 made him a clear choice for the prize. As the Senior Account Manager for immixGroup's Oracle Team from 2009-2011, Sohale grew the firm's Oracle federal sales by $45 million.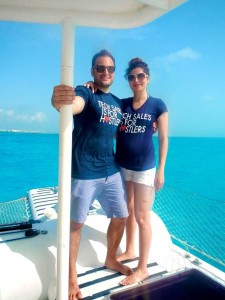 After joining the startup Spigit in 2011, Sohale served as the firm's Director of Strategic accounts and was instrumental in scaling the company, leading to its $22.5 million acquisition in 2013. In his 2.5 years working full-time at Spigit, Sohale also earned a master's degree in technology management from Georgetown University and was Spigit's Rookie of the Year.