Episode 04: Toby Haertl – A Burning Desire to Succeed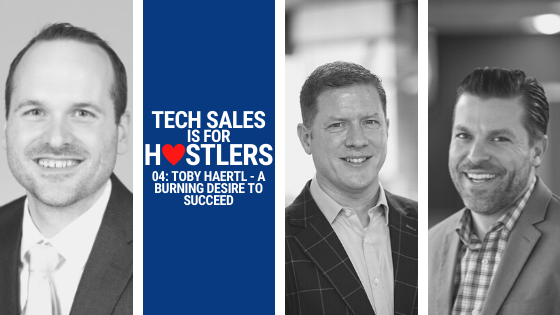 Toby Haertl falls in that rare category of an individual who will never be satisfied with average. Toby grew up in a small town outside of Nuremberg, Germany, and wanted a life that his hometown couldn't provide. He passed up free higher education in his country at a young age, instead opting to personally pay to start college earlier in the U.S. He ultimately found his way to memoryBlue in 2013 and he took to professional sales quickly. Toby has an unmatched work ethic and his success today as a Global Business Development Manager at CyrusOne is a by-product of the fact that he will never be outhustled.
In this week's episode, Toby walks us through what it was like growing up in Germany and his transition to the States, why he continued to bartend on nights and weekends deep into a successful professional sales career, and how the skills he honed at memoryBlue now allow him the opportunity to weather any marketplace headwinds he encounters.
Full Episode Transcript
Name: Toby Haertl
Title: Global Business Development Manager
Company: CyrusOne
Exit Year from memoryBlue: 2015
Months at memoryBlue: 24
Alumni Path: Tour Completion
***Introduction***
Toby Haertl:
A lot of companies will hire sales guys out of school directly into closing roles and I think it does these guys a huge disservice being able to pick up the phone to develop a pipeline. A lot of these companies say, well, we're mostly channel, we have a lot of inbound leads and those are great. Those are great until the economy tanks and nobody wants to buy anything. And that's when folks come out of memoryBlue, they can make something out of nothing.
Marc Gonyea:
This week we have the Toby Haertl, Global Business Development Manager at CyrusOne. Toby was born and raised in Germany and then came to the US for college. You'll learn Toby's tips to feel confident on the phone, how he stayed patient for the right closing role and why he bartended nearly throughout his whole sales career.
Marc Gonyea:
Hi, I'm Marc Gonyea.
Chris Corcoran:
And I'm Chris Corcoran and you're listening to Tech Sales is for Hustlers. Tech Sales is for Hustlers is a podcast where we catch up with memoryBlue alums and reminisce about their start in high tech sales with us.
Marc Gonyea:
Let's go get some Corcoran.
Chris Corcoran:
Gonyea you know I'm ready.
***Episode 04: Toby Haertl***
Marc Gonyea:
Toby, thanks for joining us. Corcoran and I are super excited that you're here.
Toby Haertl:
Thanks for having me guys.
Chris Corcoran:
This is going to be a lot of fun.
Marc Gonyea:
Toby's got a good story and he tells good stories.
Chris Corcoran:
Yeah. One of the best stories. One of my favorite stories.
Marc Gonyea:
Just Toby in general. I thought you were going to tell us the story right there for a second, right? All right Toby. So, let's just take it back. We want the folks listening to kind of get to know you a little bit. Where are you from? Where'd you grow up?
Toby Haertl:
Yeah, I'm originally from a very small town in Germany outside of Nuremberg, spent most of my life there up until I was 20 years old. Came over here to go to college, attended George Mason University.
Marc Gonyea:
Why'd you leave? Because I remember you've told me the story a couple of times before.
Toby Haertl:
Yeah. So, since the government pays for education in Germany, right? It comes with certain difficulties in terms of wait lists for colleges depending on how many folks graduate in any given year. I was quoted a wait initially, so I wanted to fill that gap and dive right into my education without sitting around for a year or two, however long it would've taken. So, I decided to apply for college in the US, move over here and get a jumpstart on it. And initially the idea was upon graduation, I'd go back to Germany.
Chris Corcoran:
I want to get this straight here. If you would've just waited a year or two, you could have gone to college in Germany for free? But instead you decided to apply to college in the United States, come over here and pay for it.
Toby Haertl:
That's right.
Marc Gonyea:
So, you grew up in a small town. How many people left that town?
Toby Haertl:
Most of the folks that I've known are still in that town. So, the tradition is you have grandparents living in the basement, right. And parents live on the main level and then the kids live upstairs, and it cycles through generations that way. So, when we're about, I think nine or ten years old, my best friend and I made this pact that we were going to make it out of that town. We're going to get out of there either via becoming professional soccer players or professional snowboarders. He ended up playing professional soccer in Germany for about 12 years. I ended up hitting a pretty significant talent ceiling.
It wasn't the norm. It wasn't what people usually did, there was an ambition I had to do something greater and bigger than that town could provide. And that, I think that was also a driving factor behind coming to the US, right. Instead of sitting around for a year or two, I did take on that financial responsibility. But it also gave me the opportunity, to get out in the world to do something bigger, something greater that not a lot of folks get to do. So that was the idea behind it.
Chris Corcoran:
So, did you grow up speaking German exclusively?
Toby Haertl:
Yes. I grew up speaking mainly German. My mother's half-American, half-German. Every German has a basic understanding of the English language. But in order to prepare for a transition into the US, I ended up taking a job at Burger King on a military base to polish those language skills a little bit. And it may have been ill-advised because on a military base may not be proper English, but I did learn a lot of things that helped me my first couple years of college.
Marc Gonyea:
I used to love going to the Burger King when I was in Germany on base. No Germans worked there though.
Toby Haertl:
We had one, maybe two, some Germans worked on the base. Obviously, they need to take folks from the local economy. It's good relationship building, but it's also allows you a little bit of scalability in your staffing.
Chris Corcoran:
I want to take in this whole thing in for a minute. So you have an opportunity to stay in your home country and go to school for free. Instead you say, no, I'm going to go to the United States and I don't know the language and so I'm going to get a job at Burger King, so that I can learn English, so that I can go spend money in college.
Toby Haertl:
Well, if you put it that way, it sounds ill-advised.
Marc Gonyea:
No, Toby for president.
Toby Haertl:
It was always that little fire burning of wanting to get out, right. Wanting to do something bigger, wanting to experience the world. And, I wanted to elevate myself and kind of the path I was on and the path that that town sets for a lot of people. I wanted to change that, and in order to do that I had to do something drastic and something a little bit outside of the box.
Chris Corcoran:
Well, I would say you accomplished both.
Marc Gonyea:
So, you bounced. Then where'd you go?
Toby Haertl:
So, I went to George Mason university. They have a tremendous international program. I wanted to be close to the Capitol. They did a really nice job of not only having this international program, but actually integrating those students. Now my mother's American citizenship allowed me to ease the path a little bit on that front. You could tell from the student body, from the Dean on down, really, they were very open, very welcoming. This is a very transient area where you deal with folks from all over the place. So, it really was the perfect situation. I'm glad I made the choice.
Chris Corcoran:
So, what was it like, first impressions of the United States and college? It must've been wild.
Toby Haertl:
So little anecdote, right? The first, my first impression of the US was we were driving, and we got pulled over, there was a cop behind us. And so, one, that doesn't happen in Germany because they have these photo radar traps. So, most of the time if you're speeding or something, a cop wouldn't pull you over for speeding, right? You'd be caught on one of the cameras. So, a cop pulling you over something kind of out of the norm there. Sometimes they do it late night, you know when folks leave the bars for sobriety checkpoints. But that's about it.
This was the middle of the day, right? So, I was already somewhat uneasy. Then my buddy takes the keys out of the ignition and puts them on a dashboard, hands on the steering wheel and I'm like, what's about to happen? And you hear the horror stories, right? You know, guns everywhere, all this other stuff. So, I was shaking in my boots there for a little bit. I mean, he was super nice guy, right? Just gave a warning for speeding around campus and that was it. But that was my first impression. I was like, okay, so note to self, anytime you get pulled over, hands on the steering wheel, keys out of the ignition. These guys are serious.
And the second one was the stores and food. Unbelievable. Everything's available at all times a day or night, right? If you need a new Tommy Bahama shirt pop over to Walmart at 2:00 AM and you can buy yourself a Tommy Bahama shirt. It's absolutely unbelievable. And you know, in Germany it was very much regulated. Stores open at 8:00 AM they close at 6:00 PM, everything's closed on Sunday.
This has changed a little bit with the overall globalization and folks kind of catching on. But that was huge. And the same with the food, right? I mean, anywhere you could get food at two, three, four in the morning. And a lot of times we were out for food around those times.
Chris Corcoran:
So those are some pretty big differences from what you were used to in Germany.
Marc Gonyea:
So, you got into Mason and at any point in time did sales start to creep in at all? Let's talk about what you majored in a Mason and what you thought you're going to do after, because you're not doing what you majored in.
Toby Haertl:
Yeah, that's right. So, I started out initially when I got there, I started out in biology and chemistry. I liked the sciences because it bridged a language gap for me a little bit. I was also familiar with it because in the German school system, they're heavier on the sciences for longer periods of time. So, you come in a little more prepared. So, there was a lot of math, physics, chemistry, my first year or two.
I took an anthropology class just as a gen ed and it was incredibly interesting to me. It has a lot of little self-topics such as archaeology, which I wasn't really that much into, but especially the biological anthropology and the cultural anthropology. Obviously with my interest in travel,  and wanting to expand my horizons, different cultures as well. It's been interesting to me. So, after that class I switched my major over to anthropology, which was about as interesting as it was useless.
Marc Gonyea:
What'd you do in college? What else were you doing? Were you working? Were you in organizations on campus? And what kind of college kid were you?
Toby Haertl:
I always held a job. Obviously, money was fairly tight. Tuition rates kept going up and up and off, and they still are. So, I always held a job initially at the Patriot center, the basketball arena for events, and eventually got into waiting tables at various restaurants.
Also, first order of business was to join a fraternity. So, I wasn't familiar with the concept initially of Greek life, but I learned real quick that it's a big commuter school. There wasn't a whole lot going on around campus if you weren't involved in Greek life. I was immediately attracted to it. Went out there and met some folks, shook some hands, rub some elbows, had a couple of drinks and next thing you know, I was signed up,
Marc Gonyea:
Okay. So then what was that like? What'd you learn? Because you were a leader within that organization, right?
Toby Haertl:
Yeah. Within two years I took over the chapter as president. I got involved immediately upon admission as ritual chair for us, as a secretary. I was always intrigued by the workings of it and the organizational piece. Now, obviously the parties and all of that is the benefit of joining a fraternity, along with the network you're building.
The back workings of it were always interesting to me. I liked going to those conferences. I like talking to the folks from nationals, the guys that kind of turned it into something bigger than it was. So, I immediately ran for office.
Chris Corcoran:
You gotta take me back. So, you're in the United States, you're involved in a fraternity. And I just want to hear you explain to your friend from the German town that you guys promised to leave, you call him up and you have to try to explain to him what he's missing or the differences. What would you have told them?
Toby Haertl:
That's a tricky question, right? Especially because at that point he already had his first contract and he's making more than I make now. But he was always having a pretty good time himself and he played for St. Pauli, which is a section of Hamburg, and it's a party town.
I would tell them, look it's a social organization of like-minded folks, that helps you elevate your academics. It did help with that. A lot of those folks that I had classes with it helped out a lot, especially during the first couple of years when there was still the language adjustment. But then also the social component, right? Where it's just blowout parties, immediate bonding. You don't bond with anyone as deeply as you do with a random person that you had a long, long night with, you know? So those aspects were huge for me. So, it really was just perfect.
Marc Gonyea:
And some of those cats used to work here, right?
Toby Haertl:
That's right. That's how I got pulled into this. So that trailblazer, there was Sohale Razmjou he was a big one. Michael Daversa. Lyle McMullen, Eddie Maglaya.
Chris Corcoran:
Dave Knisely.
Toby Haertl:
I forgot about Jaguar sports car Dave.
Chris Corcoran:
There's also Will Foreman. There's probably some others too, but it was a big contingent from Mason's Greek life.
Toby Haertl:
Yeah. That's how I got involved with memoryBlue to begin with.
Marc Gonyea:
So, Toby's modest. He did well in school when he wasn't working and hanging out with like-minded individuals. He was busting out a couple of Dean's lists as far as I can remember. So, you've got a school, what'd you think you're going to do next?
Toby Haertl:
So it was twofold. I was looking at med school initially.  My dad was a doctor in Germany. His dad was a doctor, and it goes back a long ways that way. My cousin, I mean everyone went to med school mostly because it was an interesting line of work and it was stable.  You're never gonna run out of sick people. So that was the initial idea.
But I wanted to take some time off after college. And like I mentioned earlier, I took a server role at local restaurants and then eventually elevated to bartending. And then I landed a gig at a college bar, fairly close George Mason University, which at the time was incredibly lucrative, for my standards anyways.
I kept up with that and we used to, a lot of time, my wife and I, who I met towards the tail end of college, we used that time to travel, to go to Germany, to go to the Caribbean, to see places we hadn't been to before. That desire to get out and see other places. We bartended for a while.
We traveled a ton and before you knew it, three, four years pass, and we were still bartending. So that's when we were kind of like, okay, it's time, it's time now to get serious.
Marc Gonyea:
And, and what did that mean?
Toby Haertl:
So, it meant looking at career options and it was a little bit tricky during the time. I don't want to blame this on any external factors. I think if you have the drive, you can make it in any kind of climate. But I did graduate in 2009. By the time we were ready to get into the professional world, we were in the middle of a recession. So it wasn't that easy. There were tons of applications for these grad schools.
I shifted towards law school at that point. I became really enthralled with the English language really, and how you can manipulate an outcome by choosing certain words. So the legal field always interested me, but the applications were huge, right? I mean, just the sheer volume because folks weren't getting jobs. So, what do you do? You get to school and hopefully by the time you're done, the market's recovered and you have a job lined up and that wasn't available. And that's when I started having discussions with Sohale, with Mike Daversa.
Chris Corcoran:
So, did you have to explain to your family back in Germany, "Hey, I'm not going to be a doctor."
Toby Haertl:
My dad never cared. He never cared about education very much. He said, it's important that you get your high school degree. It's important you get a college degree, because you need to have the choice to do what you want to do.
However, if you want to be in construction, if you want to be in legal, if you want to be a doctor, it doesn't matter to me, but I need to have that choice. So that was always his approach. So, when I told him what I was doing, he was fine with it as long as I enjoyed it, partially because he had no idea what I was talking about.
Chris Corcoran:
So, you're applying to these schools, lengthy applications, very competitive because of the economic climate and you're talking to your fraternity brothers. What happened then?
Toby Haertl:
We've seen at this point, right, since Sohale was a little bit ahead of me at that point, he had reached a certain level of success and that piqued my interest.
And the same thing with Mike Daversa, who was incredibly successful upon his departure from memoryBlue. I started talking to those folks and what the job entailed and what they were doing. Mike was actually the guy who said, look if you don't know what you're doing, go to memoryBlue, check it out. The opportunity that's out there — see if it's for you. You're a social guy, you'd like to get out there, but you also work really hard. I think that's a good combination for you.
I took his word for it. I dove in having no idea what I was getting myself into.
Marc Gonyea:
So, you got into it, what do you remember? Do you remember the interview process? The early days?
Toby Haertl:
Yeah, so it was, who was the lady that was running these, Tiana?
Chris Corcoran:
Tiana Bell.
Toby Haertl:
That's right. I had some interviews with her, and I remember the first interview was a phone interview. It was more official than anything I was used to. Obviously, if you're looking for a bartending job, you go in there and you shake some hands, have a drink and talk about it.
It was a little bit different. It was very official. And I remember I had breathing issues, not because I was so nervous, but as I was talking, I wasn't used to it, so I was breathing in too much not breathing out enough. I ended up actually a slight bit lightheaded, but it was nerve wracking, right?
I had never been in a situation like that and it just seemed very official. Although Tiana did a nice job making you feel comfortable. She also asks you tough questions. And I didn't know to what extent the answers mattered or how they were rated and weighted. It was exhausting for me.
Marc Gonyea:
So, you went through the process and you ended up with memoryBlue. What was that? Do you remember your first Client Delivery Manager or first couple clients?
Toby Haertl:
Yeah. I actually do remember my first couple of clients. Nimit Bhatt was my Delivery Manager. He was tremendous right off the bat. For me, it was obviously a completely new world. I have to wear a button down and slacks and the things that I all had to buy because I own none of it.
He immediately made me feel comfortable.  Take a deep breath. Here's what we're going to do. Everybody struggles at first, so if something happens, don't feel bad, bring it up to me, we'll work through it, we'll train you up. That's what we're here for. Right? So, he immediately made me feel more relaxed and more comfortable.
And then we went into handing out accounts. And one of them was a cyber security company in California. And one of them sold NetApp to the government and that was, that was a really difficult one.
Marc Gonyea:
And what was it like learning to be on the phones?
Toby Haertl:
Oh, it was a complete dumpster fire. It was brutal. Right? It's really difficult. You're already nervous going into it because you're not super comfortable with the technology that you're trying to set meetings for. And on top of that, you're talking to folks who are older than you, who are at a higher level than you. So, you always feel like there's a discrepancy in, I wouldn't call it in status, really.
But, you're a little intimidated and as soon as someone's not completely open or happy to hear from you, which, shocker, most people aren't when they get cold called, it was incredibly difficult. It was nerve wracking. And there were quite a few times where I was sitting outside in my car in the morning and I was like, do I go in or do I go home?
Chris Corcoran:
Wow. How close did you come to quitting?
Toby Haertl:
Not that close, honestly. It's a hard-enough job. But at the same time, there was no way that I was just going to bow out. It was a challenge and it was miserable, but I was going to kind of go in there and figure it out. Eventually it all turned about a week or two into me working there.
I think I started in the middle of the month. We had the end of month or first of month team meeting with Nimit, and he had the rundown of who made quota, who didn't make quota. I obviously didn't, even though it was adjusted for the shorter time period, but I didn't do much of anything my first two weeks.
And that was the turning point. I saw some guys who I thought were pretty good at what they're doing, but I thought I could do better, and they were on the top of that leaderboard. I was happy for them. They're friends of mine to this day. At the same time, it irked me tremendously to be listed at the bottom.
Marc Gonyea:
Do you remember who those guys were?
Toby Haertl:
I know Ivor Tafro, Nick Robison, Anna Csiszar, Nour Elshabassi.
Marc Gonyea:
Do you remember anything technique wise that you kind of learned? I need to do it this way to get good, because you know, everyone comes in and struggles, so it's good for them to know that. But was it anything in particular?
Toby Haertl:
It was a few things and, and it changed a lot for me. I talked with Nelson Imade. He was tremendous during his time at memoryBlue since kind of lost touch with him. But he was a huge help. He said, look, lean back in your chair, relax. They can hear that stand up. It helps project your voice better and it gives you more confidence. Right? Keep a mirror on your desk. If you're smiling or, or you have a positive expression on your face. It comes through in your voice. All of those things combined.
And then obviously there is technique, but the technique is more something that you learn you take it in, and it comes over time. I think the number one change that helped me in my first month to finally get to my quota, right, was, was exactly that. Just relax. They're just people you have something that can benefit them. It's your job to let them see it. You can't prove it to them if you're nervous, if you're jittery. Just relax and know that you're doing them a favor, really. And that changed everything for me.
Chris Corcoran:
So, so looking back, what advice would you give yourself the night before you started at memoryBlue?
Toby Haertl:
That's a really good question. I'd probably say it probably goes into what Nelson said, right? Relax. Take a deep breath. Give it your best shot. Obviously take it seriously and talk to more folks. I think I didn't talk to enough people in the office during the first two weeks to my detriment, if I would have had those conversations early and I started doing that, right? Kind of picking and choosing what worked for other folks and applying it to my technique and to my strategy. And that helped tremendously. So, if there's one thing, get in there, listen and talk to as many people as possible.
Chris Corcoran:
So, knowing what you know now, did you think this job was easier than you thought it was going to be or harder than you thought it was going to be?
Toby Haertl:
A lot harder, a lot harder, a lot harder. It was incredibly difficult at the time. And you struggle with yourself, right? You struggle with yourself sometimes in the mornings, you struggle with yourself if you have a bad day. A bad day can be everything from a lead didn't show up to a meeting. It can be you didn't get anyone on the phone, or a bad day can be, you get a lot of people on the phone, but you couldn't convey your message. There's a lot of downs. But then there's also the ups, right?
It's very much a roller coaster ride, but the highs are really high, right? There was no feeling like hitting your number on the last day of the quarter or a month or however you wanna measure it, on the last day, maybe outside of business hours, right? I mean, there's no better feeling, right? And you fist pump and you go home, and you celebrate and, and everything's just great. And that's kind of, those are the things that keep you coming back. And those are the things that can carry you through some of the lows.
Chris Corcoran:
So, you mentioned leads outside of business hours. This is one of my favorite stories ever. Share with the listeners the late-night lead that you booked. Do you remember?
Toby Haertl:
Oh yeah, yeah, I remember. I'll never forget that one. So, it was a lead I booked with a company in India.
Chris Corcoran:
Well what was the situation like, where were you against your goal? Just let everyone know the whole story.
Toby Haertl:
I was a one booking and occurring away from hitting my number for the quarter. I've hit the first two months; this was the last one. I needed that one. And it was the last day of the quarter. So, a lead getting booked and occurring in the same day was, I mean it was just probably not going to happen. It's really difficult to do that, but some folks are open to it.
But I got a lead from a guy in a company who said, Hey, look, our team in India, our offshore team is looking for something similar. Why don't you give this guy a call? He may still be in the office. This is about 8:30 in the morning. So, you're talking about 8:30 in the evening, over in India. I called the guy; he was still in the office. He talked to me and he was very open. And he said, yeah, I absolutely would like to talk. So, I'm super pumped. I'm like, can we, can we do this your time tomorrow? Say around 10, 11. And that was my saving grace, right? It was the next day. So, I write this lead up. I'm super excited. I bring it over to my client and the sales rep or the sales director. Really because they didn't, they didn't really have a rep taking those international ones. Those went directly to the director, director's on PTO in Vegas with all his buddies.
So, you have to sell them on taking the meeting. So now I got the meeting booked, now I've got to sell this guy and actually showing up. So, I call him and he's like I'm out on a golf course right now. Call me later on. So, and he's out in Vegas. Three-hour difference. So, I called him around five o'clock my time is like two in the afternoon. And he was like, all right, book it. I'll be on. The meeting was scheduled for 11:00 PM, our time, so it was about 8:00 PM his time. So, after dinner, maybe I'll catch him during a break. Right. He said, I'll be there, and he accepted the calendar invite. So 11 o'clock rolls around, I get on the horn, India's on the phone. I'm super excited. I was like, this lead occurred, this is actually gonna happen. And no sales director.
I was like, Oh, come on. So, I called him up and you hear a bunch of background noise at the poker tables, like in the middle of the casino. You can tell he's had a couple. So, I tell him, look, you gotta come on, I got these guys on the phone. So, I bridged him in. He was like, all right, I'll step away. I bridged him in, they had a really good conversation and it actually did convert into a sale for the company. Wow. So, I didn't get a hold of him initially. And all this back and forth the lead ended up occurring at around 11:40 PM on the last day of the quarter.
Chris Corcoran:
Unbelievable. What a way to get to goal. How did it feel?
Toby Haertl:
And again, those are the highs I was talking about, right? That thing carried me through the entire next month.
Chris Corcoran:
Oh, that's fantastic. And for the listeners, we're not talking about your work ethic. That's a great story that illustrates your hustle and I think listeners can also, your burning desire to succeed. But what we haven't shared is when you joined memoryBlue, you didn't stop bartending. Talk to them about the commitments you had.
Toby Haertl:
So, during my time at memoryBlue I continued to bartend on the weekends. So, I had my regular nine to five and then I continued bartend, Thursday, Friday, Saturday. Fridays were usually pretty rough for me. Get home fairly late, get up fairly early. And then Friday, right after work I head on over to the bar and I was working there.
Chris Corcoran:
So, you were at the bar from on Thursday, Friday or Saturday. From what time? What time did you get to the bar or what time did you end up leaving the bar?
Toby Haertl:
Thursdays I'd go in at about 9:00 PM, get out about 3:00, 3:30 AM and then Friday I'd go in around 8:00 get home probably around 4:30. Then Saturday was the early shift. I get in at 3:00 get home at about 4:00 or 5:00.
Marc Gonyea:
This is why he's taking care of business for his clients and memoryBlue like most people can't even just work here and not go out. Just Toby's working. Taking care of business. Legendary work ethic.
Marc Gonyea:
So, when you work at memoryBlue, did your kind of a professional perspective change, I mean you're now you're in sales, but continuing in the profession?
Toby Haertl:
Not initially. Not initially. Ut's a very difficult job. If you look at memoryBlue in a vacuum, it's not something that I could see myself doing for so long, or for the rest of my life really. But if you're in that little bubble and that's your entire world, that changed once we had these Wednesday trainings, alumni come in, right? Folks pull up with nice cars, right? Successful guys show up and they tell you, hey look, this is the baseline. This is your bootcamp, right? You want to get up there and elevate and rank and it gets, it gets better and better. Now the job overall gets more challenging. It certainly is much more difficult what I do now versus what I did at memoryBlue. But it doesn't feel like it, if that makes sense.
Marc Gonyea:
Talk more about that. Go into that because there's this look, there's no doubt that sales development is a difficult job, but it's not more difficult, more challenging than the next series of jobs that follow up. But some people, Chris and I think, and this is all respect to the SDR role, they get a little bit twisted that it gets harder when you leave. It's a different type of hard and you just got to hit on that. So, tell us what that means.
Toby Haertl:
I have a lot of sports analogies. I kind of liken it to that your college JV or you just made the team and you have to go through all these practices and these grueling exercises, and nobody likes practice, right? And then when it comes to the game, you hand it off and let them play and you're just sitting on the bench watching. So, you're just practicing, practicing, practicing, and you never get to play. Well, that's lead generation in a nutshell, right? It's like you're out there doing the groundwork. You're, you're working hard and it's a difficult job. It really is.
And then you hand it off to a sales rep who makes the commission, gets closed a deal, gets a see through the entire sales cycle. Right? So that's a little bit what it felt like. It felt like I was working just as hard as everyone else and come game time. I'm sitting on the bench. And that was a tough mental hurdle to overcome, but to see some of the folks, and again, that's when it helped talking to Mike, Sohale and those guys says, Hey, there's a light at the end of the tunnel.
You're still gonna have to do what you're doing now, but there's going to be a lot of other things on top of that that will make it more interesting, more challenging. You got to be more nimble, more flexible, even more strategic. And that's the part that intrigued me.
Marc Gonyea:
I remember you being very patient about what you wanted to do next. You were very deliberate about that. So, walk me through that process because we've got a bunch of SDRs who work at memoryBlue. There are, who are great, but we screen them on patience and lack of patience. And historically what we found is they're impatient, which is what makes them good, but it also can get in their way of maybe making sure they do the next best thing for their career. And we always tell them, look, what you need to keep in mind is how is the next job when it gets you to a closing role, if that's what you want to do.
Toby Haertl:
Yeah. So, when I first started looking outside of memoryBlue and I spent a full two years on the job, actually I think with memoryBlue May 15th to May 15th. I was looking around and I started going on a lot of interviews and there were companies that offered me jobs with a direct line of sight to a closing role, sometimes directly into a closing role. I felt like I could do it. I also felt like there was still some refining that I should probably do. I preferred an offer where it was like six months to a closing role kind of thing.
Give you a little bit of time to familiarize yourself with the product. With the technology, it's incredibly tough to sell something that you don't believe in or don't know all the way. So, folks that directly came out and say, we'll put you in a closing role and a certain amount of salary. It, it always made me a little bit skeptical. I started researching a lot of those companies and if I didn't like what I saw, a lot of it was growth, right? How are these guys growing? What's the same three guys have been running this thing with their 10 employees for the last 10 years.
Then I was skeptical and then also the cultural aspect of it. Is this a good fit too? I like working with these guys, so I actually, I was very selective getting out of here. It was not an easy decision, right? I could get off of the cold calling everyday grinding, go directly into closing a closing role. Now I decided to stay here and continue with this until I found the right situation.
Chris Corcoran:
Did you tap Sohale and Mike Daversa for their advice, how helpful was that?
Toby Haertl:
It was to an extent, right.
Marc Gonyea:
You mean Daversa's was less helpful than Sohale's, but it was probably a pretty good.
Toby Haertl:
No, Daversa was actually great. He kind of had the approach that said, look, it's not the next job out of memoryBlue. It's a job after where you're probably gonna find that more permanent home. That was true for him. I think he worked for a company in between that and going into Eloqua, which later became Oracle. I took that into consideration. I knew I wasn't going to get into the perfect role at the perfect company where everything was just great. At the same time, if I was able to cut out that step, I would have liked to.
So, I thought that I was ready to get in with a company where I can start climbing the ladder, immediately. And that was important to me. So, I based that decision off of that, even though, he said, look, if it's not the perfect situation, don't worry about it. It'll give you another bullet point on your resume. It'll give you some experience, some exposure and you can still up your game. Right. But he also told me, him and Sohale I presented to him some of the companies I was interviewing for and they were like, well, this is fairly niche-y. Be mindful here at the rate that technology evolves. These guys might not be relevant in five years. So, a lot of that feedback was really helpful. But in the end, you have to make your own decision.
Marc Gonyea:
And you did, right? And what did you do?
Toby Haertl:
So, I joined the team. I joined Apptix, as an inside sales rep. Perfect for me, the perfect situation. I understood the technology. It was a lot of hosted exchange, a little bit of cloud computing help. With the public clouds, Microsoft support. But there were all things I was fairly familiar with. Especially cause I worked with, a cyber security company at memoryBlue for so long. So it was, it was a good fit for me, and it was a good cultural fit. UI immediately connected with the Chief Revenue Officer there. I immediately felt comfortable with the VP of Sales. There was a line for me, a line of sight to get to a closing role. So, for me personally, it was the perfect situation.
Marc Gonyea:
That's a great evolution. What do you think the most important skill you can take from the SDR role into a role where you need to get to a closing? What's something you need to keep doing and what's something that you need to develop, that muscle you didn't need to use when you were working as an SDR memoryBlue.
Toby Haertl:
So, I think a lot of folks that go into sales, a lot of companies will hire sales guys out of school, or with different backgrounds directly into closing roles. And I think it does these guys a huge disservice. Being able to pick up the phone to develop a pipeline, a lot of these companies say, well, we're mostly channel. We have a lot of inbound leads. And those are great. Those are great until the economy tanks and nobody wants to buy anything. And that's when folks come out of memoryBlue they can make something out of nothing.
They can scour LinkedIn, they can, they can build lists. I mean really detailed, lists with very specific targets, right? They know how to approach these guys. They know what strategies to use to actually get in front of them via phone calls, via emails, via drip systems, whatever it may be. You just have all of these tools in your tool belt essentially, that allow you to be better. And sure, if you have a bunch of inbound leads, that's great. But if you combine that with the skills that you've learned at memoryBlue, you're going to be a top performer wherever you go.
Marc Gonyea:
Yes. All true. What's a muscle you have to develop that maybe you didn't have?
Toby Haertl:
I think it was everything that comes afterwards, right? Thoroughly scoping an opportunity. What questions to ask when to be quiet, when to listen. Now you do that to an extent while you're booking these meetings. But knowing where to focus knowing to be quiet when you have a solution for it, right? So, a customer tells you a pain point of theirs and you just want to blurt right out with, well, we can do that, right? So, taking all the information, craft a solution present it to them, right?
Then you get into pricing discussion. So that's something I've never done, right? I've never had financial negotiations. Where can I go? Where are guardrails, who do I need to involve? Navigating a company internally, get legal involved, getting finance involved, kind of understanding how that all works. And then contract execution, right? You need to write everything up the right way. You need certain folks, solutions engineers to check it. You need your sales administrators to check it and then timelines to close, right? So, once you send it over there, what are their processes? What is their legal time frame? When do they need to be deployed? And then calculating backwards on their timeline, right? So, let's say they need to be live here. Now I need to do the math back. Their legal is gonna take two weeks. Our legal is going to take one week and you kind of work back and you're like, well, we're already past that point. Might not be able to make it.
And I ran into that quite a few times. So, there's, there's a lot of nuances that come after these meetings. Getting the meeting is great, but now you need to sell the value versus however many competitors you're up against.
Marc Gonyea:
Preach. So, you worked it out, takes a little while, then you made another move.
Toby Haertl:
Yes. So, another alumni, Stuart Dyer. I didn't know him that well, but he had the exact same resume, right? So, he started a memoryBlue. He went to Apptix, ran our channel Cincinnati Bell was one of their clients. He came onboard at Cincinnati Bell, right during the time when Cincinnati Bell spun out CyrusOne as their data center arm, if you will. CyrusOne went through an IPO, and Stuart Dyer managed to channel for CyrusOne.
Marc Gonyea:
Did you and Stu work together at memoryBlue at the same time or different times?
Toby Haertl:
We did not it was at different times. He was quite a bit before me. However, through that Apptix's connection, I already kind of knew him. And then via the memoryBlue alumni network. The happy hours. I got to meet Stu a couple times.
Marc Gonyea:
Did you end up going to work with Stu? Did he kind of cheat on you in and what'd you do? Cause now you've been at CyrusOne for how long now?
Toby Haertl:
About four and a half.
Marc Gonyea:
So, you've been there since you left Apptix. So, I guess talk to us about what you're doing there now.
Toby Haertl:
So initially I came onboard in the same capacity that Stu was working at the channel. Now Stu focused more of his efforts on the federal side of the business because Cyrus one really didn't have a federal arm at that point. And I was working in the channel. So, getting a referral partners, right, everyone that kind of has their hands in a data center deployment as there's a lot of pieces to it as a network piece. There's the cabinets, the cabling, all that stuff.
Talking to those folks, understanding which companies are looking, who they're working with. There are agencies that are solely based off procuring network circuits and data center space for companies. That's their only job. So, getting into those companies, working with them and essentially selling them on, involving us in these opportunities. So that was my initial job when I came onboard.
Marc Gonyea:
So you just went through a myriad number of things a few minutes ago and just now as it relates to kind of getting deals done in the channel or direct, what would be the one thing that you would say is the most important?
Toby Haertl:
Trust. It's a simple as that in something in an industry as sensitive as data centers. And that applies to some of the other industries too, right? Cyber security. I mean, you are protecting the lifeline of these companies. Data centers house their production infrastructures cyber security protects them from attacks and causing downtime. Right? And they will not buy from you if they don't trust that you can deliver a risk mitigating solution to keep them safe.
Marc Gonyea:
And how does a sales professional convey that trust? Cause you're not the person who builds a data center or sets up the security.
Toby Haertl:
No, it's, I think it comes through honesty, right? It's a lot of integrity, a lot of honesty, a lot of admitting when there's something you can't do, showing them what you can do and just kind of working through it. Now these sales cycles for us are fairly long. You're talking about anywhere from six to 18, sometimes 24, sometimes three years. So, you, you get to work through a lot of it and build these relationships and it's incredibly important.
And one small hiccup, one small, sure we can do this, right? And then coming back and saying, no, actually we can't destroy everything you built with these guys. So, you just have to be brutally honest, and really commit to understanding what's important to them. They don't care really what you have to say about your company. I mean, it's all, it's all electrical, right? It's one liners. They can see that you don't have to sell them on that. You have to sell them on, being able to support them and delivering what you're actually telling them you will. So, it's, it's really a lot of that versus, getting to tech. And obviously the technical side is part of it, right? But that's what wins deals.
Chris Corcoran:
So, have you ever sold direct or has it always been the channel?
Toby Haertl:
It was a channel. Initially towards the tail end of my time at Apptix, I was selling direct. Then I took a channel role where I was essentially an overlay and then I took that channel program and we morphed it into a, into a reseller strategic partner program where I was actually doing the closing. So, I was seeing through the wholesale cycle, I was working with folks that take down certain footprints and then resell that. So, it was much more of a partnership, strategic engagement versus provider and client. So, I was able to parlay that channel into a direct role.
And eventually the channel as a whole was dissolved and localized, meaning the local sales reps were already building. They were already working with a lot of these guys. So, the channel overlay really became somewhat obsolete. And that's when I was able to parlay my strategic partners. The closing experience I've gained with them into a direct enterprise sales role. And that was in 2017 beginning 2017.
Chris Corcoran:
What's your preference? Direct or channel? Explain why that's the case and the difference, the biggest differences between the two.
Toby Haertl:
Direct sales. So, if I'm honest, money, right? Money's the biggest difference. There's more, there's more direction. And also, you, you have more control. It's incredibly difficult to create these opportunities out of nothing to come up with, with something you're really excited about and having to hand it off and essentially sit on a bench in the hole. This guy drives it, or this girl drives it home for you. That's an incredibly tough thing to do, especially since I like to have control of things as it is, right?
I like to control my career. And so essentially, I'm trusting other people with the progression of my career. And that's something I couldn't do anymore. Now it's much more difficult to sell direct obviously. It's nice to mingle and come up with these opportunities and work with partners. When you work direct, it's much more difficult. Your success rate is much lower. But it's up to you. And that was important to me. So that was the main difference, I think.
Chris Corcoran:
That's great to hear. I want you to think back of all the deals you've ever closed, what's your biggest or favorite win?
Toby Haertl:
The biggest is probably from last year. And I obviously can't name names due to the sensitive nature of the business, but we're about two weeks out from the end of the quarter and I had a pretty good quarter, but I wasn't quite there. I have a client who's who I have a great relationship with. I mean, just tremendous, right? So, on every level of the company, from the CEO down I'm a huge fan of their work. So, I sent them an unsolicited proposal for a quite ambitious expansion. We're talking about essentially doubling the footprint. And I sent it to him for four incredibly long contract term because it all goes by total contract value unsolicited two weeks before the end of the quarter.
And I told him why, right? So I laid it out and I did my homework probably too obviously I laid out their growth where they are now, where they were when they first engaged with us and their projected growth that I learned through various QBRs and sessions with them, their future plans. And I said, Hey, look, you're going to need this stuff over the next 12 months anyways. It was towards the end of the quarter, so we have a little bit of financial flexibility, so on and so on. And we ended up getting it done, about couple of days before the end of the quarter. The largest deal that I'd ever sold at that point.
Marc Gonyea:
Yeah Toby! It goes back to what you were saying, what's the most important component in your mind? And you said trust, there's no way they would have entertained that had they not trusted you and they trust you because you do your homework. You pay attention to things and take notes and you're curious and you found out about their business and sounds like you know, people within the organization and you had the chutzpah to pass that over to him because you knew about their business and they all had the chutzpah to even consider it because they kind of know and trust you and Chris and I have sales professionals who sell us some of them we trust, some of them we don't, it's not coming from one of the folks you trust. It's not going to get any time cause they're very busy.
Chris Corcoran:
So that's a great win. What about the most painful loss? Do you have anything that haunts you?
Toby Haertl:
There's so many of them. It's tough to pinpoint one. I think they all weigh on you to an extent. I think it's the ones, there's a couple of them really where we got all the way down to the end of the wire. We were so close; it was a large deal. We'd built a tremendous relationship with these folks and they ended up going through a merger and nixing the entire project. So, it's something completely out of your control.
That's the thing I didn't control why I lost, I can deal with losing a deal and getting smarter from it. Taking something from it, learning something from it. Here's what I did. Here's where we weren't involved enough. Here's what our competitor did and that's why I got beat. That's something I can stomach. If it's something outside of my control. We essentially were getting there where we're in the running and we have a real shot at it, and then it gets ripped away due to nothing that you did. That's incredibly tough for me.
Marc Gonyea:
Right. We'll shift gears a little. Toby. So, Toby, you're married now?
Toby Haertl:
Yes sir.
Marc Gonyea:
We've got other kids, other people or other responsibilities too. What do you got?
Toby Haertl:
Oh yeah. So, I've been married now for going on 13 years. I have a five-year-old daughter and a nine-month-old son. That just came along here last May. So, it's a completely different life. I'm a completely different point where I was doing my memoryBlue days.
Marc Gonyea:
We talked a lot about the memoryBlue stuff, but, so now that you're an established sales professional, how do you balance being a husband, being a dad and being very successful at your job and knowing enough about your client that you can send them in an unsolicited proposal for the biggest deal you've ever done. Two weeks before the quarter.
Toby Haertl:
I'd have to give my wife a lot of credit. In order to do what I do there's a fair amount of travel involved. There are late nights, early mornings, especially towards the end of the quarter, the end of the year. She may not see me at all. I mean, she is just absolutely tremendous. She hasn't complained once to me about any of that. Super supportive. She understands what I do. She understands why it's important. So, I really have to give all the credit to her there. It wasn't this past year, but in 2018, I didn't get home New Year's Eve. I think I got home at like 8:30 PM because I was trying to get one last second deal wrapped up, things like that, right where I'm right out the door after Christmas. Those sorts of things that, that's something that is completely irreplaceable.
And without the internal support system, you're going to burn out in this industry. Right? You need to have folks that you can vent to that support you, that build you back up when you had a rough one. All the credit to my wife there she makes it all possible.
Chris Corcoran:
So, one thing, when did you retire from the bar?
Toby Haertl:
So that was that was last August.
Chris Corcoran:
Wait a second, last August? So how many years in professional sales were you bartending and running that ragged schedule?
Toby Haertl:
About six years. Now, at that point I had ratcheted down a little bit. So, I was only working for a while when I was in channel. I was only working Friday, Saturday. And then in the end I was only working on Saturdays. It was kind of a safety net for me. Sales is can be kind of volatile, right? And you can be the hero one day and you can be on the chopping blocks the next. Now I haven't been on the chopping block, which was great. You control a lot of that, but there are certain external factors that can contribute to it.
So, for me it was, it really was that safety net. And then eventually we just, especially with, with the kids and everything, we were like, alright, this is enough. It was actually August of last year. Not 2019, but 2018. Okay.
Chris Corcoran:
How do you keep your skills sharp?
Toby Haertl:
Reading. You have to be reading and listening, right? It's kind of twofold. You have to take a little bit of time every day to dedicate to either learning about your customers, learning about the industry that you're targeting or learning about sales. Right? And I kinda got away from reading some of the very sales focused book right there. There are some books that I'd like to dive back into every once in a while, The Challenger Sale by Matt Dixon. Sales Professionals Playbook. But I got more into certain lifestyle books, right? So, Coach Wooden's Pyramid of Success, for example is a tremendous book because everything you do in life applies to you.
Personal translates to your professional life as well, right? So, if you, if you're disciplined in how you approach the everyday life. It translates, right? So, and that's something I didn't learn until, probably the later years, probably a couple of years ago. So, to really show some more discipline and approach life outside of work a little bit differently, changed some habits and that directly translates to, to work as well. Right? But take that time, educate yourself. If you're not learning, if you're not progressing, if you're not out there challenging yourself, you're gonna fall behind.
Marc Gonyea:
Great advice. Final question. This, you may remember this as an interview question. When you worked here, who would you put on Mount Rushmore? One person. Just one person. Just one person living dead or alive. If it's mom then you gotta do dad. But anyone besides those two, and you already said those glorious things about your wife. So, she's out.
Toby Haertl:
I liked the folks that overcame certain obstacles, right? So, for me, it's obviously it's so much generic answer, right? But you're looking at guys like Einstein that failed math at some point in his life. Jordan, didn't make a high school team, right? The folks that overcame and just willed themselves into being what they are. Tom Brady is another one of those, and not that I'm endorsing any Patriots fans. Right. But those kinds of folks. So yeah, I'd probably stick with Jordan, which was one of my initial answers.
Marc Gonyea:
That's an inappropriate, based on how we started this. The will. I mean Toby, you're a smart guy. There's no doubt about that, but you, you will yourself to success burning desire to succeed.
Marc Gonyea:
Good catching up with your man.
Toby Haertl:
Yeah. Good to be back. Thanks for having me.
Chris Corcoran:
Thanks Toby. We appreciate it.