Episode 06: Brandon Eyring – For the Love of Sales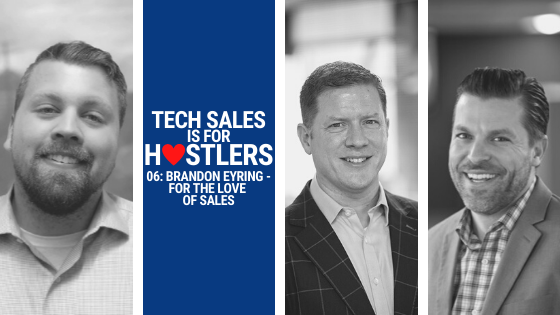 Not many people think an entry-level job will change their lives, but Brandon Eyring's story may change your mind. Along with the invaluable skills he learned as an SDR, Brandon met his future wife, Austin Leybourne Eyring, right here at memoryBlue in 2014. They've been inseparable ever since then, tying the knot in October of 2019. Today Brandon is a successful Sales Development Manager at ZeroNorth, which is home to an array of multiple memoryBlue alums.
In this episode of Tech Sales is for Hustlers, Brandon walks listeners through his amazing "memoryBlue match" with Austin, why he makes personal development a priority (including his methodology of consuming information), and offers detailed insight on a highly memorable win.
Full Episode Transcript
Name: Brandon Eyring
Title: Sales Development Manager
Company: ZeroNorth
Exit Year from memoryBlue: 2015
Months at memoryBlue: 15
Alumni Path: Internal Promotion
***Introduction***
Brandon Eyring:
I've always looked at sales is a personal development game for me. That's how I looked at memoryBlue. I'm going to take this opportunity to better myself, which I think is another piece of advice I would give myself. Just work harder on yourself than you would on your job, because I can work really hard making dials, but if I don't get better, those dials aren't going to mean anything.
Marc Gonyea:
Who doesn't love a love story? Today on the podcast we have Brandon Eyring, Sales Development Manager at ZeroNorth. Brandon met his now wife, Austin Leybourne Eyring, right here at memoryBlue. Listen to Brandon's perspective on how they came to be, how he keeps his skills sharp and his most memorable win. And come back next week to hear Austin's side of the story.
Marc Gonyea:
Hi, I'm Marc Gonyea.
Chris Corcoran:
And I'm Chris Corcoran and you're listening to Tech Sales is for Hustlers. Tech Sales is for Hustlers is a podcast where we catch up with memoryBlue alums and reminisce about their start in high tech sales with us.
Marc Gonyea:
Let's go get some Corcoran.
Chris Corcoran:
Gonyea. You know, I'm ready.
***Episode 06: Brandon Eyring***
Marc Gonyea:
So today we've got Brandon Eyring here. Hi Brandon.
Brandon Eyring:
How are we doing?
Marc Gonyea:
Doing very well. Thanks for joining us.
Brandon Eyring:
Thanks for having me. This is cool.
Marc Gonyea:
Thanks. I'm excited you're here. What we want to do is kind of familiarize you a little bit with the audience, because they don't know you, and Chris and I know you. So one of the things we can do, we'll just talk a little bit about you.
Right now I know you're a Sales Development Manager at ZeroNorth and all sorts of great things with a bunch of memoryBlue alums. They just got done being a member client. But before we get into all those things, let's talk a little bit about you. We want to go back to where you're from.
Brandon Eyring:
Born and raised Baltimore, Maryland. And skipping through high school, getting up to like really where I started developing to where I am today. I'm the first person in my family to go to college. I remember interviewing with you and it's like that, that trait of mine, that's something that no one can take away from you, like when you're a trailblazer. So it's kinda been like my persona, if you will, where I do things a little bit differently. And so that got me through school, graduated.
Marc Gonyea:
And when did you graduate?
Brandon Eyring:
I graduated in 2014. May of 2014. So, the way I heard of memoryBlue, I actually heard of you from Eric Paul. Eric Paul was one of my fraternity brothers and he graduated a year before me, and started at memoryBlue doing really well in the January time frame, and I'm just like, who do I talk to to get a job? I don't know what I want to do. And I looked on LinkedIn, I looked at Eric Paul's LinkedIn on a Tuesday. The next day Tiana, she hit me up on Wednesday, like, "Hey, would you be interested in talking about a sales position at memoryBlue?"
I was like, sure. I have no other opportunities. I talked to her. I'm thinking the whole time, Eric, you hooked me up. He's like, no, I didn't. I swear. I'm like, dude, I looked at your profile and the next day your recruiter hits me up. I've never heard of the company before. And that was in January.
And then, I don't know if you remember this from the interview, but we had the interview in February, the night before our interview, there was a massive house fire next to where I lived in Frostburg and the street flooded. There was three inches of ice on the street and my car was stuck. Me and my fraternity brothers drove six hours the night before the interview to get down from Frostburg to Northern Virginia and dig the car out so I can make the interview.
Chris Corcoran:
So that's how you found out about it, Eric Paul.
Brandon Eyring:
So that's how me and Frank Taylor heard about it.
Marc Gonyea:
Frank Taylor. All right. And the funny thing is I always give Frank Taylor the credit, so it's good that you're reminding me that.
Chris Corcoran:
I've got a question for you. You're big on self-improvement and advice and wisdom. And so what advice would you give to you the night before you started memoryBlue? If you could.
Brandon Eyring:
Well I think it's the advice that I probably did give myself, which was kind of going back to my background was like you got to find your own way. Like it's one thing to just be told what to do. It's another way to figure it out. So I could go reinforce back to myself and anyone else. It doesn't have to just be sales development or memoryBlue, but you have to take the initiative and you have to find your own way to be successful.
Chris Corcoran:
Very good. So then you started in May. And talk to us more about that. Like everyone, when they start a job or they do have a new experience, they all have expectations and very rare is that a match of what actually happens is to what you expect? So how, how is this job different than what you expected?
Brandon Eyring:
I've always looked at sales is a personal development game for me. I've always, ever since I've been a kid I'm actually introverted, and I had trouble communicating because I fit into kind of a shell like a turtle almost. So I always looked at sales as an opportunity to develop. That's how I looked in at memoryBlue like, look, I'm going to take this opportunity to better myself, which I think is another piece of advice I would give is just work harder on yourself than you would on your job. I can work really hard making dials, but if I don't get better, those dials aren't going to mean anything. I looked at memory bushes and opportunity to get better. Safe to say that worked out.
Marc Gonyea:
Yeah. So had you considered sales at all?
Brandon Eyring:
I had considered sales because in college I did some network marketing, so I was sold on the idea of like building teams and being able to sell products and whatnot. But the problem with any model like that, it's just not the right vehicle for most people. That really got me hooked on personal development. I saw the light at the end of the tunnel. But I didn't know about tech sales and or software. I remember we spoke specifically on why software sales and the way you broke it down really helped me understand like why this industry and the fact that with software, you have costs to iterate and grow the software, but once you create the software you don't have to do that process over and over and over again. You have the software, you develop it and you grow it, but the margins of you creating the software and then being able to sell it for the first specific solution. It just made sense to me to be like the salesperson being able to help the market benefit from the software and help me financially as well. It just made sense that that was the market to be in.
Marc Gonyea:
So you came on and then who did you work with? What clients did you have? Who's your DM?
Brandon Eyring:
So my DM was Mike Mishler. He was tremendous for me. I remember my first week at memoryBlue the first phone call, dialing. Someone answers the phone. I hang up.
Chris Corcoran:
Did you count that as a CWP?
Brandon Eyring:
No, probably not. But what I did count that was like I need to like do something cause I can't do this again. Be in a job where I can't do my job. So I was like I gotta like figure out how to fix this. I was on Pure Storage. I mean that's a tough sale. We don't know what you're talking about with databases and the hybrid, whatever. I was determined I was like I'm gonna figure it out. I started reading a bunch of books.
The other key thing that really set me apart at memoryBlue at the time was I'm going to tackle my challenges one at a time. I think about the most immediate challenge in front of me. There's only one challenge that everyone's ever facing at a time. It's prevalent and you got to overcome that. I thought about like a video game. So it's like I'm at level whatever. In order to go to the next couple levels I have to beat this boss and this boss is in the form of a challenge. And so getting to talk on the phone was, was one level. I gotta figure it out.
What made sense to me was books people have written stuff about how to like overcome call reluctance and get callous to rejection. Let me dive in, solve that challenge for myself and then I get faced with another challenge. Okay, I can get someone on the phone then what? I can't ask the right questions. I don't have the right funnel. Google how to ask better questions, Spin Selling, read Spin Selling, implement, Spin Selling. It works great. And that lesson has helped me to this day.
Marc Gonyea:
That's great. Did you get anybody at memoryBlue to help you along with that or was it just like Brendan Eyring Inc? You're a self-starter and you definitely marched to your own beat in a good way, but did we help you with anything?
Brandon Eyring:
Absolutely. Number one, the infrastructure here, it allows that to blossom. The opportunity to even have to go through these lessons. It was a direct credit to building the business model that you have, the business you have. So before we go any further like that without the work that you've already put in to build a business, there's no story here. Once I'm here obviously Mishler was a huge influence. And he helped me focus on just keeping the first things first, the most important things you have to still focus on. And that is keeping your client happy and booking meetings. And that's how I reverse engineered it. So everything I do needs to be those two things and that orients me. And then I have a great team I worked with at WealthEngine too. It was me, Omari Morgan, Jim Gandolfo, and Agne Mohan. They were tremendous because we were all a collective with WealthEngine and really helped each other.
Marc Gonyea:
Here's what I'll do along the way as we're talking because you're such a book guy. What would be the book you'd recommend to a brand new SDR? Somebody who's kind of knows the job doesn't know the job.
Brandon Eyring:
It's not an SDR book. Extreme Ownership by Jocko Willink. That is the framework for your life. You must take full, complete responsibility for everything that happens to you. If you don't, then you're in excuse land and you're a victim of your environment and that's unacceptable. So if someone needs to take ownership of their life, then they use that, get that knowledge, and then you can start applying like tactical sales books. I say read every one because there's no one book.
Chris Corcoran:
You're obviously a big self-development, big book guy. I know that you're very physically active workout on a regular routine. Tell us a little bit about your workout routine and then I'm also interested in how you consume books. Is it all reading or do you audiobook while you're at the gym?
Brandon Eyring:
So the way I like to consume my information because I think of it less of reading a book cause that's just one way to consume information. My wife loves this, who Austin. I met here as well.
Marc Gonyea:
We got to talk about that next.
Brandon Eyring:
Yeah that's a good topic. What we'll do is we'll go to the Barnes and Noble at One Loudon around where we live and I'll spend two, three hours just looking at all the books. I'll take a picture of the books, things that are eye-popping to me and then I'll go on YouTube and watch the videos of the author talking about their books, in 20-40 minutes they give you all the nuggets and if I find out even more interesting then I might get the audiobook so I can listen to it on the commute or like go into the gym or something and then try to put it up to like two and a half, three speeds to try to like get as much knowledge and parse through it. If I like it even more I'll slow it down and try to digest even more then I'll get the real book. Like Extreme Ownership, I will all get the Kindle or the physical copy and I'll just make time to sit down and read it. But I don't see glory in just forcing yourself to read a book. You have to get the information anyway that works for you.
Marc Gonyea:
But let's just go back to the wife. I was wondering how long it would take for Austin to get brought up, it only took like 18 minutes. So where did you meet your wife?
Brandon Eyring:
I met her at a First Friday. It had to be October, 2015 or 2014. So, if you don't know, First Friday is a memoryBlue sponsored happy hour at the First Friday, every quarter where you have current employees and alumni come together and network and have a great time. So, the story behind that was Friday morning Tiana sent out an email an all company email that said Hey, we have an all-star candidate, Austin Leybourne coming, make sure you say hi. Just make sure you introduce yourself and you make her feel welcome. She interviewed that day. And so, at First Friday, I introduced myself, met Austin and the first words out of my mouth are oh, you're the girl from the email. And she's like, what email? You're the all-star candidate. Really? I'm just keeping it real.
So that was October. She didn't get hired until at least the end of October. Beginning of November. Let me just keep in mind, at this point in memoryBlue I'm on top of the charts, I just bought an Audi I was loving life. And so she walks on the Mishler's team like the first day. And like we had some rapport, we hung out at the first Friday and she walks in and she sees my name at the top of the leaderboards, like, what the heck is this guy doing? So, she's like, yeah, I've got a database client, I'm gonna go crush it. Cause she did really well in an internship in college and I was like, oh, databases good luck.
She goes to book four meetings in her first day. Obviously, she was a stud and I was still dating my ex-girlfriend at the time. Keep in mind this, and Austin does admit this, but she met me the first week I bought the Audi. She didn't know me pre-Audi. I don't think she'd be with me if she knew me pre-Audi. I had a '98 Chevy Lumina. It was just bad. I had my mentee, Michael Serwadda I took him to Lost Dog in my beat up car and like the brakes were failing. So Austin didn't know me prior. So the Audi was destiny. That was a big bait.
Chris Corcoran:
Sounds like the Audi gave you some swagger.
Brandon Eyring:
I think the Audi was a result of the swagger. Swagger always comes first. So Austin's first day she crushes it and I'm obviously like, that's really impressive. But keep in mind like I was doing so well with WealthEngine that like I can make 30 dials and get four meetings just because of my approach. Everybody was just giving me crap, Wealth Engine is an easy account, there's no such thing as an easy account. I was just good and my approach was I want to give people money. I'm calling into fundraising offices that are going to answer the phone every time. And they're thinking that you're going to give them money, so I'm calling to give them money. So, I just understood that.
After a couple of weeks at memoryBlue she's there she comes over to my desk, trying to learn what I'm doing, which is an added tip. You find somebody who has the success you want, you go learn from them, you pick their brain and you follow them. Cause Ryan Cooper was the guy that I did that with and, he was somebody that when I walked in day one, he was top of the charts and you had been for the whole time and I just sat behind like, what is he doing right? How is he talking to his customers? What's his tone like? And that's what you need to do as well.
So that's what she tried to do. But every time she was trying to hang out with me and pick my brain, I had people calling to set meetings from my voicemail. People hit me back on Twitter. So, I was leaving voicemails, I think intrigued her enough as well. Because I mean we're working really hard at memoryBlue. Everyone's working their tail off, but my numbers are just different. And so we're trying to figure out what that is.
And eventually, a couple of months I got promoted to Tommy's team. And so I started working for the internal sales team sourcing deals here. So at the time I met Austin, I was in the Boone Boulevard location with Mishler's team. We had, man, Joey's going to kill me for not, for forgetting the name of our, it was the West Wing, the West Wing. It was me. Joey Cohen, Robbie Connors, Omari Morgan, Pat DiGioia was there and Rubi Escalona. So, we called ourselves, the West Wing, because we just dominated. Joey and I, he was the best man at our wedding. We sat next to each other.
That's another thing too, is you gotta find somebody that will give you constructive feedback because he and I would sit next to each other and we're leaving a voicemail and be like, dude, that sucked. Like don't say that. But it's like, okay, cool. What would you want to hear? And it's like, I can say it this way. Okay, I'm gonna try that and then get off a phone call and be like, yeah, that was a terrible pitch. He was like, don't say it like that. Let me try this. And so, like that kind of rapid iteration helped us a lot, both of us.
And that it all builds your confidence too because you know, sales development is super hard. A lot of people can get caught up in this emotional roller coaster, the day to day and they tend to forget about the fact that if you just disconnect from the emotion of it and you just do the work that you will be successful, then you'll be happy. But you're not happy doing the thing that's going to make you happy. You get to kind of like disconnect from that.
Chris Corcoran:
So you got your Audi, you're pushing it you get promoted. So when does the relationship start?
Brandon Eyring:
Keep in mind during all this. I'm still dating my ex-girlfriend. I'm not like coming on to Austin or anything, but she's definitely single and definitely has her eye on me.
Chris Corcoran:
And how do you know this?
Brandon Eyring:
She told me. Well what she did first was she thought, shout out to Joey for this. She told Joey not to tell me that she liked me. Thinking Joey would tell me, of course Joey didn't. But I mean it's obvious, but we didn't really get serious until about February time frame. We had like kind of a romantic experience. It wasn't a date or anything, but memoryBlue dodge ball. And I was getting ready to break up with my girlfriend and, we were friends at this point and Austin was playing different moves. Like she was hanging out with other guys and saying how, and she was hanging out with like some other guys. But I was listening to what the other guys were doing that she didn't like that she would complain about and what she's looking for. So I knew back in my mind, here's how I would approach it and how you would need to be approached. I was just like observing. But I had that knowledge and I knew I was going to break it up with my girlfriend.
And then, Austin and I went to, Velocity Wings. We hang out, and we're talking, have a bit of a connection and then we go our separate ways and then the next day in the office I realized like, oh wait a minute. I think I like her. She tried to walk by my desk and I was kinda heart drop kind of thing. I text her as she walked by like, Hey, we need to talk. And then she's like, okay, okay. And then there was a massive snowstorm that night. memoryBlue was closed the next day.
I told her, Hey, snowstorm, it's bad. I don't want to do it, and she said no, we are going to meet, which is very on brand for her. I was like, all right, all right, let's meet at the Chipotle and talk or whatever. But everything was closed except the Olive Garden on seven. And she was super nervous cause she'd been after me for a while and I'm like thinking like I'm cool. I'll never forget to sitting across her, and she's fiddling with herself. I'm just like, Hey, we're hanging out it's cool.
And then probably another couple of weeks, we started dating. It was the March Madness event over at BJ's. Everybody got together and then I pulled her aside. I was like, Hey, I'd like to consider you my girlfriend and ]how you feel about that? And just like, yeah, okay, cool. And then she said resoundingly yes.
There's two funny things. One of them is, the Nordstrom rack that's right next to BJ's. And before we went into the BJ's through where we had that conversation, I bought a pair of red Nike shoes. Like for 40 bucks. I still wear them and I still have them. I go to the gym with them like every time I lift cause they're super flat now. So, those shoes and you can't obviously see them, but I wear the shoes the day we started dating all the time. So I think about that.
We were both in interesting living situations. She lived with some, some Craigslist roommates, because she moved from North Carolina. I'm from out of town as well. It was a really sad situation actually. I moved into with this family who was obviously downgrading, downsizing. They had a lot of their stuff from a large house in this tiny, McLean townhouse. And then there was two older folks and their 50-year-old son and then the older gentleman got sick and was on hospice care while I was staying with him in the top room. So you had to go in and his, bed was right there. Which also influenced l why I would work so hard here at coming early or leave late because I didn't want to go back. It's a really tough situation to be around there. But the fact is that when we started dating both our leases were about to be up, we were dating a month. And we moved in together. The one thing I told her was look, it's going to work or it's not, and we'd be okay with it either way. Let's just do it.
Marc Gonyea:
You guys are both in the same profession. So what's that like having your wife, your partner in crime in the same game?
Brandon Eyring:
When I started going to A Beautiful Mind on like how I think about sales with her. She gets it, she understands where I'm coming from, whereas I don't know any other way. But I couldn't imagine not being in a relationship with someone that can let me kind of get my thoughts out and also point out like where I'm wrong. I've seen other relationships who maybe don't have that dynamic where it's a one person is trying to develop really deeply in their profession, but the other person that's a support to their life can't really push back or be constructive just for no other reasons, they just don't have that knowledge.
But for Austin, I always tell her from the bottom my heart. She is better than me in sales, like she's a better salesperson than I will be. I tried to make up with that with my work ethic and I have developed, but like she's got innate sales ability. So for her to be able to provide feedback for me and I do the same for her obviously. It's a really unique relationship.
Chris Corcoran:
So there was a time, I want you to tell the story that you and her, if I recall correctly, were both selling the same technology into the same territory for direct competitors. So let's talk a little bit about that.
Brandon Eyring:
So I worked at Cigital for a while with, with Taylor Pierce. So I actually went Cigital, because I did see how much memoryBlue alum was there and I was like, look, we're going to vibe there's something here. So my interview who I worked with, was Troi Meyers. I interviewed with him. We hit it off and I was one of his SDRs. I told him, listen, I want to be, I want to be a full-time closing rep, by the end of the year. This was like August. Troi's like, okay, let's make it happen. And so I was just, the top just was a top performer for them within, it was a little bit longer than I expected, which is probably another thing to learn in your career is like, it's always going to take a little bit longer than you think. But just keep pushing.
Well, what's interesting is like, because in the position I'm in now, I could speak with experience of I have gone from SDR to account executive. I understood what that took and I made it a math game. I looked at what is the company gonna pay me for the meetings that I'm setting, like what is the hard dollar they're going to pay me versus what is the base and the on-target earning that they would pay me for being an account executive succeeding. I just presented it you're wasting money by having me over-perform in this job. Whereas he could promote me. I can make more money for you. He was like, well shoot, that makes sense. You know? And then that helped me get promoted.
Marc Gonyea:
Who else did you work for Matt Herr?
Brandon Eyring:
I did work for Matt Herr. I love that guy. So what ended up happening was I got hired at Cigital worked for Troi. Troi was managing the SDRs and the inside sales team. And Christian Mory, I also worked with him. Eventually Troi just focused on the inside sales team and Matt Herr was coming over from CB if I recall correctly. And I worked with him as a direct manager and honestly, a lot of my style if you will, managing comes from Matt, which is very focused on the personal development of the person you're working with. So being managed by Matt taught me a lot about the manager is just a facilitator. It's not about the manager. I try to keep that in mind today of just, forget your ego, just focus on how you can help people grow.
So, I've learned that and I took that with me in my next role. So my next role though, is really where it got interesting for me. So, I just did a three month kind of trial period where half my time I was setting up meetings for our Northeast account reps and the other half I was setting up meetings for myself in the Southeast United States.
Within two months, maybe three months, I hit my annual quota and specifically for two reasons. One because of the way that I was prospecting, not the fact that I was prospecting period, but it was the way I was prospecting and then two how I was looking for opportunities. So the way I was prospecting was, m looked at it from a just a territory perspective like state, Metro area, target accounts got super segmented, like specific areas and to the point where like I find different types of people in account and I'll hit them all different messaging all at the same time. My intuition was if I do that in specific target accounts in geographic areas, the likelihood that people know each other at different accounts, they're going to talk to each other in their company and also outside the company if they know people. My whole thought was I want to get conversations started off where I don't see it and that paid off for me.
So, one account that I had at Raleigh, North Carolina, at was probably 25, 30% of my quota for the year. I had 15 different people at that account for two weeks straight, just hammering emails, voicemail, LinkedIn, phone calls, no response, nothing. And then one day I get a phone call from that number. I got a phone call from the number and Oh Hey, I'm the new director of information security everyone over here tells me I need to talk to you. What can you do for me? We got a deal closed that month. So I was like, okay, that just proves the point.
The other one that, that actually closed my quota like that put me over the mountain. We had this service which was a basically for one price you get subscription penetration testing. So if anyone's in security, they should know penetration testing, but essentially it's like white hat hacking for applications. So there's obviously different levels of depth you can go and different types of testing. I was looking for that kind of deal. So I was qualifying for that deal. So, when I got on the phone with this customer who was an enterprise customer previously going through the SMB company, he already liked this. So definitely it was net new business. I wasn't just looking for I think came to us looking for a single pen test. A single pen test is like 15 grand or something. But the subscription service on my team that was an enterprise solution. Some of the enterprise customers, would have a couple of different subscriptions.
I asked them three qualifying questions for that service and it went from a single pen test to being an entire subscription. They're going to do all this work anyway. If you buy the subscription, you get it all for a single fixed price and you can get it all done and you're going to save $200,000 I presented it and within two weeks that closed so that we have two deals right there where the surround the castle thing and qualifying for the big deal. That's how I hit my quota, my annual quota in three months.
Chris Corcoran:
So it was, it was potentially going to be 15K and you converted it to 120K?
Marc Gonyea:
Three questions unlocked the gold.
Chris Corcoran:
I still want to hear about when you and Austin were competing head to head.
Brandon Eyring:
So let's get there. So if you recall, Troi was my manager for SDRs and went with the SMB sales team. He was again my direct manager. So we're crushing it. I'm about to get promoted to be an enterprise sales rep in Texas for Cigital but then we get acquired by Synopsis. For better or for worse you start selling different services and different software. And we started to see a trickle of people leaving the company. Anyone who's been through an acquisition can tell you it's not always fun.
So Troi was one of the folks that left after about six, seven months. And he went to a direct competitor and that's fine. And Austin was working with still her client from here, BD and A. So we had to go through another acquisition being they got acquired by Flexera. So they were going through that whole deal and Austin was looking for a new opportunity. Well, I'll be, we have Troi looking to hire. So Troi, my previous manager memoryBlue alum, hired Austin, my girlfriend at the time memoryBlue alum. And so she starts working for our direct competitor. The exact same territory, calling the exact same clients that was unsustainable, we couldn't talk very much.
Chris Corcoran:
Any interesting stories during that time?
Brandon Eyring:
Not really.
Chris Corcoran:
How long did that last?
Brandon Eyring:
So about four months or so. The interesting stories were just the fact that like we were recognizing how much we weren't talking about work anymore. And we thought that that was like, all right, this is not going to be sustainable.
Marc Gonyea:
Let's go back to the skill development. So you know how the SDR role works. Very few people want to be in the career forever as an SDR. And why is that?
Brandon Eyring:
Well, one of the reasons is the fact that I think that there's not a lot of prestige. There isn't a lot of respect from your peers for it, that's no one's fault. It's been looked at as an entry-level role for the industry for so long that there's, just an expectation that if you're an SDR for too long, it must mean you suck. He must not be ambitious and you're going to do it forever. And all these negative emotions that are outside of anyone's control but maybe that's a reality that the SDRs face today. But it is so hard job more than anything to, and especially like as an SDR, you typically haven't built the calluses yet too. You're doing the groundwork and the hard work, getting rejected, finding new opportunities and you just don't have the skill set, so you're getting beat up. You still have the skill set.
Marc Gonyea:
But one thing I want to point out because this podcast is for people who work at memoryBlue now too, people who are looking to work for us or get into high tech sales in general. And you don't leave those skills behind though. But you just told us you hit your number or whatever. 40% of your number was by using the skills that you developed when you were in the chair with us and in the chair at Cigital and those skills in a more refined form. It gets a little bit easier when you get better at it. That's what helped you get to your number.
Brandon Eyring:
There's two ways to look at it from a professional standpoint. Everything you just said, if you want to be a salesperson, if you want to close business and you want that lifestyle, you can't close what you don't open. You have to learn how to open and no one's gonna do it for you. You know, even if you got SDRs and one's going to do it for you, SDRs they're not like no push button type thing. If you want to become an account executive, if you want to become VP Sales kind of statute, you have to know how to find opportunities. But more importantly, I think if you go back to my motivation of sales in the first place, it's a personal development came from me.
So, I look at developing skills in the SDR role is going to benefit me for the rest of my life, learn how to detach from an outcome and ask for what I want. Be persistent. That skillset has directly impacted the quality of my life. So, you learn lifelong skills in this profession that I don't know where else you can learn it. Without memoryBlue, I don't know how I would have found that kind of swagger and myself, like I said, I was a very introverted kid. I didn't have a lot of confidence. That's the thing about sales, once you find success, everything's good. You know what I mean?
Marc Gonyea:
Yeah.
Chris Corcoran:
So it'd be helpful to understand the period of time, right? So help me understand the span of time from the day that you made your first call and hung up on yourself to the day that you got that call from that company in Raleigh that said, Hey, everyone here tells me I need to talk to you what sort of span of time was that?
Brandon Eyring:
So I started memoryBlue May, 2014 fresh at college. I didn't even take a week off. And that conversation happened, it must've been March of 2016 so about two years.
Chris Corcoran:
Not even two years, not even two years from afraid to talk to somebody to surround the castle, they call you. That's pretty amazing.
Brandon Eyring:
When you think about it, the other thing as an SDR. As you're going through that two years, it feels like forever cause you don't have a span of time to reflect on it. You're just going through it. So it feels a lot longer than it is. But when you say it's like less than two years ago from point A to point B, when we get off this podcast and we were reflecting on the fact that like, well where are we going to be two years from now? You know what I mean? There's so much that can change from right now to that span of time.
Chris Corcoran:
That's amazing. That's amazing. So you've obviously gone and closed some deals. What's your favorite close deal? Like the biggest or, one that means the most to you or most memorable?
Brandon Eyring:
So my favorite deal, let me see if I still have it.
Marc Gonyea:
Brandon's opening up his wallet.
Brandon Eyring:
So it had to be the deal. Like I said, where I was qualifying, it was like that, that 3D deal. One of the first day big ones I had. So I'm holding a $20 bill here and it's signed by a few folks.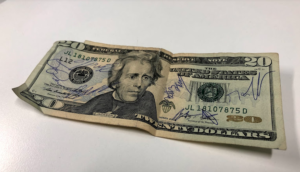 And the story behind this is after I closed that deal I took everyone out to the Mexican restaurant across the street from the office. I bought everyone, Don Julio 1947 tequila shot. But the way I got to that, 20 is I have a dad joke. It's anytime I'm at bar restaurant waitress comes by. Hey, can I get you anything else? Yeah, do you got a 20 or something, super dumb. But the last day when I left Cigital Synopsis, all the guys that I took out that day, signed a 20 for me at the Mexican restaurant and we all took a tequila shot. So I'll never forget that deal but it was the people that I celebrated with, which is why that's probably my favorite deal that I closed.
Marc Gonyea:
Let's talk about what you're doing now. Just spend little time on that. Cause I think it's a great story. Tell us a bit about the company. Talk about who you're working with and what you're doing and you're really laying the foundation for how to do things here. So talk about the offense, you're trying to implement.
Brandon Eyring:
So right now we're at ZeroNorth. We have a phenomenal team of people that we're selling it to be the risk base, vulnerability orchestration space. If you don't know what that all means, and it doesn't matter because we're not selling to you. The biggest thing is you have to be with good people. The technology is cool. The work-life balance and I'm working from home now out of Ashburn, we're headquartered in Boston. That's cool. I can spend time with the dog and the wife. But it's the people you interact with like working with Taylor Pierce every day, working with Katie Lowry every day. The people at ZeroNorth are the best I've ever worked with. And I could say that because I've worked with people where I wouldn't say that about all due respect.
Marc Gonyea:
I don't want to leave anybody out. Thaddeus.
Brandon Eyring:
Thaddeus Walsh he's one of our solution architects.
Marc Gonyea:
Ian Wisecarver.
Brandon Eyring:
So we have a really rich network as ZeroNorth. And so, what's interesting, if you just quickly think about it like these people, Taylor and I, you start getting these groups of people, likeminded people together at different parts of their career. So it's like success begets success and you start collecting good people along these journeys.
Chris Corcoran:
Then you become a pack.
Brandon Eyring:
Exactly. So I kind of feel like, a wolf pack. So ZeroNorth, we're a startup in Boston. We're growing like crazy. We're eyeing up our series B hopefully soon. We don't know when or if, but we hope soon because it's going to fuel our growth. I joined the company last year; June of 2019 and they had no sales development presence whatsoever. So Taylor Pierce who just joined, he called me up and we were just catching up and told me the technology and it just made sense to me, cause my experience and this is where the market's going.
I was currently at Synk, which was another client of memoryBlue back in the day with Pat Digioia. He hooked me up with this gig cause uh wanted to get into the security space and I have just a different environment. So I was still closing at that time. So the biggest need for ZeroNorth was sales development pipeline. Like I know a thing or two about how to build pipelines. But my experience from Cigital Synopsis up until Synk, I learned that enablement is the key for any company to scale. It's one thing to have good people and it's one thing to have a good salesperson too.
But when you start talking about companies at scale, they have infrastructure, they have training, they have acknowledged sharing, they have process. And um learned that saying that this is what you need to grow. So I got really heavy into enablement and I started reading all books, go to the different chapter meetings and got really deep. So when I talked to Taylor, I'm coming from a frame of enablement frame of process. So I was like, all right, Taylor, I'll tell you what, let's link up.
Let me join this company and it's gonna be a three-phase approach. First phase, I'll come in, I'll be the SDR. I'll help build a pipeline. I can target accounts, I can get you the conversations, no issue at all. Phase two is I'm gonna help you build out the team. They'll start hiring folks start training them, developing them. And then the third phase I'm going to fire myself out of that management position and focus more on operations, more on enablement, less of the sales development, just more of a sales marketing. And so, I'd say right now, phase one has been a success.
We hit our company, revenue numbers last year. Katie working with us from memoryBlue has helped us tremendously to do that and couldn't have done it without her. And the fact that we could hire her on the team, is just going to continue to compound that growth for us. So we're in phase three right now trying to build the team out. We've got a new hire starting next week that I'm going up to Boston to onboard. And our growth strategy is going to be aggressive this year.
Marc Gonyea:
You guys have this mutual attraction, you've got a lot of very successful people who like to get after it and good people and that usually works.
Chris Corcoran:
So I have a question. Talk to me about the memoryBlue network and what opportunities it's brought to you or the value of it or just comment a little bit about what you've seen.
Brandon Eyring:
So going back to one of my first comments is the fact that memoryBlue even exists and got me into tech sales. You never really know like where life would end up. Right? But I'm in tech sales because memoryBlue was built number one. But in terms of the relationships I mean obviously you can't put a price on, I met my wife here can't put a price on that. I worked at Cigital and I knew Cigital was good because it had memoryBlue alum up there.
So, ZeroNorth got on my radar because I had that kind of mentality our previous CTO at Cigital, John Stevens and Taylor joined. I was like, something's going on here cause I respect the heck out of both of these people. And then that it of worked out. And if there's any memoryBlue alums out there, we want to work with you because we've got something in common here at ZeroNorth. But the network has been invaluable to me it's been probably the best decision I could've made think it's most important.
Chris Corcoran:
So you also work from home? Just the first time you've done that?
Brandon Eyring:
Yes in the sense that I have at my own little office. When I was with Cigital a couple of work from home days, but the fact that I'm 100% remote right now is definitely a new experience.
Chris Corcoran:
So what are, what's your favorite part about it? What's your least favorite part about it? Some pros and cons about the working remote.
Brandon Eyring:
Working from home is not for everyone. Some people need that energy in the office. But for me, I love the ability to, to wake up on my time. So I'll be up I get up at 4:30, go to the gym, get to work super early. Sometimes I'll wake up at seven, take the dog out and I'll get to work, but I cut down the commute time, which has little give and take cause during the commute you can usually listen to a podcast like this or you can listen to a audiobook or whatever. You get your personal development time in So you have to find different ways to do that if you work from home and cut that out. You have to have really detailed notes.
This is like the biggest thing. If you don't take good notes, if you aren't managing your time effectively working from home, then you're going to get lost. You have no one to hold you accountable because you have to hold yourself accountable. But for me it's really cool. It's, you know, I get to take the dog out. I will also say is before our place in Ashburn, my wife and I live now. I was working from home, but it was from our couch. We didn't have a desk yet, which is not a good idea because one is uncomfortable two your workspace it's like a vibe.
You can't really ever get away from it because you're trying to watch a movie, but your laptop and all your notes, just like sitting next to you I can't get away from it. So if you're going to work from home, you have to have your own area, have your own dedicated space where like when you're not working, you're not working. If it's always on your brain. You're going to have this anxiety going on and that's just not gonna be healthy for you or any relationship you have.
Chris Corcoran:
You are closing rep. And then you said, Hey, I spent part of my career working as hard as I possibly could no longer be an SDR so that I could go and close my own deals. And then you're closing your own deals and then you go back. What was that like?
Brandon Eyring:
A lot of people can look too short term and think that that's a step back. But sometimes you have to make lateral moves in your career to be able to step up. I'm at a company that I absolutely love being a part of. And I think we have a long way to grow with people that I absolutely love. And if anyone thinks that's a step back, then you're fooling themselves. It's just looking at a resume. They're looking at a title. You can't chase the title. You have to chase what gives you energy I want to be around people that enabled me, I can help build programs for that's just how I operate. I loved it I could do the work well, I could teach other people how I did my way and hopefully that helps other people and then I can scale out the ability to enable folks. So I never looked at being an SDR here at ZeroNorth is taking a step back or like having that kind of mental battle and it always felt like it was just a launching pad for a new opportunity for me.
Marc Gonyea:
Your self-awareness, you're so secure in yourself. It's inspiring. A lot of people are listening to this because it sounds like to me what I'm hearing is you're about the journey. And you're taking it as you go and you're not getting caught up in like what I'm doing. This is part of my plan. This is part of me helping ZeroNorth build and scale. This is not me. So a lot of people wouldn't secure or comfortable enough in taking that bigger term picture in terms of how you're contributing to the whole where ZeroNorth wants to go. So kudos, man, great stuff and then, and then the most important thing is if anyone's listening to this as they should, they need to make sure they listen to Austin Leybourne's podcasts to get the other side of the table. You can say that for posterity. Play it for your kids one day.
Brandon Eyring:
That'd be fun.
Marc Gonyea:
Yeah. That's all we got. Very good.
Chris Corcoran:
Brandon, we appreciate you coming in.
Brandon Eyring:
It's fun.
Chris Corcoran:
Definitely good times.
Brandon Eyring:
Yeah, for sure.