Episode 10: Daniel Clark – Question Everything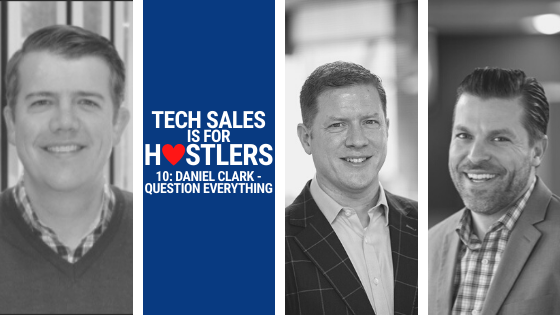 While it technically may have killed the cat, curiosity most assuredly does not produce the same results when it comes to sales. In fact, Daniel Clark will tell you exactly why it is one of the most critical traits a sales pro can possess.
Clark, now a successful Senior Consultant at Neustar, traces his roots in high-tech sales way back to the 100% commission-only start and lets listeners in on the wealth of lessons he's picked up along way in this episode of Tech Sales is for Hustlers. Among it all, you'll hear why he believes analytical curiosity is mandatory in high-tech sales, what the word "compellevant" means (and why it matters), and why he won't hesitate to hurl tough questions at sales trainers.
Full Episode Transcript
Name: Daniel Clark
Title: Senior Consultant
Company: Neustar
Exit Year from memoryBlue: 2007
Months at memoryBlue: 15
Alumni Path: Tour Completion
***Introduction***
Daniel Clark:
Especially when you started to get into more complex sales, I mean, you gotta think about how to separate your message from the million other inbound stuff that these folks get. I think that early on, I started to realize that I enjoyed it. Volume is important, but you've got to have an analytical curiosity to you if you're going to get into complex high-tech sales. I think it's a requirement.
Marc Gonyea:
We're going way back on this episode, like 2006 old school way back. Today, we interviewed Daniel Clark, Senior Consultant at Neustar and OG member of the memoryBlue drinking team. Dan walks us through what it was like selling time shares and advice he would give his younger self.
Marc Gonyea:
Hi, I'm Mark Gonyea.
Chris Corcoran:
And I'm Chris Corcoran and you're listening to Tech Sales is for Hustlers. Tech sales for hustlers is a podcast where we catch up with memory blue alums and reminisce about their starting high tech sales with us.
Marc Gonyea:
Let's go get some Corcoran.
Chris Corcoran:
Gonyea You know, I'm ready.
***Episode 10: Daniel Clark***
Marc Gonyea:
Alright, Daniel Clark. Thanks for joining Chris and I today.
Daniel Clark:
Thanks for having me. Excited to be here.
Chris Corcoran:
A blast from the past.
Marc Gonyea:
This is an old school. Holy s***. Old school. Daniel, when did you leave memoryBlue? Just to set the stage?
Daniel Clark:
July of 2007.
Marc Gonyea:
All right, well it's great to have you. Thanks for coming. Let's just help the audience and refresh my memory and Chris', although I think you and I remember you dearly, because you were one of the early, early guys. Tell us about yourself.
Daniel Clark:
I grew up in Woodbridge, Virginia. My family is from Richmond. My parents were one of the only kind of siblings out of, out of their family that came up a little bit North. Started working in the DC area. So grew up in Woodbridge went to high school there and then off to JMU for school, and then came right back to Fairfax County. And here I am.
Marc Gonyea:
So you went to the JMU, how'd you end up there?
Daniel Clark:
I applied to JMU and Tech, got wait-listed, said screw that. It's funny because I'm pretty sure if I applied now to JMU with what I was working with back then, I don't think I would have gotten in. So it was all Virginia stuff and JMU, as soon as I got the acceptance, I was like, I had heard too much about everything. It's a beautiful campus, loved the visit.
Marc Gonyea:
All right. But what'd you major in though when you were at JMU and how'd you figure that out?
Daniel Clark:
I went right into the school of business. I did marketing just because back then I was reading through stuff and there was a lot of overlap and somebody told me that marketing translated well to sales. That was my sophomore year when I was just starting out, or maybe even beginning of junior year, just started off in the business school. So I looked at a few different other ones. All within kind of the general business categories, but stuck with marketing and had fun doing that.
Marc Gonyea:
Okay you do your four years, you're doing your thing, you're making money major in marketing. You had these sales internships at some point along the way. You worked at University Directories and that's a huge part of memoryBlue. At least it was when they were still an ongoing operation. Do you remember that or how you got into that? Because this is when you started to go the sales route.
Daniel Clark:
Yeah, I was actually working at the golf shop my senior year. I started working at the golf shop in Massanutten and then in the winter, that last winter of school, I was selling lift tickets. So I starting to meet people up there because I knew I could get on their golf course if I took a job there. And I was all about figuring out how to get cheap golf all around the Harrisburg area.
The internship was really good because I was going to be staying over the summer. And I remember what jumped out to me was, they were showing the tiers of if you make this sort of sale, here's what your commission is. And I was asking like, is there a cap on that? Is there a ceiling? And they're like, no. And I was like, that's interesting. That was probably my first understanding of okay, out in the world, this is how sales works. Right?
So, the school directory, had a ton of advertising, just print advertising space in the back. The last 20 to 30 pages was full of local businesses buying ad space. So University Directories was the company that predates Facebook. So it was, Hey, we're going to give you a territory. You need a solid vehicle and you're going to go walk in the front door of businesses and you have your book of people that have bought before and you have your book, of people that have, you know, we've talked to them, that never bought and you need to hit all of them. And sell an ad space in this space. I mean like the biggest sale you would get would be like $3,500, which is a big deal for some of these really small businesses around.
Marc Gonyea:
Sure. So you were always hustling for money. It sounds like you were playing sports, did well enough to go to JMU, making money, but then sales kind of said, oh I can hustle in a different way in terms of the uncapped commission because you were working at the dining hall. It's great. You made more money, moving up the ladder, but that sounds like that set off a couple triggers in your mind.
Daniel Clark:
As you start to get a little bit older and you realize like, okay, school's over. So I gotta figure out how I'm going to support myself. And I had already kind of crafted the mindset that I'm not going to go home and live with Mom and Dad. I was talking to buddies about that. They were also moving back to the area, so we said let's look at apartments. We want to be closer into the city, but all that gets expensive. So Fairfax was a good landing ground for some of us. But it was tough to find people that were ready to rock and roll. A lot of people were still in school mode, college mode, and they wanna make that last as long as possible. Some go off to ski trips for a year. I moved home with my parents for 30 days and then got an apartment up in Fairfax.
Marc Gonyea:
Tell us about your territory at UD.
Daniel Clark:
I was Northeast of Harrisonburg and the Eastern Mennonite community college, the central commerce engine of greater Harrisonburg. And I remember thinking, why did he get downtown? Why did she get over here? Where there's strip malls and there's all this stuff. And I'm out here. It's all a small area, but I'm walking into places with people that are a little different, great people, but they don't interact with salespeople very often. So I mean, that whole mindset of just being able to walk through the door. I mean that's a kick in the butt right there, right? You gotta get used to that or else obviously it's not gonna work out. That's totally different from what we're doing here and what we do today for the most part, obviously.
Marc Gonyea:
I remember from our interview when you interviewed with us, but I want to talk about how you got to that interview, you were selling the timeshares, right? Or are you working for Massanutten? How'd that happen? What'd you do?
Daniel Clark:
Yeah, my connections after my internship was over with University Directories my connections with the pro shop said I was sticking around a little while. We'll reserve the reason why the Harrisonburg area. And I had heard that the sales guys up at the top of the mountain that sold timeshare can make, here we go again, uncapped commission. Timeshares are now 10 and 20 and 25 and $30,000. And I don't remember if it was 5 or 6% of that, but I'm doing math of like, well how many does the top guy sell per week? And all of a sudden I'm realizing there's people making $150,000 out in this area. Pushing timeshare.
And I said, well, can you call up there and get me an interview? And that's, that's what they did. I mean, they pretty much hired me on the spot because they need people willing to put people in their car and drive around for three hours. I learned so much good and bad from that experience. I lasted 10 months because I just, the way that industry works was a little bit, it didn't sit quite right with me. I mean, you learned that you have a great week and somebody hands you a paycheck with commas. As a kid I'm like, this is nuts. I'm never leaving this place. That's how I started my first 60 days. I called my parents and said, I'm going to sell timeshare at Harrisonburg for a living. Maybe I'll make it up to the big Marriott somewhere one day. But my manager was 19 years old, had no college education, made almost 200 grand a year.
Chris Corcoran:
So you did it for 10 months? What's the biggest lesson you learned from that experience?
Daniel Clark:
I learned a lot about management style. I had a college degree. My manager was younger than me when he was a hustler. He taught me how to make a pitch that incorporated all these different emotional roller coaster type of scenarios. He said, you have to make them feel terrible about themselves. They haven't taken them on vacation and they don't invest the time or the money into what's really important. When on your deathbed, what are you going to think about it? Are you going to think about work or are you going to think about the time you took your family to the beach?
Then they said it's 90 minutes what they sign up for. If you come back at any less than two and a half hours, I'm going to get all after you. And I'm thinking, how is that going to work? And they said, you cannot sell a timeshare in 90 minutes. You have a minimum of two and a half hours. We'd prefer three plus. Oh, they're very aggressive. I was never aggressive.
I had a guy one time that at the 90 minute mark we were up somewhere, we weren't anywhere close to where you start, where you pick them up and say, Hey, I'm Daniel and we're going to show you the resort today. He's got out the car and he said, honey, come on, we're going and I said, what are you going to do? He's like, well my time's up and I'm not staying in this car one minute longer. I'm not buying anything from you. And I said, that's fair. Well let me give you a ride now. We're like three miles from the, and he said, no, I'll figure it out. So I mean, you had people like that. And then I came back with nobody in my car.
But at the same time you had, you had folks that really wanted it, really good folks and, and sit there and watch them talk to each other about how to pay for it, how to come up with the $800 deposit, talking about do we have enough gas to get back to town? Right. And so that was a learning experience. And so the reason that it didn't work out for me long term obviously is I don't think that the product holds up to what you put these people through on a pitch like that, depending on their situation.
I had one couple come in that sat in my car politely for an hour and a half and then said, Hey, we're done. And I said, I said, can I ask you a favor? Can we stay out here for another half hour or so? And they said, we're buying two timeshares from me today. Let's go back down to the bottom. And I said, in that case we can head back, no problem. And they bought a $30,000 timeshare, two $15,000 red week time shares. You didn't know what was getting in your car. It was wild.
Marc Gonyea:
You know what? I'm so disappointed. I'm only asking these questions now because when you worked with us, I never asked you. I knew you worked there. But that's just a rich experience.
Daniel Clark:
Yeah, it definitely was. It was. I mean, I remember so many details from that 10 months that will stick with me. So you learn compassion, you learn how to craft your message. And when you're doing it in that style, I think maybe I had a little bit of a leg up just in terms of like, well, if you think I'm scared to pick up a phone, driving around people in my Chevy Impala over the last 10 months trying to get them to spend money they don't have.
Chris Corcoran:
And how much did these costs?
Daniel Clark:
Well, that's funny about timeshare, right? I was a closer in terms of like I was trying to sell red weeks, $8,500 was the starting. You could buy as many weeks as you want, but you know, the bigger sales were 30 to $40,000.
Chris Corcoran:
And how often would you make a sale?
Daniel Clark:
Just typically I would usually get a minimum of one or two week. I went through a three week stretch where I didn't get a paycheck. A hundred percent commission. And that's talk about learning too. And I know a lot of people make a living doing that, whether it's an insurance but that was a kick in the butt early on. And I remember getting angry over those three weeks because everybody I got was somebody that they were there for their free three day stay.
I don't know how they generated these leads. I think it's just people signing up at a mall. You know, free two nights day resort. You never know what you're going to get. So I just got a stretch of people that they weren't going to buy anything once I finally let them go or was able to let them go, then they take you to the exit where you sit down for two more pitches for white weeks and I forget the other color and they can go all the way down to $3,000. So they just put these poor people through the gamete.
Chris Corcoran:
So do you own a timeshare?
Daniel Clark:
I do not, although I will say that there are some out there that if you like to vacation a certain way, they are pretty cost effective. I wouldn't, I wouldn't buy it at Massanutten. No offense. Lot of great memories. No, of course.
Marc Gonyea:
That's not your style vacation. You got to think there's a reason why they exist and are successful.
Daniel Clark:
Well the people that bought the two from me. They said this is our third and fourth one. They wanted more. They wanted them, they wanted to give it to their kids. I mean there's people that make it work.
Marc Gonyea:
Okay. All right. So then we're a few minutes ago, so you're up in parents' house for 30 days. When did memoryBlue come into the picture and how? I was going through your record in Salesforce, so I thought I saw you were a referral from someone, but I couldn't tell. That may or may not be right, but do you, do you remember?
Daniel Clark:
To be honest with you I don't. I think it was through my own personal search. I don't remember what the tools were back then. If anything, you guys were having us take a survey. I remember that. I remember thinking again first exposure to a legitimate company. I'm thinking I have no idea how I did on that. I didn't have the experience I do now cause I interviewed people at Neustar all the time. What you're looking for and what, what consistency you would want to see from somebody that would be successful. I knew nothing so I didn't have any clue if I was on y'alls radar or not and if I remember correctly, I got that call saying that we want to bring it in. And from there, I mean how many people were there? Eight?
Marc Gonyea:
So 2724 Dorr Avenue. The office run across the street to where the trash would come to get compacted before it went to the dump. So seven or eight people we were probably on the second floor at that point. And then who'd you work for? Did you work?
Daniel Clark:
I started with Rainmaker. Do you remember my client was Rainmaker John Sissan that guy was, he was a firecracker. He's still getting after it.
Marc Gonyea:
And who from the firm was there when you started?
Daniel Clark:
I started right around when Terry Henretty, Daniel Sincerbeaux. Ira Becks was there. Oh, I want to say Alex Racioppa I can remember where we all sat.
Marc Gonyea:
And if you remember who your delivery manager was, who your boss was?
Daniel Clark:
Lee Lawson.
Marc Gonyea:
Okay. Alright. And what was it like then? So you were traditioned from face to face selling. That's a very personal experience selling people, you know, selling business to consumer and spending a lot of time with these folks. And convincing them to sign on the line, which is dotted to now you're cold calling folks just to book meetings. Do you remember any of that and what you learned to do?
Daniel Clark:
I remember John working with me a lot, I don't remember exactly what the training was back then. I know it's probably very robust now, but I mean you guys were, had done it, so you guys trained us up. And then you had to spend time with our client as we were onboarding. And I remember John saying, it was everything from what he expected from a volume standpoint, from a lead standpoint, what he wanted the message to. And I'm sure he looked at me 22 years old or 21 years old and said like, alright, I gotta craft this kid into what I want him to be, but hopefully he thought I was a half smart guy, but you know, I've never cold called or done outreach like that. I was handed people to go talk to now I gotta go find them. Right. So that was the big transition for me.
Chris Corcoran:
John was hands on in a great way. I wish all of our clients were as hands on and into it as he was, but he would look at your Salesforce reports throughout the day and be like, get on ya if that was necessary.
Daniel Clark:
As a guy that implemented Salesforce. He knew right where to go figure out what I was doing. I remember early on he said, this is something I have kept with me today just in my approach. I don't do as much cold calling anymore. Although I still love to prospect. Times have changed a little bit with people picking up the phone, but he used to have this approach where he said, if somebody answers the phone, don't just start talking. You don't necessarily have to ask for permission. You can, if you want, I'll let you figure that out. But approach them as a human and say, I'm hoping you can help point me in the right direction. We've worked with companies like yours. And then going from there.
I've been through a lot of sales trainings over my career and I've openly raised my hand and called out some of the more ridiculous stuff I've heard to the trainer right in the front of the room. If it's over the top stuff and say, give me an example, you know, help me understand how this works, right? Because I'm reading it in a book and I hear you saying it and you're drawing it up on your book, I feel like John kind of set me off on the path how I was going to do this for my whole career, which was a more light approach. Sound knowledgeable, do your research, ask for help.
Marc Gonyea:
Yeah, that's great. I think you've kind of earned that right to question sales trainers because you've spent a little over a year working for us just doing that every day and that's a long a** time.
Daniel Clark:
A lot of phone calls, a lot of phone calls. You kind of miss it. It was a big challenge. Your heart skips a beat with some of the answers, you know, still does today. If it's somebody I've never talked to them. When you work for a great brand and company you don't worry so much about them not taking you seriously, but you got 10 seconds to make an impression and still gets me going for sure.
Chris Corcoran:
Well I'll be curious to get your take on it. Cause when you started the clients that you worked on Rainmaker systems and Remco, those aren't name brands that people have heard of. So what was it like prospecting in that environment versus moving into working for a company that people know and respect?
Daniel Clark:
Yeah, it was very difficult. You had more conversations back then than probably maybe today. You guys would know that really well with this operation you've got going on now, which is very impressive. So, I didn't know any better at the time, but hindsight I kind of wonder, I would love to go back and listen to some old calls. But I mean I remember you guys used to put us in morning meetings and replay calls and stop. What should he have done there? I mean it's like looking at the film. I think it's great.
Chris Corcoran:
Were we using cassette recorders at that point? Do you remember?
Marc Gonyea:
So Clark had his phone and then he had a headset. We had a recorder from between the phone and the headset or we had USB blasts. So you were breaking down your calls and listening to them and working your tail off for Sissen. And for Remco. And Remco is interesting because Legendre the client, his son came to work for us as a marketing intern later or maybe around the same time. He was one of Corcoran's little henchmen and there's probably even more pressure for us to do well because Sissen's really involved. And to this day we still work with them. His son was working for us as an intern. Derek Legendre. You know you're a really good person, Daniel, and you've got some friends that you made a memoryBlue that course. And the little vibe you guys had going. Chris has got a story about it.
Chris Corcoran:
I refer to it as the original memoryBlue drinking team. So who were all members of the team?
Daniel Clark:
It was Daniel Sincerbeaux, Terry Henretty, Matt Genoa. We allowed him in a few times. Three of us held down. Some later nights, right. Calling might've been impacted a little bit the next morning. And Jennifer Zahos, she's doing great. Well, I remember Chris Coppe he was our military guy, right? That guy on the phone. He was animal.
Marc Gonyea:
So what was it about this, you formed friendships with these folks? Was it because you guys were all working your tail off, making calls and learn one another or was it something else?
Daniel Clark:
It's funny how it works out. Absolutely. Terry and Daniel were groomsmen of mine. Life goes on and maybe we don't hang out as much as when we were working together and even when I invited them to be or ask them to be groomsmen it's not easy what you guys teach these kids to do. You rally around that and we were a smaller shop, so maybe a little bit more intimate. We had a great time and glad I kicked this habit, but Terry and I would go out back and have a cigarette, right. Propel us into our next stretch of calls. And then after we were like, Hey, what are you guys doing? We didn't have girlfriends or maybe some of us did. Maybe. I don't remember no wives kids. It was just that time in our life where you could take advantage of that work environment. Right? You're, getting going in your career and you're able to have fun and freedom and some more time. And I think all that stuff just came together and made some really good friends back then.
Chris Corcoran:
Do you keep up with a Sincerbeaux or Henretty?
Daniel Clark:
I do. I do. We don't see each other in person as much as we used to. We'd get together and everybody's drinking a little bit less. Starting to think about our health more than in our twenties.
Marc Gonyea:
So, during the time when you were here doing this, knowing it's not an easy job and I think we were working on that outplacement type model, I can't remember exactly, but how did the job kind of shape your idea of professional sales and what you want to do next? Do you remember that?
Daniel Clark:
Yeah. What it did for me was it set me up for, I think any inside sales team that was going to be my next progression. Calling was still a big part of prospecting back then. Still is. I keep referencing like, it's not, it still is. I think that I felt very confident when I sat down with my next opportunity and said, well, here's what I do every day. And if you want to run me through some scenarios, you want to do a mock cold call, let's rock and roll. I've been doing this for 12 straight months and felt very, very comfortable with it. It was a huge help. I interview a lot of kids now that are really fresh out of school.
Just yesterday I sat down with a kid who played lacrosse at University of Richmond, held a good conversation. So raw, right? Would have a big learning curve, uh you brought them onto their SDR team, um sus the people that have an opportunity to do something like what you guys do here, it makes a huge, huge difference.
Marc Gonyea:
So I definitely remember I was always impressed with what I thought was your maturity and it's dawning on me now why you were so mature because I think having a job in high school and in college and then doing that timeshare deal, that gives you a different perspective. And I remember when you figured out where you wanted to go, you weren't in that big of a hurry to get there. We screen people who are impatient but it's kind of interesting, right?
We want people who are kind of impatient inherently because you're going to want to go get after it. But also it can kind of be a double-edged sword when it's time to figure out where you want to go next and type responsibility you want to take on. I remember you being like, Hey here's kind of, I know what I want. I'm not in the biggest hurry to get it cause I know there are other things there that I'm going to have to learn and I don't know how you, I was wondering like man Clark's got this really good perspective on things cause I wasn't that much older than you but I had more experience and like why does everybody else have that?
But I think all your experiences, memoryBlue but before and your life in general kind of allowed you to develop that in a good way. I want to talk about the first job when you left the TARGUS role, the inside sales role, because I think it's important and it's a good reminder for people who are looking or either thinking about coming to memoryBlue or people who are here now wondering what they can do next. Everybody's always in this big rush. They want to get the closing role.
Daniel Clark:
Yeah. Without doing the work. Maybe first. I see kids now that have a little bit of call it entitlement. I'm not ready to start throwing the millennial stuff around. But more of a, I didn't realize it would be this way. This wasn't my expectation. I figured I'd be calling for six months and have a $2 million quota. Like what in the world are you talking about? I'm not an overly smart person by any means, but I'm pretty analytical. One thing I struggled with back in the day might've been, you know, John saying, you need to make 60 dials before lunch. My brain says I'd rather make 25 good dials. What's the point of me calling 25 people that for whatever reason made it onto this list. But, I would never say that to him. I made those dials.
Especially when you started to get into more complex sales I mean, you gotta think about how to separate your message from the million other inbound stuff that these folks get. I don't care if you're going after a manager or a VP or a C level person. I found more success going after middle management director level and working up then spreading that from there. I think that early on I started to realize that I enjoyed it. Volume is important, but you got to have an analytical curiosity to you if you're going to get into complex high tech sales, I think it's a requirement and you have to be willing to dive into stuff that makes you uncomfortable in terms of really understanding of product and market. You can't just call everybody up and say the same thing, a two sentence pitch and hope it's going to go good from there.
Chris Corcoran:
I think it's funny the things you remember and one of the things I always remember about you was on Friday, you would always be in the best mood cranking tunes early in. I was always like, man, I want to work with him. He's making it fun man. Like this is awesome. I mean I may have just caught you once on a Friday doing that. Or is that like a routine that you get into? Because I was like, man, this is a fun place to be.
Daniel Clark:
I remember that as I was probably doing it to troll some of the other guys because I listened to heavy metal and a little bit of everything. When we were in early we would mess around while we were getting ready. Friday's always a nice vibe. So we had fun. I need to remind myself sometimes on Fridays nowadays, keep having fun doing this. I'm sure we'll talk a little bit about some of the bad breaks. That stuff happens. So, it's important to start that sort of, het into those habits early. Keep it fun.
Marc Gonyea:
So looking back, if you could go back and give advice to yourself the day before you started at memoryBlue, what advice would you give to yourself?
Daniel Clark:
I say use your resources that are about to be available to you and don't be scared to use them. It's important as a sales career grows. Some of the people that are most successful are not because they can get in a room and just wow everybody because they bring the right people into the room with them. When you're raw and you're young and you're just learning, learn from your coworkers, I don't think maybe the guy's been there six months longer than you, pick his brain, listen to his calls.
You guys are great about sitting everybody down and doing a film study, right? I've not been to another company that does that since I left here and I think it would be such a good resource for people learning to learn in sales. So I think using resources available to you, whether it's the training that they offer, their executives, f there's a door open policy, take advantage of it because there's a lot to learn and you can do it more quickly than if you kind of sit back in a reserved way. So I'll just do the bare minimum, but they're asking me to, to get up and running.
Marc Gonyea:
When you transition out of memoryBlue and you went over to TARGUS, that is a very difficult company to get a job at.
Daniel Clark:
I was shocked. I'll tell you why I say that. It was because I couldn't figure out what they do. And I'm like, how am I going to get hired here if I can't even verbalize in some manner that makes some sense. And I remember speaking to Ross he's one of the executives there at the time. I was super excited about the interview. But I knew I had the inside sales piece. I was pretty confident in that, but man, it was hard as a kid would be staring down some complex offering like that.
Chris Corcoran:
I remember working with Stephanie Richmond, who's extremely bright and the first time she explained to me what TARGUS was, I was like, man, if I'm still confused and the expression of it, if you're not confused after listening to that, then you weren't paying attention because it was complicated. And she would always want to hire super bright people, super bright people who can figure it out because it's essentially a solution that you have to go and figure out what the business problem is and then custom design the solution to fit that problem. And that that's not a product that's total solution selling. Very, very difficult. But I remember her team was outstanding. They had such a great reputation. She'd be picky, super picky. I've never worked with anyone who's more picky but would always get it right.
Marc Gonyea:
So when you got into that role, what did you realize, okay, here's some things that I was doing well that I learned. But what are the things I need to change to get into the next spot? Cause we always tell the folks of memoryBlue Hey, your next big sale is going to be figuring out a way to get from the job you're doing now because most folks don't leave and go into closing roles. Getting out of the SDR role and transitioning into some sort of closing world. Like how do you get there?
Daniel Clark:
I tell new hires this a little bit of my story all the time and I was still, I mean I was still very raw when I got there. Stephanie really helped me. She's one of my best friends today still and leads their whole account management group. So, it takes some patience, especially if you're going into a more complex scenario, there's a learning curve, around all types of different technologies. It's not rocket science, but it requires the deep understanding of the challenge and how they want it resolved, how the potential client wants it resolved and then you fit the solution together. You piece it together and present it to them. And hopefully it goes well from there.
So, I was on her team for a little over two years before I even got a shot at a closing role, limited closing role. And the first six months I felt like I was in trouble. It took me awhile to piece the things together that I needed to be successful, in generating leads. Some of the guys on the team were older than I was, had a little bit more experience. Although not all the time, one of my best friends still today, that is one of our best AEs now. Just got a director role. He was selling houses, right, but had a couple more years of experience, maybe kind of out in the, in the real world. Although I sold time share.
Stephanie used to always call it learn how to be compellevant. She still says that compelling and relevant. Craft the message that is compellevant and then you know, do the work. Right? So she say, I don't care if you send eight messages and get one lead or 60 messages out today and get one lead, let's get good leads. Let's be compellevant. That's what's my sort of my approach, along with the things I learned in memoryBlue with John and you guys and the training that we did there.
Chris Corcoran:
So you did that for two years, and then learned the business and then eventually you got an opportunity to start closing?
Daniel Clark:
Second half of '09,usomewhere in 2009, one of the sales directors said, let's see if you can sell $400,000 worth of stuff before the end of the year. I think it was May or June.
Chris Corcoran:
And how big are the deals typically back then?
Daniel Clark:
They were 50 to 75K. And he said, I'm going to let you go after this territory. It was online lending, the beginnings of online lending and subprime lending. And I remember I was like, Oh roll my sleeves up. Here we go. I'm all fired up and he gives me about 10 accounts and then says, find some more if you can, but check Salesforce cause I got senior guys better in this space and they're not going to be happy if they see you in their accounts. So I would always be very careful about Salesforce. There's a story where my now VP, his name is Mich Young over at Neustar. He was a rep back then and there was an account I started calling into because he hadn't logged anything. He'd been in there for six months talking to everybody. He found out and he called me on the phone and he got Philly. He started screaming at me person. And I got defensive. I was like, you need to call Craig Pence, who was the guy that told me, I said, this is not my problem. And by the way, don't speak to me like that. And he and I are, we're really good friends today, but he tells that story the same way we over beers and stuff. He's like, I found out that this young son of a, he's in my accounts and I'm thinking, I just put a year plus, you know, so that stuff happens.
You get your shot, it's go time. So I hit that number. I was close to it. I mean I just hit it. But I hit it and it confirmed for me two things. One, I can do this. And the rush of going through an entire sales cycle and getting that executed at the end I really, really enjoyed that. So I knew I could do it for one and then I think I realized that Neustar had a great offering. It's so important, to have a differentiator. And I started to realize that this company has it a true differentiator where we're the expert in something. We do things that other competitors attempt to do, can do. They can't do it as good. We're not the cheapest solution, which is something they teach you very early on. They teach you how to stand your ground. We're not going down to what they're offering these types of services for. I was lucky in that aspect. You guys helped me get over there. There's a lot of companies that are more of a commodity and they'll have big differentiators and, it's a double-edged sword. You have something very unique that performs, but you're not a big brand name.
So, a lot of times your prospecting is around educating people on a problem that they didn't know they have. And that's how you get the fish on the line and then it's your job to show them the data and the analytics from there to prove out an ROI and a business case. And then it's still not done because they got to sell it internally. You got to get prioritized and there's a million things that they've already got on the priority. So, it was kind of that moment that I realized this is like running a small business, but I've got a great start, and a great product and offering a differentiator to do it with.
Chris Corcoran:
So you essentially served for three years as an SDR. Do you remember the first deal you closed?
Daniel Clark:
I do. Yeah. Because they moved me off that online space and into the direct response marketing space. By that I mean infomercials. So we had an offering where you see a commercial for a $39 battery powered weed wacker. And you call them and you ask a couple of questions and you decide to bail and you hang up the phone and they don't know who just called. They don't have any of your information. You didn't give it to them, but poked around a little bit. So Neustar is very good at linking phone data to other identifiers. So, behind the scenes we would fulfill a postcard that would hit your mailbox two days later saying, sorry, we missed you, call back in for 10% off. It was a great solution. And in that space, they ate it up.
But I remember, I think they're still around. It was a laser hair removal tool that's like $300. Most of the stuff is $9.99, $49.99 and the CEO was an Israeli guy who was just a complete ball buster. And my boss at the time, I was going to a trade show out in Vegas for this industry. Those were the best trade shows. We were in the contract stage or so we thought and he said, print out our contract and take it to him at the show because I knew I had some time with him at the show and I was like, you need dental work. And he's like, dude, we've proved out. We piloted the solution that all the paperwork saying is that we're graduating the pilot, we're going to make the partnership official.
And I showed up there with the 20 page agreement, our attorney had signed it and at some point in the conversation I said, you know what, we're super excited about this partnership or we love how the pilot went and we're so excited for you guys and the ROI that we saw the pilot and I said, I brought the paperwork. I don't know what it was to this day that made him so angry about that approach. He sort of pushed it back to me, almost threw it off the table. I kinda caught it. Then he was like you think you can just come here and you put paperwork in my face and think I'm ready to sign and I was so confused as to why I was getting that reaction. We have a great pilot, I think it turns out he wasn't quite ready or he was having a bad day. I don't know. Who knows? I don't know.
I ended up getting that deal done. My director had to call and now the Head of Sales at Neustar Dorian Cast. This was long enough to go to where he was a director, had a team, talk about a guy that you guys should keep an eye on. He'll be CEO soon. I learned a lot from him over the years.. So, what's just a one-off story, the early war stories of being a new rep.
Chris Corcoran:
That's great. Along those lines, thinking back of all the deals you've closed, all of them, even back in Around Campus, University Directories, timeshares, Neustar, what's your biggest or favorite win?
Daniel Clark:
I would say my favorite to this day is it's got a little bit of everything in it. So a couple of years ago took on the task of the utility space for Neustar. The utility space is extremely difficult and that they move very slow. Their margins are tight, they're regulated and they do not invest in technology. I mean they're 15, 20 years behind the whole drive to digital technology. How to be more efficient, how to enhance the customer experience. It just is the way it is. So I had one where I had finally cracked through. It's a Southern company down in Georgia, Mississippi, Alabama. They're, they're huge in terms of number of customers. They're one of the biggest utilities in the US and I had this great process go in and it was for verification and monitoring solution that they were looking at because there were regulatory things saying you can't text your customers even if there's an outage, unless you have consent.
So, we had a way to protect them from the lawyers that were all over these companies that were starting to text people without their permission. And it was $500 or $1500 bucks per text or call if you got caught. And so there's these class action lawsuits across the country against the big banks collection agencies. Papa John's got caught up in a $40 million class action lawsuit for this kind of stuff. And so I'm in, I have the value established.
I'm at the proposal stage. I've separated Neustar from other potential offerings and my champion calls me one day and he's like, we're going to RFP and I'm like, you gotta be freaking kidding me. How do I not know about this now because I'm going to get my butt kicked when I go back. I just forecasted this for the end of this quarter. RFPs take a year; I was unhappy but kept a good relationship with them. I started asking him, what's going to be in the RFP to nicely say, do you even do you know what to ask for? Because if you're going to use my information and my data to build the RFP at least let me be part of the process, which I thought he would shut down immediately.
And long story getting shorter and shorter. He allowed me to help him write it. I write the RFP, which put me, Neustar in the high chair because I knew what to put in that RFP. And so it was a, hey, here's the things I would suggest that you offer to your team as you build this RFP. And so I knew we were up against the big bureaus, the Experian's Equifax's of the world and they've got a lot of data. I had so much stuff seated in there that I knew that they weren't going to be able to handle.
I feel like I pat myself on the back too much, but none of them had a chance. So it delayed the process to the end of the year, but that was the first big deal that we had in utilities and utilities talk because there's not a ton of competition. And so I'm still working on it to this day with newer solutions. But it was my kicking off point to building out a new line of business for the company. That was my favorite.
Chris Corcoran:
Wow. So when it went to RFP, how much time did it add to the deal?
Daniel Clark:
Six months.
Chris Corcoran:
Six additional months. How big was the deal?
Daniel Clark:
It was about half a million dollars a year over three years.
Chris Corcoran:
Wow. Breaking new ground for the company. So what about your most painful loss? Any deal that you just haunts you?
Daniel Clark:
I've had some tough ones in utilities. I'll stick in that industry because it's my ongoing challenge and while I've made so many connections and had so many conversations and meetings in that space, I'm still not quite where I want to be. I'm excited for this year 2019 was, was tough because they have had me on utilities exclusively. We've now shifted some things around cause I was like, guys, my health is deteriorating. I had a similar one where I thought I was in a great position and ended up kicking myself because we're getting down the stretch and there were people involved that I had no clue about. And that's on me as a rep.
You learn there's a lot of good tools out there to kind of help you manage this process. But I thought I had everything under control. I thought I knew who the decision maker was and it wasn't a C level person that I didn't even know his name that I found out that was the COO of the company. And I did not realize that this customer experience call center solution was going to end up with him. Usually it stays more on the kind of call center technology or IT realm. But I just remember the feeling cause I lost that deal. I lost it to a competitor. I had no idea that they had him, they knew who he was. They were talking to them, they knew what he wanted. I had VPs and people telling me, interesting, we're good. We're smooth sailing. And then that thing was swept out from under me before I knew it. And they did the deal.
And I have a plan to maybe I know when it's up, but humbling man, especially when you're, doing this for a good amount of years and you've done enough of these to where you, your process, not that it's foolproof, but if something like that happens and it was at a time where I was like, that was going to get me the circle of excellence and stuff, and then it's just like, Oh my God, I have 60 days left. I thought I was going to be here and I'm not, so that one was particularly large too, so that's probably why it sticks out for me.
Marc Gonyea:
As we're talking, popping up with you is the 19 year old sales manager at the timeshare company working with Sisson, working at memoryBlue. But then also you mentioned some of the people you've worked with along the way at Neustar and you've seen, these are all people who are kind of quote unquote more senior to you, but sounds like you've learned a lot from them and then you've developed some relationships with them. What's your kind of philosophy on that?
Cause that's not something that happens by accident. You're learning from them because they're your quote unquote superior manager, your client, whatever. And they're offering value, but you've also developed relationships with them too. That's kind of superseded the business, you know, direct manager, direct report relationship. I don't know if that's an active philosophy, but I think it's good for you to expand on that for the benefit of the people listening.
Daniel Clark:
Yeah. Just like people buy from people. You learn from people. I read a sales book, that's great. Right? But if you see somebody doing it and you look at somebody and say, I know they started as a rep and now they're the VP or SVP of the company. I wanna mimic that trajectory. I want to learn from that person. I want to learn from people that were under it previously. It's all there in front of you. We're salespeople.
When I first started at Neustar, some of the reps didn't like me a lot because I would comb through their calendars and say, what does this call you have tomorrow? Can I shadow it? Can I be on it? I don't want to talk. I was pinging everybody and they're like, yeah, I guess, but Stephanie, and some of the other guys were doing that too. And then that became a part of the inside sales. The reps came to understand like, guys teach these kids, they're gonna get you leads, right? Also the SDRs, like they're not gonna remember to put you on calls, get in their calendar. Set aside time with the director of the team that you have eyeballed that you want to get to once a month. It's just little things that people forget. Or don't think to do that, resonate with sales leaders.
Chris Corcoran:
Twelve years at Neustar. And there's great tenure there. The professionals that you work alongside of are amazing. And to me the most important thing about a company is the people you get to work with.
Daniel Clark:
Yeah. When I put it in perspective, I think I'm extremely fortunate. I worked my butt off, but I was also fortunate to have been at the time and place to, to start there. And that they had great management like Stephanie and Craig and Dorian cutting their teeth in management. It was just kind of the stars align a little bit. My wife and I talked about it all the time. That's where I met her. The company has given me a lot. That's right.
Chris Corcoran:
And those three individuals all have been there just as long or longer than you, you don't see that very often.
Daniel Clark:
No, I mean, Susan, who you guys work with a little bit to get on campaigns up and running with Neustar now has got that SDR team back to where it kind of was when I started. We had fun, like I carried over the same types of things, from memoryBlue there because again, I was fortunate there was young guys, we were having fun. We were in our early, mid, late twenties, but that went away for a while and I'm not really sure why.
Just the business would get acquired and they didn't prioritize it for a while. So those were kind of like the darker years where senior guys that hadn't done a ton of prospecting were pushing back and saying, what do you want me to prospect? I never had that problem. I'm happy where we've gotten back to. I think that a solid inside sales group culturally is essential to feed your own pipeline of future salespeople to generate business I mean, it's a no brainer to me. So I even considered at one point managing that team, but I still love having no ceiling.
Chris Corcoran:
So, you mentioned it a little bit earlier in terms of interviewing for our listeners, share with them, what things do you typically look for when you're sitting down with someone that you're interviewing?
Daniel Clark:
I look for a combination. It's genuine curiosity.
Chris Corcoran:
How often do you find that?
Daniel Clark:
20% of the time, 25% of the time. But if when you sit down with one, you make an offer before they leave here type of thing. The kid I interviewed yesterday, great kid, held a decent conversation, didn't ask me a thing about how I became a rep, didn't ask me what separates good versus bad performers. Didn't ask me what type of guy Craig Pence is, who is the VP of the group that he's thinking about working for in the future. And that maybe it's a lack of preparation, but if you have genuine curiosity, you're not walking into that interview and prepared. I don't know.
Look me up and ask me something about my personal life, that you see on LinkedIn or you know, maybe whatever it is, Twitter those guys combined with the competitive fire, I mean those are the best, especially when it comes in the more complex sales. If you're not curious and ready to be annoying, right? Leave no stone unturned when you're breaking down somebody's business or challenge. If you're not going to do that, then somebody else is doing it.
Marc Gonyea:
What do you think is a big misconception about being in sales?
Daniel Clark:
My wife's a director of marketing at Oracle and has sales people chase her down all day, every day. And sometimes she'll tell me about how she treats salespeople. And maybe tying this into your question a little bit, it drives me crazy. I'm like, that guy has worked his butt off and you haven't responded him in 30 days respond to the guy or gal, come on. And she's like, it's noise. I haven't seen anything yet that's going to get you to stop what I'm doing. What I'm working on it's a priority for me.
I think maybe the misconception is that sales is still, because there's so much volume out there, if you're a decision maker, I think it's still the robotic email. It's the annoying, unprepared, awkward cold call. It's a spamming messages on LinkedIn and stuff like that. Work to get to a company that allows you to not be that, places like memoryBlue that have so many clients looking for new talent. These kids have are in a great situation. You know, for young kids coming in. That's not what sales is. Get into technology and complex sales.
It's not the old car salesman stigma, timeshare sales, high pressure b*******, right? There's a whole world out there of really gratifying, mentally challenging stuff, that you can create, and you get to run your own business. I may take a director role, a manager role. I may not, I may just run my own business until I'm ready to retire and I'd be perfectly happy doing that. I don't know what other professional allows you to do that.
Marc Gonyea:
I talk about that a lot with SDRs and that you can be a professional rep for your entire career and be challenged, grow, make a lot of money, have some freedom, impact the business and impact your client's business and back to other people's careers. You're an independent contractor and they're gonna keep you around.
Daniel Clark:
It's a wonderfully unique career and I don't think a lot of people think it like that.
Marc Gonyea:
Who would you put them on Mount Rushmore? That was probably an interview question when you started.
Daniel Clark:
And this is anybody, anybody living or dead? I put my father on Mount Rushmore.
Marc Gonyea:
Okay. Alright. Alright. I like it. Alright Clark man, I got to tell you. Thanks for doing this. Thanks for working for us.
Daniel Clark:
It was a blast.
Chris Corcoran:
Yeah this was fun Daniel.