Episode 12: Frank Taylor – Raising the Bar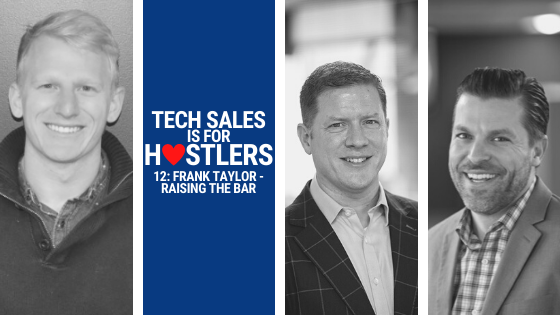 Frank Taylor has continually raised the bar and we're not just talking about his love for CrossFit. Throughout his life and successful sales career, Frank has raised the bar of excellence. A natural born leader, Frank unveils the secret nobody will tell you: learning to lead takes time, patience, failure and persistence. Today Frank is living in Ontario, Canada, and is a Senior Account Executive at Questica.
In this episode, you'll learn from Frank the four stages of starting a new job, why the transition from an SDR role to Delivery Manager (SDR Manager) was the hardest thing he's ever done, how he settled on an incredibly meaningful parting gift for Chris and Marc as he left memoryBlue, and what to look for in your next job as you advance in your sales career.
Full Episode Transcript
Name: Frank Taylor
Title: Senior Account Executive
Company: Questica
Exit Year from memoryBlue: 2015
Months at memoryBlue: 32
Alumni Path: Internal Promotion
***Introduction***
Frank Taylor:
That transition from being an SDR on a Friday to being a DM on a Monday is the single hardest transition I think I've ever made. Just for the fact of, you know, on a Friday you're eye to eye with a lot of these folks and now all of a sudden you're supposed to have this massive expertise on what's going to make you better. How am I going to help you hit your goals and help you close million dollar deals and make six figures, when I just made this transition myself?
Marc Gonyea:
This week, we have our first virtual and international superstar guest, the one and only Frank Taylor Senior Account Executive at Questica. Frank shares with us the four stages of a new job, why the transition from SDR to manager was the hardest and what to look for in your next role coming out of memoryBlue.
Marc Gonyea:
Hi, I'm Marc Gonyea.
Chris Corcoran:
And I'm Chris Corcoran and you're listening to Tech Sales is for Hustlers. Tech Sales is for Hustlers is a podcast where we catch up with memoryBlue alums and reminisce about their start in high tech sales with us.
Marc Gonyea:
Let's go get some Corcoran.
Chris Corcoran:
Gonyea. You know, I'm ready.
***Episode 12: Frank Taylor***
Marc Gonyea:
All right. Frank Taylor. Thank you for joining us today.
Frank Taylor:
Thank you. Glad to be here. Humbled, excited to be in the virtually the same seat as a couple of the other alumni, so appreciate it.
Marc Gonyea:
I'm not sure what's more unique, COVID or having a full-fledged Canadian on the podcast and then I guess three's a charm. This is our first Zoom podcast that Chris and I have ever done.
Frank Taylor:
Yeah, world's changing, right? This is the first time I've ever been on a podcast and had the Zoom podcast, so it's exciting. It's also, it's just good to see both you guys too. I mean, I haven't seen you guys since my last day. We've talked on the phone and email, but in terms of actually seeing your face, it's been a few years.
Chris Corcoran:
What a time to be alive, Frank.
Frank Taylor:
I know. I think that, when all of us are older and we have kids and grandkids, this is something that's going to be in the textbooks that we're going to have to describe when they write papers about this. And the fact that, we get to talk through it and describe exactly what it was like is, it's a pretty unique thing if you kind of look at it from that mindset.
Marc Gonyea:
Yeah, man. All right, so Chris and I are already older, but we'll forget you said that. So Frank, let's get into it. So, just to kind of familiarize you or the audience with you, take us back to Frank Taylor. Early days. We don't have to spend a lot of time on it, but just where'd you grow up? Tell us what were you like, so on and so forth.
Frank Taylor:
Yeah, so I grew up in Eastern shore, Maryland in Easton, just a small town, a fishermen area. I went to school out in Frostburg State University.
Marc Gonyea:
What were you like as a kid?
Frank Taylor:
Pretty much identical. I'd like to think outgoing, you know, love to run track and field, cross country, hanging out with friends. I was a theater kid, always kind of enjoyed being in the spotlight a bit or at least sharing the spotlight with folks, which I'm sure comes as no surprise. Grew up, went to Frostburg, started college, not really knowing what I wanted to do. Quite frankly. Ended college still not really knowing exactly what I wanted to do.
Marc Gonyea:
So let's go back real quick. So why did you do sports in high school, track and field and then you, did you mess around in the theater arts?
Frank Taylor:
Yeah, actually I did track and field and cross country, which is really funny if I think about it in hindsight, there was a conversation I still laugh at today. Chris, I was walking by your office one day and I think we were talking about something with culture club and you stop the conversation. And you go, you struck me as someone that's not very good at sports Frank, but you probably conditioned well. I was like, yeah, thank you. Now if you think about it, like that's pretty much what track and field was. Wasn't really talented enough to make the football team or something, but man, that kid can run.
Marc Gonyea:
Corcoran, do you remember that at all?
Chris Corcoran:
Of course not.
Frank Taylor:
I took it like as a joke. I think what we were talking about the field day or something like that, that we were getting ready to do for culture club. It was one of the funniest moments that happened to be at memoryBlue though.
Chris Corcoran:
What exactly did I say?
Frank Taylor:
You stopped halfway through and you're like, Frank, you strike me as someone that's not very good at sports. It was so funny. But if it means anything, Chris, man, you are spot on. Like, I mean, even now, the hobby I like, I just go to the gym and do CrossFit and that's effectively like adult PE, that's kind of what it is, the sport itself, but it's primarily focused around being conditioned really well.
Marc Gonyea:
So you got out of high school with the Frostburg tell us about that.
Frank Taylor:
Awesome. Best decision I ever made. I was actually, you know, high school was really good for me and I was actually accepted to Virginia Tech, I know the place that you guys went to a couple other universities, but Frostburg financially made the most sense for where we are in our lives. I was paying my way through college.
So, when I showed up at school, my mindset was okay, if anybody even remotely suggests something, just say yes to it. Just say, you know, you want to join that club, go for it, you want to go to that party, do it. And it led me down so many additional unique places that I never thought I'd end up. I got to travel abroad and go to China for some time. I got to go to Africa for a little bit. I got to join a number of clubs, including a fraternity, which led me to memoryBlue.
Marc Gonyea:
Let's talk about that. So I remember two things from you in college – you were the President of the fraternity.
Frank Taylor:
I was, yeah.
Marc Gonyea:
And the Disney experience. We'll come back to the Disney. Let's talk about the fraternity first.
Frank Taylor:
Yeah. So, it's awesome talking with other folks in Greek life. Because Chris, I know you were in Greek life as well, and we chatted a lot about that during my time at memoryBlue. We talked about a lot of interesting things. Humble pie we talked about it all. So the fraternity, it's a breeding ground of like just excellent guys to hang out with. So, in terms of friendships and networking and everything, I mean, there was a bunch of guys in the fraternity that were at my wedding and a number of them were my best men or groomsmen or something like that.
Outside of that though, it's kind of the first exposure in a safety net of a leadership position for me. You know, it was the opportunity that you had some sort of responsibility, but quite frankly, not a lot can go wrong. You know, you can make a lot of mistakes and it's okay cause that's, that's kinda the environment you want it to be and where, you know, Hey, if this social doesn't go very well, it's not going to be the end of us, you know? It's going to put a damper on the night, but that's about it.
And it kind of escalates as you get higher and higher. And to where now, you know, as a president, you're responsible for recruitment and the satisfaction of a number of members, making sure the doors stay open and making sure you've got insurance. A lot of stuff that at the time I probably thought it was like the hardest thing in the world in hindsight. It's like, okay, well a lot of this could have been handled with just better management skills. But it's kind of that first taste.
Marc Gonyea:
So then when you were in the fraternity at Frostburg, that's when you were rolling with some folks used to work with a memory blue, right? Give me some names.
Frank Taylor:
Okay. So the first Frostburg-ian at memoryBlue from my knowledge, wasn't in the fraternity, but Patrick Digioia, a big Patty D good guy. Yeah, I love that guy. Such a kind heart. So Eric Paul, he always wants people to know this, but he was the homecoming King at Frostburg. So we just want to make sure that that's still lives on. I still talk to him today and he's the one that brought me into memoryBlue.
And then alongside with me, you guys had Brandon Eyring a few weeks ago and special congrats to him and Austin. They just got married. Good for them. Such just good people in general. So him and I were in the fraternity at the same exact time. He was, I think at the time of programming chair when I was on the exec board. And then we started memoryBlue the exact same day.
Marc Gonyea:
But before memoryBlue, there was Disney.
Frank Taylor:
There was Disney. Yeah. So my junior year I was having a conversation with someone at the career center and they said, Oh, we've just got this new internship partnership. We hooked up with at Disney. We're looking for folks that might be interested in checking it out, we give it a read and kind of go with that mindset of like, okay, well this is something that's in front of me and it's an opportunity, let's just say yes. So I applied on a Wednesday, I had the phone interview on a Friday. I went home that weekend to talk to my parents about my options and if I should do it. And we committed on that Monday and left in January for nine months to work and live in Florida.
Marc Gonyea:
Frank, man, I got to tell you, dude, when I talk to people about their undergrad experience. You did a lot of stuff. Studied abroad, fraternity did the Disney thing, right? And I know you got your money's worth it and there's a lot you used to tell me about your advisor for your fraternity. I forgot about, was he a priest?
Frank Taylor:
We had father Ed was our advisor at the time.
Marc Gonyea:
Got a little spiritual work in. But yeah, highly, highly impressed. But one more impressive thing, one thing that disappoints me a little bit, if you weren't good at sports, I was hoping you would have been good at the theater arts side of the house. But if I remember correctly, when you worked at Disney, you were a lifeguard. You can't be a character or something? Come on, man.
Frank Taylor:
It's not from lack of effort, but quite frankly, being a lifeguard is where it's at for me, for my personality wise, it made the most sense. So it was the folks that were the most physically active and they were on it, but like the mentality of, so first off being a character, it's just hard. It's hard to get in. You gotta apply and you audition and everything like that. And that just didn't kind of fly up my street.
But as a guard, you're the responsibility of every, not only people having a good time, but like genuine safety and concern for others that weighs right on your shoulders. And I love that idea of like, okay not only is it my job to help these folks have a great time and cause you don't know where they're coming from. They might've saved their whole life to come to Disney for a week. And they've been hoping their kids can have this for, these memories for the rest of their lives. So it's my job to make sure, and some part that they get to have these numbers, but it's also my job to make sure they don't get themselves in any trouble and in danger. The other thing about guards is interesting.
So, at Disney they're very, very strict and very regimented. If you guys ever get to go, but they're on very specific times. So it's 15 minutes on each station. And for me, I love that idea of, okay, for these next 45 minutes, these next three stations that I'm on, we're just going to be perfect, or let's get as close as we can to perfect. And then you're going to get a 15 minute break or 30 minute break where you can reset and get yourself right. But then, you know what, we're going to get back at it. We're going to be perfect for these next 15 minutes. And that meshed really well with me.
Marc Gonyea:
The most important thing that Disney was what though?
Frank Taylor:
Of course I met my now wife, Rebecca. So we were both lifeguards down there. We did the long distance throughout college after we kind of realized we had some chemistry and we both kind of realized, I got really lucky and that I'd found someone that not only wanted to be my partner, but we both had this idea of, okay, like this is it, you're my person. And I know that a lot of folks, you know, it takes time to find that. I just got really lucky and happened to find it my junior year.
It's kinda the neat part about the relationship that I got to develop with a lot of the exec team at memoryBlue yourself, Chris, Kevin, and you're like, you guys were intimately involved in a lot of things. Like I remember showing Chris or Marc, I remember showing you my, management ring before anybody else. Like, Hey, what do you think? What should I do? Like, yeah, I need advice. And it's, it's kind of cool to have that relationship with your bosses.
Marc Gonyea:
Frank and I had a brief little catch up session yesterday and all the things we've talked about thus far we didn't even talk about, yeah, I remember those things about you vividly and that's kind of who makes, makes you who you are, which is why I think you're so successful now.
Frank Taylor:
I appreciate that.
Chris Corcoran:
What's your best Disney story?
Frank Taylor:
Disney story. I'm trying to think of any good ones that are PG rated. Disney is a lot of things. So Disney has a lot of things to a lot of people. You know, some people go work at Disney because they love Disney. Some people love going because it has great training and they do, it's top notch and you can learn about life and being an adult and being a good business person. Some people go to Disney because it's in Orlando, Florida and there's no rules or parents or anything around, I'm going to let you draw your own conclusions on which one of those buckets I happen to fall in. But I promise you it wasn't the first two.
Chris Corcoran:
So Frank, I mean, is this philosophy class or do you have a story to share?
Frank Taylor:
I'm really thankful for the time that I had. I'm glad it led me at the end of my, so I didn't meet my wife until the very end of my time there. And the preceding eight months were a really great time.
Marc Gonyea:
So Frank, Frostburg done real quick. I do not recall what you majored in, but were you looking to use the major get that to get you into a role in the business world or what? So how did memoryBlue go down?
Frank Taylor:
Yeah, so I was a political science major. I always thought that I'd go into law school quite frankly, but at the time the market didn't seem appropriate for law school. It seemed like there was an abundance of lawyers coming out. I don't think you'd have much issue getting it. I mean, I'm sure it's very challenging to get in, but from my perspective, I felt like law schools were more than happy to take you in, but they weren't necessarily helping you get to the career that you wanted to get to.
So, I was looking at a number of things, I thought I'd go the Marine route. My folks were both in the Navy, so I was looking at OCS. I was looking at, Teach for America up in Detroit just because I thought that it'd be closer to at the time of my girlfriend, which turned to my fiancé which turned into my wife. So just kind of like how I came into college, I had really no idea kind of what I wanted to be. I was looking at all these different routes.
memoryBlue came up because actually Eric Paul called me and he was like, I'm in this job. I love it. You're going to love it. Come interview. And I trusted Eric. I would trust that guy with anything. He wouldn't tell me a lie if he didn't honestly believe it. And so, I reached out to Tiana, and wrote an email saying, Tiana I talked with Eric Paul. Paul says we should be having a conversation. I can't wait to have a quick chat with you. Could we schedule some time to speak? Had a phone interview. Clicked really well. I came down for my face to face interview with Leigh Ryan. And she was a DM for majority of my career there. And then actually I sat down with you, Marc for my secondary interview for my roleplay and everything.
Marc Gonyea:
What do you remember about that interview? What I told you about that interview?
Frank Taylor:
I don't know.
Marc Gonyea:
We're ending this podcast. If you don't remember this.
Frank Taylor:
I mean, I remember I rocked it, but that's about it.
Marc Gonyea:
You rocked it. What did I tell you I scored you months later? You were my first straight sevens.
Frank Taylor:
That's nice.
Marc Gonyea:
Don't you remember this?
Frank Taylor:
No. Maybe. I mean it could have been actually I did know that I just wanted you to say it.
Marc Gonyea:
We score people at memoryBlue off of certain traits during the interview process. And you're the first person, I had ever scored in, what year was this? 2014. So you were the first person we had been in business at that point for 12 years. You're the first person that scored sevens across the board. The highest you can get.
Frank Taylor:
That's nice to know. Yeah, it's neat thinking back of like, I can somewhat remember some of the words I used and how I frame the conversation. So it's fun to see how much I've developed from that time to, how I open calls now and prospect people now.
Marc Gonyea:
So you went through the process of what happened then with memoryBlue like your first client, your first manager.
Frank Taylor:
DM, Nimit still there today. Nothing but respect for that guy. So I joined MarkLogic, which at the time was one of memoryBlue's larger clients, which was great for me. The thing with jumping into MarkLogic and kind of with anybody, I think jumping into an existing client is the mindset that I came into is this is a client that has already displayed like success. So you better bring it because you're already expected to be at this bar.
The way I saw it is like, okay, you're being brought into Alabama football team, they have a history and a legacy of being successful. You're not just going to be able to come in and say like, okay let's just do our best. They were like, no you have to display success. So that team was full of some really good SDRs. James Ford was on there. Mark Musitano, Andy Leser joined a little bit later. And it just kinda grew.
Musitano who gave me some of the best advice I still use to this day. So I remember vividly, so, and every SDR kind of runs into this, I find where you get halfway through, you're starting to do really well, you're starting generate leads and for some reason you hit this weird wall where it's like the thing I was doing last week isn't working this week. And for some reason I'm not generating the type of outcomes that I come to expect. And I had moose who wasn't a mentor of mine was just someone who sat next to me. I was like, can you just listen to me for a few calls? And he's like, you're doing everything right. He goes, you're just overthinking everything. Just have the conversation, be comfortable, make it simple and just, just keep moving. And the very next afternoon, I think I ended up booking a really strong demo, so I credit a lot of that success on MarkLogic to him.
Marc Gonyea:
And then Mr. Leser.
Frank Taylor:
Yeah. That guy, him and I, so he started a week after I started, he's over at Blackboard now, I believe. It was really cool working with Andy, because we were both learning MarkLogic at the same time. And then as I developed and became a DM way down the road, and I took over the MarkLogic account. It was interesting transitioning from exactly the same level of coworker to, okay, I'm now your manager but we're still really good friends.
Marc Gonyea:
Yeah, that's definitely a topic we want to break down. Cause actually man, this is all about you. This is a four leaf Clover today. You were the first person we've had on who went from an SDR to becoming a delivery manager. Which is significant. So there's a bit of a transition. But before we hop into that, any notable stories as an SDR?
Frank Taylor:
You know, MarkLogic grew and grew. We're really fortunate that they had a really good marketing team also enabled. But you know, I still try to dip my toes and stuff into PPM. That seemed the biggest thing I could take away from it was that it was just really consistent. We had a good group of people that were really willing to listen for each other.
The team grew with, I think Annette Cole joined later, Patrick Lytle joined later. Wesley Juchnewicz ended up joining a bit later as well. And it was all just people that I felt were really strong SDRs. Not that there's any weak SDRs by any stretch of the imagination, but just all folks that when I got to the next day, I was like, man, this guy's good. Like I gotta step my game up to continue to make sure that I'm bringing that high bar of excellence.
Chris Corcoran:
What do you remember about your first day?
Frank Taylor:
I remember I wore like effectively like a magician's outfit. I guess in that time I thought that wearing a vest with no tie was a good look for me. To Toby's credit, if you guys remember, Toby came up to me and he was like, Hey man, I really like your style. And I was like, thank you I needed that today. I was really self-conscious about my magician suit, but he was like, dude, you're killing it.
And since then I'll say two major things I tried to pick up on my first day. One was I was in an interesting circumstance where actually I was placed on the phones early. So, I had gotten to know MarkLogic, prior, they had just asked to have a conversation to make sure we were good chemistry fit. And then after that they were having an ongoing campaign that needed immediate assistance. So, I got to skip Ganesh a little bit. I went back and finished Costigan and all of the training, stuff like that.
But from day one I was on the phone having conversations with folks, which I just remember butchering this one specific conversation. I felt like I was just wasn't as prepared as I should have been maybe, and that was probably on me, but I remember a guy picked up, it must've been from Oracle, I think it was inviting them to a webinar and I was like, Hey, it's Frank. And he's like, okay. I'm like, well, I have something really important to tell you. He goes, okay. And I'm like, I wish I knew what that important thing was. And I ended up, just blanking out and getting really scared.
I remember turning around to an SDR, I can't recall his name and he's like, how did that go for you? I was like, that was pretty horrible. That was probably the worst experience of my life. But I mean, that was it, that was the worst that could have happened.
The other thing I picked up on is that all of the really good salespeople that I kinda clued in. I was like, Oh, this guy like these top leaders I should probably hang out with them. They ended up actually having lunch together or going out on a coffee or a cigarette break together. And so I would always try to, when I picked up on that, I tried really hard to try to match a little bit of their patterns up, not creepy or anything like that. But you know, if I knew they usually grab lunch around 12:30, I'd make sure that maybe I had all my stuff finished by 12:30 and that I could grab lunch with them and maybe spoon off a little bit of their knowledge.
Chris Corcoran:
So Frank, what advice would you give yourself before starting at memoryBlue?
Frank Taylor:
Oh yeah. Just do your best to take it in. Your first day is a little overwhelming. You're going to be listening obviously to a lot of sales training and it's hard to contextualize what you're listening to versus what's going to happen. It's going to sit there in the back of your mind that you're like, Oh, I listen to Ganesh and he gave me these great tips and John Costigan, but just know that all of that's going to come into action when you're actually doing the walkthroughs.
The way I see it, it's very much like kind of going through a run through in football or anything like that, you know? You could see all the moving pieces happening, but in game time, hopefully you can kind of clue and remember like, Oh, this guy's dropping here so I need to go here. And things like that.
But really just kind of the same thing with everything else. Just take the opportunities. If there's an opportunity to go to First Friday or go to a Culture Club meeting or to go grab lunch with some folks or take a walk to, at the time we had Boone Boulevard. So, a lot of folks used to walk from the memoryBlue HQ over to the Boone office, which had a really good lunch spot. I think I learned more from those opportunities of hanging out with my coworkers outside of the normal structured training. Then being able to sit down and listen to the tapes. So any opportunity you have to spend time with your coworkers, I would take it.
Chris Corcoran:
So what recommendation would you give now as we are in a virtual environment?
Frank Taylor:
Yeah. So now the onus is on you. I think what separates the people who are good versus what are great is who takes the ownership of that. So Brandon mentioned Jocko Willink. It's great to hear that because we've read his book as well in my house and I'm a big fan of him. I think that if you really want to have a strongest year or a strong salesperson in general, you really gotta start taking control of what you want to do.
So, if you want to have those impactful relationships with your coworkers, it's up to you to pick up the phone and call them or ask them questions or find opportunities to communicate with them. Likewise, with any sort of training, people can pull you along for a while, but when push comes to shove, you gotta kind of step up and do it yourself.
Chris Corcoran:
Everyone has expectations in terms of what they think is going to happen. And my experience has been, it's rare that what you think is gonna happen actually happens exactly the way you think. So what was your expectations of becoming an SDR and then what was the reality of it?
Frank Taylor:
I don't think I've ever shared this with you guys before. I did not know that you could sell on the phone. It didn't register in my brain when I first started at memoryBlue. My father was a car salesman. And so when I thought all sales were just, Oh, someone walks in and then you have this transaction, that's it. I didn't quite register that. There's a process where you can have a conversation with somebody and then they see a demo and then, so on and so forth with the buying cycle.
So it was a pretty interesting awakening the first few days where I was like, Oh, I'm going to be chatting on the phone with folks and I'm going to be trying to solve their problems without ever seeing their face. How do you manage your own expectations when you're unsure of where they're at? I think you kind of just leaned into it and you just kind of realized that you can't you just got to be up for the challenge of the day and, hopefully the things that you've done before have prepared you to accomplish those successfully.
Chris Corcoran:
What did you think the job was going to be and how different was it than you actually thought it was going to be?
Frank Taylor:
I don't think I actually had too much idea of what it was going to be. I knew it was a job. I knew it was a place that I liked working at. I knew I trusted Eric Paul a lot, and I knew that the people that I'd met so far seemed like successful people. And that was enough for me to be like, you know, whatever they're doing, I'll just do exactly that and then I'll add my flavor down the road when, when, when it makes sense.
Chris Corcoran:
Well, based on your college experience, you seem like someone who's up for anything.
Frank Taylor:
Yeah. I mean for better for worse. I'm sure that led me into tricky situations that you had to navigate out of. But I think that a lot of times the opportunity that you want is, is the one that usually is probably right in front of your face, but you're a little bit just too hesitant to take it. So you just gotta grab it, take control of it, do your best with it and see what happens.
Marc Gonyea:
So let's talk about that Frank. Seeing an opportunity and having it and taking it. So, you were an SDR for 15 months with us, which is the sweet spot when you were an SDR and you were obviously highly successful. We still got lots of good memories with you guys.
Frank Taylor:
No, we had some good times. Yeah, so 15 months, right? It's funny memoryBlue definitely has a culture of, up and out and get you to the next steps. But I wouldn't take anything less than 15 months now. If I think about how I developed and the skills that I learned during, so I was talking to my VP of sales the other day when I was talking about this podcast and we were reviewing something about a performance review that I had a quarter ago.
And he set up these four stages I think when it comes to starting any role. And I think they're really good for kind of be it a DM position SDR. So the first is, you just want to learn the job, you want to learn what the job is, is it prospecting is it learning to build opportunities, is it learning to close, is it learning to manage, right?
And then the next stage of that, after you learn it, it's just doing it. Doing the job as it's set out for you and that might be using a structured call system that DMs know has been successful on 13 or 14 SDRs and, 10 of 11 clients.
And then the third thing after you do the job really well, the third thing is really is starting to improve it. And that's where your creativity comes into it. That's where you're adding your own flair and your personality and your different nuances that make you that successful salesperson.
And the fourth step is the one that I think folks always get to miss out on is, they ended up leaving memoryBlue before they get the opportunity to see it. They get to reap that benefit. They get to analyze what worked, what didn't work and how is that going to make me better. And if I wouldn't have that extra time being an SDR, I wouldn't have been able to see kind of all four of those processes all the way through.
Marc Gonyea:
I would agree. We'll get to this, but mastery, I mean you never really master anything, but you get really, really good at something. You got to do it for a little while. We have some people who were there an SDR for six months. They're like, I'm ready for the next thing. I've mastered it. And okay, once you break down your best call and send it over and we can kind of review it together. My guess is there's some opportunity for some improvement and you're only six months in.
Frank Taylor:
Yeah. So I mean to me that sounds like someone's going to stages one and two really, really well. So then my challenge to that person is, okay, what are you doing different? What makes you special right now? You've done the job really well, but you know what's the legacy you want to leave? You know, don't you want to be known the guy like, man, this guy did this way better or he added this aspect to our company that nobody else had thought of.
I think what's even more sometimes challenging is you get a lot of SDRs that start with one is skip step number two, which is doing that job really well. And they immediately start looking at number three. So they start seeing the job, I've learned the preliminary stuff, but then I'm like, okay, well I want to change everything. I want to do everything different. I want to flip the script on this, which I love that that, it's great having ideas, but you build a lot of credibility when you're able to do that kind of step number two, that doing it really well and then you can start introducing new ideas, new creativity, things like that.
Marc Gonyea:
Got it. So going back to the opportunity, so you saw an opportunity to become a delivery manager? Tell us about that.
Frank Taylor:
Yeah. So Nimit had moved out to Texas Fishdaddy (Mike Mishler) had moved out to California. And then Ben Decowski was my manager at the time. So watching Ben coach and train and work with the SDRs was a really cool opportunity because for me, from my perspective, Ben's reason to get up in the morning, was obviously to service clients really well and obviously make sure memoryBlue was staying afloat.
But what seemed to drive Ben each morning was how can I make my SDRs better and get them what they're looking to get? I tried really hard to adopt that mentality of, my clients will always end up being serviced. They'll get there. But the best way for me to service our customers is to, the best of my ability is to make sure I have fantastic SDRs. How do I get fantastic SDRs? I've got to help them achieve the same goals that they themselves want to achieve. You know, be it hired out, be it being a DM, be it in recruiting, my job in the end, the best day of my lives was when, SDR has got hired out or they got elevated internally. And so that kind of changed my whole focus on, you know, yes, closing is fun. Yes I love getting opportunities and deals, but at the time, I really wanted to do whatever I could to help these young up and coming professionals hit these big, big goals of theirs and that was fun for me.
Marc Gonyea:
Okay. So why did you take the job though? Why did you want to become a DM? I think you told me a lot of things that have been why Ben may inspired you too. But like what specifically did you think I definitely wanna do this, cause you could've gotten an offer from MarkLogic. You could have gotten the work for a tech company, we don't mind when people leave, but we also want to keep people with us. So why did you stay?
Frank Taylor:
It's a fair question. It was the hardest. Being a DM felt like out of all of the opportunities that were laid in front of me. I don't want to assume that MarkLogic absolutely would have given me an offer. I thought we had done, I've done very well in that account and we were happy with each other, but I don't want to assume that. But yeah, I looked at the type of skills required to be a DM when I looked at the type of people that were DM and very successful DMS guys, like Nimit guys like Mishler. To me I was like, that's the highest bar of excellence and that's what I want to aspire to.
Marc Gonyea:
And let's talk about that. So I remember, I mean, I don't directly manage delivery managers anymore, but when I did, I think one of the biggest challenges was something you, touched on it, you hit on it a little bit earlier, but let's come back to that Friday I'm an SDR and then on Monday you're a what. Let's talk about that process.
Frank Taylor:
That transition from being an SDR on a Friday to being a DM on a Monday is the single hardest transition I think I've ever made. Just for the fact of on a Friday you're effectively, I don't want to put anybody higher or lower but you are eye to eye with a lot of these folks and now all of a sudden you're supposed to have this massive expertise on what's gonna make you better. How am I going to help you hit your goals and help you close million dollar deals and make six figures when I just made this transition myself. So, there is a steep learning curve.
And if I could go back and talk to Frank back then, I would have talked to him about kind of what we already chatted about those four things of Hey, just start by learning how to do the job. Just learn how to be a good DM and learn how to service clients and write good reports and review and break down calls and then, do that well and then add your own flavor. But I think a lot of times the struggle is you see, maybe some of the pitfalls that other teams have fallen into in the past or you see what makes them successful without realizing that they went through those first two or three steps already and they're at a different place than you are right now. So, it's hard and I empathize with DMs now and middle management in general, cause a DM is a similar as a director of enterprise sales or director of mid-market sales. It's a pretty similar role where you're managing folks, but you still have somebody up top that you're responsible for.
Marc Gonyea:
So, give us some DM stories.
Frank Taylor:
Well I don't want to say any specific names cause, I don't want to get anybody in hot water. I do remember a number of times where I would get off a phone call with a customer that was less than satisfied. I'd go into Chris's office and be like, I just had my favorite dessert in the world. And you'd be like, what's that? What's that dessert? I'm like, I just chowed so hard on some humble pie. I just like opened all of it up and I just ate the whole big old scoop of humble pie for whatever reason. Maybe we didn't hit the goals that we had set out for that week or maybe we dropped the ball somewhere, but it's hard.
Marc Gonyea:
Are we talking about Steven German from Alliance?
Frank Taylor:
Okay. Stephen German. First off. Love that guy. That guy is like playing for Bill Belicheck. Okay. He sets the bar so high that it's like he knows you can get it. He just wants you to work for it. And I have a number of respect for Stephen German. He's hired a lot of memoryBlue alumni out. Kevin Reilly I think works there now. Max (Yavener), Anna (Raje). Michael Vessels ended up going there as well. So like, I have a ton of respect for him.
Steven German actually gave me some of the best advice that I still think about this day. He had come in and we were having a conversation and he said, you know, he's like, do you think that my job every day is like, you know, shooting buckets and closing these monster deals? He goes, no. There are plenty of boring Tuesdays and Thursdays where you come in and you just do the job. He goes, those are the important days. And so now, when I get to a Tuesday where I'm kinda like, I don't feel like prospecting or I'm kind of just going through the motions right now. I'm like, no. This is that Tuesday that Steven was talking about. You gotta push through this, let's go, like get on it. I mean it had a lasting effect.
Marc Gonyea:
Those are the ones you learned the most from the clients that are engaged and care. And that are hard on you because they're supposed to be hard on us because we're supposed to deliver the service. I remember you telling me you were living the dream and I said, Hey, don't tell Stephen German too many times.
Frank Taylor:
The neat thing about being a DM is there's a funny balance because you need to support and engage with your SDRs and help them hit their goals. And a lot of times that comes just from giving them time in the seat, enabling them to make the mistakes that you've probably already seen and make. And you can kind of see them making it as it's happening as well as a few steps before. At the same time you need to service clients really, really well. So, there's a challenge.
That's why I tend to empathize a lot with DMs cause there's a lot of stuff happening. The SDRs maybe don't know or, and this kind of goes for any role where there's a lot of blocking that your manager might be doing for you behind the scenes that hopefully is enabling you to do a better job that'll never come to light for you. And that's okay. It's not supposed to. That's kind of our job was to kind of bear that weight of, you know, Hey, I'm making sure everything's okay for you in the meantime so that you can focus on what you do best, which is just hitting that goal.
Marc Gonyea:
We have exit surveys when employees leave and sometimes this, you always want a mentor who fights for you, which you have if you come to work at memoryBlue. But the challenge is we're a professional services business, so we've got to make sure the clients are happy and satisfied with the work. So the DM has got to balance what the client's paying for, but also the need and the development of the SDR. And sometimes you gotta be hard on the SDR and you gotta be hard on the client and it's very tough job. But I mean, you grow so much and we'll come back to the growth that experience, cause I think when we talked briefly yesterday, you were referencing how it's helped you as a sales professional now as an individual contributor, right? So anything else as a DM before we kind of keep going?
Frank Taylor:
No, it's been my favorite job so far, just because the challenge I love when I'm really fortunate to be in the shoes and I am now and I like what I'm doing now a lot. But, I'll tell you the most gratifying things were, hearing about folks getting hired out and working with them on getting like the next level of roles that maybe they didn't even realize was possible for them. At the same time, and I'm sure I speak for a lot of DMs, I know you guys have, a number of them now for every success story that we had at memoryBlue. I'll tell you the ones that I remember, I was looking through the vault and looking at some old photos of memoryBlue. There are a number of SDRs that their name kind of escapes me a little bit.
I remember every single person that was on my team that didn't work out for better, for worse, for the either it wasn't a good fit, it wasn't the industry they wanted to be in. Maybe it wasn't a good chemistry match between me and them. I remember every single one of their names now. And because I think that your DMs, you know, we get really personally involved in wanting great things out of you. And it's not because we want great things out of, at least me, I didn't want great things just for the benefit of a profit. I want a great thing is because I love that satisfaction. Knowing I got them from here to here, I was part of that growth and that was the most satisfying part.
Chris Corcoran:
Frank so you had early in your career you've had an opportunity to be at both an individual contributor and serve in a leadership role, right? So different set of skills, different experiences. Talk a little bit about which ones you like, what you liked about both of those roles and experiences.
Frank Taylor:
Yeah, it's a good question. So first off, let's take a half step back. Having the foundation of being a good SDR is paramount and transitioning any of the roles that you want to go to. So being able to easily get on the phone and articulate what you're trying to do quickly to a complete stranger serves you really well obviously in closing, but it helps you just as well as a manager. So I've always been able to fall back on that. So even now, as you're going through the promotion of being SDR, just know that those skills and techniques you're learning now, it doesn't matter where you want to go, you're still gonna use those and it makes you so much more marketable for me to be able to go to an employer and say, yeah, I can pick up a phone right now and generate a pipeline for you regardless of you want me to manage regardless where it is.
In terms of skillset, I think that being a manager first really improved my sales pattern in general. One because I understand a lot now of what execs are looking for. I ended up empathizing really easily when it comes to my managers now. So, for example, I have a really good understanding of my manager now when her meetings are with her bosses so that I can make sure that my stuff is all put in order for her and that it trickles down because it keeps me out of any sort of hot water as well.
You want to make sure that you're satisfying them to their needs so that they can satisfy their bosses, their needs. But the last point I'll make on that is being a manager and having to deal with different levels of folks. Be the folks that are on your team, like the SDRs to any sort of a sales professional to customers. You've got to be really natural. When you're talking to different levels of folks, they can see through that really quickly if you're trying to be very salesy and upbeat and stuff like that. I like to think that it really helped develop my sales voice, which is very natural, very comfortable, very earnest. And, you know, just honest.
Chris Corcoran:
So Frank first off we were really fortunate to have, have you worked with us for how long you were in SDR for how long and then a manager for how long?
Frank Taylor:
I was an SDR for 15 months. I think I was a DM. Was it two years? Almost two years.
Chris Corcoran:
So that was a great service. And I'll never forget the first part was when I found out you were leaving. I was in downtown Chicago. I was kicking off a boys' weekend and I got a phone call from Marc, Corcoran Frank is killing us and I was like Marc it'll be all right. And then on Monday, after the weekend on Monday, you came into my office and you said, Hey, Chris, we've done a lot together for the last almost three years. All what I do now is that all you're gonna remember about working with Frank Taylor is how I handle these final three weeks. And it's my goal to blow you away. And I would say that you've had the best ending out of anybody cause you delivered on that those final three weeks and really hooked us up when you were leaving, you were very generous to give us a gift and what I want you to tell that story. And then I'll tell you what that gift meant to me.
Frank Taylor:
Alright. So, and thanks for remembering it. So when I had made the decision to roll out of memoryBlue, it wasn't actually out of anything negative. I wanted to move to Canada and the trajectory of the company wasn't in a way that it was going to go international at the time. I don't know what your guys' game plan is now, but I wanted to live with my now wife, which I thought was pretty reasonable. So I was moving to another software company. I was going to go back to doing a sole contributor.
And as a DM, you see these folks get hired out and just my tenure should be see folks getting hired all the time or getting elevated and it kind of always goes like this where they get their offer maybe that early that week. Their last day is on a Friday and so throughout the week that production just tends to slide down cause you're excited and I get it you're off to the next level of your career and you should be elated. You worked your butt off. The fact of the matter is that it's really twofold. One that the tech world's really small so and it's only getting smaller because you happen to be working with a hundred plus individuals that are gonna not only rise with you but might even succeed you. You're working next to a potential VP of sales one day or you're working next to somebody who might move on to go be a big wig at Oracle or whatnot.
They're going to remember every little thing you do unfortunately, for better, for worse. But what really ends up sticking in folk's mind is how they ended up handling the last two weeks. And so if you are the type of person who's kind of sending it till the very end and you're just,, I'm going to give everything I have to last day, I'm not going to mail it in. They're going to remember that. You know that guy? Yeah. He didn't go out to lunch with me every single time, but man, he worked and I'd much rather be remembered for that. And then anything else I think, it kind of shows how much you care too. I deeply cared about memoryBlue. I really cared about my SDRs, at the time.
And actually I don't think I told them until my last day that I was rolling out because from the day that I started as a DM to the day that I left, I was like, my only job is to help you guys hit that you're setting out for yourself. And me leaving or coming and going shouldn't interfere with that. We're going to make sure you're set up for success. And that's the culture that memoryBlue has brought. So I think that it showed, hopefully it showed a lot of kind of how much I cared about the role and cared about the people that I happened to be working with.
To the last question you asked, right? The gifts. So when I was rolling out, it seemed customary, especially for management, to give a gift for your bosses. I worked with you and Marc a ton. I mean I've probably had over a hundred hours of one-on-one training. That I still carry with me a lot today, all the way up to, Chris, we sat down and you show me actually how to do a good one on one, you know, with an SDR. I remember that and I take that to my management meetings now.
So I looked at your guys' shelves and I saw like there was bottles of liquors that were just collecting dust and I'm not a huge drinker either. So I was like, well that feels like a gift that's going to get lost, that's not going to be remembered. And as you can tell, I'm all about making a big splash. So, I bought you both Metcons, which are like CrossFit specific athletic shoes because Marc I knew worked out and Chris you had mentioned an interest in it. So I got your sizes from your wives, bought them and gave Marc his the Friday I think before I left and I gave you mine the Saturday that I left for the new company.
Chris Corcoran:
Yeah. And so one of my favorite gifts ever, because it was thoughtful and it also, it was a nudge to make me a better me. So you're bringing out a better version of the person, which was awesome. I still use them to this day and I appreciate it.
Frank Taylor:
I appreciate that. I don't know, Marc doesn't look like he's been working out too much, so I'm not sure if he's using it.
Marc Gonyea:
Not too much.
Frank Taylor:
The quarantine is doing a number of things all of us right now. But it's, you know, first off, it's really not worth it to burn a bridge. I can't emphasize enough how small this industry tends to get because there are a number of folks now that use it, that I got to work with or that I had the opportunity to manage or vice versa that, if they were to ask me right now for an opportunity to come work with Questica or any of the companies that I happen to know, I would drop everything and see what I could do to get them an introduction, vice versa. I'm sure there are a number of folks where if my manager Chris say, Hey, this person knew you back, then how would you feel about them? Depending on how they wrap things up, it'd be hard for me not to give an honest opinion cause then at that point it's a reflection of myself.
Chris Corcoran:
Absolutely. So walk us through, you ended up leaving memoryBlue, walk us through what your career looks like since then.
Frank Taylor:
Yeah. So I went and worked for a small software company in Deep Creek, Maryland. Got to work with my best friends in a small company called Asset Book, did portfolio management software, a very small sales team. So it was a really cool experience to it felt very startup-y. They were doing a lot of great things and I was the sole contributor at that point. I had support from the CEO but really I was the only true dedicated sales person. Did that for a little while. And then an opportunity at Questica, which we do a budgeting software for the public sector opened up. And that for me was the right move.
Marc Gonyea:
Let's go back. Let's go back real quick because people, this is a big focus of folks, both delivery managers and SDRs when they leave and what they do next. Because you were phenomenal SDR and then you're managing people, your peer group, interviewing people, hiring people, getting people converted, having to have fun one on ones with people, heart to heart, one-on-ones, performance management, firing people. Right? And you're selling work cause you're getting clients to renew but you're not selling work and you sign people to come work for you. But then you're also not selling work in a traditional sense of the word sales. So you got into your first sales role and kind of what did that, tell me what that taught you and then remember you and I having a conversation at one point during that part of your game?
Frank Taylor:
Yeah. So I'd love to talk with folks that went from an SDR role dive straight to a closing role and I'm wondering what their transition was like. For me, it actually felt rather natural. I always kind of thought the most challenging part was kind of opening up opportunities, granted there is a learning curve on getting someone to a demo to give me money. That's a hard thing to grasp at first. And I know it sounds so easy, but everybody can look at something physically giving you a check. Especially if you're dealing with an industry like, in this case it was a finance managers where, every penny that they're paying a software vendor, it's money out of their P and L. That's a whole monumental challenge.
I thought that actually I felt really well-prepared coming from a manager role right into a closing role because at this point I had dealt with so many different types of folks. There are so many really great clients that I worked with so many clients that had huge expectations that maybe be it realistic or unrealistic that I had to manage. It was kind of like dealing with, 20 or 30 mini sales cycles every single day when you're just dealing with different clients and then managing the expectations of your SDRs, and what they hope to get out of this Monday or this Tuesday given the choice. I think I'd still do it all. I don't think I'd go from an SDR to closing or I'd still go the management route first if you have the opportunity because I think you're going to drink from a fire hose, but you're going to come out way, way stronger than some folks.
So, I had been at Asset Book for a little while and I'd been flirting with the idea of, was this the opportunity I want for me at this point? I'd moved to Canada. I think at that time I was a bit tired of working from home. And I think I was just looking for new opportunities. I had actually called Marc, which is a neat thing that memoryBlue. There's very few organizations that I've worked with where you can comfortably call the bosses that you used to have regardless of I'm sure you've probably guys feel to call for any of your SDRs at this point. There are very few roles where you can call back and get honest advice. Cause usually you'll get I think what I was doing is I was hoping I would call Marc and he'd be like, yeah, you should go look for the newest opportunity to go for it. And he had sat down with me for half an hour and said, don't leave. He's like, it doesn't matter. He's like, you need to stay. You've only been there a short amount of time and you staying at this company regardless of how it is, be successful there. Again, we talked about those four stages, he's like, you know, you do the job well, add your creativity and then roll out. And because of that, I ended up staying there a lot longer. We ended up closing a few more opportunities that beefed up my resume and it opened up a great opportunity at Questica.
It's tough, right? I fall in that batch of millennials, I'm only 28. And I think right now we do have a, what we lack in experience, we definitely make up for just an assertiveness and aggression and wanting to get after it. And I love that. I used to interview for that. I wanted folks to get after it, right? But you know, you're really doing yourself a disservice if you're kind of hopping around a bit. And I say that as a grain of salt. I don't know what someone's personal circumstances are, what that means, you know, or maybe where they're at isn't that great? But I think you kind of owe it to yourself to go through the processes.
Like I said, learn how to do that job really well and then execute and then actually execute. Add your own flare to it, make it special to you and creative and give back to the business. And then when you've done all three of those things, then you can start looking at opportunities to, move up within the company or move out or do something different. But you know, to do that effectively, it takes longer than a year and sometimes longer than two years. I think you kind of owe it to yourself to give yourself time in the seat.
Marc Gonyea:
Yeah. And you got some wonderful perspectives by staying and doing some good work for that firm, which has allowed you to capture the next job that you have at the company you have now. Now it's the same job, as you role that you took Questica to go when you first started there, right?
Frank Taylor:
I'd say it was a parallel jump. So I was closing similar business size and then it had a good track record at that level and then got elevated to a senior role. So now we're going after, all the larger ones that we can.
Chris Corcoran:
Frank, so you've been in the closing role now. What's your favorite wins?
Frank Taylor:
We're working on it right now. No, it's the first one. I got a quest to get, not because it was the first at Questica, but because it showed me that Questica was the right spot for me to move to at the time. So it was an opportunity that we had. Originally I thought I'd lost it. I think, we've gotten back and said this is probably a no go. It wasn't even that large of an opportunity to be quite candid it was rather small. And I kind of closed, lost it, didn't think about it and just moved on with my day. I thought I was doing the right thing, which is close it, move on, put it in the back of your brain and move on with your life.
The Chief Revenue Officer of our company, we're not like a small company. We've got some folks behind us and he's now the CEO of the company reached out to me at eight o'clock at night and he's like, Hey, I looked at the publicly available notes for this organization. They ended up not voting on it and I noticed you close lost it today. He's like, why don't you go and give them a call? And you gotta remember this is an organization, we're fortunate to be closing very significant business and this was a 10th of a 10th of a 10th but the CRO and now the CEO was taking his time out of his schedule to read the publicly available notes of a small opportunity to help me close my first opportunity. And we ended up calling them back the next day. They said, yeah, we didn't make a decision. Can you send us the paperwork? And we ended up wrapping it up within the week.
And that's stuck in my brain. I'm like, okay, that's how you need to treat every opportunity. You need to see it to the finish line every single time, regardless if it's positive or negative. Because, not only are folks looking at you all the way from the CRO, but like everybody wants this. When the company wants this, when your manager wants this win, we all want it for you. Shout out to Craig Ross, that guy is awesome.
Chris Corcoran:
What about most painful or most memorable loss?
Frank Taylor:
I haven't had the fortunate, not too terribly many that I've been emotionally invested into on the closing side yet. I'm sure there's gonna be a few that come across and I'm like, man, I really wish that that's the one that got away. I'll tell you what really does keep me up at night are some of the SDRs that and I know I chatted about this before, but I'm thinking of one in particular. So during that transition period of me going from an SDR to a DM, there was one individual that I know that we just immediately had friction because I think I came in way too high on my horse.
I think I skipped being able to do the job well right into, I'm going to make improvements to this team. And this is a guy that was a well-established, very successful SDR. And because I came in with such a high horse, we rubbed each other the wrong way and he's now he's off on a new company. He's very successful. But I absolutely burned that bridge and I regret that so much. I wish I could've met that person where they were at and, and been able to be at least somewhat useful to them and their development as an SDR. But I think I just hit that friction too hard. And you know, I think I've kinda sullied, that relationship
Marc Gonyea:
Sounds like you should make a phone call or something.
Frank Taylor:
I should. I should.
Marc Gonyea:
You know what, Frank, we're all doing the best that we can, man. You know, some of us moved to Canada, some of us stick it out in the old US of A, it's hard being a manager in first place. Life is hard in general, but we support you. But sometimes memoryBlue, you know, we put a lot of education training into the SDRs. Sometimes it'd be nice to get to get some more into the delivery manager cause it's a tough, tough role. But I think for someone like you who's obviously a successful closer now that perspective, and I don't need to tell you this, but that perspective you had as a manager that's going to just round you out as a business leader, as you continue in your career.
I mean you're only 28 and you've done things from a leadership standpoint that most people don't do until they're like 40 if ever that there's nothing wrong with that. Like sales is a beautiful, beautiful profession. You could be an individual contributor for your entire career and still well regarded and great experience and well paid and well thought of. But I think you're probably a little too hard on yourself and my guess is if you were to call that person, they would probably not blame you.
Frank Taylor:
Yeah, I mean you hope, right? And I think you hit the nail on the head where it's like the DMs are, by and large doing the best job they possibly can. Granted there is no experience that's better than just living through that first year of being a DM. I remember talking to a couple of the DMs, so when I started I got to give them shout outs too. Raegan Callahan started as a DM the same day that I did. Josh Crippen, that guy him and I are still good friends so I used to tell them all the time. I was like, just make it to like that first year you're, everything's going to feel like it's new and everything hurts and it's kinda like the first like two or three weeks of lifting. It's painful. Nothing feels good.
But if you can get past that first six months, that first year, man, you are such a great manager. For some reason it feels like everything's after that everything's the matrix. You start seeing these problems, they're like, Hey, that's going to hit me here pretty soon. I need to start making some moves to get in front of this real quick and everything for some reason just slows down the second year because you've seen it all. memoryBlue has a lot of great stuff now.
I think that was definitely set you guys up for success. I mean, I remember when I was rolling out Kristin Wisdorf was just taking over as managing of all the DMs. I remember, I think I, hopefully I shot her a message. I can't recall if I did or not, but remember thinking, I'm missing out on a lot by not being able to manage by her. You know, that's somebody that has just a wealth of knowledge. So, even outside of your mentor that you get at memoryBlue outside of the DM, there's so many extra good resources and information just around that office that, you know, there'll be no shortage of education for you.
Chris Corcoran:
So Frank, how do you keep your skills sharp?
Frank Taylor:
A lot of reading. On the podcast you guys have talked about what's the best way to ingest information. And I wholeheartedly believe that reading is the best way. Don't get me wrong, love podcasts, listen to them all the time, listen to audio books. But I think that if you want a way to really grab and apply information, you gotta sit down and you gotta set the time apart to read it. So when we talked about this at the beginning of podcast, it's really, it's on me to contact the SDRs, or excuse me, the senior account executives that I look up to. So there are a handful in our sales organization that I think are just absolute killers that I am messaging on a daily basis of, Hey, what's going on today? I saw you had that opportunity. I'd love to know what you're doing with that. It's not up to them to reach out to me and share with me their good nuggets. It's up to me to ask them for them and discuss with them.
Chris Corcoran:
What book do you recommend?
Frank Taylor:
Right now I'm really enjoying Jocko Willink disciple leadership book. I honestly though, if you look at all of the really successful people, they just read. So like, even if you're just reading fiction, if you want to read the wheel of time series, you know, or the Witcher just read it. The ability to quickly read something and understand what's going on is a really great skill for you to have as a salesperson. Anything, read anything. Oh, but if you want a good a management book, the best book that we read as a team at memoryBlue was the Five Disfunctions of a Team. That's, that's an easy read. It's like an afternoon read.
Chris Corcoran:
So, being out in industry, you've had a lot of connections, your contemporaries at memoryBlue and then, individuals whom you lead, what would you say is the biggest mistake that people make when they leave the company?
Frank Taylor:
First and foremost, I think that folks have a tendency to jump at the first opportunity that presents itself, which is it sounds kind of hypocritical cause we just talked about like, yeah, I just saw something, I just went for it and went for it. I think there's a few times when it comes to making big decisions about your career trajectory, there were a few things that you can really look at to make sure it's a good move for you. Let's use an example of standard example of an SDR moving to a company that wants to either hire them out or maybe a rising star. A couple of questions that I'm asking those folks are, who are you reporting to? Okay, well you're reporting to a CEO cause it's a smaller organization. But talk to me about that CEO. Do they have a sales background? What's their vision for sales? They want you to come out of an SDR, go into a closing role and then develop a team around you. Okay, well how are they going to improve you to get to that point?
Because there's a skill set that you need to have for closing deals as well as a skillset, we've discussed here of being able to manage people effectively. And so how are you going to develop that in this year time period that he's hoping to accelerate? He or she are hoping to accelerate that, right? How long has the company been in business what does their product look like? What's the product landscape look like? There's a lot of times where we get so excited when we see folks getting hired out or doing these rising stars that you want to make sure it's a good fit for where you are in your career.
Some folks are fantastic at working from home and have that ability to be really diligent and really would much rather be a lone wolf. You know, a one man army and they can handle the whole sales cycle like that by themselves. For me, I flourish under a good sales team and a good sales structure. I need a VP of sales. I love having a manager that I can bounce ideas off of. I love having peers not only at the same level as me but also peers maybe that are trying to aspire to my level because not only do I take the opportunity to train and teach them, but they're also keeping me a cut above. Cause I'm not so far removed. I got to stay on my a game. So questions like that will really help you decide what is a good next step for you. And it just so happened at the time memoryBlue when I was coming in SDR to a DM fit all that criteria for me.
Marc Gonyea:
Very good Frank. Man, it's been a pleasure. I mean you are truly America's gift to Canada.
Frank Taylor:
Well I'm looking forward to you guys coming up here at some point when all this quarantine is over. I hope you guys are staying safe out there.
Chris Corcoran:
Great catching up with ya.