Episode 13: Evan Thomas – Coast to Coast Sales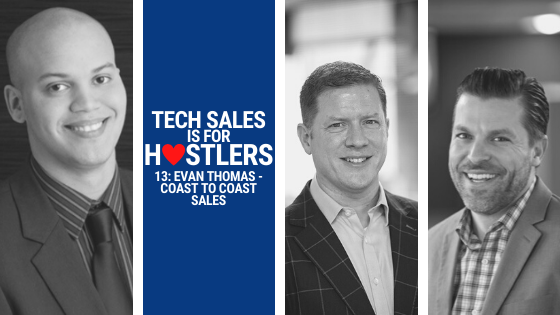 Maryland native Evan Thomas heard the calls of the West Coast and he gladly answered. Evan picked up his things, moved across the country in 2015 and hasn't looked back. Today, he resides in San Diego, California, and is an Inside Channel Sales Advisor at SiteLock. Evan studied English at Georgetown University prior to working at memoryBlue. He was quickly hired out by his client, Group Logic, after booking multiple high-quality leads. In fact, memoryBlue left such an impression on Evan that he went on to refer in his older brother, Ian Thomas, as well.
In this episode, you'll hear Evan's philosophy on how sales is one great way to help people, how he managed to book a meeting with a C-level executive at Coca-Cola while working at memoryBlue, and the strategy he used to convince his manager to let him move across country.
Full Episode Transcript
Name: Evan Thomas
Title: Inside Channel Sales Advisor
Company: SiteLock
Exit Year from memoryBlue: 2012
Months at memoryBlue: 5
Alumni Path: Hired Out
***Introduction***
Evan Thomas:
For me coming from a background of helping people and working at camps for people with disabilities, I really, at the end of the day, want to help people. I think in the spirit of sales, that's probably where I get the biggest reward. It's not always closing a large deal. It's knowing that the end of the day, I'm streamlining processes. I'm giving someone time back to their day and I'm making their lives easier. And I really do find the true joy in that.
Marc Gonyea:
This one goes out to all of our listeners on the West coast. Today, we have Evan Thomas Inside Channel Sales Advisor at SiteLock. Evan shares his philosophy on how sales is a way to help people, how he booked a meeting with a C-level executive at Coca Cola and how he was able to convince his manager to let him move from the East coast to the West coast.
Marc Gonyea:
Hi, I'm Marc Gonyea.
Chris Corcoran:
And I'm Chris Corcoran. And you're listening to Tech Sales is for Hustlers. Tech Sales is for Hustlers is a podcast where we catch up with memoryBlue alums and reminisce about their start in high tech sales with us.
Marc Gonyea:
Let's go get some Corcoran.
Chris Corcoran:
Gonyea, you know, I'm ready.
***Episode 13: Evan Thomas***
Marc Gonyea:
Evan Thomas in the house, man. Evan, thanks for joining us.
Evan Thomas:
What's going on, Marc? What's going on, Chris? I appreciate you guys having me.
Chris Corcoran:
San Diego, California. West Coast.
Marc Gonyea:
I love it. Tell us a little bit about where you're from growing up. Your family, what you were like as a kid, and then we'll work in the high school and then we'll get into college.
Evan Thomas:
Yeah, that sounds fair. So originally I'm from Maryland and a little small town called Pomfret, Charles County, grew up there with three siblings. Grew up with both my parents. I went to Catholic school through fifth grade, which was, you know, a little bit of heavy lifting growing up and then going to public schools. So yeah, I'd say my childhood was filled with lots of wonderful memories, spending time with my family and, really, it was a lot of sports focus as well. So, I did, basketball, baseball, track, soccer, I mean everything under the sun growing up, to find out what my niche was.
Chris Corcoran:
Sounds like you were a quadruple threat.
Evan Thomas:
Oh yeah. Yeah. I mean, I like to dabble. I'm a competitive person at the end of the day. I think that's how I ended up in sales. So for me just getting out there, competing in anything and trying my hand at it to see what I'm good at. You know some of those failures teach you great lessons in life at the end of the day.
Marc Gonyea:
I knew that basketball was big, the soccer – that's new to me. We never talked about that.
Evan Thomas:
Well, soccer, I only did for a few years, I think I missed a header and head butted a kid in his face. And there's some blood involved and I think that was the time that I tapped out of soccer.
Marc Gonyea:
All right. So what were you like in high school? Did you play in sports? Did you have a job? Did you do both? Tell us about Evan Thomas in high school.
Evan Thomas:
Oh man. Evan Thomas in high school. Once again, I think it comes back to competitiveness. I took all AP classes throughout high school, so I didn't have to go to school the full day. So I only went to the three classes in the morning. And then I had a job at both Walmart and Mattress Warehouse. So I would leave school, do that, come back and have basketball practice in the evenings or track or whatever it was. And then basically go home, do my homework, rinse and repeat.
And what was cool about that is I had a key to the gym where I went to high school. So every morning I wake up at 3:30 leave the house at like four and then run to high school opened up the gym and get some shots in before school even started. So pretty much every day was action packed. You know, I was up til probably midnight every night and up at 3:30 really just grinding and trying to get it done.
Marc Gonyea:
I wasn't doing any of that in high school. I don't know. Of course it was either I was playing sports, but I was definitely, I had no one to give me the keys to anything. And I wasn't taking AP classes, but not that, not so many that not only had to go to school for three periods. So that's, that's pretty cool. All right. Yeah. And then wait, where were you in the food chain? In the house with, with the siblings?
Evan Thomas:
Oh man. I'm third. So the food chain is probably the correct hierarchy, right? So my brother, Ian, who's three years older than me. And then my sister who's Erica.
Marc Gonyea:
Ian Thomas. I'll give you a little shout out. Sorry. You mentioned an alum. I got to say.
Evan Thomas:
Oh yeah, yeah. So yeah, I'll always shout out Ian Thomas, he's my inspiration for sure. And then my little sister, so I think growing up, you know, he kind of ruled the house and then, I think I saw some of the privileges of having older siblings. So when he was growing up, he couldn't go out at night, he couldn't visit his friends and then my sister, she wasn't allowed to date until she was 18. So, she couldn't go out and by the time they got to me and they, you know, the other two siblings are in college, you know, I had the full run of the house. So, I was out in the streets doing the work and, and going to school and whatnot, but I had a lot more flexibility to be out and about as well.
Marc Gonyea:
Excellent. Excellent. All right. So you were not, when you were in high school, where did you kind of decide where do you want to go to college and how did that all go down?
Evan Thomas:
So in high school, I this, it always sounds super braggadocious and it's not meant to be that way. I did well in high school. I was fourth in my class and I received full scholarships to everywhere I applied for academics. And that's including like Duke, UNC, and NYU. But my brother was at Georgetown University at the time and he has a disability called spinal muscular atrophy type three. So with that disability, it makes it hard for him to walk and get around and all of that. So I decided to go to Georgetown to support him and be in his corner and you know, no real regrets on not going to UNC Chapel Hill, which was my first choice. But no real regrets.
I think at the end of the day, the college experience is the college experience, right. You're exposed to so many new things in the world and it's a time where you're able to grow and develop your own opinions and decide who you're going to be. So for me, it was also nice having that crutch of having a sibling at college as well. That was a few years older. Just like in high school I went in and they go, Oh, you're a little Ian. You know, having a great, you know, group of friends and having a brother to lean on for advice and to be able to spend time with him and share, have that shared experience, I think is something that's, pretty incredible that a lot of people don't get to say that they've had.
Marc Gonyea:
I mean, and that's a great school. They don't have a Georgetown out there in San Diego really. But I'll tell ya, it must have been great going to school with a brother. Tell me what it was like.
Evan Thomas:
I'd say, you know, like I said, I think it's the normal college experience you get. Right? I went in there, like I'd mentioned, I grew up pretty Catholic. We have our thoughts and that specific religion and being exposed to different lifestyles and different types of people and ethnicities and customs and religions it really just opened up my mind and in my life and the way that I treat people, you know, I certainly could have been a lot more abrasive when I was younger. But I think that's really opened up my thinking to say, Hey, you really don't know who anyone is, unless you take the time and opportunity to understand them, to get to know them and just be open minded in your approach.
And then secondly, going to school with my brother you know, just a great experience, you know, he's my brother and people go, they joined fraternities, they joined sororities and they say, Oh, these, these are my brothers, but my brother never beat me. I've never had a drink till, till I passed out. But at the end of the day, I think having that shared experiences has been, extremely important, especially to our relationship as brothers.
Marc Gonyea:
Yeah. I'm looking forward to having him on the podcast I know Chris and I do, he's an amazing guy. I'm trying to figure out who's more talented you or him, but then you keep telling me that your sister is the most talented one in the family.
Evan Thomas:
Yeah. There's a lot of talent to go around. Ian Thomas is at the top of my list just for having to overcome what he's overcome. And I mean, he has a law degree, he's made the most of it. So kudos to him and, and kudos to anyone who's overcoming challenges that you can see or you can't see. And you're just fighting that good fight to make the best life for yourself.
Marc Gonyea:
Yeah, man, that's, that's inspirational. That guy's a bad ass. So let's, let's talk about so what'd you major in, in Georgetown?
Evan Thomas:
Oh, man. I majored in English right at the turn of the great recession. So, I was in business school at first and I had some really great professors and I played basketball with the vice president of Georgetown. He was on my intramural team and he was a writer as well. So, you know, they convinced me I'd be this amazing journalist and I had a voice that should be heard.
And then when I moved from business school to English and the recession hit, I was like, my God, what have I done? So, you know, that, that's what really caused me to kind of pivot and, and I think on that journey of a lot of woes and be like, you know, what do I do with this? You know, Dustyn Deal of all people from memoryBlue reached out to me. And, and that's how I got connected with you guys.
Marc Gonyea:
Dustyn Deal, Oh man, that's another guy we got to get on this thing. Dustyn Deal's your connection to the company originally. Huh?
Evan Thomas:
He is, he's my first in. I just remember him speed talking for about 30 minutes and said, Hey, will you come in for an interview? And I said, yeah. And I got off the phone. I thought, what did I just say interviewing for? So, you know, he did a great job on selling memoryBlue up front, to be honest. And I think that he was a great representative for you guys at that time,.
Marc Gonyea:
When you decided to switch from business to English, what was your vision in terms of taking things professionally? Where you going to go to graduate school? Or what did you think at that point?
Evan Thomas:
I mean, honestly, I think it was just such a college kid decision. I had no plans. I just thought, Hey, people really believe in me. I should do it. So, you know, they're seeing this talent that I haven't seen in myself. And like I said, at the end, I just froze me with fear, when everything happened with the recession, because you know, it didn't feel like journalism was recession proof at that time. I really didn't have a solid plan and I was like kid in college, just kind of just scooting by, you know, at a great school, we'll try to get the work done and, you know, make a life of it.
Chris Corcoran:
So, did you have thoughts, to kind of pairing your love for writing and English with your love, for sports and going into sports writing? Or were you thinking more of like a novelist or a poet or?
Evan Thomas:
Yeah, honestly, I would say what really drew me was probably marketing that was one of the things that really drew my interest at first. And then I did some marketing with like RedPeg and Gail and Rice and through them I was working with they, they basically were doing experiential marketing across the country and we would work with cars. So I worked with Chevy and Volkswagen through those companies. And I remember I was just doing marketing at the event.
And this guy goes, you know, tell me about the car. And he ended up buying it. And I was like, wow, what a thrill? Right? You know, to make a sale from just talking to someone about what I know. And I think that was my first real taste of this is something that I really like to do. Right? Cause I know at the end of the day when we were chatting, there was objections and I overcame them and I really enjoyed the thrill of the pursuit of that.
Chris Corcoran:
And then out of nowhere you get a phone call from Dustyn Deal.
Evan Thomas:
Yeah. Out of, literally out of nowhere, I think he said he found my old resume from like two years prior on monster and just said, Hey, you look like you'd be a great fit for sales.
Chris Corcoran:
Very good. So why did you ultimately decide to start a career in high tech sales at memoryBlue?
Evan Thomas:
I had my interviews with you and Marc honestly. You know, I think when I first met you, I think Marc's first question was you, do you love to win or do you hate to lose? And you know, obviously the answer is I hate to lose. At the end of the day, everybody loves a win. But when you lose, you learn something, you understand, there was a level of preparedness that wasn't there that it was something that you could have accomplished, but most of the time it's based on that lack of preparation or lack of knowledge that will sink you. So you know, when he said that it really just kind of, you know, sent sparks through me man, to be honest, I thought immediately, Hey, this is the type of people are, these are the types of people that at the end of the day I can really learn from and, uh they'll grow as a salesperson.
Chris Corcoran:
Very good. And so when you are coming from a school with such a prestigious university and perform so strongly academically, the world is your oyster in terms of where you can take your career professionally, you can take, there's lots of companies that will hire people regardless of major if you come from such a great school and you perform well academically, so the world was your oyster. You could have done a lot on one hand.
On the other hand, I guess we were the beneficiaries of you graduating into a recession. We were punching above our weight class in terms of the caliber of people we could land, but we were thankful for that. So did you think about going to wall street or going consulting or were you just kind of doing things and all of a sudden Dustyn Deal got a hold of ya and one thing leads to another you're talking to Marc and he's talking about competition and then we kind of swept you up. Is that essentially what happened?
Evan Thomas:
Yeah. I mean, a lot of my friends, you know, especially at Georgetown, they go to New York, they stay in DC, they do politics or finance or some sort of business. A lot of them are at Booz Allen, Deloitte. So know I was certainly exploring those, those routes. But at the end of the day, I think it was truly just the genuine nature of the conversations I had with memory Blue that made it a no brainer for me. I certainly remember after the interview and you guys saying, Hey, we'll bring you in and going in the first day and thinking like, Oh, man, I don't, I don't know if I'm ready for this.
But working with you guys, it was such a simple process for someone who was a little more shy, especially when it came to sales and getting on the phone. For you guys, it's the memoryBlue it's feast or famine, right? You don't want to talk to people, you don't want people to hear your phone calls, you're hiding away. But you're forced to be in this environment that, you sink or swim, like I said, and I think just being a part of that, I was able to look at my peers and hear the people around me and listen to their phone game, as they say, and pick up the things that really work and, and discard the things that don't work for me personally, because some things, some tactics work for people, the way that they talk or interact is good for them.
But if I try to replicate that, it's not something that will shine. And I think learning about, you know, Costigan and Sandler where, and the sales trainings that, that you guys offer there. I realized that there was a little niche area for me as well. Because for me coming from a background, of helping people and working at camps for people with disabilities, I really at the end of the day, want to help people. And, I think in the spirit of sales, that's probably where I get my, the biggest reward. It's not always closing a large deal. It's knowing that the end of the day I'm streamlining processes, I'm giving someone time back to their day. And I'm making their lives easier. And I really do find the true joy in that. And I think that's something that I found, at memoryBlue through, you know, your coaching and your training there as well.
Marc Gonyea:
Yeah. There's a ton to unpack there. A couple of things I want to go back on one is you're right. And I remember going through this as a sales professional, but when I was managing people and more directly the SDRs who've come into this role and it's kind of a shock to the system, right? And because of the nature of what you're doing, you're interrupting, arguably the busiest people on the planet, you're interrupting their day and they're not expecting you to call. They're not asking you for you to call. They're maybe 10, 20, 30 years older than you. And they've learned more about what they do than you'd ever hope, or they forgot more than you'd ever hope to learn.
And then you've got to do this and you see here, people doing successfully and people may get caught up and lose their identity as to who they are as a person and the sales training. And then you're right. You've got to learn what works for you and what doesn't. And once you get comfortable with that, and once you kind of figured out your offense, what kind of game you got, it can be more, more enjoyable.
And then the second thing is, I mean, this came up today, me with one of our SDRs is the same thing. They really liked the idea of helping people. And he was concerned with the fact that he wants to sell from a being genuine and sincere perspective, but he thinks it may come across as cheesy. I said, no, that's the most important thing, particularly in sales, if you can figure out how you can help and impact someone personally, but you're adding quality to their life and that's not cheesy, that's, that's kind of the reality. So those are, those are two big things. UI think for people to understand who are considering working for us or earlier in their career with us.
Evan Thomas:
Yeah. And I think, like I said, just throwing it, throwing them into the lion's den was a blessing in disguise. One of the things that I remember most is we had those daily standups where we talk about the leads we got from the previous day or that morning, and being up there empty handed with zero and other people are laying out 10. It's incredibly intimidating. And I think when I had my first O-fer, I was just like, alright, I got to come in earlier. I have to make these calls because for me, once again, it comes back to that competitiveness. Right? I know we had mag seven and always just trying to be at the top of every list possible. So, making those spiffs and making it competitive.
But you also have that environment of people that are also learning with you and around you. So there shouldn't be that intimidation factor because they're on the same path. They're thinking the same thoughts, like, you know, am I going to be successful in doing this, will this person actually buy whatever it might be? You're not the only person out there in sales. That's having that thought. It's not unique to you. I think you rely on the people around you and use that support to make yourself better at the end of the day.
And one shout out to Nimit Bhatt. I know he came on and he'll probably be mad at me for saying it, but he was so meek and shy and, I remember he came in and I was like, man, I don't know if this guy's going to make it. And, I remember just sitting with him and he sat to my left and I was like, Hey man, it's okay. Here's how we, you know, here's some good processes to follow and right before I left, I just remember his confidence just skyrocketing. And now he's been such an incredible pillar for you guys that memoryBlue and I'm extremely proud of him and his progress.
Marc Gonyea:
Oh, you Maryland guys got to stick together.
Evan Thomas:
Yeah. Right.
Marc Gonyea:
Hey, what, who else back in the magnificent seven days, the mag seven. Who else was some of your cronies that were kind of fighting to be on top do you remember?
Evan Thomas:
Oh man. What is it? Sorry, Michael Twist. Obviously he's a staple. James Gannon also a staple. Arash Almasi I remember my guy, I remember him just abusing that, Hey, I gotta put out a fire on the phone calls and I loved it. I mean, he just such veracity when he was on the phone and, and tenacity. And I love that.
Chris Corcoran:
Rewind the hands of time for a moment. And think back to the night before you started at memory blue, what advice would you give to yourself now, knowing what you know now?
Evan Thomas:
Honestly, none. I think the excitement and the fear and the intimidation all played the role that they needed to play. Right. Some people take fear and they run away from it. For me, it was just another challenge to overcome. And just coming from that academic background, for me, jumping into something that I was not used to, that I had very little understanding of and just saying, Hey, I'll drink from the fire hose. I'll take the time to learn and see how people are successful doing this.
And at the end of the day, I think that mixture of, like I said, fear and a little bit of anxiety, intimidation all played a part in me saying, you know, I can't live like this. I can't be, you know, stressed going in there. I have to figure out how to do this now. You know, like in sales, it doesn't matter. I could sell a $10 million deal right now and you'll say, Hey, great job. But what can you sell for me next week? At the end of the day? I think that's, that's the mindset that comes with it. It's don't let it intimidate. You let that fear drive you to better yourself and take the time to learn and gain that knowledge that you're seeking to be the best sales professional that you can be
Chris Corcoran:
Great. So everyone has expectations about things particular, new jobs, new roles, new companies. So how different was the role in the company than what you thought it was going to be?
Evan Thomas:
So the role it wasn't necessarily different than what I thought it would be. It was challenging. Right? And I think one of the big parts that you and Marc played, it's just having that sales mindset. It's a no, get over it, right. People are going to need your services. Some people won't, you're going to get no's, let it slide off your back, you know, don't let it crush you or, affect your next call. Right? I know in basketball we say, don't worry about the last play, worry about the next, you know, we want to stay focused on that goal. And I've had days where I've made 200 calls and memoryBlue and not a single lead, you know, not a single appointment set.
And then other days I say, Hey, I'm going to go in there I'm going to get three leads or, you know, three appointments set before I get out of here. And just having that focus and not forcing it right. Just be a natural having those conversations, not being pushy, but really just taking the time to listen and understand if people have comments, objections, whatever it might be, that could be your source into their life as, as their sales rep. If you let them speak about the things that they're dealing with, they could give you that information easily. So a lot of the time it just comes back to the whole, you know, shut up and listen and, write down the notes from it and make your plan of attack from there.
Marc Gonyea:
So, you know, Evan, we were fortunate enough to kind of get you in our little sales palms and get you into the program, but you weren't with us all that long. So you got scooped up rightfully so by your client relatively early, but talk about your clients you had early in. And then that process kind of how that went down, because some people work on clients that they want to go work for some more clients remember that they don't want to work for some of the clients don't want to transition the people on board. You're probably someone we would have loved to have kept on, but you know, we're not going to get in the way of what you want to do and what the client wants to do. That's part of the model go back to like, kind of how that transition, like what you remember about that.
Evan Thomas:
Yeah. So I had Harris health care and Group Logic as my two clients. And if I remember correctly Harris healthcare, when I was generating appointments for them, it was based on a health survey that they were doing with hospitals and then Group Logic. We were setting appointments for this enterprise mobility software. And I think at the end of the day, you know, we were working with Group Logic. We had our call scripts. And I sat down, I think with Summer and Bashar and Robin just said, Hey, what do you want from me? What are you expecting? And just setting those expectations up front. Right?
So, at the end of the day, it came down to pounding the pavement. There were opportunities that they wanted to get in front of that they hadn't been able to touch. And for me, it was really just about providing those qualified leads, but I'd say it took a few, you know, a few weeks, a month to really get the ball rolling on that to get my call script down. This was my first sales real sales role to understand how to connect with people and, and listen to them and know their pain. But yeah, as far as my time there I started in early December and I was out by the end of February and started with Group Logic in March.
Marc Gonyea:
That's right. And Summer I have to give her a shout out. She's a current customer to this day. So, you know, the model is, and I know you are, you're still in communication with her from time to time. Right?
Evan Thomas:
That's correct. Summer once again. Great. Shout out. She's an incredible woman fierce and powerful and just an incredible sales leader herself. I'm glad she's back with you guys. Sounds like she knows what she's doing.
Marc Gonyea:
That's right. Yeah. And that's the beautiful, well then too, about the model, right. We were able to get you in to get you trained and go and be left such a great impression in 2012 then eight years later. And Summers back for, more memoryBlue, that's a testament to the work that you did for us when you were working with us. Do you remember like, kind of what goes through your mind when you were approached by the client to come to go work there?
Evan Thomas:
Yeah, I remember they, they mentioned they were hiring actually. And I went to you and I said, Hey, Marc, man, they're hiring. I was like, would you mind throwing my hat in the ring? And I said, I'm not sure if I'm way too green for this. And you said, Hey, man, you've been doing well. Let's just put it out there and see what happens. At the end of the day, we had that, great conversations and I provided them with some great appointments and gain their trust and earned that role.
Marc Gonyea:
You went there and then what happened? What happened next?
Evan Thomas:
So my very first day there, I had a basketball game in the evening and I ruptured my Achilles.
Marc Gonyea:
Right. I forgot about that.
Evan Thomas:
Yeah. So I didn't get any training or anything like that. Unless it was my laptop, but I spent my first month in bed with my foot raised up above my head. And I took the time to really buckle down and learn the products and use those resources that I had. But I ended up selling $108,000 in my first month from my bed.
Chris Corcoran:
Every once in a while, I turn on the highlight reel of kind of the greatest moments in memoryBlue history and in some of the best leads booked by SDRs. And you're on that highlight reel. And it was a certain lead. Do you know which one I'm talking about? With a C executive from a beverage company in Atlanta. Tell our listeners a little bit about the story.
Evan Thomas:
Yeah. So Group Logic had been trying to get in touch with Coca-Cola to offer their mobile device management services. The name had come across my desk, but we didn't have any contact information. And what's really funny is we had just learned about Boolean search, I believe at memoryBlue. And I ended up looking up one of these C level executives. I was able to use a Boolean search and I found some old PDF that was an internal document with a cell phone number on there. And I was able to reach out to him directly. We had a couple of conversations and he was still hesitant when it came to moving forward with a product like mobile device management.
Now, remember this is 2012 where we couldn't access data from our servers on our phones. Even though it seems like a lifetime ago, it's not you know, eight years. So for him, he was very hesitant on moving to a technology like that and saying, Hey, I don't know if this is a fit maybe too ahead of our time. And I remember I watched the movie, the mechanic, like two nights before I'd spoken to him and I took Latin in high school for four years. I've got a pretty good handle on Latin. And one of the things on there, which is funny, it's on the side of a gun and says Amat Victoria Curam, which means victory loves preparation. So when he was giving me the back and forth of, Hey, I'm not sure if this is a good fit for us. I said, you know, Amat Victoria Curam, victory loves preparation. You know, today this may seem scary, but this is the way that we're moving in the future. And we were able to get them in the book.
Chris Corcoran:
So amazing. So, so why I love that so much is you can't teach that you can't coach that that was just you watching a movie, seeing something and applying it, thinking on your feet lightning quick, booking mic drop.
Marc Gonyea:
And a little bit of Catholic school education sprinkled in. Yeah, that's a great story. I remember, I don't think I found out about that from you. I remember Chris, coming in Gonyea, you know what Evan just did on the phones, you know, do you know what Evan just did on the phones Gonyea? Let me tell you about this. So it's one of his favorite stories. And when we talked about talking to you in the podcast is one of the first things he brought up.
Evan Thomas:
No, I love it. I think, you know, whenever I'm having calls or talking to people, you know, there's a mixed bag of things that you can always reach into, you know some of the other things that I like to say the seven deadliest words in business, we've always done it this way. That tends to shake people a little bit to their core as well. No one wants to be left behind.
Chris Corcoran:
That's good. I like that one. I'm going to steal that. Evan opening up the playbook for our listeners, before we move on to kind of your post memoryBlue days, you were with us for a short period of time at the time, one of the shortest in the history of the company you all told, was it like three or four months before you got scooped up by your client?
Evan Thomas:
Yeah, it was yeah, about two and a half, three months.
Chris Corcoran:
Two and a half months. Amazing. so what I love is when memoryBlue alums refer people. And so you, not only did you refer someone, you referred blood, what was it about your experience that inspired you to refer your older brother, a mentor and an inspiration to you? What, what was it about the experience that inspires you to make that referral?
Evan Thomas:
So obviously I had a great experience and I know you guys give me the pat on the back, but, but honestly the majority of my sales training came from memoryBlue even over all these years. That's where most of my training came from. The story from my brother was that he had graduated law school. He has a law degree and he saw how well I was doing in sales and said, Hey, maybe that's not a bad place to pivot. And he asked me about my experience and, the best way to really learn the sales game as you guys say. And I think I brought him to one of the alumni reunion parties. And, and I just said, Hey, they're super cool guys, come meet them. Once you meet them, you'll understand who they are. You know, they're very serious about their business, but they work hard, play hard, just very genuine and down to earth people.
And I think that was probably one of the biggest sells for him because he was looking for that knowledge and that expertise. And I think I was also the reason he left memoryBlue because I moved to San Diego and I remember, I actually called him and said, Hey man, I'm moving to San Diego for work. And he said, let me call you back in five minutes. And then he called me back and he said, Hey, I let Chris and them know I'm leaving and going with you. I think I took him off of your plate. But at the end of the day, I think he's a better sales person for it. And as am I.
Marc Gonyea:
These Thomas guys, they keep coming and they keep leaving us.
Evan Thomas:
Well, if there were more of us, we'd send them your way.
Marc Gonyea:
All right, good. That's all right. I think it's a testament to you and your brother as a person, the fact that you worked for us for such a short time, and here we are eight years later and we're still kind of jamming, right. So, you know, we appreciate you Evan a lot. Group Logic, break that down a little, because one of the things that the folks who work for us always ask is, Hey, what's going to happen next? What do I do after this? How do I get to a closing role? How do I get hired by my client? You went over to Group Logic and you obviously at some point wanted to make that transition. Tell us, tell us about that.
Evan Thomas:
So, I got into an enterprise role immediately, which was a blessing for sure.
Marc Gonyea:
How'd that happen?
Evan Thomas:
Yeah. So I'd say just providing really great leads to them for business that closed from memoryBlue. So doing my research, understanding those prospects and saying, Hey, this looks like a really good fit. And, really proving my worth when those customers come and they say, Hey, you know, you did a great job qualifying this and, vetting them. And then understanding that or hearing from Group Logic that these clients move forward with the purchase. And I think just building that trust over time with valuable leads that you're sending to them to generate opportunities and revenue, that's really how, you really build up that rapport with the company. If you're trying to get hired by them, show that you have your head down, that you're staying focused and, you understand their product and, and the clients that are fit for them at the end of the day. So, going from that SDR role at memoryBlue to Group Logic was pretty seamless, right?
I'm having the same discovery call conversations that I would have at memoryBlue with these prospects. So I'd say just being prepared and learning the things that we learned, mt memoryBlue translated really well for me. One of the things that I really enjoyed about memoryBlue in general was that, me would have those sessions or we had set in and we'd say, Hey, give us your pitch and then let people critique it. Let your peers' critique, you know, the way your interactions with your prospects. And I think, yeah, you can be a little standoffish, it can cause anxiety, it can make you feel awkward when people criticize something that you have, or that you think you're doing well. But when you actually hear it, you go, Oh, I could do better. Right. And at the end of the day, you take those things as lessons learned and you try to roll them into your sales process and make yourself better. Um, moving from the SDR role to Group Logic, it was really seamless.
You know, Summer, she's an incredible mentor and a great leader. And I think that plays a huge role as well. The company, your manager, just being on the same page. And I think with her, we were always on the same page. We could fill in the blanks of each other's sentences when we were chatting, because she was involved in the process. I was transparent on where things stood or where I need help. And I think that's also a big factor as well as just knowing you're not on your own, especially in 2020, you could Google literally anything and find answers. But at the end of the day, you, I think you lean on the people that support you, and you take their guidance to heart and you do your best to be coachable and, use that coaching in your processes moving.
Marc Gonyea:
No, that's good. There's a lot there to, for people to kind of feast on. So, when you're at a Cronus, you kind of settled it into a closing role. What was the number one thing that you had to learn to go from an SDR to a closer? What skill, what part of your game did you have to develop?
Evan Thomas:
Negotiations. Just negotiating, understanding margins for companies on products that you sell, but really just understanding, what you're selling and how you're selling it and how it affects the overall business. We always want to have those big sales and we want to knock our numbers out of the park, but in some cases it's not always fruitful for the business at the end of the day. So I think keeping those things in mind you know, understanding your customer needs and, for me, I don't like to be really flexible on pricing, but at the end of the day, you know, a penny is more than 0 cents. So it goes towards their quota and it makes sense.
Marc Gonyea:
How come you don't like to be flexible on pricing? Give us the philosophy.
Evan Thomas:
Well, for me, it shows, I feel like it doesn't show the value of your product that you don't believe in your product or your company doesn't believe in it. The price is out there for a reason it's tried and true. And if someone else feels, Hey, I should pay 10% of that. I don't need all of these features and benefits. I just want this. I mean, that's not your ideal customer at the end of the day. They're going to take you for granted. They're most likely not going to utilize your products or your solutions to its fullest advantage. And those are the ones that often they come back and complain or rip and replace at the end of the day.
So, for me, when I'm having those conversations, I even just like to say, Hey, what do you think this is worth? Just to get a temperature check, if I'm selling something that's $5,000 and they say, Oh, man, this looks like it's probably $20,000. And I can say, all right, well, what if I can get it to you at 10? You know, so I can, I can make 5,000 on it, but also they see the value. And that means I've done my job at the end of the day, that I've proven our value or exceeded the value that they believe in the company. And that they're going to get there the best bang for their buck.
Marc Gonyea:
Got it. Yeah. That's good answer. So negotiation and then selling value on your price. Okay. So, it's interesting sometimes when people come to memoryBlue who worked for us, if you're on Group Logic, probably from day one you end up going to Group Logic, and then they were acquired, right?
Evan Thomas:
Yep so they were acquired, I've been part of three acquisitions now. And the Group logic acquisition is actually a great story because it brings back in memoryBlue. So I'm not sure if you remember Marc when we were acquired, most of the management team left I think Summer had moved on and Chris had moved on we were working with the Acronis management and I've blown my number out of the water. UI was the top sales rep at 132%, but in February I got let go right after this acquisition. And I remember just being like, Oh my God, what do I do? Like, how is this even possible to be the top selling rep and still get, let go due to an acquisition?
And I remember just calling you and saying, yeah, I don't get this. And you said, Hey, acquisitions happen. You know, it's about the company at the end of the day. They're going to do the things that make sense for them. It's not personal by any means. I think that gave me, you know, a sense of feeling a lot more assured, moving forward and I came crawling back to memoryBlue and I said, Hey, Hey, can you help me find something new? And you put me in touch with Justin Brown for your memoryBlue search.
So I know for a lot of the people that are considering going to memoryBlue or working there one of the things that you should be aware of is that these guys are in your corner at the end of the day. They take the time to train you, make sure that that you're a polished sales professional. But they're also human beings and they have that a true human spirit when it comes to picking people up as well. So, I think that was such a great feeling for me to know that I was only there for a couple of months and, and have the ability cause you and I were still texting, catching up, just being able to reach out and say, Hey, this happened and I'm looking for some help and you guys are always willing to be there and get in the trenches and, make sure that you're taking care of your people, past or present.
Marc Gonyea:
Yeah, that's what it's all about, man. You have a Deltek, which is, again, another company that's struct gold, by hiring you. And that was when, I mean, I know you were there for a little while, but let's talk about the art of the move because the people who work for us, they're like you, and you grew up in a great part of the country, but obviously, you probably went to school locally, although it's an amazing school, like you said, very national, very diverse, but at some point, you know, you're growing your sales game, but you had an eye on moving, right? There's a lot of people do. So tell us a little bit about that.
Evan Thomas:
Yeah. So I'd always kind of eyed the West coast with my brother as well. And my brother and little sister are both into singing and acting, so they wanted to be where the action was. So when I was at Deltek, I covered Indiana to Alaska and Hawaii. So the entire West and I was traveling to the West coast probably every other week or so meeting with clients and going from DC to California Hawaii, wherever it might be as a trip. So at the end of the day, I was working with my managers and I came to San Diego for the very first time in April of 2015. And I said, this is where I want to live. I've been to LA, but, but San Diego, I got off the plane and I thought, I don't ever want to leave here.
When I went back to Deltek, I would email her every morning and just say, Hey, can I move to San Diego? All of my clients are out there. This doesn't make sense for me to be here. And she just kept saying no. After about two weeks of emailing her and saying, please let me move. This is for the best I'll work really hard remotely. I finally, you know, closed some really large deals gained trust. And about a month later, I moved to San Diego. She gave me her blessing and she said, all right, fine, stop bothering me, go to San Diego. You know, you're doing well. So we're not going to worry about you. And that's when I called my brother who was at memoryBlue at the time and said, Hey, I got the green light. And he told me, I'm going to call you right back. And he told me that he had parted ways with you guys to make the move to the West coast.
Marc Gonyea:
That was the second time Corcoran came into my office, telling me about a Thomas brother.
Marc Gonyea:
The first time was Coca-Cola. The second time was Ian told him that he was leaving.
Evan Thomas:
I know. And I think that there's a lot of you know, a lot of thought and anxiety that goes into it. I know for myself, I don't have a family, like a wife and kids, but I have, all of my grandparents are still alive. They're in their late nineties to this day. And you know, I'm siblings and, and parents there. And it was a tough decision to make the move. But when it comes to your life and the things that are meaningful to you, you know, time in life waits for no man.
We're blessed to have zoom and texting and all sorts of ways to interact with people. And since I left it, it honestly feels like I haven't. I talked to them every single day on a family text. You know, we do zooms, we do trivia and we really just, you know, we stay in touch and I think that's, what's really meaningful that, that I'm able to live my life and not feel bad about it. Because when you have older grandparents, you know, you never know what's going to happen.
And, there's, guilt behind moving sometimes, but at the end of the day, you know, live your life, right. You can't live everyone, else's, they're doing what they're doing. And you have to do what's best for you at the end of the day. So if you want to move to the West coast, if you want to move to Spain, you know, pack your things and go, it's a challenge. It's a great life experience. It'll help you grow. You'll learn so much more about yourself as well.
Chris Corcoran:
So Evan you've been closing deals for eight plus years. What's your biggest or most favorite win?
Evan Thomas:
So I would say most favorite win was with Deltek. We had a client who was having a lot of issues with our support and I'd say it's my favorite win because I was able to think out of the box and be creative with my manager. They were thinking of ripping and replacing cost point, which is Deltek's ERP and accounting platform. And at the end of the day, I said, you know, what can we do to be better? And when they would call in, they'd get pushed to a tier one support, tier two support, tier three and rinse and repeat, they'd have to tell their story over and over and over.
So, I went to my manager and I said, Hey, can we just get someone who's dedicated to his account, understands it inside and out, we worked with our account manager and we figured out a way to take something that was a $0 million opportunity every year for just customer support. And we were able to sell it for $150,000 per year for dedicated support over three years. So, you know, $450,000 in the bag for something that at first I was kind of frustrated with and said, man, just let them rip and replace it. But I'm really thinking on it, just taking the time to understand his needs.
And, and we found out that there are a lot of other customers that were experiencing that same, you know, the same issues. And we were able to sell that basically as an add on product or service moving forward. So, like I said, we just went above and beyond the, behind the scenes to really think about how we can support them and not lose their business. But at the end of the day truly be a partner to them. They've invested millions of dollars into us. What's it going to take for us to keep their business and to keep them happy?
Chris Corcoran:
And it sounds like the client was glad to pay 150K a year to have that dedicated support.
Evan Thomas:
Yeah, he was very enthusiastic about it. We didn't have to dabble in negotiations. It was, Hey, here's what we think it'll cost and signed off.
Chris Corcoran:
Everybody wins.
Evan Thomas:
Yeah, exactly. People, people will pay to get rid of their pain. That's what you find out.
Chris Corcoran:
Yeah. That's right. Well, that, that's a good example of you helping, right. So what about your worst or most painful loss?
Evan Thomas:
I know I knew this was going to be a question, right. That's always a question. Even if you're in an interview, there's not one that really sticks out. I think all losses are hard, right? You put in time and energy and effort and resources for any opportunity that you're working. And of course they hurt because you lose it. But at the end of the day, it's sales, once again, I think that's something I learned at memoryBlue is you got to let it roll off your back. If you're relying on one single opportunity, I mean, boy, you better go build up that pipeline because nothing's promised in this world and it could be something like COVID right. Something unexpected, or it could just be, negotiations or you leave a bad taste in their mouth or a promise unkept.
So, at the end of the day, there's nothing that really sticks out in my mind is like a brutal, you know, $2 million loss. UI feel like I've gotten in most of the large deals that I've had, but none really stick out. I think they're all painful, but they're also all really great learning experiences. Cause you can say, well, I blew it on this one, but next time I know not to take that route. Right? So for me that loss is more of a learning experience. No matter how big the deal is, how painful it may be at that time. As you can tell, I can't even think of any that stick with me. Because at the end of the day, we keep moving in sales, but it never stops for anyone.
Chris Corcoran:
How do you keep your skills sharp?
Evan Thomas:
I still read sales books, but honestly I think it's trial by fire for the most part. You're all in sales, it's about continuing to learn whether it's your product or your competitors, doing research, understanding the landscape of the verticals. Really just trying to stay up on what's important to you and your book of business. So for me, I, you know, if I'm doing cyber security with SiteLock right now, so, you know, brushing up on, on cyber security jargon and things that are going on, companies that are getting hacked, et cetera, I'd say recently I read, the Go-Getter and Competing Against Luck and sometimes those things will stick, but a lot of the times I feel like it's, Hey man, it's sales, right. You know, we don't need to make it harder than what it is at the end of the day. We want to make that personal connection. We want to understand their pain, build that trust. And then at the end of the day, earn their business, right. Not force it down their mouth, but prove your value and earn that business at the end of the day,
Marc Gonyea:
What's more important. And so we've got people who work for us who are super impatient and it's a virtue, Chris and I, we screen for people who come work for us. We want people who have a low threshold for patience. We want people who are inpatient, but sometimes it can kind of work against you. What advice would you have for inpatient memoryBlue SDRs who were like in a hurry to get there, but they might not be ready to get there yet?
Evan Thomas:
You know, as Joel Embiid says, trust the process right? At the end of the day what you're doing at memoryBlue is gold. Like I said, I see those, any of the sales stuff that we covered there, that's pretty much what I still function on today. Even just two and a half months that was the core foundation of my knowledge and my skillset. But yeah, if you're impatient, I get it. Everyone wants to move up to the big leads. Everyone wants to make more money.
At the end of the day, if you're getting that training, you understand your phone game, you understand the sales process. It's only gonna make you better and stronger so that when you do move on, you're going to be closing deals out of the gate. You're not going to have those same frustrations that people feel. You're also going to have, the same expectations as someone, but you'll be more prepared for those expectations when they land on land in your lap.
Marc Gonyea:
Well, I'm curious Evan to get your read on, what do you think is the biggest mistake, your contemporaries that memoryBlue made or make when they leave?
Evan Thomas:
Honestly, I'm not sure. Right. I think even just thinking about the people that I mentioned earlier, like the Twists and Gannon's, and I think everyone takes something a little bit different away from, from memoryBlue. They apply it in a different way. I think for me kind of sticking to the basics and maybe it was a good thing that I left so early, because that was all I knew. I didn't really have the opportunity to go outside of those bounds and create kind of my own persona or mentality around it. For me, like I said, that's just my foundation.
So, I would say, use what you've learned, these guys are professionals. They have businesses all over the country now because they're great at what they do. They're great for a reason because people have seen success from it. So really hunkered down open your books and, and open your mind and be ready to listen. And for, and I'd say most of all, just be coachable, right? Be flexible in your approach, listen to the feedback that's given to you. It may sting if it's a little critical, but at the end of the day, if it makes you better, it's going to make your company better. And hopefully that'll give you the opportunity to shine.
Marc Gonyea:
I'll tell you what Evan, the East coast loss was the West coast gain man.
Evan Thomas:
I appreciate that. I really do.
Chris Corcoran:
Well Evan, Hey man, we really appreciate your time today.