Episode 15: Keith Hoffmann – No Days Off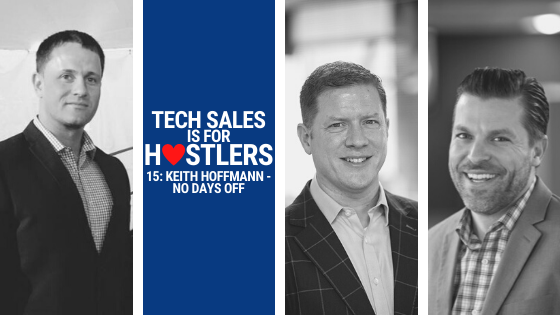 Sales isn't just a career, it's a lifestyle. And if you're living the life of Keith Hoffmann, that lifestyle means no days off…and you love every second of it. Keith Hoffmann – affectionately called "The Hoff" by his fellow mB alumni – eats, sleeps, and breathes sales. Born and raised in a blue collar, tough-as-nails part of Philly, Keith was never afraid of putting in hard work. That ironclad work ethic, along with a never-ending thirst to continuously grow his sales abilities, has helped him create a wildly successful enterprise sales career. Today, Keith is a Senior Director at ProcessMAP.
On this episode of Tech Sales is for Hustlers, Keith pulls no punches as he walks listeners through his "sell or don't eat" first door-to-door sales gig (where he rose quickly to become the number one rep across the country), how he made due living out of his car in order to take a chance on memoryBlue, and why he knows the most successful sales pros view sales as a lifestyle, not a career.
Full Episode Transcript
Name: Keith Hoffmann
Title: Senior Director – Enterprise Strategic Accounts
Company: ProcessMAP
Exit Year from memoryBlue: 2008
Months at memoryBlue: 12
Alumni Path: Hired Out
***Introduction***
Keith Hoffmann:
I realized that if you really want to be a sales professional, it's gotta be a lifestyle. You've got to live it, you've got to breathe it. It's gotta be part of your natural DNA. And it has really got to be something you take in, because it could bring you a lot of exciting life lessons.
Marc Gonyea:
The one and only Keith Hoffmann, Senior Director of ProcessMAP, is with us this week. Keith walks us through his first sales job where he was ranked number one in the country, his memoryBlue days when he was living out of his car, and why he thinks sales is a lifestyle, not a career.
Marc Gonyea:
Hi, I'm Marc Gonyea.
Chris Corcoran:
And I'm Chris Corcoran. And you're listening to Tech Sales is for Hustlers. Tech Sales is for Hustlers is a podcast where we catch up with memoryBlue alums and reminisce about their starting high tech sales with us.
Marc Gonyea:
Let's go get some Corcoran.
Chris Corcoran:
Gonyea, you know, I'm ready.
***Episode 15: Keith Hoffmann***
Marc Gonyea:
Keith Hoffman. Thank you for joining us today.
Keith Hoffmann:
Anytime fellas, anytime
Chris Corcoran:
The Hoff coming at us from South Florida, been waiting a long time for this.
Keith Hoffmann:
Born and raised South Philadelphia, now residing in South Florida, the way it's meant to be,
Marc Gonyea:
Oh, we're going to talk, we're going to talk about that. The whole, the migration, the migration. I'm sure we will get into that. But before we get going, though, this is just to kind of like set the stage. I was checking it out. You were with us 2007 to 2008.
Keith Hoffmann:
It was December 4th. December 4th was my first day and it was a Monday. I'm pretty sure when I was hired out, I think it was like, we started the talks in March and then they had a bidding war that delayed it 30 days.
Marc Gonyea:
Okay. All right. So, we'll get into that. I just wanted to set the stage for the folks who are listening in that you are old school. You're like an original gangster memoryBlue.
Keith Hoffmann:
No, no, no, no, no, not one of the originals – I am the original.
Marc Gonyea:
Okay. Well, let's talk about that. So tell us a little bit about you growing up.
Keith Hoffmann:
I think everybody will know where I'm from because my muggy accent pretty much comes out immediately is you know, I grew up in basically the suburbs of Southwest Philadelphia or South Philadelphia and pretty, pretty rough growing up, man. I mean, my parents didn't have any money. My mom was just a secretary for a produce company, you know, make ends meet. She's always a hard worker and what we'll get into her, how her work ethic really made an impact on me. Father was just a grinder, man. As rough neck as you could get, I mean, as you know, for him to think that he would have a son that would be a professional salesperson.
If you were to tell him that back in the day, he would just laugh. But, you know, for example, early days, I just remember some just rough times. I mean, I grew up in a family, didn't have any money just in a one bedroom apartment. Basically as a kid for many years, my dad worked at a plumbing company and five o'clock in the morning, "Hey, Keith, get up. It's time to wrap you in blanket." They had a car, no heat. So, you know in the dead of winter, it was freezing. It was throw me in the back of the car and you know, a couple of hours later, I'd be back home, go back to sleep. And this was just life for me. I think that is something that I remembered early on as a kid, you know, that was just an example of just, you know, that blue collar type of upbringing.
Marc Gonyea:
When you got older, when you were in the high school, what kind of person were you?
Keith Hoffmann:
Yeah. So let me get into that. I moved into a place called Farcroft, which is the belly of Southwest Philly. I mean, you could see the airport, this is where it all started, you know, so to speak around seven years old is when I became, we'll say who I am today. You move into, I think the first day I moved there, got into a fight, I got beat up. I mean, actually that's an example of the environment when you live in Philly. Right? Just a blue collar town, just a million kids everywhere. You know, you have row homes, it's just a highly populated area. So, you know, with that comes, you're playing sports every day, it's not like today where, you know, kids sitting in their house, I mean, you know, your parents kick you out at seven in the morning or after school, you don't come back until it's dark, maybe even hours after. And just a different mentality from what it is today. You know, that's a place where respect is earned. It's not given.
And you kind of learn that. At about nine, eight years old, I got into swimming pretty heavy. That's when I started realizing I was gifted as an athlete. Particularly with swimming, you know, I didn't even like it, frankly. But it was just one of those things and Philly gets hot as hell, the minute May hits you want to be in a pool. Right? And you were able to go into the pool a month early if you're on the swim team. I'm like, all right, I'll do a couple laps if I can be part of the team. So what those guys learned very early on is I was pretty much a stud. Within a couple months, I was setting like the eight and under records at pretty much every pool I swam at and they pretty much figured out they had something. And, that's kind of where the tradition goes into high school, right. About, I guess it's 20 miles, pretty far from where I lived.
I went to a high school called my Monsignor Bonner high school, actually it's the high school it's in the movie, Silver Linings Playbook. So if you ever watched that movie, that's the school actually. Anyway, so I went to high school there, you know, all boy Catholic school. So all the way Catholic school, I mean just, we all know what kind of shenanigans go on in those types of environments, you know, I wasn't going to swim my first year. Like I said, I just wasn't into it. And then, everybody told, you know, all the seniors told the coach that I was just like a psycho talented swimmer. So I basically was stuffed into a locker and forced into it and I didn't like lockers. So, I figured I would attend swim practice.
But so that got me through high school, terrible student. I mean, I don't think I learned a damn thing. I'm just being completely candid with it. It wasn't something I was into. And, you know, so I got really into swimming at that point. That's when you start to develop a passion for a camaraderie with your teammates, hanging out with them outside of school, you know, you build a lot of friends. Did very well in swimming and in high school finished, you know, all Catholic, all four years, did all that then, and it was time for college. And that's when swimming had its moment. And I decided that I was going to swim.
So, I was recruited to LaSalle University, which is a D1 school. My SATs sucked. So Penn State wouldn't take me, a lot of the schools I wanted to go to wouldn't take me. But LaSalle would because, you know, they knew who I was throughout the area. So, I couldn't get in there my first year, because my grades were so terrible. So I trained with the US National Team, which is who I had been training with. And I was part of US Nationals. My entire life I was top 16 in the nation, all the accolades, all that jazz. So, halfway through the first semester, my shoulder went, man. And that was it. That was it for swimming.
And why that's important today is because I think professionally speaking, I think the tragic, or I should say unsatisfaction of the ending of my swimming career, just basically, that was a natural transition to say, alright, we have unfinished business. How in the hell do we find our vehicle? Many years later, I found sales and we'll get there. But so basically I went to Westchester University. I became a keg stand champion, a lot of basement parties.
But that's actually when I got into school. But imagine, you know, you didn't learn anything through grade school because I mean, ADHD is unlike anything you've ever seen. And, I basically had to go to college without kind of an understanding of anything. So I did one year at local community college, they saw this pretty bright kid and I kind of just figured things out, graduated from Westchester after five and a half years, I think I was on the party schedule. And then, basically my fifth year, or I'd say not even my fifth year, I started working for a company, called Haverford Systems.
Marc Gonyea:
What did you think swimming kind of taught you because that was a big part of your life, obviously. How does that influence your mindset like as a sales professional now?
Keith Hoffmann:
So, great question. How swimming influences your mind as a sales professional swimming is it's a you against yourself sport, right? If anybody's ever – go outside and swim 10 laps today, tell me how it goes. It teaches you discipline, right? It teaches you like, look, this is it. What you get out of your swimming career is what you put into it. It's you against the laps, you against the pool, it's you against dedication. And basically it's about commitment. And you know, when the rough gets tough, you know, what kind of moxie do you have? And I think that those are some of the fundamental character traits and skills that you acquire that have really helped me become one of the hardest working sales pros out there.
Marc Gonyea:
What were you thinking about doing? Did sales hit you at all, either in high school or in college?
Keith Hoffmann:
Well, I had a lot of successful friends who had dads who were very successful sales professionals or let's just say business, right? Because that was my major. I actually knew even going into college. I knew that, I'm not this finance guy. So you're not going to plug me in some finance role. Medical school is just gone, being a lawyer, I mean, I was on the opposite side of needing one, a few times. I knew that I was going to have to use my grit, determination and personality. Let's be honest, I'm charismatic, right. Plug that into a role. And I knew sales was going to happen. I do feel fortunate in the sense that I did know what I wanted to do. I know a lot of people know kind of going into college what they want to do, but I didn't have the options other people had. So I was just like, sales is it.
Chris Corcoran:
Talk to us about Cydcor, how you found it, what you were doing, what it taught you.
Keith Hoffmann:
So Cydcor is an organization. Basically they will partner with big clients like a Verizon or a Comcast. And it's kind of like a marketing pyramid scheme, right? You kind of build a team. If you get big enough, you have your own little office and you just have foot soldiers running around in a given territory. So you're given a map, you know what they do, and you have applications. So for me, I was hired to the Verizon B2B foot soldier campaign. So they give you a segment of like, you know, DC. So they give you a section of a map and they're like, here you go, go get as many apps as you can in a day.
Essentially, they try and teach you little things like for two days. And then it's like, all right, go. And then you have somebody shadow you. And then you walk into a business. Like, "Hi, I'm here on behalf of Verizon," you know? I'm here to check your phone bill, what do you wanna check my phone? Like, nah, it's okay. Just get your phone bill and I'll explain, I'll look at a couple of things.
So, if they have Verizon then I'm basically looking for things that they don't have, like DSL back in the day, even before Fios was up. I'm trying to see if they have a package I could upgrade them on and God forbid they bring out Sprint or AT&T, I'm closing them on the spot. They're signing an app and they're switching over. And that can happen pretty quickly. So I would say the first week I got zero. And then the second week I got 20, because I was just like on my fifth day, I just said, all right. I understand this. I understand why he's saying no, I understand what I need to say to get him to turn around.
They taught you things like sense of urgency. Like you can't walk out the door. There is no second time you come back and he's telling you to leave, an impulse factor, right? This is all the beginning of how I learned transactional sales, where the impulse is the factor that really drives it.
You know, if you're on phone sales or you go to a door, you have someone coming to your store, you have to drive the impulse. Because once they leave, the impulse is gone. It's the same thing when you sell cars, I mean, impulse factor is everything. I learned how to accept rejection, right? There's people that chased me out of their car machinery places with a hammer. Like, if you ever come back to me again! Just picture me. I'm in a full, so every day you wear a full business suit, right? You're out there. And I mean, if there's a blizzard, we don't give a s***, good luck. Go out. In the summer. You're hot, sweating, tell someone that cares, go out. We want five apps from you because we're low on our numbers. Right?
So, I was the golden child. Everyone else is hitting maybe 15, 20 apps a day. I was getting 70. So I was number one in the country among thousands of reps for a long time. And if you guys want to know about how it fizzled out, basically I started to get frustrated with certain things within the company.
But you know, with the advancement, I'm like, look, I'm not banging on doors. I don't like leading people. I realized that very quickly. I don't like managing teams. I like managing my own book of business. So that's when I started looking, that's how I found memoryBlue.
Chris Corcoran:
How did the pay work?
Keith Hoffmann:
Left out the most important part. Hundred percent commission. If you don't sell something, you don't eat. So basically, it's, they gave you a binder full of apps, go out there. And if you don't sell something, your paycheck's going to be light. So you better go out early. And if you don't have that, you better come home at nine o'clock at night.
Chris Corcoran:
How'd you like that job?
Keith Hoffmann:
Loved it. Absolutely loved it. Because one, I was killing it. Right. Two, I realized very quickly, like if I could just tell this guy that his bill sucks and Verizon's better, he's going to listen to me or overcoming objections and I liked the challenge of walking into a business, having no idea what they had, that was fun. This thrill of not knowing how much I was going to make in a given day or on a Sunday night, because you're paid every Friday based on what you made the prior five rolling days.
So it's like, my paycheck's going to be on Friday. I know Keith Hoffmann's just going to be over a thousand bucks. Meanwhile, everybody else is making two and 300. So I glorified the business and for me, I enjoyed it. I loved every minute of it.
Chris Corcoran:
That's great. And then what? So you ended up, this was all in Philadelphia?
Keith Hoffmann:
Actually. No. So let's take a step back. About a year into doing the Verizon B2B campaign for Philadelphia, they were opening an office in Vienna of all places, Virginia. So they took the studs of the studs to open it up. Fios was just coming out. Alright, we need, we need sledgehammers. No bull**** kind of guys. Right. Send them out at 7:30am. They ain't coming back till 6:30pm. They'll have a stack. All right.
So basically I was like, one of these Thursdays, they were like, Hoff you're moving to DC. I'm like, yeah, let's do it. I was single. I didn't give a crap. So, and I continued with Cydcor doing that, just killing it. You know, I led every person there, still number one in the country, even the best of the best. And fast forward, that's when I started talking to recruiters and that's when I met Lisa who was representing memoryBlue and Navy Horse.
Chris Corcoran:
Lisa Kelly, Puma.
Keith Hoffmann:
I gotta tell you the story about Lisa. Right? So she's recruiting for not memoryBlue. So this is where it's kind of interesting. She's not recruiting from memoryBlue. I walk in, I'm like straight, you can't even imagine the suit I'm wearing. I mean, I had like a pair of black pants. I think I borrowed someone's jacket, completely didn't match. I don't even know if I had a tie on and she's like, what do you want to do? I'm like, I sell, I didn't know. And I started to hear about how DC is big in technology. So that was kind of where I was going. I was interviewing with like icon printers. Right. I remember you were a five, nine guy back in a day, Chris. Right. I've interviewed with them.
The first interview I had was with Microsystems. And then what we realized is that nobody wanted some scrapper from Philly. Who's just been knocking on doors for like two years. She's like, so after like three interviews and us talking, she's like, well, I got this group of guys upstairs. What is this? A fraternity? But she's like Keith after getting to know you I think you'd be a perfect fit. I said, so tell me what they do. And she had a really interesting way of putting it. She's like these guys bridge the gap between people who need software and the people who sell it. And basically, she said these guys help orchestrate meetings for organizations and their sales representatives who could benefit from it from just a little extra help from a kid pounding the phone and finding qualified opportunities to start. All right.
So, she walked me upstairs on the spot I walked around. I don't even know. I remember there was Adam Parker to the right. And there were a couple other guys like Justin Bradd. Mike Rubin. Then I walked back. There was Lee Lawson. Then I go to the back room there's James Schiefer. Chris Holzfeind , D Jack Wagner, Philippe Ghattas. David Gottschalk. So that was the memoryBlue crew at the time we're talking like what? Eight guys? Seven guys?
So, I'm hearing these guys bust each other's chops. They're in the middle of calls and I think Schiefer threw something at Holzfeind. I'm like, alright, I'm in, I'm like, first of all, this is the type of culture that I will fit very, very well. You know, I didn't tell her. I'm like, look, I'm about 30 seconds away from having to move back to Philly. Cause I'm going to be honest with you. I don't even have a place to live right now because the guys who I was living with, at Cydcor they all got fired.
And for months I had been just meeting you, hanging out, you know, I had a girlfriend and she would just let me sleep there a couple of nights, a couple of nights I'd have to sleep in my car. I remember the first night I worked at memoryBlue we're skipping ahead a little bit. But the first night I walked in a memoryBlue. I slept in my car outside in the parking lot, a little bit down so no one would see me. I mean, it was a really rough time.
Marc Gonyea:
I get it.
Keith Hoffmann:
But one thing that made me sign up the memoryBlue, other than that, Marc, remember we met at that diner?
Marc Gonyea:
Yep. Yep. Of course.
Keith Hoffmann:
Well, you're like, hi yeah, you want to meet for coffee and like, Hey, you know? Sure. You know, I show up, I don't even know what I was wearing. Probably sweating. And I was in bad shape because I had told the people, I didn't want to work for you anymore. So I went like a couple months without pay. And so I show up and he's like you want to get something? And you're like, I'm going to get a bagel. Lady comes. I'm like, yeah, I want to meet lovers' omelet with double bacon and double sausage. Absolutely starving haven't eaten a solid meal in roughly, maybe three weeks. I'm like, Marc, you don't mind if I kind of dig in a little bit, he's like nah go ahead. I'm like alright, this is the most unprofessional thing you could do on an interview. He's not even done with his bagel I'm done. Right.
Marc Gonyea:
But it worked out, man. Here we are.
Keith Hoffmann:
I just remember, Keith, you hungry, you know, you want to work hard? I'm like I guarantee I'll be your number one performer in 30 days. And you're like, alright, fine. And I'm like alright, what's the next step? Let's go. I'm ready on Monday. So I think, you know, you always got to close. But the fun fact is Lisa Kelly. I was her first placement.
Chris Corcoran:
That's amazing. So, Keith, what advice would you give yourself the night before you started that memoryBlue when you were in your car?
Keith Hoffmann:
Absolutely. Be more humble. Right. Just to kind of the person I was, I came from a very competitive environment with swimming and I guarantee you, the guys I worked with thought I was most arrogant, dude, you know, ever existed just because, I was just aggressive. I was loud talking on the phone and I was rough around the edges and I wasn't humble. It wasn't professional. I mean, I guess that was something I had to learn, but if I could take a step back, I would definitely tell myself in professional culture, the alpha male thing is it works. You just go into any environment with a humble setting. If you get to know the people well enough, then you can let that be that exposed.
The next thing I would tell myself is it's a marathon, a sprint. I thought, a couple of months at memoryBlue, I'm going to be this senior level, quota carrying sales guys will be flying around on planes on the corporate credit card and, you know, living the life. And little did I know that there was a lot of years of hard work ahead of me. So just to understand it was a marathon, not a sprint.
And what I had to realize was that, you know, there are going to be times where it's okay to fail. It's okay to not be number one, particularly if you're starting in a new culture and a new environment with a new profession, and it's something you don't have experienced before. I really beat myself up for, I would say the first couple of weeks and I'm not going to say I was going to quit, but I just wished I would have just been a little more realistic if you will.
And just, you know, if it sucks, that means you're learning it. And if it doesn't suck, you're no longer learning. You should quit and go work for somebody else because the minute you're not learning, it's not painful. And you don't feel like you're drinking through a fire hose. You're not in the right place. And I thought that maybe like, you know, this wasn't for me, especially in the first couple of weeks. I wish I could tell myself, Hey, it's going to be a challenging it's going to be an interesting ride. It may even come with some tough times, but when you're learning, that means you're growing. And I thought that was very important that I would tell myself.
Marc Gonyea:
When I ask newly hired SDRs. Like, what's the one thing that you realized about the job now that you didn't realize during the process. And they'll almost universally tell me it's a lot harder than I thought it was going to be.
Keith Hoffmann:
It was only hard for like two weeks for me. Well, there's a difference between what was hard for me and what I feel is hard for other people. For other people it was hard to pick up a phone when they adjust, learn a client's sort of core competencies and talking points. And to try and talk about that, that was the easy part for me.
What was hard was not knowing how to, you know, orchestrate an email or, talk right? Like, I mean, if you could look at my grammar back then, I mean, it'd be like a horror scene. You know what I mean? Like I just, cause there was things that I was just wasn't good at like the communications through emails or just the speech pattern. And like I said, up until this point, I have never been professionally coached and personally coached. So I mean, I was rough around the edges and just the talking patterns and how to carry myself professionally and just little incremental sales techniques were hard for me that I eventually learned the easy part was the hard work. I mean, that was what came natural.
Marc Gonyea:
Do you remember your clients?
Keith Hoffmann:
Yeah, of course. I remember at memoryBlue is you guys gave me an easy one and a hard one, okay. I was given, ecosystems basically it was electronic medical records back in '07, '08 this is fairly new. And a lot of hospitals were just getting used to this stuff and Clarabridge, and that was easy to get a lead because at that point in time, everybody was already looking into that, the turnover rate, if someone actually picked up to getting them to a lead, it wasn't that tough to follow up. And, you know, it was challenging because Hey, the pick up the phone, cold call someone who is basically in an emergency room, which some people would think that's hard. I'm just on, went through with my pitch. No mercy.
But Clarabridge was different animal because it was very, very complex software, you know, with different culture. You know, the sales reps would like, remember that they would, be very strict about the leads they would accept versus ecosystems. They would take it if it was fairly qualified, they would take it. But Clarabridge, they were tough, man. I mean, they would basically say it needs to be an active project. So that was the client that toughened me up because they sold basically, Hey, if you're McDonald's or if you're Delta airlines, right. You needed a data mining tool that could understand the voice of the customer or the voice of what's going on across the web. And that did have got a very sophisticated way of doing it and making sense of it and analyzing it.
Marc Gonyea:
You were successful with both of them, you know, by the end of it, both of them were fighting over you. You remember that?
Keith Hoffmann:
Yeah. I remember the day you pulled me in and told me what was going on, you know, how I fought through it was with Clarabridge. That was when LinkedIn first started coming out. And you know, you Marc, I mean I'm not trying to hurt your back by patting it yet. You know, you would sit me down and basically just show me how to navigate by, prospecting and finding people on LinkedIn. All we were looking for was a particular title and a particular person at a particular organization. I could find their phone number, right. I could find her email. That's light work. What I needed was the person. And, you know, you showed me what to do. And after a very short period of time, I took LinkedIn and ran with it, on levels today that not even people who work at LinkedIn are capable of.
Marc Gonyea:
We were trying to get you exposed to training and the way we wanted to do things, we wanted you to open a call. Did you remember any of those things?
Keith Hoffmann:
It's the core of my prospecting. Look, the things that I've learned at memoryBlue has not only made me who I am today, but I use them every day to this day. I mean, what is it? Year 2020, we're talking 14 years later, or 12 years later, whatever the case may be. Every single phone call I make, I still referenced all of the Sandler sales tactics. And you guys still use today. And basically it brought in house at this point. It sounds like, our trainings that we would do was every morning or once a week, we would do mock calls.
I do mock calls with people. They say mock calls? I'm not doing a mock call. Like, yeah, I've been doing it for 12 years. Get over it. Let's go you know, understanding tactics, like every single cold call I make today. I say, hello, this is Keith Hoffmann. Did I catch you at a bad time? And let's be honest, Marc and Chris, remember the first time you, I tried to get me to ask somebody, if it's a bad time. I called, I looked at you like you had 16 heads. I said, there's no way this is gonna work. And like a magic trick. The first time it worked, he was like, yeah, I got 10 minutes. I'm like, alright, alright, now I'm listening.
Marc Gonyea:
I was sweating. Cause I like, if it doesn't work, when this guy says it did, he's never going to do it again. It's not going to work out.
Keith Hoffmann:
Yeah. But not a lot. So basically other things like understanding the pain funnel and really kind of taking people down the path towards, you know, letting the client talk more than you talk. The client talks 80% of the time, you talk 20% of the time. When they say certain things used to pain funnel, ask them, you know, we're using this. All right. Well, how does that help you? And that just getting them down a natural course of progression, where you can identify what their challenges are, what their pain points may be, the upfront contract. Hey, I just want to tell you about the software that I have. It does this. I only needed about 120 seconds of your time. If after 120 seconds, you're not interested. I'll hang up. Does that sound fair for you? I mean, these are things I literally have in a script. And the one thing that's extremely important, if you can really, really, like I said, bury the ego and really take these things in. I mean, the things you'll learn at memoryBlue last, your entire career.
Chris Corcoran:
Can you talk a little bit about, I know before we got started that you were talking about sales being a lifestyle.
Keith Hoffmann:
Yeah. You know, one of the things that, that I've kind of had to learn, I don't know. I think I learned this at Cydcor. When I was living in DC with a group of guys, it was eat, sleep, breathe. It was like, I was playing football in college or something. I realized that if you really, really, really want to be a sales professional, it's gotta be a lifestyle. You gotta live it. You gotta breathe. It. It's gotta be part of your natural DNA. And it's really got to be something you take in because it could bring you a lot of exciting life lessons. And this goes far beyond professional, right? In your, in your personal life and many other different, you know, extrapolate this across every sort of encounter you ever have with a human being, you know, anywhere in any point in time, Oh, you're going to buy a car you can be a Ninja by negotiating. Just little examples like that. Sales, if you really incorporate in your life can be an invaluable, you know, series of lessons and character traits and just mental thought processes and methodologies. Right?
So, the way I feel is that if anybody feels that, you know, sales is a job where you're like ah this sucks, if you don't wake up with a burning desire to get on that phone or get to the office every single day when Saturday comes, it sucks. Probably not for you. Maybe not the Saturday, part's a little extreme, but that outlet is for me when Saturday comes, it's the worst day of the week, because I can't exercise my God given talent or what I've acquired over many years of just relentless effort and hard work. So moral of the story is if you want to be, you know, a sales guy who has worked from home, make seven figures, you know, 500,00 seven-figures, your boss calls you once a month, you have complete and unlimited freedom has to be a lifestyle and just put it into work and it will come.
Chris Corcoran:
Excellent. Excellent. What walk us through kind of your migration to South Florida,
Keith Hoffmann:
South Florida. Yeah. So basically what happened is for ecosystems.
Marc Gonyea:
Both of Keith's clients offered them jobs to go work there coming out of memoryBlue. And he went to go work with ecosystems for all sorts of good reasons.
Keith Hoffmann:
Ecosystems tells Marc, by the way is a funny story, Marc. I don't know if you knew this, but Marc calls me into his office on a Friday. Right. I had gone out the night before. I'm like 25 years old, whatever. And I just wasn't feeling the best that day I was hungover Marc calls me into his office and goes, Keith, look, sit down. We got to talk. I'm like, ah, man, these guys are scaring the shit out of me. Right? I feel like I'm fired. I don't know what I did. You kind of just like have anxiety going on. I'm like, I'm just, all right, here it is. We're going back to the car. You know, I'm going to have to get one more interviews where I eat omelets. Here it all comes from they're like, dude, you know, what did you do? Jeff Comer got fired as the VP and Jay's not working there anymore. He was like the whole place melted down. And he's like, did you do something? I'm like, Marc. I swear to God. I'm like tears at this point. He's like, nah dude, we're just messing with you. They want to hire you. And I'll never forget how, I didn't know whether to cry, laugh, or do a back flip or what.
So, it was like, you know, we went through the process where memoryBlue, if you're representing a client to hire you the minute Clarabridge heard about this, they said, Oh hell no, we were about to just call Marc. We wanted to hire him. So, then they had a bidding war, ecosystem, Clara bridge. I had to go meet both of them. And over the series of weeks, I essentially picked up ecosystems. I essentially picked ecosystems. Cause I love the VP of sales, Jeff Comer. I loved the sales team, but just guys imagine this is 2008 summer peak of the financial crisis. I mean like the wheels are falling off. Let's go into like December, right? Phillies are winning the world series. I'm having the best time in my life.
But I could sense that weird things were going on. Things that if I were to see today, I would spot immediately. And I would, I would know what was happening at the company was in trouble. I got a call from Jeff that Monday and said, Hey, we got to pull the plug. We're going out of business. So, ecosystems went out of business.
I went back to, Chris and Marc who were my lifeline at that point. I didn't know anybody in DC. I didn't know anybody else. I called these guys. Not only did they bend over backwards for me, they brought me in the next day and said, Hey, you know, Navy Horse is still not operating, but Chris, you know, he took integrity. And he did what he had done for anybody. He said, Hey, look, I'm going to find you something. So he got me lined up with a company called AppAssure software. So, I worked for AppAssure for a while.
And, let's just say that that was a toxic environment. At least just for me, there were some things that I had it wasn't, you know, it wasn't so much the leadership team or anything. Uh was assigned a manager we pretty much hated each other. So I departed AppAssure and uh had a lot of money saved. So I basically had a month. I was going to look around and I went on vacation, Fort Lauderdale. One weekend turned into forever and I moved down a month later.
Marc Gonyea:
What's important in a boss?
Keith Hoffmann:
To know he will never use the term boss. That is the most bold way I can play if you work for somebody. And he feels like it's a friggin chain of command, hit the bricks run for the hills and don't look back, okay, don't even collect $200 if you passed out. Because the thing is, if the person who's supposed to lead you views you as an employee his lackey. We're just another dude, you know, sitting in a seat, trying to help him pull numbers, not in your best interest versus finding somebody who has your best interest in mind is willing to train. Views you as a colleague and a peer and a teammate, and he wants to lead you and mentor you.
And I say this to all the newer guys who are coming up, man, especially people who are interviewing at memoryBlue and even some that have just left. If you ever run into that type of boss where he just looked at you, you can ask them certain questions to get the answer, right? Like, you know, how do you run the team? You know, if it sounds like it's, a military style operation or it's a chain of command and you're just his little lackey, you would much rather go the opposite direction and work for somebody who would appreciate you. Who would mentor you, teach you, coach you, because the people you picked to work for in some cases can dictate and predicate, the journey that you will have in your professional career. So go with somebody who actually cares.
Marc Gonyea:
What do you think is most important when looking from a company perspective, you strike me as a person who's like, you're going to be successful. I'll drop you on an Island you're going to figure out a way to set up camp.
Keith Hoffmann:
Good question, Marc. So if I'm looking at a company and I'm really trying to identify who I want to basically work for, the first thing I'll do is I'll go to LinkedIn and look at the CEO. I want to know his whole life. I'm stalking them on Facebook. I'm finding out everything I could possibly want to know about this guy. Is this his first run just the first time he CEO is, he just trying to figure it out. Or does he have multiple runs or he's a serial entrepreneur.
So, that's big understand the leadership team, right? The CFO is important too. Is there some guy who's just running the role because, you know, if they have a strong CFO, that'll dictate a lot of the company. And also if you're in technology and software sales, you must look at the marketing function, look how deep it is and look how strong they are, because those three components are critically important. Two is the culture, you know, walk around, talk to some of the sales reps see who you're going to be working with every day. You know, if you're not working from home, which I would think a lot of guys, newer guys, aren't, unless you get to a certain point, you really do want to walk around and kind of digest, you know, kind of the environment you'll be working in every day, because it's not worse than going to work for a company where it's like two days in. You're just not feeling it.
Even though it might be a good product, not good money, you're not going to be excited to go to work. So the culture is dramatically important. And also the product, do your homework on the product. It's something I actually acquired way too late, in my sales career, do your homework on the product ask for a system, product demo, you know, do your homework look where that company and their product ranks in their industry quadrant, you know, look at the reviews, go to Glassdoor. I mean, do your homework on the company,
Marc Gonyea:
But you individually, you've been with your company for a while. What would you say is kind of the success, the habits that you've built? I mean, you've talked a lot about what you learned at memoryBlue, but there's a whole world of things you've learned since you've left that made you a successful enterprise rep. What are those things?
Keith Hoffmann:
Yeah. Well, one, I probably learned more at AppAssure, which is a, you know, Todd Frederick and I used to butt heads. I learned a lot from that guy. I mean, I still, in some ways emulate, his hard nose tactics today and I'll tell you, man, he was tough and it, and Marc and Chris, you guys know me, I like getting beat up. If you're going to give me some soft criticism, I won't respond to that. Like he is the dictator guy. Right. So if you're going to mentor the opposite, he was the guy who's going to give you the real answers. He's going to scream at you. If you fall on your face, there's no excuses get back up, let's go. We have goals to hit. And, m learned a lot from him. So I learned a lot with closing business in the AppAssure role, even though it only lasted a year and a half or however long, I learned a lot about closing business because Marc, that was my true software sales, closing role.
Marc Gonyea:
That's important because the people who leave memoryBlue, that's what they're trying to get to. They're trying to get to a closing role. So you learned a lot.
Keith Hoffmann:
And for the memoryBlue people or people who are listening, you know, I went from memoryBlue to AppAssure. So it was basically a plug and play. Here's the problem. I've never been in a closing role. Like I knocked on doors. I closed, you know, Verizon applications in person, as an outdoor salesman, but I had never closed business over the phone and I hadn't done demos. This was kinda the beginning of learning, actual sales process, understanding pain. Understanding the timeline, you know, and understanding a client's timeline. Do they have money, you as the authority and need, and really understanding those four key elements into a sales process and really kind of understanding how to manage the second half of the sales cycle. Unequivocally, what I learned at memoryBlue and Todd, I remember Todd telling you guys, as I started Keith, schedules more demos, books, more meetings. He has the biggest pipeline. Unfortunately, I just, at that point I didn't know how to close it until after.
But I've learned a hell of a lot there because the memoryBlue was a straight, it was a natural progression from memoryBlue to AppAssure. It helped me know there was a room full of, of guys on the floor. AppAssure who had been there, sees a sales pros like Ron Frazier. He was even before me, they were closing more business, but without fail, I was scheduling more demos and completing more demos. Unfortunately I hadn't learned the second half of the sales process yet. And that's just, at AppAssure that just wasn't my time.
So, it was it was invaluable to have a memoryBlue experience, but going from memoryBlue to AppAssure into the closing role, sometimes your first closing role, you're just going to fall on your face and that's okay. Falling on your face means that you're learning. It doesn't mean that you're failing, it doesn't mean you need to question your career. It doesn't mean, Oh, am I meant for this, no, you're learning probably going to go through two more. Right. It's going to shock that eventually there's going to be a day where it clicks and you get it. And that happened for me, that happened for me later. So, what helped me be good at ProcessMAP and what has helped me become going from kind of just a mediocre, you know, tracking a monthly quota kind of sales guy, $30,000-35,000 quota to now I'm carrying in seven figures.
I just gotta be straight with you guys. I just kind of faked it till I made it right. I got in at ProcessMAP and I'll tell you I was extremely under-qualified, but I just made it work. I just made it work. I used what I learned at memoryBlue. I just still just, I just had a million discovery calls. And when I say I would go there, I remember my second day, I got to the office at six in the morning. I set alarm bells off I'm the new guy at this point. Right. So I got a phone call from the CEO to Keith, why in the hell are you walking in, stealing s***? I'm like, I'm hungry. And then they said, don't set the alarm until five cause Keith's coming in.
But basically, I just, I used my outbound skills that I learned at memoryBlue and I've used some of the closing ability. I learned AppAssure as well as I had other jobs in between I had exposure and I really just kind of, I grew up, I mean, there's no other way to put it. I grew up, you know, the Sunday fun-days down in South Florida gone, right. You know, it's time to be serious, you know, a happy hour on a Thursday gone. At that point. It was time for me. I was ready to go because this was my moment. Right. I knew that there were people there and make it to $300,000 per year. I'm like, are you s***ing me? The most that I have made, you know, W2, at that point was like maybe 90. And I'm like, this is one I can't mess up.
So, I'm telling you for the first six months of a year, I annoyed the hell out of every single person, at ProcessMAP, I would spend an hour with a CTO asking questions about the technology. I would spend an hour with the CEO, ask some questions about how he viewed the business. I would spend an hour with the product management person understanding the evolution of the system, where it started, where it's got, where it's going and what the future is. And then every single sales guy, Oh my God. If they got one more Google chat from me they would've probably blocked me. But there's a certain point in your career where you have to understand it is okay to leverage resources. It is okay to ask a million questions.
When you get to a certain point in your career, if not already, right, starting immediately, you need to go to every single person in the company and understand their thought process, how they feel about the business and really kind of download what they have to offer. And if you could plug that into your own personality, which I did over time, I just got it. And not to mention, I'll give shout out to, e vice president of sales who led the team I initially first started, he was the mentor, caring, teaching, just wing man one of the best boss I've ever had. You know, next to the, you know, Gregory Monza who leads me now, who I think quite an even bigger role in my career, if not as big as DC, just it's just different.
But I really had a VP of sales who mentored me and he cared. And when he saw me fall on my face, he would take over the conversation. And basically wherever there was a conversation and important like closing conversations, I would just take a million notes and I would study when they ask the question, I would go to recording, plugged it in over time. I just remembered everything. Right. If you find the right boss who really gives a s***, he'll lead you to lead you forward.
Chris Corcoran:
So tell us about your biggest win or your most favorite win.
Keith Hoffmann:
Most favorite win. It just happened actually. You guys are connected to me on Facebook, happened with a global conglomerate $8 billion company called Fortune Brands. Right. I found this client through one of my other customers that I signed. And they started with me only we offer ProcessMAP is basically an enterprise software as a service cloud based technology company that helps safety compliance and environmental professionals. They digitize their information and regulatory management obligations.
So, when I initially got the phone call, Hey, Keith, you know, I got your name from so and so, which is why I got to be personable referrals down the road are everything. They were only looking at one trivial solution that we offer and, by building good rapport, I basically understood that they had an extremely weak competitor of ours for everything else and spending exorbitant amount of money. This is December of 18 where we started this. So it go through the process go through a discovery call demos building business cases you know, technical analysis. I mean, understanding pain by everything you do in an extremely complex sales process. That is multi-year.
So, at the end of 2019 they gave us a verbal, so we all go away and he's like, all right, well, first week of January, we'll comeback, we'll sign, you know, high five, we're going to fly down to Florida. We're gonna do the kickoff and all that jazz I'd even flown on site to a couple of their places and all, I mean, this is as complex as a sales presence you could get. I had to build relationships at four different divisions. The CTO CIO, I mean, every different stakeholder you could possibly imagine. Right? So finally get to the finish line. I'm on holiday. I get the biggest, one of the biggest commissions and biggest deals of my career I'll ever get January comes in. And he says, Keith, I can't do it. This is the first week of January right now, mind you, I just got on vacation twice in the past 45 days. And you guys know, I like to live it up. I'm doing restaurants, drinks by the pool, you know, excursions all the above, right? The commission dollars are making me break even if anything, I'm basically my heart drops through the floor.
He starts to explain that he just feels like he's rushing into this. So we hang up the phone a couple of days later I call him up and I'm like, look, I said, I think we have lost why we're here. I think we have lost the purpose. I think we lost the mission. I think we missed the business case justification as to why, you know, you're looking to implement our system because he said that they were looking to become, you know, going from competitor system to the next, makes them more efficient. And at that time I use my strategic sales tactics and tactical efforts to take a step back and say, Hey, if I can build a business case that is strong enough to get your CFO and COO to see the value, will you sign? So I met with every division, every plant manager, every business unit leader, every single person, I understood why they would love to replace their system, how bad they disliked it, opportunities for improvement for the higher ups. I said, what is your strategic vision? How would you like to evolve the culture of this organization? So the plant level guys, it was functional, tactical, technical. What do you hate about the system? High level guys, more strategic business, and forward thinking. So fast forward, a multiple months, cause my fiscal year ends on March 31st.
So, you guys already know what I'm marching after at the beginning of March, I give him the business case and he's like just speechless because you know, my marketing team got involved and we we've really had an implementation plan. So he said, Hey, Keith, the meeting is canceled, this COVID-19 stuff. The commission dollars they were almost there now they're even further away, you know, into the ocean. And I didn't give up, they had a global meeting first week of April. So I actually got the COO, who's basically the senior vice president operations. I email him directly the business plan. I said, Hey, I would really appreciate it if you join this meeting because the other guy, the main guy who could sign said, if he comes, you know, we'll get it.
So, the first week of April comes, he didn't attend. So there it is. I lost the deal. I build a business case strong enough that basically the business case was so solid, the senior vice president of ops said, you know what? These guys are so great. They put in all this work, even when you said that you thought maybe they couldn't deliver. Plus we gave them a free quarter of service, actually two, three quarters, and then just put those two months, two quarters on the back end of the contract. So we gave him three free quarters and just made their term of the contract longer. And not only did it get it me my biggest deal of my career, some of the biggest commissions. And I like to think I saved jobs at the company I worked for. So that had to be the most biggest emotional draining and rewarding deal.
Chris Corcoran:
When did they close?
Keith Hoffmann:
April 25th. So here's the thing. We don't close our books for the fiscal. And so April 31 you get a 30 day lag. I counted towards my previous fiscal hit all my numbers.
Marc Gonyea:
Nice work, nice work Hoffmann.
Keith Hoffmann:
I made the director. I said, dude, you can't change this 3/31 date, got to leave that there. So we're not charging you two quarters anyway, just leave it there and make me look like a hero..
Chris Corcoran:
I was going to say, what was your biggest, your most painful loss?
Keith Hoffmann:
Most painful loss is I'll say it's a Kohler. Like if you go to the bathroom, you'll see them in like 80%, whether it's faucet, this that in the home. And they do all of, you know, home for plumbing. So I basically same experience as Fortune Brands. But unfortunately at the end the decision maker who decided on our competitive vendor didn't tell anybody, but all along the way, he used them in another company and I wasted three years of my life and all the opportunity costs of three years of demos on sites, 20 hour days, all of that was lost. Not knowing that that floor was going to be pulled. The rug was going to be pulled from under me when I least expected it. So a valuable lesson in complex sales is sometimes you're going to lose. And, what you do when you lose is, is basically what will dictate, how you are. It's not just a person, but a sales rep. And I found Fortune Brands and closed a bigger one. So it came to fruition.
Marc Gonyea:
There are all sorts of ups and downs and high tech sales. And you work with a lot of good people on both at memoryBlue and beyond, but what's the one thing that you kind of see other people don't do some pitfalls they run into when they leave as they're kind of executing on their career paths.
Keith Hoffmann:
I would say if people aren't hitting their goals, they're not working hard enough. You know, sometimes I'll see people who are like at like 60% of their quota, barely making money, unhappy, miserable, and they're coming in at 9:01, right? Then 12 o'clock hits. They're taking hour long lunches, 4:59 comes through out the door and it makes me sick for their families. And I say that very aggressively and almost, maybe I shouldn't say it that way, but I really mean it when I say it makes me sick to my stomach when somebody has talent, abilities and skill.
At the same time there's nothing worse, than wasted talent and this person's coming in and they're starting to add two to three hours after I did. I haven't had a lunch in 15 years. Right. What lunch? I eat oatmeal at my desk when I'm on the phone. I haven't stopped working before midnight. I mean, I go to the gym, there's periodic changes. I walked, you know, watch Mad Money with Kramer to watch my stocks and all that crap.
But you know just watching people's lack of diehard commitment has been the most challenging thing for me to watch. Another thing is look, sales quotas don't have feelings, man, sales quotas, they do not have feelings. And every time you make an excuse problems unexpected expenses unexpected challenges. If that's an excuse, the sales quota still sits there and you know, only the strong will survive. So it's up to you to dictate, how much that'll affect you. And if you could, dust it off and, and platform, so don't make excuses just keep going. No one cares.
Marc Gonyea:
Well said, man, thanks for joining us.
Chris Corcoran:
Ending with an exclamation point.
Keith Hoffmann:
All right, guys, well, Hey, thanks for your time.
Marc Gonyea:
I know that anybody who's listening or who works for us now can hit you up on LinkedIn and probably reach out to you and schedule a time to talk to you at any time. Whenever we do these things are fireside chats in the office or if I talk to people who work for us now say, Hey, don't be afraid to send this guy, Keith Hoffman, a LinkedIn note, and you know, to bend his ear a little cause he'll share with you some good information, some good insight.
Keith Hoffmann:
And not only that for everybody who's listening, I've aggregated my favorite YouTube video, my favorite YouTube channel I digest a lot of YouTube videos, especially for the new guys. If you are not going on YouTube, at least a couple of times a week to look at sales tactic training, I have a good web channel. You could go to, you have so much content out there I never had before. You guys can literally skip years in advance.
Marc Gonyea:
Alright, Hoffman.
Chris Corcoran:
This was a lot of fun.
Keith Hoffmann:
Likewise, peace.