Episode 20: Brian Thompson – 48 Days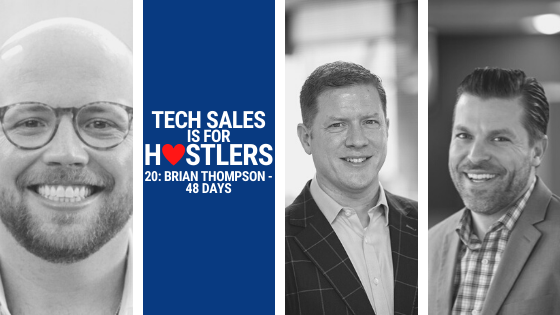 Imagine working on behalf of a company for only 48 days and impressing the cofounders so much they make you a permanent job offer.
SDRs at memoryBlue often get hired by a client, but usually it's after working on a campaign for several months or even a year. It generally takes time to prove your worth. But Brian Thompson was a rocket ship, getting hired out by his client (Capterra) in one of the quickest timeframes throughout the 18+ year history of memoryBlue. Those 48 days were filled with countless dials, a steep learning curve, and lots of laughs. Today, Brian is a successful Strategic Business Development Executive at Gartner.
On this episode of Tech Sales is for Hustlers, Brian recounts his upbringing in the "Star City" (Roanoke, VA), his interesting experience with an acquisition, and why believing in the product you're selling is of utmost importance to sales professionals.
Full Episode Transcript
Name: Brian Thompson
Title: Strategic Business Development Executive
Company: Gartner
Exit Year from memoryBlue: 2010
Months at memoryBlue: 2
Alumni Path: Hired Out
***Introduction***
Brian Thompson:
You need to be able to be coached. If you can't be coached, sales probably isn't for you. If you've got a manager that's willing to put in his or her time to show you the ropes, if you can't be coached, it's probably gonna be pretty short lived.
Marc Gonyea:
This week, we have Brian Thompson, Strategic Business Development Executive at Gartner, Brian shares with us the importance of coaching clients, what it's like going through an acquisition and why believing in the product you're selling is of utmost importance. Hi, I'm Marc Gonyea.
Chris Corcoran:
And I'm Chris Corcoran. And you're listening to Tech Sales is for Hustlers. Tech Sales is for Hustlers is a podcast where we catch up with memoryBlue alums and reminisce about their start in high tech sales with us.
Marc Gonyea:
Let's go get some Corcoran.
Chris Corcoran:
Gonyea, you know, I'm ready.
***Episode 20: Brian Thompson***
Marc Gonyea:
Brian Thompson. Thank you for joining us.
Chris Corcoran:
BT in the house out.
Brian Thompson:
Thanks for having me guys, pleasure to be here.
Marc Gonyea:
BT in the house! It's has been awhile, Brian. So you worked for us for an incredibly short amount of time, which is not indicative of your commitment or lack of – October 2010 to December 2010.
Chris Corcoran:
Two short months at the time. I think it was maybe the quickest hire out. I'm sure. I don't know if that's been broken, but at the time it was.
Chris Corcoran:
So I've got the exact dates. October 25th, 2010 through December 31st, 2010, 48 business days, littered with holidays, very short stint, the shortest tenure of anyone who had ever gotten hired up to that point.
Brian Thompson:
What's the record now?
Chris Corcoran:
I think 30 days. But still 48 days. And we learned a lot. We had a lot of fun.
Brian Thompson:
I remember a lot of it like it was yesterday.
Chris Corcoran:
We're gonna talk about some of those stories that unfolded in those 48 magical days.
Marc Gonyea:
I'm impressed you remember that much of it. It was over 10 years ago, but I'm also, I'm thrilled you're here. So is Chris, but before we get into it, just to kind of familiarize yourself to their listeners, let's talk a little bit about where you're from, where you grew up. Take us through it.
Brian Thompson:
Yeah. So Roanoke, Virginia, star city, big lick, God's country, frankly, whatever you want to refer to it as – just the 540.
Marc Gonyea:
You're never going to get on a podcast called Tech Sales is for Hustlers with two assholes from Roanoke Cape Spring nonetheless, go Knights, go Knights. All right. Keep going. Tell us about it.
Brian Thompson:
So childhood, I guess not unlike most kids growing up in the late eighties and early nineties sports pretty much consumed my life from a very young age. I think my first memory of organized sports is probably T-ball followed by hockey was my, I guess my first contact sport, if you will. And this is like right around when mighty ducks came out. So I was out there trying to be Charlie Conway.
Marc Gonyea:
The Roanoke civic center, passion of sports excellence, Southwestern, Virginia hockey boy,.
Brian Thompson:
Monster truck rallies every Thursday. Just amazing place. Hockey didn't last too long. They wouldn't let six and seven year olds like check each other. So I got bumped up to eight and nine year old league got in the penalty box They just kind of told you not to hit people, but ended up quitting that went into football, basketball and baseball. Pretty much. That was it. Up until sophomore year of high school. Then I dropped off to just football and basketball.
Marc Gonyea:
So what were you like as a kid? What were you like in high school?
Brian Thompson:
I like to think I was, you know, great angel, but evidently according to my grandparents, I was, I was raised by my grandparents. I'll probably reference them quite a bit. Evidently I was pretty much a hellion, pretty much terrible kid. I'm running up and down the pews in church slamming the Bible on the ground. Blasphemy, I know, I'm sorry. But yeah, spend a lot of time in the woods, like going off jumps on like bikes and things, the neighborhood kids. So just rowdy, just kind of a mess to be frank.
Marc Gonyea:
Okay. Yeah. I want to talk real quick. What kind of accent does this guy have Corcoran? He's got some kind of like Matthew McConaughey.
Chris Corcoran:
I've always tried to tell you, you can take the boy out of Roanoke, but you can't take the Roanoke out of the boy.
Marc Gonyea:
It's good. BT, I mean, we can talk about the sales profession later, but I think it puts people at ease.
Chris Corcoran:
Yeah. Wait till he brings that accent down to Austin.
Brian Thompson:
I remember I used to get clowned all the time. Like Eddie Maglaya, Eddie homicide, just killed everything. And Tyler Eure he was like, y'all want some IT?
Marc Gonyea:
So you were a wild man as a child, so that's why you probably drew to the athletics got into high school talk, about that a little.
Brian Thompson:
Yeah. So high school captain of the basketball team, football team, I guess typical jock though, had a pretty diverse group of friends. So it wasn't just jocks that I hung out with.
Chris Corcoran:
For our listeners. I think we need to talk about just the caliber of basketball program, BT captain. So for the record, I think, I believe it was your freshman year, a certain JJ Redick, perhaps you've heard of him led the Knights to the Virginia state championship. And then a mere three or four years later, you were the captain of that same team.
Brian Thompson:
Fortunately, or unfortunately it didn't quite make it to the stage. Made it to the first round of playoffs got destroyed by, I can't remember the name of the school, but it's actually the school we played was in Farmville, Virginia, which is where I ended up the college I went to is in Farmville. It wasn't even close.
Chris Corcoran:
So, but I do want the listeners to know that it was big time hoops.
Brian Thompson:
Big time hoops baseball was big there. We had a couple of guys go pro and baseball Tyler Lumpsden in particular pitched, I think for the Marlins, if I remember correctly and then football didn't win any state championships, but I think you were in school when the Barbarian's wins. We talked about that quite a bit when we first get to know each other.
Chris Corcoran:
So wait, I do, I do want to also talk about your football captain, the football team. Cause I remember I was very, very interested in high school sports and continue to try to follow the programs to this day. And I remember when you first started, I was like, man, there was an era in Cape Spring football, when they went winless.
Brian Thompson:
I was on that team.
Chris Corcoran:
Exactly. I remember you telling me that you were on that team and talk to us a little bit about, because I think that says a lot about you and you didn't quit and that you stayed on there cause football, but you know, you're getting the crap kicked out of you and you're going winless and you got your two-a-days and it's a big thing socially down there for sure. And when you're windless, you're kind of, I'm sure people are snickering and this, that, and the other, it would have been, it would've been really easy for you to quit.
Brian Thompson:
I considered it. I mean, no doubt about it. So sophomore year sophomore year was starting which was great starting safety. We got crushed by everyone. I think our closest game was maybe 18 nothing against Halifax, demoralizing, got hurt. Didn't have great leadership on the team at the time. The whole thing, I doubt anyone from that team is listening, but sorry, guys terrible leaders, but you know, it was tough. I considered quitting as soon as the season ended, I was like, that's my last year of football. And then I ended up deciding like maybe a week before, two-a-days started my junior year that I was going to stick with it.
Chris Corcoran:
So what made you come to that conclusion?
Brian Thompson:
I would have missed, I mean, I would have regretted it for sure. I think I talked our coach, the head coach quite a bit, talked to my family and they're like, is this something you really want to quit? Like you've already spent, I guess at that point, past 10 years playing football nine, 10 years, like every Fall, that's what it was part of who I was pretty much so glad I stuck with it. That's for sure. We ended up going, I think maybe six and seven my junior year give or take so.
Chris Corcoran:
Well, talk to the listeners about what it was like the first win.
Brian Thompson:
Oh it was crazy. I think it was against Glenbrook high school. So they were a smaller school than us. Don't hype it up too much, but what a relief, it really got us going. I think we won our first five games.
Chris Corcoran:
I remember you telling me that, like, it was like you won the super bowl. All the players were crying.
Brian Thompson:
It was intense, absolutely intense. And you go half because half the team, we were so bad. My sophomore year that we were started a lot of underclassmen, so few dropped off. I almost did myself and then they come back and we get our first win. And then actually win the next four games after that, so we were, we were riding pretty high, but yeah, tears of joy, for sure. I imagine our coaches had a huge relief. It was something that's for sure.
Chris Corcoran:
What would that whole experience teach you about life?
Brian Thompson:
Trials and tribulations, man, put up or shut up, right? So it's like, you need to just handle your business and don't quit. I guess it's like the biggest takeaway if I want to quit, I think it would probably be one of the bigger regrets of my life just to have something that was so important to me for such a long time in my life. And just to say goodbye, cause one bad season, terrible season, I should say, just perseverance, I guess is the best word to sum it up.
Chris Corcoran:
You just imagine because your football extended past high school.
Brian Thompson:
All the way to the Hampton Sydney college division three powerhouse.. But yeah, I ended up playing a couple of years at Sydney. Shoulder injury kind of took me out plus pretty terrible grades my first two years.
Marc Gonyea:
So, Hampton Sydney is an all-male school.
Brian Thompson:
It is. Yeah.
Marc Gonyea:
When you coming out of high school, how did that float to the top of short list?
Brian Thompson:
Yeah. So I knew, I think out of high school, I knew, I knew I wanted to go to a smaller school. I didn't, frankly didn't even know if I'd be able to get into places like Tech or things like that. Like my GPA was great, but my SAT scores were pretty terrible. So went to Virginia private college week basically can go around during the summertime and visit all the small private schools in Virginia.
So I checked out Randolph-Macon, Bridgewater, Sydney, obviously, and a few others and whoever was leading me on that tour, he really sold the hell out of me. Beautiful campus. Don't get me wrong. Like the campus is beautiful, but you know, it's tough, you know, convincing an 18 year old boy, you know, young adults to, to go to an all-male school when, you know, you grow up and you're thinking like, man, I can't wait to go to college, join a frat and I have to do a college lifestyle. So yeah, not a normal college experience in that sense, but it worked out.
Marc Gonyea:
Worked out great. So you went there that appealed to you, the campus, somebody easy to sell a salesperson, sold you on the tour.
Brian Thompson:
The idea of being a Hampton Sydney and you can go anywhere with the Hampton Sydney education.
Chris Corcoran:
The Hampton Sydney tigers that we've hired have all been exceptional.
Brian Thompson:
Good to hear.
Marc Gonyea:
So you in college, what did you major in?
Brian Thompson:
Philosophy. My grandmother again, raised all my grandparents. My grandmother really wanted me to become a, an attorney, go, go into law. But you know, we've quickly found out pretty much after my freshman year or sophomore year that that wasn't going to happen. But by then I already gotten quite a few credits towards the philosophy major. So it wasn't gonna go back to square one, not to mention Hampton Sydney private school, so extremely expensive. But actually I love my philosophy classes. So a lot of writing really obviously no multiple choice tests so that all that
Marc Gonyea:
Writing or writing? That must be that Southwest Virginia thing.
Brian Thompson:
I think it kind of helped me become a salesperson that I am. It allows me to see both sides of every argument versus being biased on one side, like what my agenda is, so to speak, taught me how to debate a little bit. Certainly helped me with my writing skills. So yeah, we have to do like rhetoric proficiency exam. The RPE, every person that goes to Sydney has to pass it.
Marc Gonyea:
What is that?
Brian Thompson:
Basically. Can you write? Are you able to write particularly?
Marc Gonyea:
On the way out?
Brian Thompson:
You have to take it your sophomore year. So you have to get it done before you leave before you can get your degree. So not many people pass on the first go round. I did. So that was great. And I think a lot of it has to do with the philosophy. We had some very intense professors that one in particular, Dr. Wilson, like if your margins were wrong, you could write the best paper of all time. If your margins were wrong, the spacing was wrong. It was an automatic F. So it's like attention to detail. Also really got me where I am today. Like details matter in my opinion, especially in sales.
Marc Gonyea:
That's interesting. We haven't had many philosophy majors roll through. Speaking for the liberal arts. Nice. I like it BT.
Brian Thompson:
Taking the next step, thinking about the next step while the current one is happening.
Chris Corcoran:
We're playing checkers BT's playing chess.
Marc Gonyea:
All right. So when did, and we'll talk about this. Cause I know you didn't start out in sales, but we'll get to that in a second. Did sales at all ever come up or was it just the law or something else or sales? Kind of tell me about that.
Brian Thompson:
Sales, no, not in college at least.
Marc Gonyea:
Was it ever mentioned it to you, your youth, anything growing up.
Brian Thompson:
I think the way I viewed sales at that point was like car sales, sleazy car salesman. Like it's not a profession I want to get into at all. Realized again, quickly law school. Wasn't going to be in the cards. So you know what I care about back then, and I guess still pretty liberal guy. So what can I do to start helping people? That's gonna make me.
Marc Gonyea:
Talk about that though. So sorry not to cut you off, but you were, where did this helping people? Cause we haven't talked about any of that yet. You sports diverse friend group, right? Kind of a hellion, but you know, as a kid, all boys school, but played football. So where does helping people come in?
Brian Thompson:
Definitely my grandfather. So poor Indiana grew up on a farm joined the air force out of high school stationed in Okinawa, came back, GI bill took him to William and Mary where he got a biology degree and had worked himself up to director of labs. But he spent so much time volunteering in his adult life helping out kids, coaching kids. He instilled in me at a very young age that, you know, basically pay it forward. Like it'll come back to you in some form or fashion so that it was growing up under his wing, so to speak. You know, I always wanted to try to put myself in a position to help others and see if it, and in the same way, you know, maybe help myself out at the same time.
Marc Gonyea:
So, you got out of Hampton Sydney and what'd you do? memoryBlue wasn't your first stop.
Brian Thompson:
Definitely not.
Brian Thompson:
Oh nine. So not financial crisis has already happened, but it was not easy for me to philosophy degree. Definitely not easy for me to get a gig right out of college. So spent six months trying to find really any job I could at the time I was still bartending and what I have on that resume childcare provider. So it's making ends meet able to at least pay rent.
Marc Gonyea:
So you went back to the star city after Hampton Sydney.
Brian Thompson:
Just couldn't get away at the time.
Marc Gonyea:
Financial crisis though, and you were like working odd jobs. I remember I looked at your resume right here in 2009 childcare provider, Roanoke, Virginia, right Back Creek Grill, waiter, Roanoke, Virginia. And then what happened?
Brian Thompson:
Took a job as a, I guess the official title was clinician one. If I remember correctly, I was at blue Ridge behavioral healthcare, which is obviously a nonprofit in my job, maybe the easiest way to explain it or way to think about it as like big brother program, but you get paid for it. So I was working with kids from not the greatest home life even from a socioeconomic perspective. Didn't have a lot, parents weren't around maybe, or at least not a lot of father figures in play. Also kids are I think maybe I'm a little bit on the spectrum. Asperger's, autistic, et cetera.
So just trying to teach them life skills, how to manage the day to day, like going to high school, going to middle school, et cetera. So great job. Very rewarding. Intrinsically speaking, didn't keep Sallie Mae off my back.
Marc Gonyea:
After the six month deferment, they're looking for you, right?
Brian Thompson:
That's right dodging four or five Sallie Mae calls a day. So that got me thinking I can either ruin my credit or I got to find something else that's gonna help me pay my $600 a month student loan bill. Like I said, Hampton Sydney's extremely expensive philosophy degree, six figures with an undergrad degree in that six figures in debt, undergrad degree in philosophy.
Marc Gonyea:
You still working on that or you got it done?
Brian Thompson:
Done. Thank you, Gartner, for acquiring.
Marc Gonyea:
Mental health is a phenomenal in terms of helping people, but I'm sure that it's a very fulfilling profession. No doubt about it, but then what happened? So you sort of looking you asking around?
Brian Thompson:
I started applying for frankly, any type of sales gig I can get. Cause I was, and the reason that led me there, I was like, I don't have, I'm a philosophy major, right? Like a pretty good at, at debating, pretty good at winning arguments and influencing people to do what I want no. So just looking for a sales gig, pretty personal guy, like get along with most everyone. So I was looking at Roanoke. No one's hiring, not a lot to look for sales. And then my roommate in college, Troi Myers. I Texted him and I was like, and I saw his profile on LinkedIn or maybe it was Facebook. He was talking about sales. And I was like, how did you get into, how did you get into this gig without having any experience?
Cause that's what every application I would have, like we're looking for people with more experience like, well, how do you get experience of no one gives you a chance. So I talked to him, he was like, yo, I work for memoryBlue. You know, I can see what I can do. And then I guess he connected us. I try to remember. And you're like, yeah. I went to Cape Spring. I was like, Oh yeah, here we go. Here we go.
Marc Gonyea:
Back it up real fast. Who went to Hampton Sydney number one? Trey Surber? Trey was number one, but Trey and Troi didn't know one another.
Chris Corcoran:
I mean, no, I don't think so. But if we hire someone tomorrow from Hampton Sydney Trey's gonna want to talk to him. They're a super tight network.
Marc Gonyea:
And then so we had Troi and this is when for me, I was like, Corcoran would tell me Hampton Sydney was a cool, good place. Like, come on, man. Surber was good and then Troi was good. And then Corcoran serves up a do gooder. You were like, Gonyea we got this guy from Troi. And I'm like a Chris he works, he's a social worker. I mean, he's probably a great person. He's not gonna be able to take the pain of the phones. Like no way you're doing it. You did it for a year. This guy's just looking to get out of Roanoke. He's gonna come up here. Triple threat athlete. Yeah. So you got in front of us. Do you remember any of it during the interview process or anything?
Brian Thompson:
I remember my phone call, I guess it was the second phone interview or maybe it was the mock call. Cause I remember I maybe the last interview I came up, it was the second interview that I came up. I don't quite recall. And like met with you guys in person, but I remember having the phone call with you and Troi was like, just ask questions, ask questions. So I get on there, I've got like all my study notes and everything and you start, go doing whatever you're doing. And I don't know if I asked a single question, did you call me back? And you're like, what happened? And I was like I just panicked on the roleplay. I was just nervous. I was like, s***, I might get this gig. Like no chance this is happening.
Marc Gonyea:
We might have done it again. I can't remember. But you got the job right here and you moved up to NOVA.
Brian Thompson:
Northern Virginia first time out of runaway except for obviously college. And I'm sure you can attest to this Northern Virginia and, and frankly, anywhere else in Virginia might as well be two States like definitely Roanoke massive culture shock, extremely, very diverse place up here. Roanoke, not an extremely diverse place as you can imagine. So it was a took me a while to get used to the pace of life. I remember the biggest thing for me was when you would let people in on the highway or driving or anything, no one wave at you and say thanks, where am I?
Moved up here. I guess mid-October lived with Troi for I guess the better part of three weeks and his wife Marianna put me up. Thanks guys. Appreciate ya. And then moved out to Herndon with my buddy Wade Thomas, who moved from Roanoke with me up here. And he was in HR at the time, lived in Herndon. And it made that lovely drive to Tysons every single day, which was just great.
Marc Gonyea:
So do you remember your client? Cause again, it was only 48 glorious days, 48 days talk about that.
Brian Thompson:
First client was Capterra obviously that's where I ended up. I remember the day I met Mike and Jeff. You not one big meeting room that was on the left hand side of the old office. I don't know how many offices you guys have moved since then.
Chris Corcoran:
Two.
Marc Gonyea:
So to set the stage real quick, Corcoran was the delivery manager. So Corcoran was your manager.
Chris Corcoran:
BT was like one of my final protégés.
Marc Gonyea:
And then Michael Ortner was the CEO of Capterra and who was the other gentleman?
Brian Thompson:
Jack Pierce, he was basically the head of sales and client success.
Marc Gonyea:
Got it. So you were kicking off the campaign, right?
Brian Thompson:
Yeah. I remember you telling me like, Hey, Mike's a philosophy major. You guys would get along. He's one of the smartest people, but also like one of the most laid back, like I think he rolled in with maybe like mustard, yellow cargo shorts, and Under Armor, like dry fit, like wicking shirts. Like here I am and I have like maybe one suit. I remember y'all clowning me. It was the holiday party right before I ended up leaving and going to Capterra full time. And I'm wearing the only suit I had, which I bought the summer before to attend a wedding. So it's December. I think Corcoran was like what are you wearing a summer suit? I was like, dude, this is the only thing I have. I got made fun of so much from my clothes. Eddie homicides wearing like Gucci loafers, like Ferragamo belts, I've got three pairs of khakis to my name.
Marc Gonyea:
What was it like on the phones? Do you remember that?
Brian Thompson:
I don't want to say easy, but it was interesting and we'll get to ePlus here in a second. So Capterra was great because it was cold calling, but it was people that were at least familiar with the company. They have profiles. So my job at the time or my, you know, what I was doing was trying to get people their login credentials through their portal and then set up basically discovery calls. As you can imagine with the two full time sales people there at Danny and JP. And then, so that went well. I was actually talking to people which was great. Now I'm setting meetings and then maybe, maybe two, maybe two weeks later, I think ePlus gets put on my plate, which I'll be frank. I still don't know what they do. No idea what they do. I think it's a partner or a reseller or something.
So I'm calling into IT folks. And I don't know anything like nothing, but what I can do is I can pound dials. Right? So, I'm making, I think high 200 calls a day, not speaking to a soul back then. I don't know if you guys are leaving voicemails these days, but back then we weren't leaving voicemails. They're like hanging up on to the next. It was challenging. So I was never, I was only ever there for 48 days didn't even get health insurance. I think back then you had to be at least three months to get health insurance. So Capterra was killing it, doing performing well, crushing it ePlus terrible. Just terrible. But I could make a lot of dials to get my, to get my numbers up. I don't know. I can't remember if I ever hit like an actual quota. I was only here for a couple of months, but I do remember, I think I was the newest hire.
So back then it was a whiteboard that you would have to fill out. The data are all the previous day's numbers, the previous week's numbers. So yeah, it took an extreme amount of pride and like having the most calls and conversations meetings booked.
Marc Gonyea:
You can only control so much to, right? And you're like, I'm just going to control the hustle. Right?
Brian Thompson:
Yeah. I remember Thaddeus Walsh he volunteered his time to try to teach me what ePlus did for like an hour after work one day. And I was just like, buddy I don't mean to be rude, but like I have no idea what you're talking about. I just, I don't know what you're talking.
Chris Corcoran:
Did you leave that meeting more confused than when you entered it?
Brian Thompson:
By a mile, but again, smile and dial.
Chris Corcoran:
So one of the things I remember about you is like, it was first or second week on the job and you pulled me aside and you're like, Hey man, just lay it on me, dude, just lay it on me. The only reason you hired me is because we went to Cape Spring.
Brian Thompson:
Yeah. I was convinced.
Chris Corcoran:
I was like, no way, man. There's no way so that had nothing to do with it.
Marc Gonyea:
Oh, well look, we're in too high pressure of a job because these clients expect output, right? Michael's a great guy. But he wanted results. But I will tell you, we want to give people opportunities that otherwise would not have gotten them before our dads were in the army. Like they didn't know much about technology sales. If anything, we were looking for people who have the hustle, right. And want to do something like with their life and ask them aspirations. And did it help that you went to the same high school? Of course, of course. We don't get a lot of kids from Roanoke. Born and raised in Roanoke, raised by their grandparents who want to get into tech sales. It's hard to get. So we're like, let's give this guy a shot, like, and we know you're a good person.
Anybody who's going to work for a year with, you know, the youth. You're a good guy. But it's hard. People don't think of sales as that. And I definitely remember looking at your resume and thinking, all right, this guy can help people for a year, but help people with mental illness or just people who need some guidance in life. The abuse that you're going to take on the phone, it's going to pale in comparison. Yeah, I think so. It might've been a small part, but that's not solely why we hired you.
Brian Thompson:
Tough skin. Like coaches, at least in my experience, like great, great men. Right? Awesome people. But like they'll bust your balls man, like you're messing up. They're going to let you know. And I think that's one of the first thing I told you I've got tough skin, whatever you got to say, like I'm here to improve and be the best, like lay it on me, man.
Chris Corcoran:
I remember some more colorful language in that conversation. I remember it was after a tough day, we needed some points for ePlus BT's going hard, working hard, putting up big numbers, but not getting any results. So he comes over to my desk and he's like, Hey man, I just want to let you know, I played college football. You can yell at me and I can handle it. I was like, alright BT good to know man.
Brian Thompson:
So I've told Mike that about a billion times. His coaching style wasn't like a football coach by any means right? Then my next boss, very nice. His name's Eric, learned a ton from him. And then now I work for a gentleman named Patrick Fisher has been with Gartner for quite some time, been in the game for a long time. If I'm messing up, you need to tell me, but I'd rather, you be extremely rude to me for five, 10 minutes then you know, muddle around and not tell me how I can improve. And me thinking, you know, for the rest of the time that I'm working under you, that I'm doing a great job. If I'm not right. It is what it is.
Marc Gonyea:
And there's good advice for people who want feedback from their manager. Like if you're telling your manager, this is how I would like feedback. That's good for a manager to know. Cause your manager may never know that. And otherwise, and sometimes people don't want to hurt people's feelings, even managers. They don't know that. But if you're that clear and that articulate. So for people listening, tell your manager from day one, Hey, here's how I want you to communicate with me. Ideally, you probably have your preferred style. This is kind of what gets me going.
Brian Thompson:
Yeah. There's probably like three or four things I would recommend to any sales person that is trying to get their foot in the door, whether it's here or anywhere else. First of all, like be a sponge, like taking as much as you can. It's depending on what sort of role or what I guess vertical you're going into, it's probably going to be a pretty steep learning curve. I know it was for me for certainly at least with the ePlus account with Capterra account.
Like I know what lead generation is fairly familiar with what marketing is, but I couldn't tell you what ePlus does to this day. Be a sponge check your ego at the door. Like this is a humbling, humbling career choice. You're going to get hung up on, you're going to get cussed out and you're going to pound dials, not a single, person's going to talk to you, call you back, respond to an email and on top of checking your ego, like be open to coaching. Like I think that's why I think at the time and I imagine it, I'm still sure you're hiring a ton of ex athletes, maybe ex-military. Like you need to be able to be coached if you can't be coached like sales, probably isn't for you. Maybe if you've got a manager that's like willing to put in his time, his or her time to show you the ropes.
If you can't be coached, it's probably a pretty short-lived. That's probably the two biggest things that helped me. And then I don't know if you can teach work ethic, but you know, it's long hours first in the door last out. I mean, I can remember. So, because of ePlus I was basically on a PIP for lack of a better word, like crushing Capterra.
I think it was like Mondays, Wednesdays and Fridays I was Capterra Tuesdays and Thursdays were ePlus and like Tuesdays and Thursdays are the worst days of my life and it was terrible. But what we did is I'm printed out these sheets that had like four squares. You prospect you'd have to get into work like an hour or so before everyone.
And I remember getting here for some reason, I recall maybe the doors more open to like 7:00 AM or maybe a little bit earlier, but I wouldn't get here at like 6:15, 6:30 and just sleep in my car until whoever opened the door. And then I would be in there. Get an hour in prospect at 8:00 AM, bring around I'm going down. That sheet, people are prospected it's literally like few hundred calls a day. Just check off the box onto the next check off box. And then by lunch, you're like the third time through.
Marc Gonyea:
We were in the middle of recession. Maybe a little bit towards the end of it. But you weren't calling in the best of times?
Brian Thompson:
No, no. I mean, it was tough, but it showed me, you know, I got through it and again, it's 48 days. Right. So I was fortunate. I didn't have to, you know, take the licks like for like months at a time. But I think it put me in a position to really succeed at Capterra because I was willing to put in the work, whatever it took. Right. Whatever it took to see success.
Chris Corcoran:
So, well obviously Jeff and Mike saw something in you. So they ultimately wanted to hire you almost immediately. Tell us a little bit about that.
Brian Thompson:
Yeah, it was awesome. I still remember when they offered me the gig, it was Jeff took me to lunch at Uncle Julio's in Ballston, sat me down. I was like, Hey, we'd like to hire your first time full time. Are you interested? I was like, hell yes. I'm interested. I'm getting away from ePlus, ePlus is a great company. I am not doing it for them. But the thing about Capterra was like very much back then. I think we were, maybe we were 20, 25 employees tops, maybe 30 tops. So very much like a family lifestyle. Not unlike how it was here. And again, only here for a couple of months.
Chris Corcoran:
How big were we back then?
Marc Gonyea:
Pretty small. It was small.
Brian Thompson:
I can't, I can't imagine more than 30. Maybe I'm high balling. Maybe it was 12. It was so easy to transition. And then I'd already been working for them for two months. So the interview process was very, very interesting. Like people I worked with directly, the other two or three salespeople and then all the client's success or AMs. Now it's so weird. It's like, they're asking me these interview questions. Like y'all met me, y'all heard me for the past two months. You know what I'm capable of. But you know, played the game and I remember Mike comes in back then we interviewed in front of the whole company. He was like, it was like a full day. Mike came in and I was like prepared today. What's a challenge that you face. We didn't almost, if we talked to anything about business, it's about would I allow my kid to play football, philosophy mainly the problem of evil, like how can there be evil in the world? And then there was one other thing I can't recall, but it wasn't your typical interview. I was like, man, I can, I can get, I can get behind this man. And I owed him a lot. I owe y'all a lot. I should have written you a check after we got acquired.
Marc Gonyea:
The best thing about it. So like working for us was having the dichotomy of the two different clients. Right. So maybe had you been on Capterra full time, you wouldn't have realized how good it is. You had it or was it maybe the, I gotta take the same work ethic and apply that when I got converted, that's my client.
Brian Thompson:
I think that over all the time. If I wouldn't have been on that ePlus account and had to do the type of dials also, cause back then I don't think anyone was doing more than maybe a hundred dials a day. The numbers I was putting up, no one else was doing that. And I obviously took pride in that. Granted, I wasn't talking to a single person, certainly not booking any meetings.
Marc Gonyea:
So you went to Capterra right. At your brief tenure at memoryBlue, what advice would you have yourself for yourself Like the night before you started first started here?
Brian Thompson:
Check the ego man. Like I came in, I stopped playing football my sophomore year, but I was still pretty, pretty confident guy. So check the ego at the door, be willing to back then. Like if someone was trying to coach me, like obviously I play sports very open to coaching, but you know, if you try to correct me, if it wasn't done in a tactful way, like I sort of started to resent it fortunately, you guys coached me the right way. Cause you listened to what I asked for. I think that that's the biggest thing I would recommend is like you can't see success in this role.
If you've got like a chip on your shoulder in the sense that you can't be coached, like yeah, you want to be, you wanna be confident yourself delivery, things of that nature, but yeah. Be a sponge, check your ego, be open to coaching. And those are the two biggest things that I would recommend anyone coming in and what I would've told myself coming out.
Chris Corcoran:
I remember when we ended up losing you to Capterra and I was like, man, this one's going to hurt. Cause I was like, BT is going to be a star. And I was like, I'd love for him to just be a star here. But that's part of the program. So my second favorite opportunity would have for you to go be a star for them. And you have, cause nothing makes me happier to see you flourish. And you're still there. How many years later ?
Brian Thompson:
January it'll be 10 years.
Chris Corcoran:
10 years. So that's awesome.
Brian Thompson:
You worry about it. Cause like I've been selling, you know, frankly what we've got, we add onto our products and like you know, make them better. So to speak, we've got a couple of new offerings that are, that are new, but you know, I've been pitching the same stuff for the better part of the decade, but it's still exciting. So I'm in a strategic role now where I'm working with basically our biggest, the biggest logos, the biggest clients. So, you know, I'm paired with an account manager, his name is Andrew Jones. He's the man. If you're listening to Andrew, you are the man, he handles sort of the day to day on our accounts, like managing bids, optimizing what I've brought on, so to speak. And then my gig for the ones that have current contract value with us is seeing how we can expand whether it's geography base. Can we get you into the UKI or APAC or LATAM or can we bring on more and more products so to speak.
Chris Corcoran:
So, for our listeners, can you talk a little bit about what Capterra does just at a high level so people can understand what it does and kind of what you do for the company?
Brian Thompson:
Yeah, absolutely. So Capterra is one third of Gartner's, digital markets, business unit the other two thirds are softwareadvice.com and getapp.com. All of which are basically buying guides for business software. So easiest terms, yelp.com for business software, right? So buyers can use us for free check out reviews, price, compare different solutions for their business. So what I do, we monetize on the vendor end, so I'm tasked and our biggest bread and butters is lead generation. So we offer pay-per-click models, basically a lot Google ads and then paper lead models where phone verified back qualified leads that we'll sell to you. Now we've got like data insights, offerings, what's buyer intent, reviews, insights, things of that nature where you can improve your product by see what, you know, the voice of the crowd, what they're saying, so to speak. But yeah, historically selling, basically selling advertising and lead generation to large software companies.
Marc Gonyea:
Okay, good. And what did you start doing when you, when you got converted, when you went to go work for them, were you still generating meetings for them?
Brian Thompson:
No. So I went right into like a closing role. So it was that like started first two months, like crushed it. I think the quota back then was maybe like 15. I was getting like 20 plus we call them upgrades, but onboarding 20 new vendors, software vendors a month crushed it first two months and I was like, dude, this is cake. This is next like four or five months. Like single digit. Should I be here? Am I going to get fired? But back then, it's like, no one really knew who Capterra was.
So it was tough and I wasn't getting hung up on because people, they had accounts, but some of them we created on our end. Others hadn't logged into their portals for years at a time. So I'm calling up like, who the hell is Capterra why are you calling me? And then I think it was maybe 2013, like two years in. And I think we invested Mike invested heavily in like a content team. And it was like a light switch. Like we started immediately jumped like the first organically for like top of the funnel keywords around a particular type of software. It was like shooting fish in a barrel inbound leads coming in left and right. People asking to like, be part of our services. So it was the glory years by, so it was two years of just like, Whoa. And then that 2013, like 2015. And even, even now of course, like people we're part of Gardner now. So a lot of people know who we are.
Marc Gonyea:
Yeah. So you went from working for us. I don't know, over 10 years ago, what did we say? It was October, 2000 over 10 years ago. This October did just getting them folks to kind of log on and get a free account. Right. Then getting converted 48 days later and trying to convert those people into paying clients so early days and the now, and we'll we haven't gotten to yet, we'll talk about the acquisition and small company versus big company, those things. Then now you're working with some of the biggest clients and that side of the business
Brian Thompson:
It's awesome. And that transition was definitely tough because you're going from working with small to midsize businesses. Some like don't know don't have any sort of marketing or lead generation in place. So there was a coaching or teaching aspect to it, which I frankly miss a lot. So in a strategic role, like again, we just read off some of the clients like they've got very robust marketing teams, they know how to lead score. They know how to generate leads. It's more just like, can we hit your target metrics? And if we can't, can we scale you from there? Whereas these smaller companies, like someone doesn't know pay per click advertising, which is fine. So the ability to coach them and see them grow their business and feel like you had a hand in it, like loved it. I almost miss it. Like I don't either. I love the strategic world.
So obviously we're not in the offices, but you know, back when we were out, my phone would ring and it'd be like the main sales line. So like some, I love answering the main line, even though I'm not gonna make any money off of them, but the ability to like help these vendors that are like, how do I get logged in? Can you explain to me quickly what pay-per-click is like? Yeah, I can explain to you, I'll tell you the next 30 minutes to explain. But it was a tough transition in the sense that, you know, now you're working with people that know what they're doing and you know, they're spending good coin with you. So they expect a lot. Which is fine. We're up for the challenge. No question about it, but it's a different role than sort of mid-market or merchant, for sure.
Chris Corcoran:
So looking back over a decade and sales, what's your most memorable deal win or lose?
Brian Thompson:
Yeah. It's obviously been on our site since it was built in 1999. Hadn't paid us a dime until two years ago. They've been on my book. So back then, mid-market role or emerging role, there's only four of us and only four salespeople. So we had thousands of vendors. So this one particular vendor has been on my book basically since I always had the accounting category, if you will, at Capterra. So calling into them, not making a lot of weight and not making a lot of leeway into to the org. So, but fortunately I have thousands of other vendors that were willing to give us. So like not paying a ton of attention to them you know low hanging fruit, like I'm trying to get paid. Right. What happened was they worked, they hired out an agency who I worked with a previous client.
So I hate to say it was luck, but it was because of my, I guess, rapport with that agency person. Yeah. It didn't necessarily fall into my lap because once we, once we pitched the agency, they took it back. Obviously that company had all these questions. So it was a, you know, it was maybe a three month, four month sales cycle started low, like low five figures. And then now seven figure deals. Like it's pretty slick for a year. Wow. That's pretty awesome. So yeah, paid off it's going great. But it's you don't expect it, right? You don't see something jump from like low five figures per month to.
Chris Corcoran:
How'd you get it to grow so high?
Brian Thompson:
I mean, first of all, we got a great product, right? Not do it like a shameless plug of Capterra, digital markets, like in lead gen, when it comes to lead gen, we got the sauce, like great traffic, the PPL side, like high quality leads, like phone verified. You're going to get what you pay for. It's not cheap, but you know, you can get what you pay for it. So one, it takes a great product, right? So no one's going to spend that type of money if it's trash, that's one thing. But you know, between myself, I'm going to get my account manager, Andrew it's like being able to we're working with the agency, but this is a great agency. We actually can work directly with the client as well, which is not, you know, in my experience, you know, it's hit or miss there some you can't reach out to the client agency only.
So, you know, being able to go on site and meet with these folks in person, building rapport, showing that, you know, you're not some sleazy salesperson just there to, to get all of their money, but to actually there to help them. Fortunately, this client I'm talking about, like they're actually pretty open to suggestions, whereas others would work as like, we're not changing a thing. We've been doing this for X amount of years. We're not changing our sales style or cadences. We're not changing our landing pages like this one client. Like they're pretty open to it that may take them a long time to get everything in motion, a lot of red tape and really large corporations. But over time, just building rapport, showing that you're there to help and then having a great product that can actually, they're seeing a positive return. They're making money. Like why when they spend all the money they possibly can.
Chris Corcoran:
How fulfilling is that?
Brian Thompson:
It's sweet. It's awesome. I would say it's great. It was great for my wallet and my colleague's wallet's great for the company. No question about it, but you know, you take pride in it. You're working with, again, some of the biggest companies in the world, biggest software companies in the world, and yet we're, we're speaking directly. Like we're not Salesforce, I'm not talking to Benioff. Like, yeah, right now we're talking with directors of marketing and they're sort of subordinates if you will. So I love working with marketing folks. Cool. Laid back easy to talk to. It's rewarding. And it's great for the wallet.
Chris Corcoran:
Sounds like you like helping people and you like making a difference.
Brian Thompson:
And making money two primary drivers.
Marc Gonyea:
Talk about that. So some people grapple with that, right? That helping people and making money and they're easier ways to make a living too, then sales, you can do very well financially, but there are easier ways to make maybe a more guaranteed steady salary. How do you kind of juggle or rationalize or what's your perspective on, on sale and I'm helping folks different than when I was, when I was working at Blue Ridge Behavioral Health, but I'm also getting paid. Right. Cause money's important to me. There's no shame in saying that.
Brian Thompson:
I'd be lying. If I said it's still not a primary driver for me, I would say less so now than five years ago, three years ago, even, you know, I had a couple of really, really solid years as you guys see on the LinkedIn profiles, it's put me in a position where I'm not bootstrapped by any means. Like, we're doing pretty well, so to speak personally, but those are two things that mean a lot to me, it's like being able to help people. And then obviously I've got very aggressive retirement goals.
I'm doing whatever I can to hit those goals. So it's, you know, being able to fill, you know, be proud of myself, both for hitting the financial goals. And then also I guess my own like intrinsic goals, you know, staying close to like, what I believe in now is the best of both worlds. Whereas with, with in the clinician role, you make like 700 bucks a month, 1,400 bucks a month. But there's intrinsic value there where you can at least feel good about yourself going home.
And I think the good thing, and maybe one more recommendation for new sales folks is don't chase the money. It's important that a lot of people get into sales because they're not motivated by money and don't want to take the job. Or like maybe you're getting 80% rejection rates because you like it. Right. So you're there to get paid, but don't chase the money, find a job and you can really believe in a product that you can really get behind and believe in. And that's, that's why I've been there for so long. I still believe in our mission. I know our product helps people can help our large enterprise companies can certainly help a small mom and pop shops, the medium-sized businesses. So it's perfect. Being able to feel good about yourself and then also make some good coin.
Chris Corcoran:
So your time at Capterra you've gotten more than just kind of financial and personal and gains as well. Right?
Brian Thompson:
Got a wife, man.
Chris Corcoran:
You gotta share the story.
Brian Thompson:
Let's see. Francesca, my wife Franny. So, she was a client success member after obviously been there for a few years now she's in product management, but small shop. Right? So you get to know each other pretty well. We were definitely friends before we became romantically involved. We kept obviously under wraps, as you can imagine, back then we were still private company. So it wasn't too big of an issue.
But I remember Mike shortly after we got acquired, he's like took me out to lunch. We went out to lunch, took him out to lunch and he was like, yo, what's up with you and Franny? I was like, what do you mean? He's like, come on, dude, come on, man. I was like, I was like, how did you know? You eat lunch with her every single day by herself. He's like, I'm not dumb. I was like, all right, fair enough. But yeah, man met through work, got engaged, New Year's Eve 2017 in Seoul, Korea, her family, her mother's side of her family is still in Seoul. Long engagement. Two years got married last year, December 14th in Jamaica. That was awesome.
Marc Gonyea:
The guy from Roanoke is getting engaged in Seoul, Korea, who would have said that when you moved up here, getting used to merging lanes on 495. But you got married last December. You know, it's rare to have somebody stay at a company for so long, but I think what's not rare is people working for smaller companies moving to big companies, big companies to small companies. So tell us a little bit about what it's like going from a small company. I don't know how big Capterra was, but then you went to go work for it. You know, you're acquired from a big company publicly traded big company.
Brian Thompson:
Yeah. So it was, I mean, I remember, I remember the day they announced it, so we obviously noticed some suits coming in. We just thought it was maybe like VC, like we're doing really well at this point. Like as a private business, like we're doing really well. So we've just assumed it was some sort of like venture capital firm coming in and trying to give us some money. So we weren't none the wiser to it. And then we started getting these emails like from Mike, Hey, we need you here on Friday around 8:00 AM. And then that got pushed back to the Monday. So then we come in at 8:00 AM and then all the suits are there and they announced that were acquired by Gartner. All of us are like, Oh s***, are we going to be fired? And for the folks that have already gone through acquisitions, everything I've heard from my friends that have been acquired by companies. Like there's typically like quite a few layoffs, right. They're downsized or what they can, first thing the guy says like, this is a growth acquisition. No, one's losing their jobs.
So I mean, it was like, Oh, thank the Lord. And then of course we obviously got shares too, which was great. So that got me out of college debt. So thank you again. As far as the differences. So you obviously you lose some agility. They were pretty much status-quo up until 2016, like mid-2016 and then Gartner started implementing some of their own processes. But the whole time it's been no there's not been any massive layoffs, anything of that nature, they certainly help us grow even further than what we were already doing. But you know, it's now you're part of a large corporate company. So there's definitely differences. There's no question about it. Things move at a little bit slower processes change, take longer to change. So, but we're blessed in the sense that yeah, no major layoffs, anything like that.
Marc Gonyea:
Now you and Francis are taking the show down the Austin.
Brian Thompson:
Taking the show to Austin. So our sister company software advice is based there. So very easy transition, no change in roles, just moving offices basically. So we're excited. I usually go to Austin up until obviously COVID three to five times a year. Give or take for training or to see clients or go to UT football games or in the past two or three home openers. So love it. It's an amazing, amazing, amazing atmosphere. But yeah, timing was right. Finally. We've been talking about it for maybe three plus years.
Marc Gonyea:
Cause everybody talks about it, I brought it up because we've got a lot, you get a lot of people you're young and you're mobile in your life and not a lot of people do it. So yeah, especially during COVID crisis.
Brian Thompson:
It's going to be challenging, but we're selling everything, going down to one car pack and what we have left into a U-Haul and driving it down, not looking forward to that drive that's for sure. But it'll be fun. It's nice. We'll see how it goes.
Chris Corcoran:
So BT tell the listeners, how do you keep your skills sharp?
Brian Thompson:
And I try to digest anything. Everything I can from sales books perspective, like Chris Voss, you guys heard of this, Never Split the Difference read it a couple of times. Like probably the best, the best book I've read from a business perspective.
Marc Gonyea:
Tell us why. Cause people, people will read it for just for saying that, but tell us why it's the best.
Brian Thompson:
It's just little tips and tricks. Chris Voss is like an ex FBI negotiator. If I remember correctly. So stuff that you can apply, you can take stuff from that book and apply it to me like mirroring. Outside of that. Like anything Gong or SalesLoft or any of those things. Those guys put out pretty much like I'm going to listen to at least test it out. Right. So it's harder than I, you know, Gong's great. The data they put behind all their findings and what the kind of content they put out on LinkedIn. Like it's hard to deny the numbers, right? So might as well chest it out, bearing some fruit. You know, it's pretty interesting stuff.
Marc Gonyea:
You also said in your LinkedIn, I saw you wrote that you can learn a lot about having a 60 minute conversation with someone versus emailing them.
Brian Thompson:
It's nothing better than that. It's the best part of the strategic role of people to go and visit these clients. And that's the thing that I want to continue to hone. Obviously not able to go see them. So we're doing some virtual on-sites virtual QBR, things like that, but I can't wait. So we can start going back out and visiting these clients, we've got great rapport with them. So it's going out to dinner, meeting with them. Their bosses, so to speak and like just learning, like, what are your goals for this next quarter for this next fiscal year? And how can we help you achieve that and make you look like a rock star? Like that's the gig in it of itself. Need as much practice as I can though. Like always be learning. Right? That's the biggest takeaway is like, if you think you've got it all, you're wrong, man. You're absolutely wrong. Always be open to learning, open to coaching, et cetera.
Marc Gonyea:
You've elected the stay at Capterra. It's basically literally you started with us. You've probably seen people come and go. You've probably tracked the careers of some of your mB alums and you remember them so vividly for only being here for so short of time, what are some things or some mistakes you think people have made either alumni or just colleagues and peers along the way?
Brian Thompson:
Yeah, I would say the biggest one is maybe chasing the money. Like I know how important it is. I think there's a Zig Ziglar quote. That's like money's not the most important thing, but it's up there with breathing or say something that may paraphrase a little bit. Like, yeah, I've gotten offers from other companies that with much higher salaries and OTs, et cetera, but you know, do I believe in what that company is doing? Like maybe, maybe not like for me, it's, money's important, no doubt, but you know, it can buy a lot of happiness, but not like complete happiness. At least it's been my experience.
So, you know, find a company that you can get behind that their mission statement, their products that you can get behind. And then also, you know, find a boss you can get behind. Like for me, I think there was a question when you were doing the perhaps like company or manager, what's more important. You know, for me, obviously I've been blessed. Y'all then Ortener than Eric Pals than Patrick Fisher, like I've had some really great managers, really great bosses. I've learned a ton from, but for me, it's like, I think I choose, I think I choose manager. What's more important to me if I can work for the greatest company ever. But if I'm working for a guy that doesn't give a s*** about me and isn't willing to coach and coach me and teach me how to become the best salesperson, I can be like, what's the point?
Like I'd rather work for a company that's maybe struggling, trying to figure out what they're trying to do with a guy that's going to take me under or girl is going to take me under his or her wing. Show me the ropes and help improve me. Not only as a salesperson, but as a person I've learned so much from y'all and Ortner just how to be a better man. Like, come on, best of both worlds.
Marc Gonyea:
I had little to, nothing to do with that. I mean, think that's it, man, but you've come a long way BT.
Chris Corcoran:
I love seeing you shine. Thanks BT.
Brian Thompson:
Yeah, buddy.