Episode 27: Julianne Thompson – Blood, Sweat, and Tears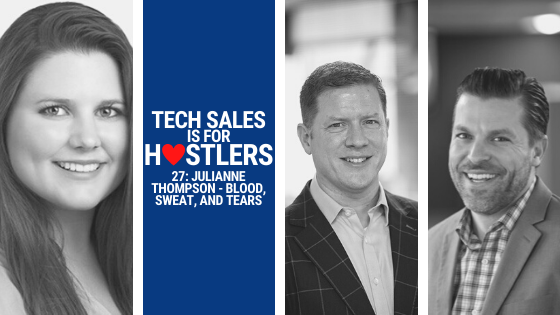 If you want to be successful in high-tech sales it's going to take blood, sweat, and tears. Especially sweat.
Julianne Thompson, formerly known as Julianne Sweat, is no stranger to putting in hard work. Before she entered the world of professional sales, she was dominant on the softball field as a pitcher for The University of Mary Washington. After college, Julianne joined the memoryBlue herd and has been a sales rock star ever since. Julianne has gone on to become an Alumni of the Year winner (2017) and ultimately discovered a love for managing other salespeople. Today she is the Head of Sales Development at Drift.
On this episode of Tech Sales is for Hustlers, Julianne shares how she got into SDR management, the qualities of an exceptional sales leader, and what makes a great SDR.
Additional Details
Name: Julianne Thompson
Title: Head of Sales Development
Company: Drift
Exit Year from memoryBlue: 2015
Months at memoryBlue: 26
Alumni Path: Internal Promotion