Episode 02: Abigail Lacy – The Selfless Seller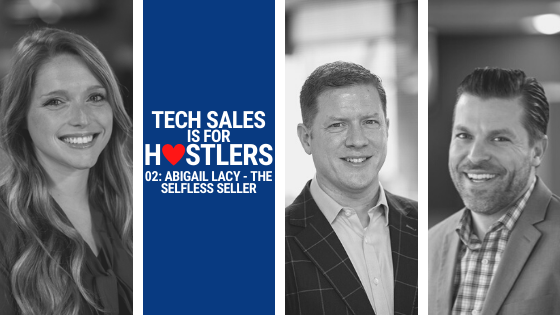 It can be tempting to dismiss sales as a "selfish" profession – it's a notion that Abigail Lacy personally wrestled with when she launched her sales career with memoryBlue in 2013. But her somewhat unexpected journey into professional sales moved rapidly into large scale success.
Today she serves as the VP of Sales at Measure, an aerial intelligence company in the drone technology space. Abigail is an ardent memoryBlue advocate who stays in close touch with the firm, having even taken advantage of our Rising Stars program at her new company.
In this week's episode of Tech Sales is for Hustlers, you'll hear why waiting tables is a great transition into professional sales, how Abigail keeps the notion of serving others front and center in her sales career, and what to look out for in an early-stage technology company.
Full Episode Transcript
Name: Abigail Lacy
Title: VP of Sales
Company: Measure
Exit Year from memoryBlue: 2015
Months at memoryBlue: 20
Alumni Path: Internal Promotion
***Introduction***
Abigail Lacy:
If you're hesitant to get into sales because you feel like it's self-serving, as I did, think about it a little bit more and approach the job differently and I think you'll find that that's not the case.
Marc Gonyea:
The HBIC is in the house. You just heard Abigail Lacy, VP of Sales of Measure. Abigail is a ray of sunshine and a selling machine. She talks about what it's like to be a woman in sales, her trials and tribulations in her first closing role and what to look for in an early stage company.
Marc Gonyea:
Hi, I'm Marc Gonyea.
Chris Corcoran:
And I'm Chris Corcoran, and you're listening to Tech Sales is for Hustlers. Tech Sales is for Hustlers is a podcast where we catch up with memoryBlue alums and reminisce about their start in high tech sales with us.
Marc Gonyea:
Let's go get some Corcoran.
Chris Corcoran:
Gonyea, you know, I'm ready.
***Episode 02: Abigail Lacy***
Marc Gonyea:
Hello.
Abigail Lacy:
Hi.
Marc Gonyea:
How are you doing?
Abigail Lacy:
Great.
Marc Gonyea:
Thanks for joining Chris and I today.
Abigail Lacy:
Absolutely, happy to be here.
Marc Gonyea:
Yeah, so happy. Okay, well let's talk a little bit about what you're all about, Abigail. Where are you from? Where'd you grow up?
Abigail Lacy:
So I grew up in Radford, Virginia, and then I went to school at James Madison University.
Marc Gonyea:
Where did you go to high school?
Abigail Lacy:
Radford high school. There's not just a university.
Chris Corcoran:
Bobcats.
Abigail Lacy:
Yeah, go Bobcats. It's not just the university in that town. There's also a high school.
Marc Gonyea:
And what did you do growing up?
Abigail Lacy:
In terms of hobbies or work?
Marc Gonyea:
Work, both. In high school, were you a club person? A sports person? A gym or job person?
Abigail Lacy:
Horrible at all sports. I was a runner and a cheerleader. But I also worked at Sonic serving all the RU college students slushies to spike with vodka. But yeah, I worked there I think from when I was 16 through to probably my Sophomore year of college.
Marc Gonyea:
I was envious of those people in high school. You were self-sufficient? I didn't have a job in high school.
Abigail Lacy:
Yeah, I guess I was self-sufficient. I mean I was making a killing at Sonic. So yeah, Sonic got in trouble with the IRS actually after we left because carhops were making minimum wage and tips. So I was making a lot of money when I was 16. It's pretty nice.
Marc Gonyea:
We will come back to that. I'm curious how that working and making money at a young age, if that influences how you view money as you continue your career? Maybe so, maybe not.
Abigail Lacy:
I just like it, I just like money.
Marc Gonyea:
Okay. All right. So college, where'd you go?
Abigail Lacy:
I went to James Madison University. I also waited tables through college as well at a place called O'Neill's. Formerly Hams. Now it's O'Neill's. But I was a double major in justice studies and international relations with a minor in Russian.
Marc Gonyea:
And you did exceptionally well in college.
Abigail Lacy:
Yeah.
Marc Gonyea:
Better than Chris and Marc.
Chris Corcoran:
That's a low bar to clear.
Abigail Lacy:
Yeah, I was Phi Beta Kappa. I don't know which one it was. Cum Laude or, I don't know which ones those were, but we did start our own chapter of, or JMU started a chapter of, Phi Beta Kappa. I was inducted my junior year, but I feel like it's kind of fake. It's not like Phi Beta Kappa at William and Mary or anything like that.
Chris Corcoran:
It's all real.
Marc Gonyea:
Get outta here. That's impressive.
Chris Corcoran:
Abigail, so when Marc and I, we talk about the biggest sales that we've made in the 18 years of business, 100% of those stories aren't about clients. They're about the people that we convinced to come work here. And you're one of those individuals because the pedigree. Honors student at JMU, Cum Laude, Phi Beta Kappa, we typically don't…
Marc Gonyea:
Worker.
Chris Corcoran:
Yeah, worker.
Marc Gonyea:
Worked in college, worked in high school.
Chris Corcoran:
Yeah.
Marc Gonyea:
And refined. You studied abroad, right?
Abigail Lacy:
Yeah, I did. Moscow.
Marc Gonyea:
Yeah.
Chris Corcoran:
And super well known on campus. Whenever we would go to JMU to recruit, we would bring people who were very active in Greek life and everyone we talked to about you said: "Oh, I know Abigail. I know Abigail." Everyone – everyone – knew you in Harrisonburg.
Abigail Lacy:
Must've been because I was waitressing at a restaurant.
Marc Gonyea:
I did Burke, Virginia. Abigail said, "I did Moscow."
Abigail Lacy:
I wouldn't, you said that I was refined. I wouldn't call Moscow a refined experience when I went there, but yeah.
Marc Gonyea:
Well it's all perspective, right? I wouldn't say it's, I don't know, the French Riviera. But when I was in college, I didn't study abroad or anything like that, so I thought it was. I think it's kind of glamorous to study abroad even if you go to Moscow.
Chris Corcoran:
That's an international city.
Abigail Lacy:
It was a really interesting city. I think I probably gained like 15 pounds from all the bread, cheese, meat and alcohol that I consumed during that study abroad.
Chris Corcoran:
That sounds like a good time.
Marc Gonyea:
You didn't bring that up in the interview.
Abigail Lacy:
I think I probably was smart enough to avoid that.
Marc Gonyea:
So wait, when you were coming out of school, what did you think you wanted to do?
Abigail Lacy:
I did my senior honors thesis on human trafficking in the Baltics and I really thought that I would end up in some type of government or non-profit job. I chose my double major and my minor how I did.
But those jobs typically take awhile to come around. And I like to make money as we've already established. So I remember when I got back, I backpacked for about three months after college, I think.
Marc Gonyea:
I remember talking about this with you.
Abigail Lacy:
Yeah. And so I didn't apply for any jobs while I was backpacking. But when I got back, I had probably three missed calls from Tiana, who is a previous recruiter (at memoryBlue). (bell chimes) Oh, that's what the bell is for?
Chris Corcoran:
It's for alums.
Abigail Lacy:
Well Tiana Oletzke, I had three calls from her and so I called her back and I did some research into memoryBlue. And my thought process was kind of that sales is always a good skill to have. It can never be a detriment to my skill set. So, I decided to interview and then I came to the company.
I really fell in love with the culture and thought it would be a good place to kind of hang my hat while I figured out what else I wanted to do. But I ended up really liking it and I was pretty good.
Marc Gonyea:
Yeah. Meanwhile, Chris and I are like high-fiving each other. She's hanging her hat here.
Chris Corcoran:
Typically we aren't able to land candidates of your caliber. So I remember working with Tiana. I was like, all right, there's no way she's going to come work here. And she's said no, she accepted. And I was like, all right, she's she's just doing that and then she's going to find something else. It's not going to happen.
So I was terrified that you weren't going to come. And then once you started I was like, all right, this is going to, let's enjoy it while it lasts because she's going to find a non-profit or a government job or whatever she wants.
Marc Gonyea:
And she'll go back to Russia.
Chris Corcoran:
Yeah. And it's going to be short lived, but it turned out that wasn't the case.
Abigail Lacy:
But you guys also remember I lost my first client a month in.
Marc Gonyea:
We're going to talk about that.
Abigail Lacy:
Before we talk about singing my praises, let's not forget that I lost my first client.
Marc Gonyea:
Yeah. But, I do remember feeling like, "Aw man, I gotta bring my A-game to this interview." Let's go back to when you said you decided sales is something you could try out. Why were you even comfortable with that? Did something happen during the education process of sales or was it just something you knew? Why was sales even something you were comfortable from what's given?
Abigail Lacy:
I waited tables in college and high school technically. And so I really like talking to people. My mother says that I can talk to a brick wall. So I felt that being more comfortable and confident in yourself I feel like are things that can be taught and learned through sales. So, I felt like that would be a good fit. I mean, I did have some hesitations, sure, before going into sales. Just because I did envision myself kind of more in a job that would give back to the community.
Marc Gonyea:
Which you do, we were going to talk about too, you do a lot of that I think, actually I know. One of the things we look for on this podcast is for people who are looking or considering coming to work at memoryBlue or getting into high-tech sales in general. And Chris and I always look for people in the service industry.
Chris Corcoran:
Always.
Marc Gonyea:
You explain it really well. Like why we like people who do that?
Chris Corcoran:
Well as you know, as a server. I always wanted to be a server. No restaurant was crazy enough to let me do it. I was always a back of the house guy.
Abigail Lacy:
Wait really? Because usually if you have men servers they clean up. At least at my restaurant, we found that, Sometimes they were really good, of course. Sometimes they were really horrible. But for men who really good servers, they cleaned up in tips.
Chris Corcoran:
The reason why we like service people is as Abigail can share. First off you're working on commission, you're working on commission. And in fact, my dad who was in the Marine Corps and never spent a day in his life in corporate America, when I told him I wanted to go into sales, he told me sell something expensive.
And I said why? And he was, he was a server at a high end restaurant in Georgetown when he was in college. And he said, you want to work at a high end restaurant where the entrees are a lot, cause your tips are gonna be based on the entree. So if you're going to be a server work someplace where you can have a high commission and so you're on commission, when number one, when you're serving and the number two things always change in the service industry. No table's the same. And that plays well. You have to think quick on your feet and you have to have a figured out factor and all those things play well in sales.
Abigail Lacy:
But also, I mean you have to be quick on your feet. You need to be able to read a table. But I always found that there was almost a direct correlation, and the skills required to when I come to up to a table, my tip is kind of dependent on how well I do, but also how well they like me.
And so, you have to, find a way to connect with your patrons and the limited amount of time that you have with them while they're at your table. And I kind of relate that to building rapport on the phone with a cold call or anything. So, I think that's where, the skill sets between what I did in high school and college really correlated to my career in sales, still does.
Chris Corcoran:
Do you miss it?
Abigail Lacy:
I wish I, sometimes next time I'm just going to take time in between jobs and I'll just pick up a waitressing gig. I just wanted to go back and do that again.
Marc Gonyea:
My wife is in sales. She waitressed all through college. She says that the time. I've never waited tables. So let's talk about it.
Chris Corcoran:
Marc was busy being a pretty boy at GAP or was it Banana or both?
Marc Gonyea:
Yes. Guilty as charged. I spent all my money there. I had other jobs too. I painted houses. I did construction work. Come on man. You can't paint me with that broad of a brush.
Abigail Lacy:
Okay, retail is also so a hard gig we shouldn't discount that because I feel like people that work in retail, they have to deal with a lot of stuff.
Marc Gonyea:
Nights, weekends, people, like in waiting tables, they're not too nice and kind sometimes.
Abigail Lacy:
How frustrating it must be to nicely fold shirts and then have somebody just come look at it and pick it up and drop it back not folding it back.
Marc Gonyea:
All right, well let's talk about when you joined, so let's get into that right away. Well take us, you just mentioned the early days, but what was it like?
Abigail Lacy:
Well the office was a lot smaller than it is. I mean, I think when I joined they were what, like 35 or 40 SDRs? I don't know how many you guys have today. How many do you guy have?
Chris Corcoran:
We have like 130.
Marc Gonyea:
When you joined we were courthouse road, right? Top floor. Not the first floor.
Abigail Lacy:
Top floor.
Marc Gonyea:
Yeah, that'd be about 30 people.
Abigail Lacy:
It was enough so that when I came into my interview I said to Marc, "Are there any females that work here other than Tiana?" Because I saw no females in the office. He listed out the females, but now you guys have a ton of females in sales. Maybe we can talk about that later, I think that might be a good topic.
Marc Gonyea:
Let's talk about that now. I couldn't agree more. My wife is in sales. I have three daughters and one poor son. But why is it challenging for us to find more women now who want to go into sales here? We get asked that a lot from clients. It's our number one request.
Abigail Lacy:
No, I know that because I used to sell memoryBlue and that was one request that people always said, "Can I get a female?" And some females out there might disagree with me when I say this, and I can't remember if this is actually true or if I just said this to get clients to come around, but I think it's true — it's kind of the reverse of what I said with men waiting tables.
With females, it's sometimes harder to be in sales. It's just a different personality trait. I don't know if it's being able to bounce back easy from rejection or what it is, but when you have a female that can take that, who you know appreciates it, likes the hustle, is competitive, I guess maybe it's also a bit of competitiveness.
Men tend to be a little bit more competitive. But I feel like when you have a female that has all of those traits, she's going to clean up, you know? But it is a little bit more of a risk factor whether this type of job fits for females. I don't know if that's a bad thing to say or not, but I just, I see by the numbers, I'm usually in a room with a majority of men in a sales position. And I think you just play to your strengths.
Marc Gonyea:
What could we do to get more women into sales early in their career?
Abigail Lacy:
Nowadays there are a lot of programs that are specifically geared towards sales, which I think that's one thing. I also think, and we talked about this before I walked in, there is some stigma I guess associated with professional sales.
I wrote about that. I don't know if you guys remember, but that was my senior SDR article. The challenges I had, what would you call it? An internal crisis maybe, in my early days. I had the misconception that a lot of people that do sales might be a little bit of a selfish profession. And maybe that's why some women don't jump to it too, but I firmly don't believe that that's the case anymore.
Marc Gonyea:
It's a challenge. So when we're able to hire them, we do. Like men, they can be effective, but they can be more effective in many ways, too. It's just harder to find them and we're always working to find more. So you started, you're happy there were more women here than just the one, two that you'd interact with. And then you got in your campaign or you started working with us, what was that like?
Abigail Lacy:
So I had, I think I was on CEB and then I was on a company, LastPass, which I think almost everybody listening to this podcast knows exactly who LastPass is, knows that they're a great product. You know, they really are. And they started a one month campaign was with me half time. I bombed it. I just bombed it. I lost the client within the first month. My manager, Michael Mishler, he was really good at reading how to encourage people when they were feeling discouraged. And he worked with me and I think he identified that really it came down to my confidence.
I was lacking a little bit of confidence in the job. But either way, we worked on it and I think that after I lost my first client, then I got put on CEB and a business intelligence tool. But then I think if my memory serves me correctly, my first full quarter at memoryBlue, I was number one in the company I think or something like that. Either way, I won a lot of money and I got to take a trip to the World Cup, you guys gave me two weeks off, which was really sweet.
Marc Gonyea:
Part of a benefit of being in sales, you hit your number, you go on vacation.
Abigail Lacy:
Yeah. So I got to go to Brazil for the World Cup. So it was a rocky start. Once I got my confidence up and had a little bit of time under my belt to learn skills and work on things, I think that kind of turned things around for me.
Chris Corcoran:
So I want to talk about that for a minute. The initial failure. And the reason why I want to talk about it is, if you look at your background in your life, you've been wildly successful at everything. You were phenomenally successful in college, and then this is your first professional job and your first client and it ends poorly. And so talk about that and how you bounce back from that. Because sometimes I worry that people who are successful at everything when they first run into a challenge, that it's heavy and it's hard for them to snap back from it.
Abigail Lacy:
I'll just say that in high school I really wanted to go to UVA and UVA wait-listed me. That was my first big failure, I'd say. I remember my dad called me and read the waitlist letter to me while I was at Sonic and I just started bawling my eyes out. They're like, what do we do with her, they just put me in the back and I just remember sitting there like making salads, just making salads and just bawling my eyes out over not getting into UVA. And I'm too proud. Right? When I got into the JMU honors program, I said I'm yanking my name out of UVA. They can't even take me if they want me later. They're dead to me. They still are.
But I think, it is disheartening to encounter failure right out of the gate in your professional career. I said that Mishler worked with me a lot on my confidence, and the way that he did it was like shit happens, you'll get the next one and let's figure out all the ways that we can get you to succeed in the next client.
I kind of relate it to when I started closing, because I chose to stay at memoryBlue and close, because it was such a supportive environment, which we can talk about later. But I remember I was so petrified of saying something wrong on a sales call. And one day, I think it was you, but it might've been Tommy, one of you guys said to me, there's no deal that you can screw up so badly that we can't go back in and fix.
That really stuck with me. And that's actually a phrase that I use all the time when I feel like I'm training a new employee and getting them into either, mainly a closing role, but there's nothing you can screw up so badly that you can't fix or that you can have a second chance at. And so I think that's something really important to keep in mind when you encounter failure early on out of the gate.
Chris Corcoran:
So Abigail if you look back before your first day at memoryBlue, what advice would you give to you? Knowing what you know now, before you embark on this journey?
Abigail Lacy:
I do wish that I had, going into sales, I could tell you guys I had kind of an internal crisis over thinking that sales was a selfish profession. I wish I didn't struggle with that so much. And I think that anybody who's thinking about going into sales, I would argue that about half of them are probably hesitant to go into sales because they feel like it's somewhat of a self-serving profession.
I had something that recently happened to me, so I'll kind of go on a tangent down a rabbit hole on this. I was talking on a recent trip that I took, because I just took two months off, traveled around a lot. But I met a young 21-year-old guy from Germany. He's fresh out of college trying to figure out what he wants to do with his life.
And one day we were talking and he said, "Abby, I'm really surprised that you're in sales, because you're so kind and caring." I was like, "Well what does that mean?" And he said, "Well, I kind of think of sales as being very much a self-serving profession. So I'm surprised that you do it."
And that's little blunt, but, as I said, I've actually struggled with that internally myself. I understand why you might say that, but being in sales for as long as I have and having the experiences that I have and seeing all the different types of salespeople, I've met a lot of different sales reps.
In sales you can approach your job in two different ways. And I kind of boiled it down for him. In an example of a car salesman, that's what everybody thinks about when they think about sales. A car salesman can either ask when you come on the lot, say, "Okay, well what's your budget?" and push you to the car that gets him the most commission, him or her, the most commission that's within your budget.
Or that car salesman can say, "Okay, well tell me a little bit about your lifestyle. How many people are usually in your car? Do you drive on highways or in the city? Or are you concerned about the environment? Do you want a car that's low emissions?"
Learn more about your lifestyle and then set you up with the right car for you, regardless of how much commission they might make off it. And that's how you can be a good person and give back even in a profession that might, on the surface, seem a little bit self-serving. It's not if you do it right, if you always lead every interaction with how can you benefit the customer.
And another example that just happened to me the other day, somebody reached out to us and they weren't a fit for my company. They really weren't. But I knew that one of our competitors was, and so I responded to them and CC'd a sales rep from the competitor.
I said, "We're not a fit for you, but I know that this company is." And the person responded back to me directly and said thank you for doing that.
Most people wouldn't take the time out of their day to do that nowadays. I think that if you're hesitant to get into sales because you feel like it's self-serving, as I did, think about it a little bit more and approach the job differently and I think you'll find that that's not the case.
Marc Gonyea:
That's sage advice. Sometimes, Chris and I wonder, going back to what you're talking about with women in sales, are we not seeing more because  they're turned off by whatever they think their conception of what the industry is?
Or are we losing out because they're not coming to work at memoryBlue (specifically)? But I still think people need to get educated on what it means to be a sales professional. Although it's much more prevalent now, especially with the emergence of high tech and high tech selling as a career profession, I still don't think people are saying, "I want my little Abigail to grow up to be a salesperson." I think that people are still like saying, well a doctor, an attorney, maybe an engineer, would be good. Which is fine. But it's kind of weird, because it's not how the world really works.
Abigail Lacy:
I still go back and forth all the time. Some days I think I'm going to quit and just join a non-profit because that's kind of, my heart is in non-profit. But I do a lot of that outside of my job. But the fact of the matter is that non-profits can't help people without money. And money comes from commercial organizations that you kind of have to have it. Like the rat race is required in order to help anybody.
Marc Gonyea:
The good and the bad. So, let's go back to memoryBlue. So, you're an SDR, CEB, the BI vendor, LastPass. Tough to have to do two. How do things progress with working for Mishler and then kind of evolving the, you know, what I think I want to do in the future. I want to be a closer, maybe that was always the goal when you started? Maybe it wasn't.
Abigail Lacy:
It definitely was not. I got offered a job at one of my clients, but I looked at it and I said, I want to be successful. I want to get into a closing role. And they were offering me a closing role and they were offering me a pretty high base. It would have been a really good gig. But I also looked at it and I said I would have no mentor there. I would have no one to teach me.
And I think that you see that a lot nowadays. Somebody will jump because they can get into a closing role or they'll jump because the client or the company is offering them a high base salary. But I think that was one of my key reasons for staying at memoryBlue. I saw the opportunity to really hone my skills, hone my talent under the wing of Tommy and Marc. I worked with you a lot earlier on back then. And I think that experience was invaluable.
And it's taught me the importance of having a really good mentor in whatever company you're in. I had one in my last job, too. Arguably one of my closer friends. So I think that's one of the reasons I chose to stay.
Marc Gonyea:
Yeah. And that's why people who work for you now, they're lucky or fortunate that you have this belief that that's one of your core values as a person. And it's wonderful that you've decided to stay. The business is set up for people to leave. If they want to leave, they can go get hired by the client. They don't have to, if they don't want to. It's always your choice.
But we would prefer, especially now as we continue to grow, that people stay. And what we think we offer folks is that it still hasn't changed. Probably a little more busy. I'm a little busy, but that's what we're trying to do.
Abigail Lacy:
I've noticed you guys keep SDRs on staff for a little bit longer. I think I wrote about this in my alumni highlight or on my website, but I remember I was getting really frustrated. I was like, I've been an SDR for 14 months. Why can't they just move me up? Why are they dragging me along like this?
I was getting so impatient because I saw people getting hired out. But I think it's important to recognize that there's always more that you can learn in a position and that it's really important to trust the process. Stay in the role for the time that is kind of prescribed or is allotted in that SDR role. Because yeah, there's still a lot to learn and jumping into a closing role too early, that's not necessarily a good idea. I think you need to wait for the right opportunity to present itself.
Chris Corcoran:
It's funny that you say that, because one of the things that we screen for is impatience. So, we want people to be assertive and impatient and go and go and go and go, but then we want them to be patient.
Abigail Lacy:
I was going to say, has the personality tests changed since then? Because I probably would have not passed that one. I remember me and Ben Decowski both had a weird personality assessment. I like money, and I'll say that, but I'm not money motivated. That was the one reason I failed my personality assessment.
Chris Corcoran:
What does motivate you?
Abigail Lacy:
I like having challenges. I really like finding a challenge and overcoming a challenge. I would say another thing that I learned at memoryBlue, one of the challenges that I liked the most, was I love winning deals, right? That's probably the best of anything – closing a sale. I felt most accomplished. But not everything in sales or in account management is peachy keen all the time.
Sometimes, you screw up and a customer's pissed. And I think that turning those interactions around are some of the most gratifying challenges. So, it's a weird thing to say, but I do think that never upsetting a client speaks very highly of a company. But also, when you handle it when things don't go well, I think that speaks even more to your caliber as a vendor.
The challenges associated with winning competitive deals and just the challenges in general in sales, it's always new. You're dealing with something different every day. At least in my industry I am. So, I think that's what I really enjoy about it. Figuring things out. I mean, the money is nice, right? Don't get me wrong. But nine times out of ten, the experience will be more important to me than the paycheck. But I do want the paycheck to be healthy.
Chris Corcoran:
Right. But, I think you also are motivated by making a difference and impact, which is kind of what you do outside of work. Why don't you talk a little bit about that.
Abigail Lacy:
Sure, so I'm very involved in Special Olympics in the local area and I actually got involved in Special Olympics through somebody at memoryBlue. So, in college I had a little brother through Big Brothers, Big Sisters. Jeremiah, who is 15 now, it's crazy. We went caving. And I remember the day before I started, you and Mishler called me to say hi and check in on me. And I was with Jeremiah and I had to hang up on you guys because I was like, "Oh, he just found a turtle!"  or something. I have a picture of him, he is so cute.
But yes, I had Jeremiah, he doesn't want anything to do with me because he's 15 now, but we still text sometimes. And he lives in North Carolina. I don't want another little brother or little sister through Big Brothers, Big Sisters, even though I think it's an amazing organization.
Chris Corcoran:
When did you start doing that?
Abigail Lacy:
When I was in college as a Sophomore. Jeremiah and I got matched when he was five. I was working at memoryBlue and Matt Fisher, he was the soccer coach with the Special Olympics soccer program, and they needed some help with volunteers. So a group of us went out like Stacey, Robbie, a lot more people.
Marc Gonyea:
Yeah a ton, but this is why you're amazing, too. You were introduced to it and I think it's great that it was part of the culture, but you were kind of the spark that got it going.
Abigail Lacy:
Well, I mean Matt got me involved, right? So I went to Matt and I said, "Hey, I really enjoyed volunteering at that soccer tournament. I'd like to get more involved."
And so he introduced me to the area director for Special Olympics. They always need a lot of volunteers. I'm looking to fill some positions right now if anybody's open. They snagged me.
And now I'm the soccer coordinator, so I run the entire program. I have about 300 to 350 athletes in my soccer program. That happens every Fall. And then I also help out with basketball because I love basketball.
But then I'm also part of management for our area now, too. So area 26, which is Northern Virginia and I'm the secretary for the council. I'm helping make decisions about how we spend money, how we make money, things like that. Some administrative things because I'm bad at sports.
Marc Gonyea:
You can be in sales and do these wonderful things for other people too.
Abigail Lacy:
Just last week Eric Paul came out and helped me on some basketball refs. Matt Bright comes out sometimes. So Stacey, she's still here. She's a DM. I mean, it's interesting to see and I don't want to leave anybody out, but a ton of people help me out with Special Olympics. Joey, Yaseen – talk about a hustler. He's doing really well.
It's nice that even though I'm no longer at memoryBlue, I don't know if you guys talk about it a lot. I talk about it a lot. The strength of memoryBlue's network, it's not only you have your friends through it, I'm taking at least two or three trips with people that I met at memoryBlue this year. They helped me out with my Special Olympics.
But also, being in the working world isn't as scary when you have the network behind you that you do with memoryBlue. You have a safety net in the form of, say if I were to ever leave my current job and be in need of another, I know that I could reach out to a few alums and they'd line me up with some interviews. And I think that's very powerful. I kind of view it as a support system, a safety net for people. And that's one of the benefits of coming to memoryBlue.
Chris Corcoran:
That's what I always say when I'm talking to SDRs when they first start. I say that it's really important in terms of impressing people. You actually want impress your client, your manager, and Marc or me or whomever. But I think it's really important to impress the other SDRs who you're working alongside with.
Because in a year or two or five, everyone is going to be working at other companies and you want to be remembered as someone who was good. So in the eventuality that you're looking to make a move, people would say, "Oh Abigail Lacy's looking for work? We absolutely need to get her in here somehow."
Abigail Lacy:
That brings up another thing that I see a lot of young people doing today. Burning bridges. Don't burn a bridge when you leave a job, give two weeks. Leave on good terms, because you never know when you might need somebody. And I think that sometimes people are so shortsighted, they burn a bridge and it's so stupid, it's so easy to just leave on good terms. Just take the extra two weeks and leave on good terms.
Marc Gonyea:
It's hard though. People have this uncomfortable-ness with quitting. Maybe it's lack of maturity for some people.
Chris Corcoran:
So Frank Taylor, he was an SDR and then a manager. And I remember when he resigned to move to Canada to get married. He told me, "Chris, I've worked here for two and a half years and I know that all you're going to remember is how I handle these next two weeks."
And then he said, "I'm going to give you the best two weeks of my time." And he did. And I remember it. A lot of times it's hard, people short time it or some people just burn a bridge and just walk off the job. Other people kind of just phone it in. But it's really important to keep those bridges intact.
Marc Gonyea:
Let's go back. So you got promoted to a closer, that's a big change. You decided what you wanted to do, there's a learning curve there. There's things that you learn. What were some of the things that you learned when you were in a closing role?
Abigail Lacy:
Well, the first thing I learned, to get into the closing role, I hadn't really been as vocal about what I wanted. And I kind of sat down with you (Marc) and we talked about it and you said, "Abby a closed mouth doesn't get fed. If you want something, you have to vocalize it and tell us."
And I think that was the step getting me into the closing role that was a good lesson to learn. And I repeat that to people frequently. But I think the confidence that I mentioned earlier, that was definitely a learning lesson.
Now I really enjoy the challenge of solving problem. I don't enjoy them when they happen, but I enjoy fixing them when things go awry with customers. But that's definitely something that I struggled with. When I became a closer I feel like I fit pretty well into selling memoryBlue and closing. Tommy is such a great coach. But I did struggle with handling it when things went wrong. That was really challenging for me at first, along with some of those account management aspects.
Marc Gonyea:
Because we were working with a lot of people, too. We work with a lot of tech companies and all these tech companies don't work out, and these people are under a lot of pressure. When people are under a lot of pressure, they act insane or irrational or naive or some people are jerks.
We had that experience, right?
Abigail Lacy:
Yeah, I remember that, and I don't know who was listening. I think Tommy overheard me say it, but the customer was basically calling me a liar and said that I said after a contract was signed it could start within a week.
And I said I would never say that. I said we always need more time to do that and it's clearly written in the contract. He said, "Well I don't care what's written in the contract. You told me verbally that it was two weeks." He even made the guy on the phone call say you heard her say that, right? And he kept trying to get me to come around to say something like, "Okay, I'm sorry, I apologize." And that's another thing women do. Sometimes I am the biggest perpetrator of it. I apologize too much.
I told him all the ways that we would work to get the campaign ramped up as fast as it could. I laid out all my methods for remediation. I didn't apologize, because I didn't do anything wrong, but I laid out all the methods of how we were going to exceed expectations in this next step. And he just didn't answer me. And he just stayed silent, waiting for an apology, the silent game.
I eventually got so worked up and I said, "So I'm not going to play the silent game. What do you think about what I said?" And arguably that's not the best way that I should have handled the situation. Knowing me there might've been an expletive. I probably did drop that bomb. And so lesson learned there.
Don't drop the F bomb to a customer who's unhappy, but I stood my ground and I've learned how to handle an unfortunate situation. And, it got worked out. I think that customer ended up loving their SDR. They stayed for at least six months with us and offered to hire her out. I don't think that the contract worked to hire her out, but they stayed for a long time after that happened.
Marc Gonyea:
I think I'm almost positive that person came back two or three times after and I think we were in negotiating a contract with them like last week, I think. I'm pretty sure it's the same guy. What's swallow your frog?
Abigail Lacy:
It means doing the thing that you least want to do in the day. I think in 2019 that was my New Year's resolution, swallow your frog. I think it's a Japanese proverb. I'd have to look it up. But it's the concept of doing the thing you least want to do at the beginning of your day and just getting it out of the way. And so if I ever have a call I don't want to make, I always try to do it first thing in the day. And I feel like that's a tactic that I picked up while at memoryBlue.
Chris Corcoran:
Let's talk about you closing. Do you remember the first deal you closed? Since you've moved into a closing role, what's been your favorite deal or your biggest deal? Your most memorable deal?
Abigail Lacy:
ThreatConnect actually is still my most memorable deal. I'm pretty sure, you guys don't have to check, but I think it was the biggest deal that memoryBlue had ever closed. You guys have definitely surpassed it now because you guys are killing it. But that was, at the time, the biggest deal in the history of the company. So I think that was my favorite deal.
Chris Corcoran:
Was there anything in particular or just the size?
Abigail Lacy:
So it was nice that it was the biggest deal, but I really enjoyed my customer point of contact. She was really nice and I just really liked her.
Chris Corcoran:
So what about the one that got away? Is there any deal that you lost that haunts you now or in your current role?
Abigail Lacy:
Especially in my current role, I'm in the drone industry, and it is so cutthroat. Things change so quickly. It has some weird nuances that I don't want to go down this rabbit hole, but it's just a hard industry.
And I think something that points to it is that, you know, the CEO and founder of Blackboard, Michael Chasen, the guy who built Blackboard from the ground up, he invested his own money into one of our kind of competitors.
Because that's the thing in the drone industry, everybody's kind of your competitor. He invested his own money. He was the CEO of this company for a while and they just phased him out. Brought in a new CEO to see if the new CEO could get the investors the results they wanted. But if anybody should have made that work, he is a seasoned Executive. I've met him, he's a great guy. He's super sharp, a great businessman. And so I feel like that just shows as a case in point how freaking hard this industry is.
And it's hard for a lot of reasons. It's hard for regulatory reasons and you're asking companies to change the way that they do things. So rather than walking down your distribution lines, the wooden poles and power lines that go through your neighborhood, rather than having foot patrols, you're suggesting flying a drone. And there's so many ways that that can save a company time and money that you're, sometimes the companies that see the greatest benefit, they are just mammoth industries.
It's utilities, it's telecom, they're slow. When you asked me what's the hardest deal? I would just say losing deals in the drone industry in general have just been really hard for me. But a lot of the times when I lose something, there's actually nothing that sometimes I did wrong or that we did wrong. It was just the company's not ready to innovate. There are so many things at play that it's no reflection of our company. But also, it's a very crowded market too, which is hard.
Every deal is just hard for me when I lose them. I think I hate losing. That's an interview question, right? I definitely hate losing more than I like winning, which is why when you guys asked my favorite deal, I can only think of one. But if you asked me about my hardest deal to lose, I remember every single one as if it was yesterday. Even at memoryBlue, they haunt me.
But I think, with that being said, I've talked a lot about why the drone industry is hard and challenging. The job I took when I went from memoryBlue to Measure, the drone company that I'm at right now, they were brand new and didn't have much revenue. So taking commissions into account, I took a 50% or 40% pay cut from what I was making in my last year at memoryBlue to go there. But it's definitely been worth it.
Chris Corcoran:
What's the best thing about working for an early stage company? What you should look for?
Abigail Lacy:
For an early stage company, I would definitely say make sure you look for the team, that is the most important. You need to make sure you have a good product, right? The team or the people, they're going to be your ride or dies. You need to make sure that you love your team. And I feel really fortunate, like I said, I have an amazing mentor at my company, Dan Rothfeld. He's phenomenal. So, good product, good team.
But I think also look for leadership that is going to let you flex your muscles in whatever department that might be. People always ask me if I want to go get my MBA. And I said, "Well, why would I?" I just had four years of a crash course.
You know, because working for a startup, you get to see a lot of different things. You see how revenue plans are made, how commission plans are structured, how accounts receivable, how accounts payable, how all of those make a business run. And every single function within my company, I have at one point done. Just because, if it needed to be done, I could step in and do it.
And that's good and bad. Sometimes, I'm sure you guys could never imagine this, I take control too much of too many things, and it distracts me from what I really need to be doing, which is selling.
But at the same time, the experience has just been, I couldn't replace it. And so I think if you're looking to go to an early stage company, it's really important to look at the leadership team, be comfortable with them, know where the venture capital is coming from, because your board and who your money comes from can make or break you. And not all money is created equal.
The people who put in that seed round, they own you. And the people who lead the following rounds, they also own you. You have look at the leadership team, look at the venture capital team and of course have a good product. But, just keep your eyes open for where you can learn and learn new skills and hone your existing skill set.
Chris Corcoran:
It'd be helpful to understand, how big was the company in terms of people when you joined it?
Abigail Lacy:
I was sixth I think. And the company's changed a little bit. We've split off the services. It's kind of confusing, but now we're separating the services and the software team.
And so I went with the software, which was a significantly smaller company. So things are shifting a little bit, but it's all really exciting and it's, these are all the best moves for the employees involved in the services and software side. I think before the split, we were up to like 60 or so. I mean, still not a huge company. But that's the drone industry for you. You have to kind of be a lean machine or you're not going to outlast your competitors, because like I said, there's such an adoption curve that you have to stay afloat to outlast competitors.
Chris Corcoran:
So that's some of the good things about working for an early, early company. What's the worst thing?
Abigail Lacy:
I mean, this is pretty simple and I'll probably come up with a better answer after this, but just come to the realities that your benefits are going to suck, you're not going to have a 401K that contributes, you know? And then I think just other things to watch out for is what I was saying. You're going to have the opportunity to take control of a lot of roles and responsibilities, but always just maintain wherewithal on whether you should. Sometimes you need to say no, and if you're a control freak like me, that's really hard.
I have that with Special Olympics too because non-profits are very similar to startups with the fact that there's too much to do and no people to do it. You're fully relying on a volunteer force. I say I want to go into non-profits, but I am fully aware of the challenges that are there too, because of my work with Special Olympics. But it's the same kind of thing. You have to know your own personal limits.
I think nowadays burnout is a real thing and there are articles on it, especially in the tech industry. Burnout is a real thing. So you need to know yourself, know what you can take on. For example, I've been asked to become the basketball coordinator and I can't do it because I know if I'm soccer coordinator, basketball coordinator and secretary, that's too much and I can't take that on and do what I get paid to do.
Chris Corcoran:
So you've had a bunch of different roles, from SDR to closer to sales leadership. Which one's been your favorite?
Abigail Lacy:
Probably an individual contributor. I mean, there is definitely some thrill and satisfaction I get from managing someone and seeing them grow and seeing them improve. But I think I'd probably prefer the individual contributor because I like my time to be my time and I'm a control freak. And as an individual contributor, I have the most control over it. I think when I first started, another reason I thought sales would be a good fit for me is because I like instant gratification.
As a waitress, you get your money at the end of the day. I think some wonky restaurants do it different now. When I was a waitress, I left with cash in my hand at the end of every day and that was really nice. And I think that's what you get also as an individual contributor, you see the fruits of your labor right? Pretty immediately. And that's something that is unique to sales, I think.
And so while I can do leadership and I like leadership and I think, one day down the line I might not maybe want to be a VP of Sales, but a larger management role. But I get the most thrill, I think, from being an individual contributor, but maybe the most well rounded satisfaction out of management.
Chris Corcoran:
What was your least favorite role that you've had?
Abigail Lacy:
Can I say SDR? I mean look, you have to earn your keep, it's tough. Sometimes that's not fun. I think SDR is probably my least favorite role just because it's a grind, man. There's a reason why so many companies have a hard time getting successful SDRs and it's because it's a hard job. That's why an environment like memoryBlue I think is so important, because the job sucks and you have 30 people around you who are also just living in the suck.
Marc Gonyea:
Yeah. I mean it is what it is, right? We believe that it's a must have for people. Most people who want to get into high tech sales.
Abigail Lacy:
It's a necessary stepping stones 100%. I say that it was the worst job, but in no way, shape or form do I think I would be where I am if I didn't have that initially to start with.
Marc Gonyea:
But we don't expect people to do it for all that too long. And most people in the industry shouldn't. We call them SDR lifers.
Abigail Lacy:
For some people that's a good role.
Marc Gonyea:
But for the vast majority of the folks who get into it, you're not going to do it that long. Partially because you can learn how to do it within 18 to 24 months, 36 months tops. But it is ridiculously hard.
Abigail Lacy:
After being an SDR, I don't think that you have to feel like you have to go into sales. I think there are a lot of routes that you can take from an SDR, account management, renewals management of a team.
Marc Gonyea:
So you know, in one way for your career, being an SDR is swallowing the frog.
Chris Corcoran:
Take it and it's going to be challenging and you're going to get what you put into it.
Marc Gonyea:
You've got to lean into, you got to lean into it, because if you wait it out, you can't wait it out. But some folks, and we train people not to do this, is they'll come into the SDR job and wait it out just by like serving time.
Abigail Lacy:
No, you can't do that. And I think that you guys have even expanded the resources that you've made available to your employees since, I mean, you can win a trip to Mexico. I mean there's so many vacation incentives.
Marc Gonyea:
We would have loved it to have had it when you were here.
Abigail Lacy:
I can't really complain because like I said, I took vacations and I won that huge incentive and that's why I was able to go to Brazil. So I shouldn't compare it too much, you have to definitely take advantage of all the resources that are made available to you at memoryBlue. The more styles of selling, the more technologies that you learn, those are all different things that you can apply to your job. Who knows when, but later in life, it's always going to be applicable.
Even something as simple as learning how Salesforce works. I had to set up the Salesforce environment at my own company and right now I'm kind of our Salesforce administrator. And thank God I know how Salesforce works. And that's something so simple, so basic, but it's an example of how even the minutia can be something you use later on and you don't know it at the time.
I mean, when you have different clients, I remember sometimes I would talk to people and they'd say it kind of sucks having a lot of different clients. I guess at memoryBlue now like this, there's some sweet accounts that you can get on. The sweet accounts that are easy to hit quota, and people who don't land those sweet accounts, sometimes I think they're kind of bitter.
Don't be, you're going to be better for it. The people who are on those sweet accounts should be jealous of you because you're getting more experience working harder accounts.
Marc Gonyea:
That's right. Preach, preach girl. This is how we compete against bigger companies to get people to come work here. It's probably easier to go take an SDR job at Oracle than it is to come to memoryBlue.
Most companies are paying them some sort of money and I would argue it isn't its purest form of sales. It's kind of a different type of deal versus if you're coming in here doing Balanced Insight or a LastPass, they were trying to make that move into the commercial world, right?
You're breaking into an entirely new market for them. That's what we will tell people here. You want to embrace the suck because the suck is that you get good, you get better during the suck. If you don't embrace the suck, then you might as well go do something else, brother or sister, it's too hard.
But we try and balance it. And I would argue in some instances, sometimes, I'm not saying it's easy working here, but it's, generally speaking, we still have a lot of work to do. It's more organized. We probably have more resources. If you're a new SDR at memoryBlue at any of the offices here, we will fly them in and they'll go through a two day boot camp. They do a six week program after that. We have call technology software. People can record the calls and break them down by keyword.
Abigail Lacy:
Oh man. So another concept of embracing the suck. I hate my own voice. Everybody does, right? Everybody hates their own voice doing call recordings as one of the most painful things that you could ever do. You're doing call evals. I mean the company was a little smaller, I think when I started at 35 or 40 people.
So for trainings, everybody would be, it was one office, one training on Wednesdays, I think. And you'd be in a room with all of your peers and the DMs would select two or three call recordings to go through with everyone. And you had to listen to it in front of everybody. And it was always so painful, especially when you got annihilated.
But none of your peers are going to annihilate you too hard because the DMs were smart. If somebody was extra mean that week, their calls are getting evaluated the next week. But I say that because one of the things I miss the most is I wish I had call recording software, because we can't afford it.
My company, we're too small. I mean you guys invest, you guys invest in your employees and training them and that kind of software is expensive. But I miss it so much. I wish I had it so I could even just to listen to myself, and figure out how I could improve. Not only just for managing employees but improve my own skills. So embrace the suck.
Chris Corcoran:
Awesome. Very good. Well we appreciate you coming out and sharing some time and sharing wisdom.
Marc Gonyea:
Dropping some science. This is great. So Abigail, thank you very much. It was a pleasure, as always.
Abigail Lacy:
Thanks guys.