Episode 11: Christian Mory – The Trifecta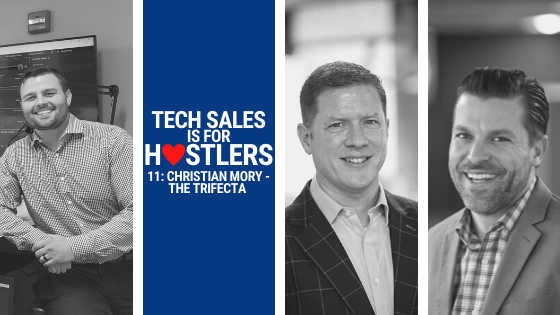 Athlete, Eagle Scout, sales professional. Many are lucky to be successful in just one of those areas, but Christian Mory is the trifecta. Mory became an Eagle Scout before graduating from West Virginia University as a D1 college wrestler, and today he is a seasoned sales professional operating as an Enterprise Account Executive at QOMPLX.
On this episode of Tech Sales is for Hustlers, Christian walks Chris and Marc through what it was like to move into his first closing role, how he made the tricky transition from closing $3,000 deals to enterprise-level agreements more than 10x that size, and the key lesson he learned letting "happy ears" get the best of him as a potential strong deal turned into his most painful loss.
Full Episode Transcript
Name: Christian Mory
Title: Enterprise Account Executive
Company: QOMPLX
Exit Year from memoryBlue: 2013
Months at memoryBlue: 14
Alumni Path: Hired Out
***Introduction***
Christian Mory:
You know, a lot of people are competing for that person's time, so you really have to be on their priority list to get taken seriously. Otherwise you get bumped down and someone just evaluates you and it goes into a black hole. So I think you really have to find people with those specific priorities. I mean, I think of all the things that could be sold to a chief information security officer, everyone is, internally, vying for their time as well.
Marc Gonyea:
Tech Sales is for Hustlers is excited to bring in Christian Mory Enterprise Account Executive at QOMPLX. Christian talks about how he transitioned to a closing role. How he was able to work his way up to close bigger and better deals and what it's like to work at a startup.
Marc Gonyea:
Hi, I'm Marc Gonyea.
Chris Corcoran:
And I'm Chris Corcoran and you're listening to Tech sales is for Hustlers. Tech Sales is for hustlers is a podcast where we catch up with memoryBlue alums and reminisce about their start in high tech sales with us.
Marc Gonyea:
Let's go get some Corcoran.
Chris Corcoran:
Gonyea. You know, I'm ready.
***Episode 11: Christian Mory***
Marc Gonyea:
Welcome Christian Mory.
Christian Mory:
Thanks for having me.
Chris Corcoran:
Hey Christian. Good seeing you again.
Marc Gonyea:
And I want to go back, like where'd you grow up?
Christian Mory:
Harrisburg, Pennsylvania. Central Pennsylvania. Born and raised.
Marc Gonyea:
I've got your resume here when you interviewed with us back in 2012, boy scout growing up. Eagle scout. 21 merit badges. And how do you get 21 merit badges? I don't have any.
Christian Mory:
A lot of work.
Chris Corcoran:
Yeah. So what was your Eagle scout project?
Christian Mory:
I rebuilt an old meeting area outside of my church.
Chris Corcoran:
So becoming an Eagle Scout, that's quite an accomplishment.
Christian Mory:
Yeah. That's one of my proudest accomplishments.
Chris Corcoran:
How did it feel when you earned that?
Christian Mory:
It was great. And, it's one of the only times I've seen my Dad, who was an Eagle Scout, actually cry.
Chris Corcoran:
Wow. What would you say was the biggest takeaway from the Scouts and earning that Eagle Scout?
Christian Mory:
I don't know. I guess a sense of supporting your family, your community, whether that's your faith community or the community, you know, putting others before yourself.
Marc Gonyea:
Wow. We've got, we haven't talked about it yet. Growing up wrestling. Yeah. Tell us about that.
Christian Mory:
I started wrestling in fourth grade and then did the whole way through college.
Marc Gonyea:
Did your Dad wrestle?
Christian Mory:
He did, he was JV. He ended up playing D1 football at Miami for a couple of years. He wasn't really an accomplished wrestler.
Marc Gonyea:
Got it. Okay. I was just curious how you got into that out of everything because your Dad had played football and you're obviously a phenomenal wrestler, so you're very modest, but keep going.
Christian Mory:
It was my neighbor actually. So there were only a couple kids in my neighborhood that were the same age. He got involved in it and dragged me along and then I ended up falling in love with the sport. Did well in high school and got recruited a few places to go wrestle in college and then, you know, settled on West Virginia. I wrestled four years.
Chris Corcoran:
I remembered you telling me that when you first started wrestling, you didn't get off to the fastest starts?
Christian Mory:
I was losing to a couple of the girls. Now, to be fair, her Dad was the coach. The physical difference in fourth grade is not as great as it is once you're tall.
Chris Corcoran:
Did you think about quitting?
Christian Mory:
No, actually I loved it. But I remember my Dad telling the coach like I don't know if he's got it in him. I was at that age I was soft, but yeah, wrestling kind of defined my life for a long time. And I know some other guys, you know, once you're done, you kind of have an identity crisis and, what do I do now? It's been everything. Not everything, but you know, a large part of who I am and now it's just over.
Marc Gonyea:
What was that transition like? That's a huge commitment that takes over, right?
Christian Mory:
I mean it's a large part of your life. Well just really kind of throwing myself into my job.
Marc Gonyea:
And let's talk about that. So at WVU what did you major in?
Christian Mory:
International Studies, it's essentially political science plus foreign language. I wanted to travel, but I didn't really think much about it. I dunno. I thought I wanted to work for the state or something like that.
Chris Corcoran:
What was the biggest takeaway from your experience as a wrestler that you had? Scouting, it was serving others and being about something more than yourself. What did you take away from the wrestling experience?
Christian Mory:
It's kind of the value of hard work. Wrestling is one of the only sports where it's just you out there. You live and die on how much work you put into it. And I've always been a fan of saying, you know, with wrestling you get out of it exactly what you put into it. I don't consider myself the most athletically gifted guy. But I put in the work to get in better shape in better condition than some of these guys that are just, you know, natural athletes. Going to camps and clinics to learn better technique that so that, you know, I may not be the best athlete but I can be a better wrestler than you.
Chris Corcoran:
Just kind of essentially outworking people. How do you apply some of that?
Christian Mory:
Well, I always draw that comparison is, you know, sales, you're on a team, you're still competing with your teammates, which you are doing in wrestling as well. I don't want to be at the bottom of the pack. You're competing with other teams out there. You're competing against, you know, your competitors in the industry and you know, wins aren't going to come to you in sports or in sales. So you gotta put yourself out there. You have to put in the work, you have to put in the hours to succeed. I can spend hours in the wrestling room. I can spend hours doing my own prospecting to hit my goals. And I think it translates really well.
Marc Gonyea:
So we interviewed with you. What do you remember from that? Anything you didn't know you were getting into?
Christian Mory:
I didn't realize I was going to have to do a mock phone call right off the bat. So I don't know. I did it with you Marc and I don't know how well I did. I think after it you said, you know, that's your first time, it's only gonna get better. That's what I remember. It was in the first floor of old courthouse road office.
Chris Corcoran:
So why did you ultimately decide to start your career at memoryBlue?
Christian Mory:
Actually liked the vision that you guys talked about when, when I interviewed with it being a gateway to enterprise sales and working with large businesses and obviously, that's what I'm doing now. I didn't really have a good concept of what working in an office would be like. Like I said, my dad was a cop, my mom was a school teacher, so I didn't really have a basis for what that would be like. And it seemed like, you know, with the training and coming on board, those were all things that I could learn by doing this job. Just learning about business in general and then putting me on a career path. I mean the whole vision correct me if I'm wrong here, but is to set you on your way and that's what I really liked.
Marc Gonyea:
Yeah, that's what we try and do is set people on their way.
Christian Mory:
I had had some other interviews, I took an interview in Harrisburg and I remember they were like, yeah, it sounds like you just want to use us for experience and then, go start your own thing, you know, get on your own path. And said that like it was a negative, they passed on me and then I came in, you guys were like, no, that's exactly what we do. Oh, awesome. Yes. Great.
Marc Gonyea:
Yeah, I mean, it's kind of naive for an employer to think that their employee who's going to come in and stay forever. And it's more socially acceptable now for businesses to do this, but they're hesitant talking about how the obligation the company has is to help the employee obviously earn an income and make money, but learn a skillset that ideally keeps them at the firm for a little while. But if it doesn't, that's okay too. They can go work someplace else and we'll kind of get back to this happened to you with Salsa. So, and that's what we hope the appeal as well. That's what makes us different. I think from a lot of companies, a lot of companies still are kind of scared to talk about those things. So you came on board. Who was your Delivery Manager?
Christian Mory:
Jack Wagner and Thaddeus Walsh. And then at the end, Nimit.
Chris Corcoran:
So Christian, think back to the night before you started at memoryBlue. Knowing what you know now, what advice would you give to yourself before your first day?
Christian Mory:
Not to take yourself too seriously? I was a bit frightened when I started, especially you put me in front of the phone and it's like, yeah, you gotta call and I don't know, just to enjoy it. Cause once I got into the rhythm and I was just liking it and making calls and you know, some of those people that don't like to be cold called give you a little bit while you're on the phone, just being able to hang up and, and it's just like, I'll just call somebody else. And it's just like enjoying it and then getting some of those fun stories from it. But yeah, dive in with both feet and just don't take yourself too seriously and absorb as much information as you can from your mentors and from those people who are around you.
Chris Corcoran:
So do you think you took yourself too seriously?
Christian Mory:
Maybe at first, but I was just, you know, first real job not working for my buddy's dad.
Marc Gonyea:
It's a bit raw, that job calling somebody 10 to 20 years, your senior who's been doing something for a long while and no matter how much you bone up on what they do, even the technical aspect of it or the role, it's going to be almost next to impossible to learn as much as they know they're going to forget more than you ever hope to learn in many cases. So that's, I remember when I got on the phones, the first couple people who picked up I just hung up on them because I was freaking out. When you said earlier about learning from the folks around you, who were some of those people who you learned from?
Christian Mory:
Well my mentor was Arash Almasi.
Chris Corcoran:
What'd you learn from him?
Christian Mory:
He was a big believer in that al la carte. He did an upfront al la carte. He just would just throw out the three hot items that most people were biting on. He would just throw that out right up front. And it's like, Oh yes, we are looking into.
Marc Gonyea:
So any of the client, client experiences stand out more than others?
Christian Mory:
Jackbe was tough. They didn't really know what they wanted to do. I guess we can talk about this because they don't exist.
Marc Gonyea:
Most emerging technology companies don't and where they think they're going to be when they start. And there's a lot of failures littered with failure all around. And I don't know, some people may not call it failure, restarting, getting acquired merging with someone else. So yeah, we can talk about it.
Christian Mory:
Well they had just kind of wild expectations on what they wanted a meeting and they were like, we only want companies that are, a billion in revenue and we only want to talk to the CIO. And it's like, yeah, okay, great. I remember one of the leads that I got was with Phillips seafood, which is still a decently sized organization. I think they're like 300 million in revenue. And I think it was a director of business intelligence and it was a great meeting. So it kind of reset their expectations. But it took a long time to, I think just even get the first meeting for them.
Marc Gonyea:
That was at a memoryBlue, right, is when you and Nelson Imade at a tech corner.
Christian Mory:
And Taylor Pierce. The three of us were sharing an office over there.
Marc Gonyea:
You guys were over there. And I remember coming there, I remember the JackBe days were tough, but tell me about what you did when you booked the meeting.
Christian Mory:
So I was halftime on JackBe and halftime on Clearpath. We were all on a really dry spell and it happens. I mean, but it was long. I mean it was almost a month before I booked a meeting. It was a hallelujah moment. I was just like screaming. Yes. And in tech corner, if you remember, it was a like a square. The hallway was a square with a courtyard in the middle and I just ran around the whole building screaming yes. All three of us were on a long dry streak, but I think mine was certainly the longest. So just to be able to break out of that and get that satisfaction of finally getting away after so much rejection and we can talk about that.
Marc Gonyea:
So you know, we turned that around here. That's part of you were in the dip, right? Most SDRs at memoryBlue are advised to read and I do kind of a review session with a ton of them around that book. And I think it's a fascinating book too, short read, but talk to me about that.
Christian Mory:
I guess people that don't know is initially things are really good. You're excited to be there. And then you know, things kind of tank off after that initial excitement wears off and you kind of get into the grind and that's where you know, it dips down and it takes a long time to come out of that to where you get really good enough where it, you're flying really high, you start being really good at what you do. And that's when you come out of the dip. But yeah, I think I was at the bottom of it.
Marc Gonyea:
Seth Godin wrote the book, the dip and we try and have everyone read it because it's so telling, breaking in to high tech sales you will go through a dip, you can't run from it and everyone's got one. So there's no sense of being kind of ashamed by it or anything like that because you have to lean into it, embrace it. We've all been through it and there's always more than one. Definitely more than one. And in this job, particularly for people who are SDRs or thinking about being SDRs, you'll hit it.
And the thrill and the exhilaration of being new at that memoryBlue or new on a client, it wears off with the pain of the phone starts to really smack you around in the face and you have some choices. Some people try and ride it in the cul-de-sac or other people fight through it. And you fought through it. Which is amazing because a lot of people won't fight through it and you know scarcity and all those other things come into play. So you were with us, figured out how to do it, obviously got good at it and then you decided to bounce right. I don't remember the details, but I know what the next step was. But let's talk about the next step.
Christian Mory:
Well eventually got assigned to Salsa. I think I had like nine clients when I was here over 14 or 15 months. Some of them were, you know, three months at a time. I actually really liked that because I got so much exposure to all these different technologies. I feel like that's made me really well rounded from a technical standpoint or technology awareness. I got to call on, you know, data storage networking equipment visualization platforms network security and endpoint security. So just getting exposure to everything.
And then finally with the nonprofit technology, with Salsa. So, them being my last client, who eventually hired me out, but I was really crushing it for them. And I think at that time, if I recall correctly, I was number one in the company in terms of meetings set and they had given me an offer and that was my chance to start getting into a role where I can do full cycle sales and start to close.
Marc Gonyea:
Let's talk about that for a sec. You went a month without getting a meeting to leaving the number one SDR in the company for meetings set or meetings occurred. That's amazing. And that's a Testament to, I think obviously your parents did a great job with you too, right? And some of us, it might just be how you were born, but boy Scouts, wrestling. I always say wrestling is not the most glamorous of sport. It's so dedicated. But then being an SDR, it's not the most glamorous of jobs either. And making cold calls sending cold emails and doing research isn't super glamorous, but it kind of worked out for you. I think you epitomize getting through the dip right at that point. So you said goodbye to memoryBlue. Anyone else you left behind?
Christian Mory:
Well, see, as, I mean, some of the other people that I still keep in touch with today, I mean, I'm still tight with a lot of the people that we work with. And since Salsa, I haven't been at a company where I haven't worked with alumni.
Marc Gonyea:
Why is that? Why do you think you're still tight with memoryBlue folks?
Christian Mory:
A lot of us are very similar, I think in the way that we think about things. And I guess the culture where we started our career. So at least from working together you know, even most recently I started working with Rob Saland again. It's kind of just an immediate connection. I know you think about things the same way, but I know you think about sales at least in the same realm of the way that I think about it. Just because we came up in the same culture and then just some people I became really good friends with like Mike Breslin, he and his wife and, and me and my wife hang out all the time after Salsa. I ended up working with Taylor Pierce again. And then you know, some alumni that I didn't work with ended up, you know, working there as well, like Brandon Eyring and Troi Meyers who were respectively after me and before me here. It's wild. And then Ian Wisecarver came to work for us on the West coast.
Marc Gonyea:
And I was talking to Christian earlier this week. Guess who he works with now at his new firm? Mike Rogers. So, but let's go back. So you left you with the Salsa, but talk about the transition to get into closing.
Christian Mory:
I think the things that I learned here, just the bar at some of these companies at least for sales professionals isn't particularly high. And I think that the things that and the sales techniques, like I was able to quote sales techniques that I had learned here. And how things should progress from seeing how the good reps that I took note of that I worked with your clients or your clients. I can think of one. When I would listen to Chris Emery from, from Clearpath on calls, I was like, this guy is good.
So being able to take things that I learned from what made him good. He ran through the questions, the same questions every time, but he really got to the root of why they were buying and not just interested in hearing about it. He could separate people who are just kicking tires really quickly and essentially made them say, you know what express a valid reason in his mind as to why they would actually be interested in doing something. And he did this mostly through questioning. We would send him the lead write up and he said it doesn't matter. I'm going to ask them the same question either way. So, he had his very specific, I guess a way of going through with each client to make them define them. Almost making them sell him on why he, why they would be interested.
Chris Corcoran:
You're bringing up an important point here in that you got trained by that opportunity, meaning you set up the lead, you were on the call with Chris and you viewed that as training. Here's someone who is very strong professionally. I'm going to try to figure out what he's doing because the other reps that I'm working with aren't, and I'm going to try to model this when I become a closer.
Christian Mory:
Yeah, this is someone that I want to be like, someone I want to emulate, you know, he's successful and he's crushing it. That's where I want to be. So taking note of exactly the things that he did. But I think I had gotten so proficient at meetings and Salsa, I don't know if you remember this, but one time one of the reps didn't show up for one of the meetings I set and I ran with it myself while I was still here. I had pinged them, usually I give them a few minutes. Hopefully you're on the call early, but they hadn't showed up after five minutes.
I said, I'll run with it. And, and I knew some of the questions to ask. I knew what to tell them. And I knew what next steps consisted of. So, I essentially made them tell me what they were doing now, explain the benefits of where I thought this could help them get that. Really get them to reiterate to me that yes, that indeed would be helpful. And then moving forward with times to set up a demo. So, then the rep gets on, the demo. I don't know if that deal ever closed or anything, but I was like, yeah, I can do this. I'm ready for that next step.
Chris Corcoran:
So just for our listeners, what exactly were you selling? Tell us a little bit about what you were selling, who you were selling to the average length of the sales cycle, the average size of the deal. Just tell us a little bit about what that is so we can kind of understand, you know, one day you're surfacing opportunities as an SDR. The next day you're responsible to drive and close these deals. Tell us a little bit about these deals that you were closing.
Christian Mory:
Yeah, sure. I think that it was actually a good place to start because the deals were smaller, they weren't, you know, high consequence. But it's a nonprofit fundraising and advocacy software. So it's almost like a Salesforce for nonprofits. It would record supporters for these nonprofits and member organizations. So every time they donated, every time they sign up for a specific email chain or alert you could even type in your zip code and it would bring up who your legislators are so you could write them a direct message. And all of that feeds back into a central supporter platform. So you can then filter and do your marketing based on, you know, show me everyone who's donated $50 in the last year who also lives in this area. We're going to invite them to an event so you can do targeted email marketing based on their engagement level or the types of engagement they've done.
The double-edged sword with a nonprofit, they're all really interested, especially in small ones, but they're strapped for cash. The average deal size was less than $10,000. I would say churning out a lot of $3,000 ones is just like the very lowest level. That was probably the easiest sales cycle was 30 days max especially, especially for those. They moved really quickly.
Chris Corcoran:
That's great. And then, so where did you go from Salsa?
Christian Mory:
I went to Cigital. So the application security company, in Sterling.
Marc Gonyea:
Let's talk about that decision making process. So you said, okay, I gotta leave. I think I need to move. You know, I've done my thing.
Christian Mory:
Well, again, selling the nonprofits was frustrating. I did a lot of deals, but some of them were just like, this is how much I pay for cable. You guys are an organization that was frustrating and like I said, wanting to get into enterprise sales Cigital is a security company. I had friends from here that were already working there. And you know, Cigital was also a client of memoryBlue. So I had some at least periphery experience with them or knowledge and understanding of what they did. They were actually spinning up a product company that didn't end up well. Didn't end up manifesting, but they didn't really have a sales team. They were just being resold by us.
But they said, you know, we're going to spin up this small to medium business team and you know, I asked them what that medium business was and if it was anything less than 500 million in revenue. So there's still massive companies of course, that you can go after. But yeah, I knew Taylor Pierce was working there and he referred me in and that's how I got started on this information security path, in enterprise sales. I didn't come in enterprise, but you know, I'm not selling to five person nonprofits anymore. I'm starting to sell to companies with real money, and real, very large business problems.
Chris Corcoran:
So Taylor was someone that you met during your time here at memoryBlue and then he was over at Cigital and then he referred you in over there.
Christian Mory:
Yes. I believe he got hired out. Cigital was his client while he was at memoryBlue. I think he actually got another offer from Windward.
Chris Corcoran:
So Taylor is actually in, and then you went to go work in where you were targeting the small to midsize market.
Christian Mory:
Yeah in the Northeast market. New York, New England and Eastern Canada actually did a lot of business in Eastern Canada, which was cool.
Chris Corcoran:
What were you selling? What was the sales cycle, average cost of deal. Kind of help us understand a little bit about what you walked into.
Christian Mory:
So that one was a bit longer that I would say 60 days, but it's application security consulting and professional and managed services. So there was like 40 different things that we could sell depending on the needs so that instead of what these point solutions where I can just say, do you have trouble with this? Do you have trouble with this? Here is a solution. This really had to get in broadly. And find, we would do heat maps on, you know, what have we already talked to these people about? What can we sell them next? Because there's so much we can do, program design and you know, threat modeling and pen testing. Pen testing was the bread and butter. Everybody needs it. But yeah, so you had to get in with, you know, do you handle AppSec? You really had to dive into what they were looking for because chances are we could help them with something.
Chris Corcoran:
It must have been much different than when you were doing at Salsa.
Christian Mory:
Yeah it was. Because it's also, you know, how are you guys doing this? How are you guys doing this? Wouldn't it be better if it was combined, you know, how are you sending out emails? Oh we're using MailChimp. Oh how are you taking donations? We're using, I dunno, donor pro or something like that. So those systems talk to each other. Know wouldn't it be great if they did? That's what we can offer you. Where this is like do you handle that application security, what's your next big project? Well we're thinking about doing this, this, this and you really have to identify within the portfolio, where can I fit? What makes the most sense? What's going to be a win that makes us sticky and stay in there. Pen testing is a commoditized.
So, you know, that was also difficult setting yourself apart from, you know, Hey, do you need help with pen testing? Nobody's gonna be like, yeah, absolutely. I mean sometimes not nobody, but there's so many people doing it. So getting into things like program design or training where we can actually put boots on the ground, they get to know us.
Chris Corcoran:
And what were the deal sizes?
Christian Mory:
In that role they were smaller, $30,000 or so.
Chris Corcoran:
So you were selling $3,000 to $30,0000 that's a 10X increase. And it was also a far different sales motion where you had to be much more consultative. So how were you able to learn how to do that and talk to us about that and what was the most challenging part and how you overcame it?
Christian Mory:
Well, I actually think some of it came from my work with Clearpath because again, reseller systems integrator, they did everything. So, I guess in terms of how I uncovered opportunities, I took a similar approach. What's your next big project? And that's how I would get them to open up. And then I would try to identify within what we did, how we might be able to help, in questioning and taking them down that road. But, I guess, on calls there, it was an interesting experience.
You know, most people, if you're selling a product to you and a sales engineer, once, I guess you've gotten in, you've gotten that first meeting, you were with an actual consultant. So if you want to hear consultative questions, go into a meeting with a consultant. And then, at first when I was learning the right things to probe and get in there, go get them, knew how to ask the questions to get them up but I didn't know, I guess I knew how to ask them, but I didn't know what specifically to ask them.
So once the consultants were in there, I could hear what they were saying and I could take that and apply it with, sales to get them to come to the conclusion that they should probably work with us. So, taking those pointed technical questions, combining it with the sales techniques to get them to, open up and see value in what we could possibly do for them.
Chris Corcoran:
What was the quota there?
Christian Mory:
That was about a half a million.
Chris Corcoran:
And so how many deals would that be? I'm trying to understand how many you were closing per month or per quarter.
Christian Mory:
Yeah, 20 deals a year. I think it was probably more than that, but if we're just doing it based on the $30,000 average, so you want to do like two a month, essentially two a month. Whenever the week. I had closed some large ones in the first quarter of my second year there and that's, you know, so it was way, way out ahead of my number for a year or two. And they had a like, essentially junior enterprise sales role open for the mid-Atlantic.
So, selling in this area, so DC, Maryland, Virginia Eastern Pennsylvania Delaware and West Virginia that I didn't do any business there. And so I applied for that when I was way out ahead of my quota and that in that first quarter and I got it. And that's when I got introduced to actually dealing with large enterprise companies. So, people who are over 500 million in revenue is how it was defined. I had some good people around me to teach me.
Marc Gonyea:
How important is that?
Christian Mory:
I think it's really important having good people and it doesn't necessarily have to be the person that you report directly to. I found mentors in other places even, you know, sometimes it's even my bosses boss. It might be another rep that is just successful that you can lean on. It doesn't necessarily have to be your direct superior. Not that I haven't learned plenty from them as well. I've learned some very valuable lessons from the people I've worked directly for.
Marc Gonyea:
That's great. So you transitioned into the junior field world junior enterprise role, is that what we're calling it? Sort of?
Christian Mory:
Yeah. So I was handling the smaller enterprise accounts. I wasn't dealing with big banks or anything, but these were still billion plus in revenue, thousands or tens of thousands of employee companies.
Marc Gonyea:
What was the biggest difference with that? Moving from what they would call a small medium business?
Christian Mory:
I actually thought it was easier. The people are more knowledgeable. The people in those roles are more knowledgeable. They have more money to play with. You don't have to go through the explanation of what you're doing, they've seen it before, they've done it before and they're just evaluating other solutions. I think it really just has to do with the maturity of their programs and their thought process in terms of, because obviously you know that some of these large companies, I mean hopefully at least a CISO there is going to be much more qualified than a CISO at a small company.
Marc Gonyea:
Was there more competition for that type of business or because those are, you typically go up the food chain, there's more competition trying to sell to folks with more money, more robust programs, more sophisticated buyers.
Christian Mory:
Definitely competition for time. You know, a lot of people are competing for that person's time, so you really have to be on their priority list to get taken seriously. Otherwise you get bumped down and someone just evaluates you and it goes into a black hole. So I think you really have to find people with those specific priorities. I think of all of the things that could be sold to a chief information security officer. I mean everyone is, even internally, is vying for their time as well. So I think that got more difficult in terms of against competitors. I guess it would have depended. Fortunately, you know, there weren't many people with the level of expertise that Cigital had from the consulting side. So if you were going to get application security consulting, I mean after every major breach that you would hear about if it was software related, we got the call.
Marc Gonyea:
So now you've got some legitimate street credit, really great at your job. So what's important to you now as you start to, and we all can't have what we want all the time, but I think you can maybe be a little more selective and see what your strengths are and what you want to do.
Christian Mory:
Yeah, yeah. Well, honestly the income's most important to me now. That's why I was looking at, you know, I mostly interviewed with startups just because the upside potential in terms of what I can do, if I can really knock it out of the park. That's where I've seen a lot of folks that I've worked with who've had monster years. That's really where they've made their money in these companies that take off. But if they give you something that's manageable and then you could just knock it out of the park before they know how fast their own technologies are and to take off. The startups are interesting.
I had some weird experiences recently on the good and the negative of it. But it's also fun being part of a new team and honing the message essentially from nothing. We have this tool, but how do we even talk about it? What resonates with people? So applying some of the skills that I learned here because when, a lot of small companies like JackBe, whoever, they didn't really know what they wanted to say either. So being able to apply that to myself and my own company being able to relate back to those skills and like having a small nimble team where we're building out a business together. That's been really fun and exciting.
Because at Synopsis it got purchased. Cigital was a small company, I think it was 400 people when I left. And then I started working for a big monster software company and that's it. Culturally it wasn't a great fit for me. I mean that's a job I think you can sit in, you can be comfortable, you can do really well. But I never felt like I could really, knock it out of the park. I mean, I'm not gonna close $10 million. I mean sure. I would love to be able to do that. The chance to hit two, three times my quota and just really knock it out of the park and see that tremendous upside.
Marc Gonyea:
You can have a huge impact for these startups. So when you were in the enterprise, you were selling services and then Synopsis came in and they added in products, what's the biggest difference in selling services versus products and what's easier? What's harder in your opinion?
Christian Mory:
I don't know. I don't know if I could say which one is harder. I had more success selling the services. In terms of out of the portfolio, I would say I was probably 60% services, 40% product. Product is difficult because they're making essentially your commitment, although sometimes with the services that's fine. I guess they have their own challenges.
With the services, you're essentially selling people. You can't do a proof of concept for something that a person is going to perform. So you really have to understand their needs and reiterate it back to them. I guess you have to do that in any sale, but with the confidence that you're going to be the best person or people to address it, with the tool sets, it's obviously understanding their need is essential. But you know, if your tool really just doesn't measure up, you may be behind. I mean that also goes into focusing on which deals are right for your tool and you know, understanding really what they're looking for. But for me, services was easier.
Chris Corcoran:
So thinking back over the SDRs, you supported you I mean, is there, was there a best or a worst, in what was the best person doing and what sort of impact did that make on you? Or does it all kind blend together and they were all kind of meh?
Christian Mory:
I wouldn't say they were bad. I just don't think they got an opportunity to shine. I can remember some, definitely key deals that, you know, I got a big client from an SDR set up meeting. Brendan was calling for me at the time and he cold called into Independence, Blue Cross Blue Shield. Uwe got there completely cold. It took me a long, long time to close that deal. But eventually closed brand new client for six figure contract.
The things that I've noticed about the ones who have been the most successful and even if they may not have been working for me is just putting in the time. And I think a lot of, honestly working with some others, I think a lot of people are afraid of the phone at least, or maybe that's just coming from this culture. I think it's really, really easy and they're getting meetings, but I think a lot of them hide behind email. That's what I've noticed when you get the meetings. I mean, the guy's like, yeah, it looked interesting. I took it. So, it's like I, if when you have a $5 million quota that you want to waste your time on taking the guys that don't even know what you do.
That's been something that I've noticed, especially meetings that have been set up, you know, via email. Sometimes they're great and they work out and at a startup we'll take anything. I mean, doing that qualification, say I have an inbound lead that I'm automatically going to talk to you based on, what company they're with and title, I'm going to qualify them immediately on my first call.
And I think that's something that they should have the skillset to do. And especially if you're going to move up into that full cycle role where you're generating meetings for yourself and doing the qualification and doing the demo and all of that. It's necessary to move up. If you were to do like a mock meeting with somebody and you've never talked to anybody on the phone, you've never ran one yourself or at least done, a qualification, call it, I think it'd be pretty difficult to take that next step.
Chris Corcoran:
So what advice would you give to the SDR who wants to move up but is booking all their meetings over email?
Christian Mory:
I would say, and I've told other people this, if they're unsure about it, I mean sometimes you can tell like I'm a CISO at Dell, like, yeah, I'm going to want to talk to them. You don't need to qualify that guy. I'm going to want that meeting either way. Right? But I've suggested to them setting time, five minutes for themselves just to make sure they are the right person. This is what they're handling, because your reps are or should be very busy and concerned with actual business. So that's what I would suggest doing is taking the time to qualify them yourself. Even if you can set up five minutes, just give a lemonade statement on what you do, what peaked their interest and then translate that so you can have a productive call and not waste their time or your reps.
Marc Gonyea:
Yeah. You can book a meeting over email. There's nothing stopping you from calling them prior to the meeting and chatting with them. They're so afraid to lose the meeting that they're reticent to do that. But I've listened to their calls. Most of those people you can probably call and they'd appreciate it and they're gonna be more likely, they're going to show up. Wasting your time by setting this meeting and then the meeting doesn't go down? And that happens once or twice. You as a seasoned sales professional, you're not going to be too happy with that SDR.
Christian Mory:
Yeah. Well, and I mean, just getting the background on what I always would ask is, is there anything you want us to focus on just to make it the absolute best use of your time and getting them to express that to you. And then you can tell your rep they want you to focus on this and that may be the difference of them having an average meeting where it's just, I'm telling you what we do. How are you guys doing things? You can really focus on what their business needs are and knock it out of the park.
Chris Corcoran:
So you worked at a Cigital, which was a small company, but I wouldn't call them a startup. And then Synopsis is huge. What kind of attracted you to that early stage company?
Christian Mory:
Well, I knew Taylor loved it and then when I got there I saw why. It's like you can walk down to the CEO's office like five doors down. The VP of Worldwide Sales is like three offices down. Everyone's in the same building, all working towards the same goal. Easy to communicate.
Chris Corcoran:
You closed a lot of deals. What's your favorite deal?
Christian Mory:
Well, the one that comes to mind, which I guess would be the most memorable. It's one I pat myself on the back about, it's a software company outside of Philadelphia. I talked them into going a completely different way. So they were convinced that they wanted to do a bug bounty program. Talking to their app sec professionals, application security professionals. So Synopsis has this service/product. It works like a SAAS product, but it's actually real people on the back end doing the testing. It's essentially you can do as much application security testing for a year.
So, it was the difference between that and a bug bounty, which is they put it out there, see what you can find, we'll pay you if you can find it. Now, their biggest problem was remediation. That was the biggest difficulty for them is, they can find plenty of things where they can never get anything fixed. So I went to him and said, you know, bug bounty, that's great. A lot of sophisticated programs have bug bounty programs. If you're not doing any testing on these, if you're not running the type of testing that we're talking about, are you going to pay people for finding these stupid little bugs that we might find in two seconds, you're just paying them a flat price.
If you're having trouble remediating, we walk you through the remediation, how to fix everything educated on what it is. If you can't remediate it, you may be paying people out. I'm sure you guys are familiar with how bug bounty works, but they're essentially independent people find bugs in the software through their own testing. If they don't remediate, if they don't fix it, they might pay somebody twice finding the same vulnerability.
So, me explaining this to an application security professional, I'm a sales guy, right? So I was just like, wow, I really understand this. I'm able to convince him to go a completely other way and I can do it with valid and educated information on how an application security program should be running and making him think the same way about it. And then he ended up going with that solution, which is a $150K list price.
Chris Corcoran:
But part of that's the Eagle scout in you right? In that you're thinking less about yourself and really putting his best interest and his company's best interest first.
Christian Mory:
Yeah, I've had some opportunities where some people still went with it, but educating, yes, this is better for me in the long run. I'm going to get a bigger check on this, but you're not going to be happy with it. I know you may not be happy with it. I always ask before people sign if I have reservations of whether it's really going to work for them or not, or if I think they're really going to be happy with it based on my understanding of what they want, I always try to give them an out beforehand. It's like, look, I'll sell it to you, but I don't think this is the right approach. We did that with a large hospital system in Richmond and they bought I think 12 tests. It was like $200,000 and our guys, and we're saying, you know, yeah, you can do that. They wanted to check everything before they put it in the network.
They wanted to run it against a number of new IPs that were going to be going into the network just to make sure everything was good. And they were like, this doesn't really make much economic sense. You could just do the same thing. Just check them every six months to see what's vulnerable. You spend a lot less money to. But they insisted on doing it that way and it's like, it's more money for me. That's, that's great. And you know, but always try to tell them that I'm more than them of, you know, potentially guiding them in the, in the right direction.
Chris Corcoran:
So that's your biggest, most memorable or your most memorable win? What about the loss that's most memorable or, or that haunts you?
Christian Mory:
I don't know if I have any of bit haunt me. But there is one where I learned a valuable lesson. I was way too happy about it. It was a seven-figure deal. It started out at $3 million talking to the CIO and essentially their head of IT. Who was based in India actually. So I was taking this call, so like 11 PM and real early because I thought it was going to be such a huge deal, but I had happy ears. I was too excited about its potential and then it dragged on. And it dragged on.
I didn't have a good understanding of what would happen if they didn't purchase this, how it would affect them. I was just seeing dollar signs, $3 million deal, boom. It was the year before, so it was like 4.2, Oh my God, this will make my year. It just slowly crumbled and crumbled and crumbled to the point where they were like, yeah, what if we just do a paid pilot for five people from doing it for all of their development? That's like $16,000. So I eventually, and that's the other thing is I spent too much time. I let it linger out there and it crumbled to nothing.
Chris Corcoran:
Did it ever close?
Christian Mory:
I don't think so.
Chris Corcoran:
Wow. So you didn't lose it to a competitor, you lost it to the do nothing scenario.
Christian Mory:
Yeah. Well they wanted to, I knew what they were trying to do because it's an unlimited license. They were just trying to get around paying for all of their development. That's how we structured the price now and then they went and I was like, what if we do a trial for five people and it's like, I know what you guys are going to do. You're going to try to run all of your software through it because there's no way of us measuring it. We can put contractually they can only write it on this code base but there's not really a restrictions. So I knew that they were trying to do and that's when I just, I cut it off.
Marc Gonyea:
Cool. Christian, thanks for spending so much rime with us man.
Chris Corcoran:
Athlete, boy scout sales professional. Thanks for joining us today.
Christian Mory:
Yeah, thanks for having me again.