Episode 14: Arash Almasi – The Sales Grandmaster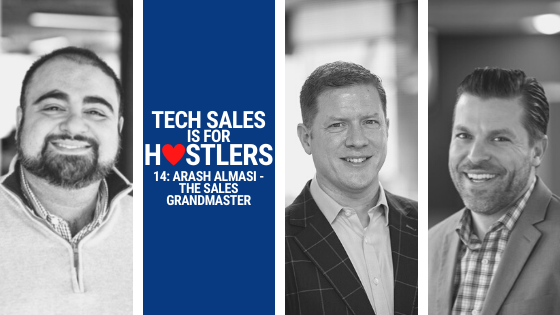 In your sales career, much like a game of chess, you should be looking three steps ahead. When Arash Almasi first started his career at memoryBlue, he knew he wanted to become a closing rep as soon as possible. He mapped out the stepping stones necessary to get to that coveted position and created opportunities for himself, instead of waiting for opportunities to come to him. Today, Arash is an outstanding National Account Manager at Glassdoor.
On this episode of Tech Sales is for Hustlers, Arash recounts his signature "fireman" move to get past gatekeepers, how he was able to cold call his way through Silicon Valley to find a job at a tech company, and the fundamental principles he employs to keep his clients happy.
Full Episode Transcript
Name: Arash Almasi
Title: National Account Manager
Company: Glassdoor
Exit Year from memoryBlue: 2012
Months at memoryBlue: 14
Alumni Path: Hired Out
***Introduction***
Arash Almasi:
Never take a job just for money. Don't follow the cash, try to play chess, not checkers, with your career and think about the skills and the people you meet, the connections you make, the things that are transferable and make you more employable, and the lessons that you learn, rather than just a short-term pain/gain calculation.
Marc Gonyea:
This week we have Arash Almasi, National Account Manager at Glassdoor. Arash recounts his signature move to get past gatekeepers, how he was able to cold call his way through Silicon Valley to find a job, and how he manages to keep clients happy.
Marc Gonyea:
Hi, I'm Marc Gonyea.
Chris Corcoran:
And I'm Chris Corcoran and you're listening to Tech Sales is for Hustlers. Tech Sales is for Hustlers is a podcast where we catch up with memoryBlue alums and reminisce about their start in high tech sales with us.
Marc Gonyea:
Let's go get some Corcoran.
Chris Corcoran:
Gonyea. You know, I'm ready.
***Episode 14: Arash Almasi***
Marc Gonyea:
Arash Almasi.
Arash Almasi:
Thank you for having me. Yes, of course, gentlemen, how are you?
Marc Gonyea:
We're doing great, Chris and I are thrilled, thrilled for you to join us.
Chris Corcoran:
Coming at us live and direct from Chi town.
Arash Almasi:
Yes, sir. Chi city.
Marc Gonyea:
First of all when did you leave the firm?
Arash Almasi:
I believe November, 2012.
Marc Gonyea:
Yeah. Okay. So it's been a little bit, it's been a little while here. LinkedIn is telling me October 2012. So we're coming up on eight years. We're going to talk about all that when you started and how we got to where you are today. But before we do that, let's kind of bring it back and tell us a little bit about yourself, where you grew up. What were you like as a kid.
Arash Almasi:
Yeah, I was born in Iran and immigrated to Sweden as a refugee of the Iran-Iraq war. It was just my mom as a 21 year old, took a one year old baby and smuggled herself, well paid her way through to Turkey, where you didn't need a visa at the time to get to. And because of trade agreements then smuggled herself to Sweden, which at the time was accepting refugees. And then she met my stepdad who was visiting from the DC area and fell in love. They got married. I have a stepsister. And she was based in the DC area where my stepdad was living, and they decided to move to the DC area.
So, I moved to the States when I was like six years old and thanks to old '80s movies in Sweden, like the A Team and Knight Rider, and Airwolf, anyone's an Airwolf fan? Not many people know what that is. So shout out Airwolf fans, all one of you that may be listening, but yeah, so I knew English pretty well. So, I just started sixth grade in regular elementary school here and grew up in the DC area, went to Mason and got recruited right out of college into memoryBlue.
Marc Gonyea:
Wow. That story goes way back when you were just taking us, how you got to Chicago, but you, you need to go back before good old Fairfax County, Virginia. That's inspiring.
Arash Almasi:
Yeah. My parents are a classic American immigrant story. Like both came here with 20 bucks in their pocket and started their own businesses. My mom was a hairstylist and then started her own salon for like 25 years before retiring last year. My dad has a subcontracting company, does construction work. So both started from nothing, started their own businesses and had that hustle mentality. And that's sort of what led me to have the attitude of like, not ever being afraid of hard work, nothing, if anything is going to get in my way, it's not going to be lack of effort.
Marc Gonyea:
Good. All right. We'll get to that. Well, I want to talk the immigrant hustle mentality as you call it, but let's talk about what were you like in high school, were you a guy who did sports? Did you do clubs? Do you have a job?
Arash Almasi:
I definitely always had a job. I was actually a Chipotle burrito roller and I was working for my dad but I played lacrosse for three years in high school as a defenseman and I also did karate. I was a second degree black belt, and I remember just like, you know, this whole concept of doing what's right and not what's easy. Probably came from my time at karate where, you know, my sensei would walk around the dojo before class with the bamboo stick that he would use to correct people in the class, if they messed up their form or whatever. And like dreading the start of class it was pretty intense, like real, not like Jeff Smith, backyard karate. It was like real intense Japanese karate. So, I did all that throughout high school was very into discipline and self-improvement throughout high school.
Marc Gonyea:
And then when did you, I think, so high school is when you kind of figured your way into, "Hey, this sales thing. I don't know what it is, but it might be something I'm interested, but I don't know what sales is."
Arash Almasi:
Yeah. I didn't even really know. I was conceptualizing these thoughts. They were crystallizing throughout my nascent childhood, but I was a member of the FBLA and they had a drive to like, we wanted to fund our trip to some conference and we had to sell lollipops. I think everybody on the team sold, maybe 15, 20 lollipops. I sold like 400, like four bags of lollipops. Just by walking around asking who had a sweet tooth and just, I don't know. I realized I had a knack for making people feel comfortable, making them want something and then charging them for it.
Marc Gonyea:
That's interesting. So FBLA for those who don't know, the Future Business Leaders of America and that's right, and you just decimated it, I'm sure you just crushed everyone in terms of volume, but we've put that, that we'll come back to that because as you, I know when you got out of school sales, was it kind of on your radar? Not directly, but did you think at the time, or how much thought did you give it? You know, you're teenagers, we're all kind of in our own world. How much thought did you give it?
Arash Almasi:
So my guidance counselor, you know, they always ask, like, what do you want that traditional guidance counselor question of, what do you want to do when you grow up? I had no idea. I just knew somebody in my class said, Oh, I don't know, but I want to make a lot of money. And I was like, yes, I agree with that 100%. I literally could not care what I do between nine to five, as long as I make at least six figures. And so I'll do whatever it is that I can get my hands on. And, because everyone's like, Oh you need happiness from, and it's really ironic for like where I am now and what drives me today and what I sell versus where I started, which was like, my boss could treat me like crap. I don't care. I just want to make a ton of money.
I literally could not give two F's what happens between nine to five, as long as when I get home at 6:00 or 7:00 PM, I have a very nice car and a very nice house. And like, and that's part of the immigrant, almost like trauma, where it's like not having had money growing up, made me like that be the sole focus of, I never wanted to have my kids feel what I felt at times throughout my childhood of like, not knowing if I could afford something. I never wanted that to be an issue for my kids. I'm not old money by any means.
Marc Gonyea:
Right. And I think what we'll touch on too, because you know, you're not someone driven intrinsically by money, though, in the sense of kind of your ethos.
Arash Almasi:
I remember when Chris in my interview asked me, I was afraid that I had answered it incorrectly because I went home and Googled it and I was like, s***, that's not what you're supposed to say in a sales interview. He was like, Do you care more about the love of winning or the fear of losing and historically, stereotypically, you're supposed to say, no, I hate losing. I would never like the hatred I feel like losing drives me. And the fear of it drives me to.
I'm very type A, when it comes to my work, I'm anxiety driven. That's why I'm like always reaching out to like right now, in my role, I do renewals. And so I'm reaching out to clients six months before their contract expires. And I have like spreadsheets and I'm very detail oriented, but at the same time, I am driven by joy and not fear. I feel like I love winning and sharing that wealth and that win with others. I come from, that's why I like really love Steve Kerr. I have a lot of ties to the Bay area. I'm a Bay area sports fan and, you know, his concept of moving off of joy and everyone shares the ball and we all score. And it's that sort of like the love of the game and the love of the camaraderie and the love of winning is what drives me. And I bring a lot of that to my clients and my role and my peers and my organization. And that's what sort of drives me.
Marc Gonyea:
Awesome. Awesome. We'll want to come back to that, but we got you coming out of high school. So you ended up going to George Mason University. What were you like in college and what'd you major in?
Arash Almasi:
I really found my passion for people management and people leadership. I was a business major, School of Management at George Mason. I didn't have a specialty. I just took the general management philosophy or management theory major, which it's actually pretty difficult, because when you don't major in something, you have to take like intermediate level courses in everything.
So like finance and accounting, everything you have to do. And I got placed into an advanced HR course and I loved it. I was like the framework and theory of making sure that people have a really productive and joyful work environment where they are, you know, cared for it on a human level, there's equity and inclusion and how to foster a work environment that lets people become the best version of themselves with psychological safety.
And, and I love these like giant frameworks around advanced HR management, but then I had an internship my senior year actually in an HR department. And I came to realize it's a lot of paper pushing, records, management data, like all these other menial sides of HR. At the very end of the day, I was, you know, this was at a fortune 500 technology company in Tyson's Corner. And I had access to their payroll as an HR intern. And I was like, who is this? What is this title territory account manager. That's making more than the head of HR at this company. And why do I know that person's only 30 years old and it's like, what is that person doing? How can I get into that? And that's when I was like, okay. I'm just going to throw a sales focused resume into the George Mason database for students that were looking for jobs.
And Eddie Maglaya actually called me. It was like, "Hey, did I catch you at a bad time?" And I was like, no, no, what's up. He's like, let me talk to you about something. I was like, yes, I want to do this. That sounds delightful. That's how I found memoryBlue.
Marc Gonyea:
Yeah. All right. Well, we'll talk about that. Do you wanna walk us through that? So Eddie was working for Chris at the time in Chris's, it's amazing that we find people like you to come work for us. I mean, it's a blessing. So walk us through that process. Walk us through what you remember from that. Because I distinctly remember you not being as sold maybe as you were post, right?
Arash Almasi:
The interview was at like an Olive Garden.
Marc Gonyea:
Chris and I would take our best candidates to the Olive Garden and closed it down.
Arash Almasi:
It was cool. I think a couple others have expressed the sentiment, but yeah, the fact that your website was not the most on point as it is now back then. And then you took me to an Olive Garden and the second interview was with Chris at a Silver Diner.
The third interview was in the first floor and I was like, okay, at least I know they have an office and they're legit. But it was funny. I remember I had prepped for the phone interview with a buddy of mine who's a recruiter. And he was like, Oh, you know, if they do the phone mock call start with, "Hey, did I catch you at a bad time?" And I remember after my mock call, you came up to me, you were like, how did you know about, did I catch you at a bad time? Did you talk to someone that worked here before? I was like, no, I just knew to say that. And I think that like got me further in the interview process just because I knew that one phrase.
Initially I think after you and I had talked, I still had this concept of like, in my mind, I was going to be some sort of people capital, human capital consultant or something. I was looking at like entry level roles at Deloitte and stuff for, for that type of field. And I just remember being like, you know, we were going to spend the week at Outer Banks and I was like, I'm going to go, I'm going to think about it for a week and think about what I want to do, I'm gonna let you know. And I think you thought that I was like, "Oh yeah, like, you know, whenever you get time send me an email" or something, like, I think you thought I was blowing you off or something, but I really did like take a week to meditate and like think on it and sit on it. And after a week my gut told me for some reason or another, like, this is the way to go. And I think that's a lesson.
What I learned there in what I had tried to do at the time, which I still to this day, try to tell. Anytime I have a mentor that wants to work with me with career development, I tell them, never take a job just for money. Like don't follow the cash, try to play chess, not checkers with your career and think about the skills and the people you meet, the connections, you make, the things that are transferable and make you more employable. And the lessons that you learn rather than just a short term pain gain calculation.
Marc Gonyea:
Absolutely. I remember Chris and I talking about you saying, look, we can't let this guy go into HR, no disrespect to the HR professionals out there, but it's funny and we'll get to it. Because you're a carer of people, like in a good way, like you care a lot about doing the right thing by all parties. And sometimes people get it twisted in sales folks, the sales folks just care about their commission checks, but the right ones who play the long game understand that's not how it really works. And I think part of working, working for us, or particularly the type of job that we have people do and we'll get to that early in their career. I mean this, the memoryBlue game is that you're playing the long game. You know, you're not doing it solely for the sake of hitting your number for the month.
Arash Almasi:
Yeah, no, it's start with why, like, why are you here? Why are you doing this? What is your goal? And I think that's, anytime someone is struggling with, to do their job, like as someone that if I'm managing them and if they're not doing well or you know, anyone who is questioning whether or not they can be successful in their current role. I just try to tell them to think like two, three steps ahead and be like, okay, crushing your current job is just the table stakes for whatever promotion path or future career path. Let's say you want to go into sales, operations, or marketing or whatever it is, wherever organization you're at. Like, you need to crush your existing jobs to show that you're true professional. Can be relied upon before you're even going to be considered for other roles. And so I try to like put the carrot in front of them. That's like two, three steps ahead rather than what, you know, the pain that they're in now and the suffering that they have to go through. Now, it's all about what doors is this going to unlock for me in the future.
Chris Corcoran:
That's great. So looking back, what advice would you give yourself the night before you started at memoryBlue?
Arash Almasi:
You are sitting next to future VPs of sales. Like every interaction that you have, like build a network, build a coalition of colleagues that you're going to rely on for the rest of your career. I think if I had spent I was very driven and very competitive. I wish I had spent a little bit more time, fostering those and nurturing those relationships even more than I already do, which I still do to a very large extent, just make sure that like every day is a job interview at memoryBlue, like your effort, your attitude, the connections you make, the work that you put in to showcase your skills to your peers, your peers will remember you.
Marc Gonyea:
Who were some of those peers?
Arash Almasi:
Yeah. I mean, Richard Reese, Andrew Bass, Sam Johnson said, yes. I remember my first day I was so nervous and I was on the phones for a day. And I think Sam did this on purpose cause he was such a good person, but he leaned over to the person on the other side of him and he pointed at me and said, this guy's gonna be good. This guy is good. And I think he did it to give you a little confidence boost after my first day. But when I heard it I was like, Oh s***, I like this guy. And that's what you need. You need, people that will encourage you. And we'll get you through those hard times and you build your band of brothers, so to speak.
Chris Corcoran:
There you go. That's great. I always like to tell, and you said it very profoundly new hires. They should care the most about not impressing their manager or their clients or Marc or me, but we want to be impressed. But the most important people to impress are the SDRs because in a year or two or five, they're all gonna be scattered throughout the industry, all accelerating and do well. And some of those folks are gonna, you know, everyone always asks people who do you, who can ball out. You want to be the person they think of.
Arash Almasi:
And that's how, you know, like you're at the right place. When you look around you and you're like, damn, every single one of these people are all as good as me or pushing me to be better. And that's when magic happens.
Marc Gonyea:
Yeah. So let's talk about that. How did you get good? Right. I don't believe personally that sales people are born. I think they're made, there might be some traits you have that might help you in some areas like sell those lollipops or the popsicles and whatever it was. But I think there are lots of things we all have to learn in some of the things that make us strong may actually hold us back a little and things that hold us back a little might actually make a little bit stronger. But what was it like for you learning and what what'd you learn there?
Arash Almasi:
I think one of the important lessons that my life has taught me is that and this started out as a very young child. I would move around a lot and every time I would move to a new school, I just want to fit in. I just wanted to like, not be picked on. So I would figure out like who the coolest kids are or who the most popular kids are and then just look and feel and sound and do what they do to try to fit in. And then when I got to the working world, I realized that I just need to do the exact same thing with the top performers of any company. I just need to go and study them. And like, what are they saying? How are they saying it? What tactics are they using? How do they think about things? And of course bring your own flavor and your own, own style and pizazz to it. Like, you are your own person and your personality should shine through.
And I think for me, like, I bring some unique elements to the table, but I think it's a combination of like intellectual horsepower and emotional intelligence. It's like those two things it's like, just be curious enough to read and try to get better and learn about your industry. And, then also like just read people, know, people know psychology emotion, and, how to read a room, how to figure out who's the decision maker just by, through analyzing posture. And the way people look at each other and what emotions they're conveying when you drop the price and, whatever, you know, very, very just emotional intelligence, EQ stuff, as well as the intellectual horsepower to be at the top of your game and whatever industry you're practitioning in. And those two things, I think, in addition for me personally, in my role, and I think what has led me to the most success is creative data analysis, is specifically in a role where you're managing existing clients in software and in services in digital media and marketing, like I'm in analyzing the data of whatever you're delivering and trying craft that within a narrative or story, that highlights both successes and areas of opportunity for clients, but you're doing it in a compelling way.
That's ROI driven, that's data driven, what it makes it, you know, at the end of your presentation, it should just be very obvious. What the end result of the partnership was, and they'd be fools not to double down their investment. And that's because I'm currently in a farming role, where I'm working with enterprise clients, growing existing clients, doubling, tripling, their spend in certain cases. And over the course of one or two years,
Marc Gonyea:
I will tell you talked about kind of learning and picking things up from people, but there are a couple of things that you that you were known for that you did exceptionally well. Do you remember what some of those were?
Arash Almasi:
I think the one thing that led me to the most success specifically at memoryBlue was this particular twist on our strategy of our sheet music, where I started every call by trying to think of and tailor the conversation towards three specific pain points that I knew based on the role of the person I was speaking with. So you know, we think we termed it the upfront a la carte but after like a short elevator pitch of like who I was and why I was calling would just be like, Hey, typically when I'm talking to person in your role insert title here, we're usually concerned with helping them do X, Y, or Z. Does that sound familiar? Am I barking up the wrong tree? And I would just start every call with that. Then this goes back to doing your research and knowing who you're calling. I would know for fact that one of the three things would hit and that's how it started a conversation earned the right to start a conversation.
Marc Gonyea:
Yeah. That's one of your things you were most well-known for in terms of like this, guy's got some game and it seems very basic, but that's the whole being curious about their role and being smart enough to connect the dots that these are the things, this person in this role at this company might care about.
Arash Almasi:
Very small, tiny, like just a psychological change in approaching the call led to some of my mentees who were having like pretty tough times with certain very difficult accounts.
Marc Gonyea:
Do you remember who your mentees were?
Arash Almasi:
Yeah. Christian Mori Michael Breslin I believe for a while with InfoSec and yeah, I think for a brief time Nelson and Mata as well. But yeah. But, but that was at the tail end of my time. And yet I think like before, before I came on the account with InfoCepts as well, I think there had been a lot of folks that struggle with that account and that tiny change opened up my particular flood gates anyway for that account.
Marc Gonyea:
Yeah. And you're saying like, trying to make sure you personalize and connect the dots with your sheet music.
Arash Almasi:
Exactly. Yeah. It's just like, not just accepting whatever the previous rep was running, make your own play and get creative and care enough to figure out what's working and what's not working and make changes to your game plan and invest the time in. And I would come in on Sundays for like maybe three, four hours and just like do research, figure out who I'm going to call that week and have more customized, more tailored talking points for, the people that I was inserting into my cadence that week
Chris Corcoran:
When I put on the highlights of the history of memoryBlue and like the craziest plays of all time. You're probably the highlight of them all. And if you could share with our listeners the move that you used to use every once in awhile.
Arash Almasi:
I really only did this like a couple of times, and this is someone I was driving a really difficult time getting through a particularly stubborn EA who wouldn't let me through and you know, gatekeeping, hardcore. And so I just decided to take a different approach. I called and I said, Hey, you know, this is something I heard on a, on a Costigan tape, like years, years back. And I was like, okay. I'm gonna just try this, see what happens. It's a way for essentially the gatekeeper to assume that you are a high-level position of equal or greater importance of the person that you're calling.
So, I call and as they pick up the phone and I said, Hey, we start the conversation quickly. And they asked me who I want to talk to. And I literally just say, Hey, can you hold on for just one second? And I faked like, I'm, putting the phone down for a second and I yell so that they can still hear me, you know, I'll take care of that real quick. I'll take care of, Oh, you need me right this second. And I'd be like, I'm sorry, I got a fire to put out. I'll call you right back and hang up the phone, this poor EA, probably like, who the hell is this person calling? And then you call back 30 seconds later. And they actually put me right through just thinking that like, Hey, I actually, and then you call back with a very stern voice, you know, I'm sorry, I'm sorry. Is Mike available now? Can I talk to him now? I got through.
It was not something I would do on a regular basis. I don't generally like to approach setting meetings with any sort of deception involved. But man make it 200 dials a day for months at a time, you need to throw some things in there to keep yourself sort of entertained and motivated on the days where you're like especially on the days where you play hurt. You know, you can party, but you gotta play hurt the next day. And so to get yourself through that day, besides pounding the red bull, you also might have to play some mind games.
Marc Gonyea:
For the listeners, I would recommend not trying that at home, without the advice or without a professional, you know, stock car driver or a race car driver that wasn't generally endorsed, but Arash would execute that flawlessly. I mean, it was amazing. And I know you didn't do that all the time. You kind of did it kind of how, when you said, okay, I'm doing this today. I'm just having one of those days. I want to do the fire man. And it was epic. So, let's, let's kind of transition to you.
So, you're in the job. We talked about this a little bit. When we going to huddle up before you, you get good at getting on the phone and exercising your voice, your ability to speak, get people who you never thought you could get before to do things. I usually take a meeting. I remember you talking about how, you know, that kind of helped your appetite for risk. Cause you said it well, how risky is it really, if I can do these things you start to believe more, right?
Arash Almasi:
Exactly. Yeah. The skill set that you pick up. And it's really all about being consultative and having the confidence that you are really trying to just help someone on the other end of the phone. And just the skills that you pick up at memoryBlue, the confidence that you gained, the thick skin that you develop after, you know, a year of making a hundred, 200 dials a day you start to feel like man, I could pick up and call anyone. I can really get anyone to do anything as long as it really makes sense and it's in their best interest. And I can start to learn how to convey that it is in their best interest, but really more than anything. I think I started to take that skillset and apply that and, try to get to the next level I wanted to get into a field closing role, as soon as possible. Even though I was like good on the phones and started to get, you know, I really wanted to be in an enterprise sales role as fast as possible. Cause that territory account manager role, when I was the HR intern, that was a field sales role. And I was like, okay, I know I want to get to that level.
So, on one of my accounts, at InfoCepts, I actually had the opportunity. I set a meeting for, a senior executive level, meeting in person at Dallas Fort Worth airport. We had the chance to go fly down for that meeting. My rep is going to go fly down and have that meeting in person. So, I asked to come along, paid my own way and, went to go down and had the meeting. And I got in this like nice, fancy suit I got in blew all my savings on a nice, fancy, crisp, shiny suit and a nice, really expensive suitcase that I probably couldn't afford and will never use again. But I just wanted to look the part so bad and I wanted my client to see that I could play the part and I wanted to be like visualize me in that role full time and see me perform, not just look good, but also like performing the meeting, like lead the meeting to a certain extent, ask questions, take notes, but also try to interject in a certain way, recap, the previous conversation set the table for him, and help make that meeting the best use of his time.
Marc Gonyea:
That type of stuff is what impresses Chris and I are so much like that sort of initiative. And we've talked about it in some of these podcasts with Nelson Imade, how he got down to interview with us, let's unpack what you just said for a couple of minutes. So one is, you know, you were willing to pay for your own way to fly to the sales call, to get the experience necessary, to, you know, convince the client, right? One of these things is we want the client to kind of see you or whoever's your managers. You want them to envision and see you in the role that you're aspiring to, you flying down there on your own dime. And I remember you asking me and I say, yeah, you can go on there and, but we're not gonna pay for your flight down there. No, I'm not. That's yeah, I'm paying for it. I'm paying for it. And then I'm not taking any credit for the suit and the suitcase. That was probably one of those movies you were watching in Sweden when it was 1980 movies that inspired you to like, get the big silver suitcase. I was like, Oh dude, that's all you, man. I'm not kidding. But I remember talking with you about, alright, if you get the meeting here's well, if he shows up, cause I remember even talking to me when you were down there, like, are you going to set the table who is going to set the table? Or how do you want to do the call? The meeting? Like we were kind of rehearsing it a little, a lot of people won't do that.
Arash Almasi:
Yeah. It's about going the extra mile. I think that's, cool thing. And the great thing is like, this is the opportunity that people shouldn't be wasting like at these tech startups, there's not a lot of structure. And so you could go from zero to a hundred super quickly there. You don't need to be an SDR at the company that you go to. Like, you could find an awesome tech company that's growing very quickly that there's not a lot of management layers in place. And you know, you crush it for them for like a year and you could elevate, very, very quickly. And if you can demonstrate that you can do things that they would pay enterprise salespeople, hundreds of thousands of dollars to do just as well. Then you have much greater runway for success if you can elevate as fast as possible.
Don't waste the opportunity. Like you shouldn't have to wait until someone invites you to the table. Like you have to get yourself there. You have to ask for it. You have to again, like think three, four steps ahead and figure out what's the fastest way I can get there. And if you're not asking yourself that question, you're just leaving money on the table. You're leaving opportunity on the table. You know, I'm not ashamed to say I'm very ambitious and want to, you know, accelerate my career as fast as possible, 24/7, 365. And I'm not going to wait until someone, you know, hands me the opportunity on a silver platter. I'm going to go out there and prove that I deserve it and show that I can perform at that high level, without anyone asking me to.
Chris Corcoran:
So what happened you bet on yourself, you invested.
Arash Almasi:
Yeah. So turns out it worked. And so I always say like luck is preparation meets opportunity. So I was able to, you know, that particular deal never closed, but I was able to, during my time at memoryBlue, generate a lead with a fortune 100 energy company in Pennsylvania and actually ended up hiring me. I got placed out from memoryBlue and I actually closed that deal with the fortune 100 company for InfoCepts. I got a taste of like being a field sales rep. I did countless drives up and down to Allentown, Pennsylvania.
Over the course of 12 months, it was like a long 12-month sales cycle. We became their sole provider for micro strategy and Informatica services. And we just grew that account over the course of a year. And I remember thinking, okay, like now that I have my taste in enterprise closing experience and tech sales, I now want to go to the major leagues. My family's from the Bay area, my dad's side of the family's in the Bay area. I had this hunger to try to elevate my game to the next level. And I think at the time, my risk appetite was extremely high.
Marc Gonyea:
That's a clear dichotomy. So you did such a great job for us that the client made a move to hire you. And you know, you did that willingly too, right? Just because the client wants to hire you until the SDRs all the time doesn't mean you have to go work for the client, but you want to put yourself in these positions to have these options is the opportunity. So you have to go work for InfoCepts, did a great job and closed a great deal for them and help yourself, obviously with support from the team, but did it, but then I don't know who said it go West young man. Chris and I always talk with folks about how we love the DC Metro area, but the big leagues and high tech is in the Bay.
Arash Almasi:
I don't know if you remember, but in my cubicle at a memoryBlue, I had a vision board when I was saw, I was making like a hundred dials a day. I needed to remember why I was doing it. And so I had a picture of a giant two-story Spanish style house with a pool in the backyard, a father and a son at a Raiders game. And a map of Silicon Valley with all the major tech companies logos on it and where they were. And I was just looking, I was, I had it framed in front of my phone as I was making a100, 200 dials. I was like, this is why I'm doing it. This is why. And so I knew that as soon as I had a foundation that was strong enough to withstand the deep end that I'd be thrown in by going to Bay area tech that that I wanted to make that move.
And so, after getting, you know, after about a year and a half at InfoCepts and closing a large enterprise deal, I felt ready to make that move. Yeah. So again, like it's all based on the skills that I learned at memoryBlue, just like I would approach my day job. I made a spreadsheet of places and people that I was going to cold call. And basically I cold called VPs of sales in the Bay area and made an attack plan and said, Hey, if I can get in touch with you and pitch myself, just imagine what I could do for your company and your services. And it was very, very bold in my approach called like cell phones with people directly and probably like nine out of 10 told me to go kick rocks. But one gentleman one man awesome guy named Sammy he's at ClearSlide he said, Hey, if you can pay your own way to come out here for an interview, I'll take the interview. And I was like, great, I'm there book it. Do you have your calendar in front of you? How's Tuesday at 9:00 AM. And he was super impressed that I paid my own way out.
I stayed with my uncle in Livermore and had the interview in San Francisco. And I mean, he was, he was so impressed with my background and like Sandler sales training and my balls, my sheer kahunas to come out here on my own. And I think what really, really got him excited and wanted to give me an offer on the spot was the fact that I actually asked for more. I asked for him to pay for me to move when it's like, that's absolutely bananas. Like there's like a million AEs in San Francisco looking for a gig at any given time and for them to pay someone to go and be an AE for them is like, unheard of. And so I was like, Hey, can I get like a $3,000, $5,000, $10,000 signing bonus or helping move across the country. And he was like, no, but I love that you asked. And but I was like, well, how about this and that? And we actually, I negotiated a portion of helping me move across the country so that that was great. And ClearSlide was amazing.
Marc Gonyea:
Dude. That's amazing. And, you know, you took these opportunistic investments in yourself and your career, which were, they might seem like a whole lot of money and buying a ticket to Dallas Fort Worth on your own. You know, I'm paying for a ticket for an interview that you know, there's no guarantee certainly that you even gonna get a job offer flat flying out there for that. And in reality, and the big run, it wasn't, it's not that much money, especially now, if you look at the return on the investment that you garnered from this, got promoted, got into a closing role. Got some chops closing, got your ass out to the Bay area in big leagues to sell for an emerging tech company, right. Just by taking these risks and spending, I don't know, less than a thousand dollars when you people spend 20, 30, 45, $50,000 a year for, just for one year of their undergrad investment potentially. I mean, it's, it says a lot about you. So when you made the move, you drove out, you drove out there.
Arash Almasi:
Yeah. So at the time I've been with my girlfriend at the time in DC, we had met just moved in together. We had lived together for about nine months, almost a year. And this was all sort of happening at the same time in parallel to my relationship getting more serious. And I was like, Hey, so I've always had a dream to go to the Bay area. And my wife's always been my, my now wife then girlfriend spoiler alert. She's always been very independent minded, very travel minded. So she was like, yeah, let's do it. I'm going to try to get approval to work from home. She got the approval to work from home and we decided how we're just going to move to the Bay area and go try something new.
And so, we have a 60-pound pit bull that we did not trust the airlines with. So we threw him in the back seat and I had a three series at the time and made it to Chicago and like nine hours, which if you like, don't have a three series will probably take you like 12. But it was fun. It was like we were young and stupid and just excited to try like this risky thing. And so, we stopped in Chicago to see her family. And I sort of fell in love with their family and the city of Chicago for, we spent a week there over Christmas in Chicago and then continued to drive, saw the grand Canyon, Vegas and then drove up route one down South up to Northern California. We actually posted up in Oakland for two years and lived in downtown proper Oakland for two years.
And that's when you know, I knew, okay, all right. She moved across the country for me, real deal serious. And pop the question. She said, yes. And, then, you know, she's from Chicago. So, after a couple of years in Oakland, you know, when we got engaged, she said, Hey, I want to move to Chicago back to family, for settling down. And then I was like, great. I want to stay engaged. So we compromised and moved to Chicago and the Bay area was great. I mean, I think again, like I wouldn't be where I am right now at a major tech company, Glassdoor without having taken the risk of like jumped in head first with no idea what's going to happen. Just some random tech company in the Bay, but the connections I made there and just like with, once you enter the major leagues, like, again, it never stops every day.
Like at these companies, like it never stops being a job interview every day, your performance to your peers who then go on to other tech companies, your managers that you meet that then go on to other tech companies. Like they all know, they know they can separate the bottom of the pack, like in the mid middle of the pack bullshitters and the top performers. Like the people who just look like they're doing well, but they're getting lucky. The people that are struggling and are going to wash out. And then there's the people who know what they're doing. Have a system, have a process put in the work, and there are talented on the phones and, and people can tell the difference, right?
And so the people who meet other people who then want to rely on those people moving forward in future roles, like that's why I'm at Glassdoor now is because of the relationships I made while at ClearSlide, and then continue to stay in touch and recruit you when they move into other roles. And I met a manager, a guy named Matt Warnerky at ClearSlide, who I impressed, who then moved to Glassdoor, who then recruited me to Glassdoor. But I was like, actually, I'm moving to Chicago. And they're like, Oh, actually we're starting a Chicago office. And the stars sort of aligned. So, I helped Glassdoor start their Chicago office, about 20, 25 of us, and then grew that to around 250 people today.
Chris Corcoran:
So when you, when you look back across your sales career up to this point, what's your favorite win?
Arash Almasi:
Probably I would have to say it's probably during my time at Glassdoor on the enterprise account manager and a part of that is you know, managing existing clients. And I inherited a client that had had a lot of technical difficulties with our partnership with our job advertising campaigns. And it was a fortune 100 insurance company in Atlanta. And were spending, you know around, I want to say, mid five figures and hated us at the same time, had hated all the technical issues. They had regretted their investment in the partnership. Didn't see a ton of strategic value in the partnership.
And over the course of about 18 months, I turned that account completely around where the decision maker the CHR knew me personally. We had a great relationship. I took them out dinners and steak dinners and steak lunches and lobster, and I knew their wine order. And, but more importantly than that, as you guys all know, that's all just the, sort of the fluff on top of a healthy relationship, which was based on actually understanding their needs, delivering high ROI. And that account when I left that account they were spending mid six figures with us. So they went from sort of a, you know, basically three X that account over the course of 18 months.
Chris Corcoran:
How did you do it?
Arash Almasi:
So it was a combination of just really like relationship management and making sure that they understood that I understood them and knew them, and they had access to me directly and making them just feel like I care about them as people. And really like within account management there's this concept of like the magic beans over the course of a year or two years. Like every interaction is not a sales interaction. Like you have to add value and give more than you ask for and receive in return. So throughout the course of a year like clients have to be really excited when you call them, if they think you're delivering bad news or you're a headache to deal with, they're not going to take your calls. I try to leave one gift or a magic bean every time I interact with a client.
Which is something that adds value to the partnership. It's their life. I basically see my role as trying to get my client partner on the other side, promoted, make them look like a rockstar for investing in whatever services that I'm offering and make them look good to their boss that they're delivering high ROI to their company and get them promoted. If I help get them promoted, then I am going to get rewarded through a larger agreement or through a promotion of my own, perhaps. But essentially that aspect is what really drove me to succeed with that particular account.
But I think in general there's also this element of like taking your hunting skills that you've acquired and applying it to a farming role. That was the major driver of my overall success beyond just that one deal. So I think that what I mean by that is, for account managers versus account executive specifically account executives, you know, hunt for new business, my role is to grow existing business. I work for digital media and SAS company, and we have to grow the digital media spend of our clients and digital marketing sort of recruitment marketing advertisements on Glassdoor year over year.
And so the way that I do that is through a high energy, high volume hunter mentality, where I'm constantly looking to engage and get like my face in the place with my clients and try to spend as much time with as many clients as possible. And that basically is the antithesis of the typical stereotypical farmer, sit back and let renewals come in and talk to your once a year. And, Oh, it's an easy gig and AEs looked down on AM's and, but newsflash, I am just make just as much money as they do. And it's a different game for sure.
It's less about the volume and volume and high energy is important, but it's also about the quality of the interactions as an AE you have 10 meetings. And if three of them go, well, you bat 300, you're an all-star as an AM, you have 50 clients. And if one of them doesn't renew your year is F'd. So it's about the quality of the interactions you have with those 50 accounts that you're managing versus, you know, the volume game of an AE. But within those 50 accounts, you have to constantly be finding new people to talk to new angles, to approach new storylines, to be able to tell them and analyzing their performance data, whatever it is that you can analyze. That's data-driven to showcase that, Hey, this partnership is going well. The proverbial chart is going up into the right at all times. And you are adding value of the partnership by fixing it, or offering additional solutions to address it XYZ.
Chris Corcoran:
So essentially magic beans and the hustle hunter mentality. So, you know, there's an expression or saying that what is scarce is incredibly valuable. I'm telling you from my experience with the account managers, very few that had a hunter mentality and are adding those magic beans. So it's worked well for you.
Arash Almasi:
I mean I've been promoted three times in four years and into the highest level of enterprise sales and also have had the opportunity to manage folks. And I'm telling you, it's the same thing that we were, I think, you know, memoryBlue was doing 10 years ago. It's Moneyball, it's figure out what other people aren't doing and do that. I think you guys invented the SDR category as far as I'm concerned, like before you know, like 10 years ago, there were no SDRs. So that's what we were doing back then. We were doing things that are industry standard. Now we were doing them 15 years ago. You guys were doing them right. You guys were teaching us how to do the things that are industry standard now, back then. It's the same thing it's trying to figure out what's the one, you know, one to 10% of the top performers, what are they doing that nobody else is doing and do that?
Marc Gonyea:
You gotta do the call shadowing, you know, you gotta do the blitzing, the call reviews. That's how you get better, that self-analysis, right. Breaking on game film.
Arash Almasi:
You guys are doing game film about 20 years before gong.
Chris Corcoran:
How do you, your skills sharp.
Arash Almasi:
Good question, man. Believe it or not, like, I still listen to John Costigan, Ganesh to this day, I still have that you know, saved in a Dropbox actually. And the first time I managed a team, I took basically like core concepts from those books and train my team on it. Like, that's like where I start any time I inherit someone that either a mentee or someone, a direct report. One of the first things I have them do is study the concepts of Sandler sales read the 21 rules of Sandler try to get exposed to any sort of Sandler training that's possible. It's just going back to the basics, going back to foundations, like I'm not above you know, going back and listening to Ganesh and Costigan. And that's sort of been critical throughout my entire career.
Marc Gonyea:
Let me ask you a question about patience, because you don't strike me as someone who's particularly patient, which is good because we hire people. We screen for people who aren't that patient, because if you're too patient, it's gonna be very difficult for you to knock the cover off the ball in sales. However, patience, is a virtue. That's commonly said, we've got loads of Arash Almasi's that work for us now at memoryBlue. And they're very impatient and they want to get where they want to go. But sometimes we have to say, Hey, you gotta be a little patient too. And you know, what do you have to say? What's your take on that? I don't want to undersell it. I don't want to oversell to, but it'd be good to come from someone like you, for the past eight years since you've left, you've done all sorts of great things.
Arash Almasi:
Yeah. So I get wanting, you know, I get impatient. I remember I wanted to be like an enterprise field sales role right away. That's what drew me to InfoCepts is the ability to get in the field very quickly. And, I didn't want to be stuck in inside sales, so to speak. Bu you got to balance it with being strategic and smart and if playing it slow is the smart thing to do, then that's what you need to do. It's more about like playing chess rather than checkers. Like I said before, I think you told me this, Chris, actually one of the first meetings we had is like, you know, a traditional career outside of sales in business and like marketing or operations or whatever, it's this sort of a straight linear line of progression of over time, you develop more skills, you become more valuable to a company and you get paid more, a little bit extra every year, merit increases or whatever, but in sales, it's actually, you're supposed to, instead of one linear straight line, it's supposed to be these exponential jumps over time where you're making three times as much money as you did the year before.
And so, you got to figure out, you know, what that move is and its sort of be patient, but also strategic and so if you're impatient with making sure you're doing the right thing. Like, there's never a bad time to stop what you're doing, reevaluate and figure out like, what's a better move that I can make right now, like do that right away. But also, like don't do that instinctually, evaluate your options, be very smart about where you want to go. Like if you want to be in sales operations, then do really well at your job, but also build spreadsheets for people and figure out new processes and improve a Salesforce automation flow and do things extracurricular and be impatient about taking on projects and tasks that get you to where you want to be. But at the same time, like stay patient and do the right thing rather than do just like what you think is the next move just out of instinct.
If you are an SDR right now, let's say you want to be a sales manager one day and, and I would advise you to not actually go from SDR to SDR manager, I would advise you to do AE enterprise AE, try to go as high as you can. The individual contributor route first, before you pivot into a leadership role so that your ceiling for managing teams is higher and you can manage higher level teams, enterprise sales teams. If you pivot from SDR to SDR manager too quickly, you sort of set your ceiling. It's going to be difficult to talk to an enterprise VP of sales and say, I can manage a team of enterprise closers having never done the job. And so that's what I mean when I say, like be patient, but also, be smart and be impatient about getting to the right thing, versus, you know, just whatever's available to you now.
Chris Corcoran:
Awesome. So what's the biggest mistake your former contemporaries make?
Arash Almasi:
That's how I would say it's kind of along the same theme. It's just like chasing the biggest base chasing, you know, where can I make the most money right now, this next job, I think it's try to figure out more so than like, where can I make the most money? It's like, figure out, like, what is the right industry? What is the right space? What is the right type of sale? What type of culture do I want to embed myself in type of people? I want to surround myself with figure that stuff out and prioritize that versus just I just saw a lot of people going into and even myself, companies and cultures, that I necessarily, you know, didn't see myself in long term but I, was drawn by just the high salary. Right. And so that obviously is why we're all in this and sales is to make money.
I try to tell people again, to always think about the long-term and think about, you know, where this is going to take you. I think for me, for example, like I actually found out very quickly early on in my career that I don't think necessarily I'm the best to talking about technology or like it, or selling switches or security, I have to be able to be passionate and intelligent about what I'm talking about. And I wanted to be able to have that come natural to me. And so even like business intelligence and data warehousing and InfoCepts after a year and a half, I was like, man, I don't really think I can get excited. And if I can't get excited, I can't get other people excited. I need to have like something I'm truly passionate about.
And even though like, it was a great experience, I got closing enterprise field sales experience. I needed to find something that I was really like passionate about that I could feel like, okay, I can throw myself in this. And I know I can be more than just competent I can be, I can Excel. I can be a thought leader in the space. It took me years to find that at Glassdoor where I feel like I've truly found, um know, the things that I talk about on a sales call for Glassdoor are things that I just read about for pleasure, you know, things that I invest in time that  I spend outside of my nine to five are things like employee engagement, corporate culture, healthy leadership, philosophy and diversity and inclusion efforts and how to be, um know, a top employer. What does that mean? How do you, how do you take care of people at work?
This goes back to what I was studying in college and what I found value in and passionate. And so being able to like, just look for that, I think the same people that people make is, is not trying to find that deeper meaning in your work, um just doing it for, and again, it's so ironic because tell that to my 16 year old self, tell me to go kick rocks, like, you know, uh F you, I'm just going to go make a shit ton of money. And it's like, no, there's more meaning than that out there for you. You just feel like as a person, 365 degrees like fulfilled when your creativity, your passion and your heart is engaged in your work. I know that sounds super cheesy, but it's real.
Chris Corcoran:
I always view your role that you're in now. I always view you as you don't have to go to work. You get to go to work.
Arash Almasi:
Hell yes, I a hundred percent agree. I just feel so lucky that my job is just to talk to like HR organizations about how to be a better place to work how to be a more desired and attractive place to work and why that is cost efficient and is good business practice. I think ultimately I think maybe 10, 20, 30, 40 years down the road, I'd like to, you know who knows like maybe when I retire, when I get tired of making a ton of money and want to be like a chief diversity officer, something like that, that's kind of where I see myself going. But I just, I love being able to bring that to, to organizations. And it's a, it's something I'm truly passionate about.
Marc Gonyea:
I think it's rare for people to hear that story about making money, but also doing these things that they're passionate about and try, and you're fortunate to be in that place. Right. And it shows, but we can all kind of find that. And there are some people who can do that through data, on data warehousing and BI tools too. I mean, I know folks who do it that way, it's just, you got to find your path, but you can't stop hustling. You can't stop improving your craft. You can't stop learning about new and unique things. And you've got to have failures along the way.
Arash Almasi:
Where the magic happens is where you have both is where like you are bringing that grind. And you're focused on, you know, high ROI activities for yourself and maximizing your return on every hour you spend at your job. But it's combining that with a deeper level of meaning that fulfills you as a person at work where you can be your authentic self, make a f*** ton of money and love your colleagues. Have a blast, have a supportive manager who cares about you as a person who first and foremost, leads with compassion and integrity and love for you as a person to achieve your full potential. And then also you hustle your a** off and make a ton of money.
Like if you could do both like that is where like, as a salesperson that values these things of fulfillment as a person. If that's BI and data warehousing, if you're like, my mission is to make data adoption and digital adoption at a company. Like if I can do that, that fulfills me then more power to you. That's amazing. Right. I think this just happens to be my passion, where I love talking about culture and how to make people feel psychologically safe and included. But then also bring the best out of them as a result.
Marc Gonyea:
Well, listen, eight years later, here we are.
Arash Almasi:
Yes, sir. Still here.
Chris Corcoran:
Thanks for joining us today Arash we really enjoyed catching up with ya.
Arash Almasi:
Really appreciate you guys. Thanks for having me on.
Marc Gonyea:
You're the man, Arash.