Episode 16: Philippe Ghattas – When One Door Closes Another Door Opens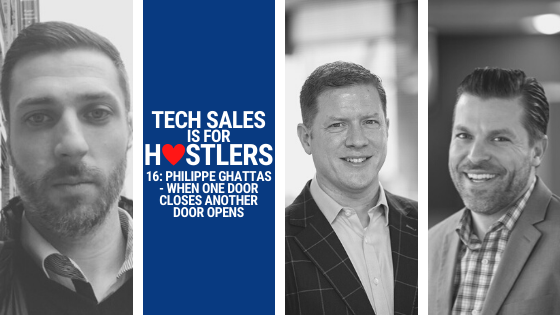 In order to have a successful career in the small tech sales world, you have to leave doors open. Philippe Ghattas had barely started his career in high tech sales when he was laid off from his new job, and he had just turned down another offer from his former memoryBlue client. Fortunately, Philippe was able to renegotiate a new job offer from that client and get things on a positive track. Since that very distinct moment in time, he has also always made it a point to never shut a door on the way out. Today, Philippe is living in London working as an Account Executive at Sisense.
On this episode of Tech Sales is for Hustlers, Philippe shares with us the pros and cons of working at both small and large tech companies, what it's like working abroad, and how he's able to maintain lasting relationships that allow him to keep all of his options open when opportunity comes knocking.
Full Episode Transcript
Name: Philippe Ghattas
Title: Account Executive
Company: Sisense
Exit Year from memoryBlue: 2008
Months at memoryBlue: 14
Alumni Path: Hired Out
***Introduction***
Philippe Ghattas:
When I go and have these conversations, you have a record, you have a track record. Sometimes you're being approached for this, sometimes you're approaching them. It's how you leave that discussion. How you either leave that door open or close that door behind you. That is going to enable you to revisit that or not revisit that at a later date, in technology you're going to speak to a lot of your peers throughout the career. A lot of you're going to find each other maybe not five years from now, but 10 years from now, back in the same company, I make sure to leave some of my doors open specifically for that reason.
Marc Gonyea:
It's tea time ladies and gentlemen, this we cross the pond and talk to Philippe Ghattas Account Executive at Sisense. Philippe shares with us, the pros and cons for working at small and large tech companies. Why he moved abroad and how to keep doors open in the small tech world. Hi, I'm Marc Gonyea.
Chris Corcoran:
And I'm Chris Corcoran. And you're listening to Tech Sales is for Hustlers. Tech Sales is for Hustlers is a podcast where we catch up with memoryBlue alums and reminisce about their starting high tech sales with us.
Marc Gonyea:
Let's go get some Corcoran.
Chris Corcoran:
Gonyea, you know, I'm ready.
***Episode 16: Philippe Ghattas***
Marc Gonyea:
Philippe Ghattas in the house.
Philippe Ghattas:
Marc. How are you? Chris, how are you?
Chris Corcoran:
Philippe coming at us live and direct from across the pond in London. We appreciate you escaping tea time to join us today.
Philippe Ghattas:
Yes. Thank you. Great seeing you as always. And yes Speaking to you now from London, even though the accent, isn't reflecting that as of yet.
Marc Gonyea:
Thanks for joining us, man. It's been a little while since you've walked out the doors of memoryBlue.
Philippe Ghattas:
That's a little over 12 years now. I think first job out of college have gone quite some way.
Marc Gonyea:
Let's just hop right into it. You're our first guest overseas. We don't have a lot of alumni that have made it overseas, but a lot of people want to talk about it, but you've done it quite successfully. So we're gonna get into that. But you're the first guy in that whole international you need a passport to get to do a podcast. So I'm excited about is kind of cool.
Philippe Ghattas:
I am too again, it's always been something I knew I wanted to do throughout the career. It was always just a question of timing. Again. It's same game, different country with just a few minor differences, I guess, to it. But I love the international aspects.
Marc Gonyea:
Tell us about where you grew up. What were you like as a kid?
Philippe Ghattas:
So actually, born and raised in Virginia I grew up right outside of DC actually went to a French school. Lycee Rochambeau it's still there in Maryland. So pretty much I actually spent just about 25 years of my life in DC. Educated there went to UVA. Let's talk about all this.
Marc Gonyea:
Let's talk about that real quick. So you say you only half French.
Philippe Ghattas:
Passport wise I'm French American given I was born in the States, but my father is actually Lebanese. Came to the States relocated and pretty much started his tech career there as well too.
Marc Gonyea:
You lived in Reston, Virginia, but tell us about the French school. I'm always fascinated by that.
Philippe Ghattas:
Bethesda, Maryland. So it's exactly, as it says, it's a French school. It's based on the French education system. You're there every day from 8:30 to 5:30 and pretty much did that for about eight years. I did start in uh the Herndon elementary system, I did learn English here cause French was my first language. And in fifth grade is pretty much when I made the hop.
Marc Gonyea:
What were you like as a kid? Like when you're in high school, were you a sports kid, academics, probably rocking the French jersey, probably.
Philippe Ghattas:
Actually I wasn't rocking the French at the time, especially compared to some of the real French at the time. It was a different, I guess I'm aging myself a little bit, but I've changed. I did like sports. I played, quite a bit of basketball as well as soccer. Sales gave me the golf itch, I guess as well too. I was a very active kid, swimming a lot during the summers, even did quite a bit of life guarding.
Marc Gonyea:
Well, I don't want to jump too far ahead, but was there any point growing up in sales is maybe something you thought of, or kind of, was it gleaning in your eye or anything like that?
Philippe Ghattas:
It's always somewhat been in me if I think back to different experiences and even stuff I did throughout, let's say middle school and high school trading candies with peers and always trying to make deals on trying to get some of their food at lunch, to listen to my father who had a relatively successful career as well too. But high tech sales, pretty much just seeing his success, hearing his stories, always been around that type of environment.
Marc Gonyea:
What were you trying to shake and bake the other poor French kids for at lunch?
Philippe Ghattas:
Oh man, they had the best croissants and stuff like that. I had more of the Costco American style candy that their families absolutely refuse to give them. So I started to work pretty much the salesmanship at the time to try and get some of those French cookies.
Marc Gonyea:
That's like the Louisiana purchase as far as Philippe is concerned. Alright. Okay. Alright. So you obviously did great academically cause you went to University of Virginia, you know, the finest, arguably the finest school in the state of Virginia. Tell us about that.
Philippe Ghattas:
It was a big change. It wasn't easy. I did rather well there, but I guess the challenge was coming from a French system and going into an American system was already something. So yes, I grew up in the States, but literally I was in a French school all day with people that had English as a second language. It's a different culture. So it was me figuring out how to navigate, make new friends that took a little bit of adjustment and a period of time that fit in rather quickly and then had to readjust to thinking about what I wanted to do with life, where I wanted to go with the career. And again, you're forced into that system to make some very quick decisions on things that you're maybe not completely sold, but that's the right move for you in the long run. So I started with bio and switched to econ. And from that again, doing something not completely different, but relatively different with where I am today.
Marc Gonyea:
Yeah. Econ and French. If I remember.
Philippe Ghattas:
Exactly dual major again, French was there specifically for, I always had that in the back of the mind. My plan is I'm in the States. Now I am going to end up leaving the States, go back to France every single summer or at least once a year, we would pretty much end up going there. Half of my family, that's still there. And a lot of friends from childhood that lived there now as well too. So it was always a goal. It was again, as I said earlier, just the timing around that was the more delicate part to play in the journey.
Marc Gonyea:
And you were an econ major and French. What did you think you're going to do when you got out of school? Did you have an idea? Joe Ghattas in sales doing his thing. So was that part of the plan or how did that all go down?
Philippe Ghattas:
You know, it wasn't a part of the plan at first. No sales was not part of the plant. This pretty much happened actually because of a memoryBlue you guys, I think also reached out to us. So doing it to give credits to, I think it was Lisa at the time Lisa Kelly, again, I was very interested in pretty much what you guys had described to me. I was in a place where I also was trying to figure out what I wanted to do. I knew tech sales was out there, but I didn't know where to begin. I didn't know how to break into that industry. I didn't know how to accelerate a career. And a lot of companies it's tough to get that first shot from them, especially when you haven't done anything necessarily maybe with an it background or something that you could marry into that type of story.
Chris Corcoran:
When you heard it, just when you heard the name memoryBlue, it was irresistible to your French heritage.
Philippe Ghattas:
Yes. Yes I did. Look it up. I saw the elephant. You tried to help me understand a little bit more about that. But again, it was different. It was different from some of the other things that I was looking out on the space. And again, I think sort of how you guys helped me understand the opportunity that's ahead. And me being able also to validate sort of, is this a path maybe I want to experiment on, try and go down, will it open up possible other opportunities? There were a lot of those different buckets or checkboxes that I still felt it would be able to fill regardless of what happened.
Chris Corcoran:
I remember that when you came to us, you were younger than most recent college grads.
Philippe Ghattas:
I don't want to say Chris. I was waiting for you to bring it up. Yes, I was 21. I had just turned 21 one week before actually getting my diploma from UVA. So relatively young, still at the time, this was my first real job. I felt that there were a few older people also that you also already had engaged. They were fluent when I was walking in, I could hear them on the phone. It was a little bit overwhelming all to just take in at that first time. But it also showed me that again, it's at different type of culture. There's people that seem interesting in the office. I'll go into always see some of those experiences with you guys a bit later, but what you guys sold me on is really sort of how you work on helping us get the foundation that we need.
And that's what was different than a lot of other offers or employers that I was possibly looking at offers against is how are they going to invest in me? How are they going to make me successful? How can they help me then accelerate me getting to that next step that I want. And again, I thought that you guys really, from the way that you work with some of the employees, some of the different ways that you train us as well too. And then some of the ways that you coach us and spend time with us every single day at first, it may seem a bit tough, but in the long run that's to get that process instilled in us and make it almost not robotic, but something that's easy for us every single day, to just go into and not have to necessarily stress or think about what is it that I need to do today. Rather focus on the things that I know are going to drive the needle in the right direction.
Marc Gonyea:
Yeah, that's good stuff. I mean, I remember I was like, man, we got a UVA guy who wants to get into sales. And then I remember his dad and I worked at CA briefly out of school. I was like, his dad works at CA this is good. And then this guy was really well dressed. Like why is this guy so well dressed? And he was crushing it, Joseph, A. Banks, making a little bit of money. And in the summer I was like, dude, this guy, we gotta get him in the door. But, but honest Chris and I always remember that you were one of the younger ones. And why were you so young? Did you graduate quickly?
Philippe Ghattas:
Yeah, I skipped a couple of grades, so I skipped one grade, very young. And I also skipped technically sixth grade when I went from the American system to the French system.
Marc Gonyea:
Yeah. So not only the most well-dressed person in the office, the youngest. Right. And, and this always stood out for me. Philippe, during your time memoryBlue, you are always had like one of the higher degrees of self-awareness. I mean, you were really mature in terms of working at memoryBlue early. Monthly quotas get changed because you know, maybe they were misaligned or, you know, clients being upset or sometimes have unreasonable expectations or me being naive. You are all, you always took it in stride. Always like, man, this guy is just such a great person to have on the team. It was amazing. There are particular days when everyone would probably upset at me about quotas. I definitely remember this. You're like, Gonyea don't worry about it. They're gonna, everybody's gonna be okay. Like I'm going to hit my number. And I was like, man, I love this guy.
Philippe Ghattas:
You know, what's funny is that still stuck with me? So I still feel I'm in the exact same way as that it's you can't always have that negative outlook that eats away at you at the end of the day. I mean, to me, I see that as a challenge. Obviously I'm a little bit different today. If there's unrealistic challenges put in front of me, I'll try and approach it differently. But again, we're trying to grow a business. You guys are helping us put a plan in place. We react when we're a little bit younger just to seeing maybe just a number increase rather than let's sit down and actually let's put something in place to help them get to that plan.
And that's pretty much what we did month over month. And it took shape maybe in different types of contests. Maybe you didn't spell it out for us. But you encouraged us ultimately to drive that plan and to get to those outcomes and you rewarded as well for it as well to not everyone did it. I agree. But again, that benefited the people on the team that, that did. I remember the only people hitting on that shared pool, that actually was, not bad, especially for a 21, 22-year-old. I was like, s***. Sales could be actually quite rewarding figuring out the path I could continue down. So you guys gave me the bug, the edge, I guess, is the best way to put it
Marc Gonyea:
What do you remember? What do you remember from when you started clients, campaigns, SDRs?
Philippe Ghattas:
The old school office where I remember we would walk upstairs. Who was it? The first person that we saw David Gottschalk, Michael Rubin, James Schiefer in the back. Hoffmann, trying to strong arm deals from that back office room. It was a hell of an office, man. There's some good stories in there now, but again, I think that from there again, we started growing the team. You started growing the team quite a bit of a aggressively in Tysons corner. Yeah.
Chris Corcoran:
So for our listeners Marc and I, you know, we've been in the business for a little over 18 years and whenever we talk about the biggest or most challenging deals that we've closed, it's always been getting people to come work at the company. And Philippe is a great example of that because here you go, you get a freshly minted University of Virginia graduate 21 years old, super bright fluent in two languages well-dressed and he comes to our office and our office is in an industrial park right across the street from a waste management, how we were able to convince him to launch his career. There is amazing is amazing. So thank you, Philippe. We appreciate you taking a flyer on us.
Philippe Ghattas:
You guys took a flyer on me technically too. So again, it's, it's a reciprocity there.
Marc Gonyea:
So if you could go back in time and tell the your 21 year old self, the night before your first day memoryBlue? What advice would you have for yourself? You'd go back in time.
Philippe Ghattas:
So it would probably be stop stressing out so much. You're going to do just fine don't worry about the unknown. If you've surrounded yourself with the right people and did your due diligence through your process, it's gonna work out. Again, I want it to make sure I succeeded. I don't like starting over and having to waste time. I want it to pick the right place, place the right bet and start the foundation.
Chris Corcoran:
Did you ask your dad about the opportunity or because typically there's, there's two types of college graduates or people who are considering joining memoryBlue. They either ask their parents and their trusted advisors and take, get a lot of input from everybody or there's other people who let's say do it in stealth mode and hope their parents don't find out what they're up to.
Philippe Ghattas:
And yes, it was quite a few conversations with the father. Who's again, been in the industry for quite some time. He walked me through pretty much the journey that I would be going on, which matched a lot of what pretty much the promise was of memoryBlue. And he actually thought it was also a relatively unique twist. You hadn't heard many other companies that had that model, where they all invest in people, they work with companies in the area, and then they also encourage those companies to also pretty much take that employee if they like the work that they're doing and bring them in directly to their business. He knew that the hardest first step and companies that he worked at, some of the larger enterprises, it was pretty much a rotating door. They don't invest in SDRs BDRs, people that are starting with that career. They're just hoping that some of them come in and that the better ones are gonna make it to the top and they'll try and invest in it.
You guys took a different spin to that and that's pretty much, I think what also him had believing that this could be a good fit for me. If I was serious about tech, he was a believer in investing early on and coaching, helping us see sort of how you can grow pretty much out of your role into some of those next roles. And what are the ways that you can obviously scale up, make yourself more effective at either finding pain, doing discovery, and then taking it a little bit further. And then what some of your peers ultimately are doing. And that's pretty much the due diligence process. It's not after buses what I to do today, but at the time it was, again, I didn't want to go into this blind. I wanted to make sure I was making a right decision for myself and even playing your story to outside individuals that haven't seen or heard of memoryBlue. So made sense.
Marc Gonyea:
So what was it like, do you remember you walk in? You got Hoff strong arming people.
Philippe Ghattas:
I can't remember which accounts they were. It wasn't Deltek at first. It wasn't Adam Parker. I was with Lee Lawson. And Lee was starting to help me pretty much understand what are some of the things that we're going to be doing every single day. So what does a day of memoryBlue look like? What are going to be some of the things I'm going to be working on? Actually Marc, when I first arrived, it was, I think even before working with Lee, working with you I was split 50, 50 wasn't I? I was looking for prospects, high tech companies in the area that also would want to use memoryBlue services. So again, it was a little bit of both and I've liked all aspects of that because it gives me the opportunity obviously to do a little bit more, what I'm doing now, which is helping businesses grow as well as with Lee working specifically for direct customers and taking more of that individual type of contributor role, which is also half of the career I've done as well too. And I've enjoyed it quite a bit.
Marc Gonyea:
Awesome. So you executed your time with us. You are with us and you started in 2007. So when you kicked it, so we only five years in, and then you ended up doing a great job and going to work for, well, we got, do walk me through your recollection on kind of the career path when we got to the point where you were looking to bounce, you know, in a good way. Right. Cause that's the model.
Philippe Ghattas:
Yep. So we had hit about a year, a year and a few months. What a few close friends, Schieffer being one of them that had just left also too. I can't remember if he was working with Parallels at the time from memoryBlue or not. But again, it was a company I was very interested in as well too. And this is also again, it's that culture, it's the people that you meet at memoryBlue. We stayed connected. So he got me an interview job there. I actually turned down something, from my customer who was Expert Choice.
Marc Gonyea:
So you were working on Expert Choice and Schieffer had bounced and I believe he went to Parallels.
Philippe Ghattas:
He did it for a few months. I went there for a week and the Friday of that week, pretty much had an RVP come in.
Marc Gonyea:
Hold on, real quick. So your client wanted to hire you too, right? So you had two options. So after just not crushing it for us, you had two options and you weighed them and you, and you went with Parallels.
Philippe Ghattas:
I did, yeah.
Marc Gonyea:</strong
And then, so you're super excited and leaving memoryBlue. I'm going to work for a great virtualization software company and then tell us about it.
Philippe Ghattas:
And pretty much I was there my fifth day, just finishing up the HR documents and the entire sales team was pretty let go on that front, located everyone else outside of sales, back to their HQ in Seattle and shut down their office except for one very small team. So I was sitting there at my desk, looking at James like what the f*** just happened? I just said no to another offer, what am I supposed to do? I mean, they did give us sort of a severance check. But I didn't really care about it. It was nice. Yes, I cared. But I was like, I don't have a job. I just said no to actually really good opportunity as well. This is the first time I'm in this situation. I'm still new in my career. What do I do? I asked my dad, he immediately started cracking up cause he's seen these types of things.
And the first thing he did was call Marc call Chris, which is the second thing that obviously when I did and explained to you guys the situation again, this is where you guys saved me again. In this instance, I think you got Steve Debrow from Expert Choice at the time was coming to your office where meeting and almost had me coordinate arriving at the same time to your office to go and try and renegotiate that falling back in. Even after that whole little hurdle with James and yeah, it all worked out. They took me as a hybrid rep as well as BDR. They wanted me to continue driving and doing the good work I was doing on their account while I was working at, at memoryBlue. They were trying to obviously expand that team and they were growing so that they knew I wanted to be a rep. And they offered me also that career growth path and the ability to continue coaching and training me behind the scenes.
Chris Corcoran:
If I remember Parallels was a large software company, large enterprise, established and Expert Choice was more of an emerging small startup. So you had a taste of the big, big software company and then moved right into kind of a startup company.
Philippe Ghattas:
It was pretty much that yes, it's probably something that most people will try and figure out early on in their career is what is the right profile company for you? I know what I like today. There are certain profile organizations that I'll look for and things within obviously, that company that are even more important that lend themselves more to the value I can bring to them.
Chris Corcoran:
Tell our listeners what you prefer or what are the pros and cons of like the small companies versus the large, more established ones.
Philippe Ghattas:
So, pros and cons of the small ones for me pay is going to be a big pro and con you're going to get good pay at a small company. It's high risk though. You know, it's high risk going into it. There's either a risk that you're possibly going to have to defend the product much harder because there's no awareness in the market or risk even that the company itself may not progress. And your career may not accelerate as quick as it could in a larger company, a larger company, the downside is you're in a great structure. It has all the support. You have all the, cross-references the support that you need from different teams. You have a brand, you have a certain lifestyle associated to it, but there's an ecosystem and it's a larger ecosystem.
And you're a small fish that has to navigate very quickly to try and again, keep that name for yourself. So again, it's a different model. It's a different process in each where I see myself today, something in between the largest, I don't want to say I'm on the smaller end. I like a certain size organization, but it's companies that are like, are looking to really establish themselves in Europe is being able to help them accelerate that growth in Europe, helping drive different types of strategies through obviously language is experience and how I've been brought up in this tech space in the States with companies that are US based companies that are trying to grow their presence here.
Chris Corcoran:
Excellent.
Marc Gonyea:
I think there's a couple of lessons to be learned for people to keep in mind. One is you did such a good job with Expert Choice that they decided they wanted to bring you on board and you gracefully bowed out in such a good way that after you scorned them, you know, told them no, depending upon who you ask a scoring or no you were able to go back to them and they still wanted you to come in the mix. So, you know, it's not how things started, its' how things end, you ended up really well with them so much so that you were able to fire it back up and get a better job out of it than what you had when you were departing, simply because you just handled yourself with grace and with professionalism, which is kind of how you always roll. That was great to see. And they said, it's so funny. We were talking before we recorded about that. I had forgotten about getting you back in there, but you know, that was a great thing. Cause you were there for a little while, right before you went to Logi.
Philippe Ghattas:
I was, I was there for just under two years and then started the whole fun Logi experience that lasted just under six years, had a few different roles promoted a few different times over there.
Marc Gonyea:
Well, what would you say was your biggest, , your finest hour, which you learned the most, but when you worked at memoryBlue?
Philippe Ghattas:
It depends what type of knowledge, I guess I'm going to go with the salesmen answer that I am. And I remember there was one month where I really crushed my number. I was the only person that hit a very large pool and took all my paycheck. And the lesson I learned from that is that you put in the hard work. If you put the plan down and if you're mature about it, there's a lot of opportunity that this career path and gave you
Chris Corcoran:
Philippe. I remember something different. Tell me, I remember we had just moved from next to the dump over into Tyson's corner. And I was, I was responsible for office supplies and I wanted to make sure that we never ran out of anything. Cause I think it transmits the wrong signal that we're unprofessional, unprepared, et cetera. So I set up a little counter next to the coffee machine. So whenever anyone said for those K-cups stated would just have to put a little mark on it so I can read it, see inventory properly. I remember one night I walk in there and next to your name, there was like 25 marks for the day. It was like it wasn't you making those marks? Was it?
Philippe Ghattas:
I am a very, very big coffee drinker at that. I hope I didn't have 25 in one day. Thankfully, I'm still here, but no.
Chris Corcoran:
I think it was your boys James Schieffer and Grant Way.
Philippe Ghattas:
That sounds like one of the classic office moves that they had quite a few fun times that I remember with them from pranking them. They made work a little bit better. Sure. We need that. And again, I thought that you guys picked a really good team. That's what's nice. It's a lot of people that you profile. They have quite a few similarities, so it's easy for us to mesh together. Schieffer came with me to another job, Zach Gossin, you guys remember Zach also came with us also to Logi as well. Matt Genoa almost tried to come out here as well as randomly bumped into 'em it's funny.
Marc Gonyea:
So, you went to Expert Choice after learning a lot, making some money, having some fun in the office, turned a client, getting hired by a client after making a nice check for only a week worth of work. Cause you got the severance, even though you're only there for five days, which is amazing. And then, so you got back in the chair at Expert Choice from what you remember. And it was a little while ago, right? What was the transition like from being an SDR? I'm at memoryBlue to, okay. I'm in a software company I'm in a hybrid role, which they weren't going to give me before. The other part of the hybrid role was what the closing part?
Philippe Ghattas:
Yeah. So I was able to drive certain organizations that were less than X employees. And then I would drive those with my VP if they were larger, more strategic accounts. So he wanted me to work some of those smaller, more tactical projects and get me more fluent into understanding some of the different steps in that cycle before obviously going after a large organization, a large contract at XYZ company. So, it was a bit different.
It's exposing obviously used to now a completely different part of the cycle that you heard about, but that you ultimately didn't have to drive. So it's a whole different set of skills that ultimately had to be taught to myself. And I don't want to say it's the same reset. You have to go learn everything over you don't. You take everything you learned as a BDR. How can you qualify? And they'll take this a step further. So how can you peel the onion back a little bit further and start maybe matching business pain to technical pain and being able to drive than a process against that. If you think it's a good fit for your specific technology.
Chris Corcoran:
So just for our listeners, just to help us understand the size of Expert Choice in terms of like how many salespeople were there. Cause I remember it being somewhat small.
Philippe Ghattas:
It was small, there were only four salespeople, three and a half. If you count me, there were technically four salespeople there.
Chris Corcoran:
And so the fact that you were on such a small team gives you a lot of exposure with kind of a polished professional, so they can really help you learn. And so, okay. So you took that and then you decided to go somewhere else.
Philippe Ghattas:
Absolutely. Now that's a good way of looking at it and they, yeah, they were a little bit older. They were definitely more mature. But again, for me, this is what I look for in a lot of the roles is the ability to align yourself with somebody that is going to be able to coach you, mentor you and take you to that next step product is product. You have to believe in it. But to me, almost that person may be more important at times.
Chris Corcoran:
Right? So Philippe, there was four other salespeople. How, how old were they compared to you at the time? I want the listeners to understand what that was like.
Philippe Ghattas:
They were all 40 plus. So I was definitely half their age just about there were younger people, but in some of the other departments that pretty much were in a different suite, even within the building. So we rarely see them. It was a different culture than memoryBlue, a different environment than memoryBlue was much more serious as well, just given who was much more mature. So really needed to make sure that that I understood the opportunity in front of me and that you align yourself to that. So you really have to mature quickly as well, too, in those types of environment.
Chris Corcoran:
That's great. I, I love the I remember in my sales career, I was one of the youngest salespeople and people who were twice my age, who had the same job as me. And it was just, it's a somewhat intimidating, but also kind of inspiring it. Listen, regardless of age, we have the same job and it's all dependent upon on who can, who, who could be more successful, who can sell more, right. A meritocracy.
Philippe Ghattas:
That's exactly right. That is exactly right.
Chris Corcoran:
And I was always wanting to try to be mentored by people who had, you know, twice my I mean way more than twice my experience, but twice my age and could give me a lot of mentoring it, given the company was so small I'm sure you got a lot of face time and a lot of opportunity to kind of learn a lot from your contemporaries.
Philippe Ghattas:
We did, we did. They even took some of your best practices and took things like Sandler. They had Kramer come down there as well too, and do some of his training. So they took a lot of your best practices and even saw it was working for me when I was with memoryBlue. They shouldn't have me take some of that and internalize it there as well. It was an intuition group. Yeah. It felt a big government team focused as a business as well, too. So very, very strict, very traditional, very mature people. It's you don't almost see that today. It's pretty much the exact opposite of what you'll see in Cali tech company.
Marc Gonyea:
I definitely remember them being smart. They're all very sharp individuals of that. That kind of made it look some of those guys up and forgot about Steve Debrow. Wow. Okay. That was at one point you turn your sights onward. And when we were doing that, when along the way were you starting to kind of figure out, okay, Hey, I got to get back the Viva La France. Was that before that was at the, in the next gig, or are you more worried about AI?
Philippe Ghattas:
So I went to Logi and had a really good run there and where I was promoted from small. So I, I had just a closing role over there. They were building out a new team and new segments. It was myself with one other individual who was actually very similar to myself, young savvy driven. We both did very, very well, and we actually ended up pretty much replacing all of the middle market. And then they built out teams underneath us over there. So, we helped drive that strategy for that team and help accelerate growth as a business.
It was actually 50 employees when I started the company after about a year, a year and a half was up to 200. They were growing teams pretty much right. And left because different types of messages was starting to resonate in different processes. We're accelerating cycles. I was even promoted to then sort of being the team lead and being taken over to a different part of the business, because there was no more trajectory or career growth path on that side. It was, you jumped to enterprise and the enterprise reps were 40 plus for some reason, they had a stigma. I felt at times in that company. And they wanted a certain, I guess experience from many years' perspective associated with anyone on that team.
So, I was tasked by another individual to help redo the entire partner strategy. And what that gave me visibility into is they pretty much fired all the partners. They didn't feel they were doing a good job at the time, how to build a business up from scratch. So it was a lot of going back to the basics of what you taught me, how to target, how are we going to cold call. How are we going to discover how to want to position the value of the partnership that we could drive together? And then more importantly, start enabling them. So I was already doing that with a lot of my peers on the sales teams, helping them understand how they should be positioning, how should sell. And they wanted me to replicate that there too.
Chris Corcoran:
Right. And so for our listeners, when you say partners, are these people reselling your software or are they OEM? If, can you explain a little bit about, because a lot of our listeners, aren't going to be familiar with the phraseology, if you can kind of give some insight into what that was and how that works.
Philippe Ghattas:
So in this case here, actually the technology was geared and it's like what I'm doing today at, since we sell a platform that helping organizations augment pretty much visualizations and analytics within their core offerings. So they built a dashboard let's say, using Sisense or Logi, and then they can take that and productize that directly with their solution without having to go in and do all the heavy lifting and coding. So it wasn't that, that's what I sold initially at Logi was a solution that lent itself to that type of use case. What I transitioned towards was helping profile the other buckets it's organizations that could also have resources and build up a practice to go on commercialize their solution and be self-sufficient at doing it. And more importantly, also be able to come and support us through an implementation perspective. So it was really those two buckets. We had a lot of different partners that already came to the organization. We wanted to cast a wider net and figure out how can people outside of Logi be skilled up self-sufficient and understand how to go and commercialize this force as well.
Chris Corcoran:
Explain to our listeners what OEM is.
Philippe Ghattas:
OEM is basically you're building something, using someone else's product, and really integrating that into your core offering to the point where you can't tell that what you built with Philippe's solution is not part of your core offering. So a lot of large organizations, for example, you may see certain things that are product guys and their solution. They may not have built that they could be using another technology piece and you build a contract in a model with them that lets them pretty much go to market with that, and either sell that or drive that as a value add to their core offerings.
Marc Gonyea:
That was Logi's as one of their calling cards, right? When you were, there is the company you worked with now, is that the same sorta type of play?
Philippe Ghattas:
Same sort of type of play and a little bit more they cover many more umbrellas today. So they cover the whole data science, everything around writing SQL Python scripts today, and being able to materialize you as back to data warehouses, to data modeling data mashup, and then to creating those visualizations that take the shape of an app that you can embed into your solution. So it's a one stop shop. We're the only vendor that actually does that MBI today. One of the reasons I actually came to them, a lot of people actually from Logi I know in the New York office right now, it's a lot of old peers surprisingly enough that I hadn't spoken to since I moved to Europe previous SKO, we ended up actually reconnecting was quite an interesting experience.
Marc Gonyea:
Yeah. I think it's just pointing out the world of high-tech sales is not a particularly large one. The folks that you meet along the way, be it folks you go work for after you work for them. And the company leaves is one or the it's just, you're going to see the same people. So you want to make sure your calling card is, you know, your brand is your reputation, your professional reputation. So I'm sure they're thrilled to see you. You put in almost five and a half years. I can't remember exactly at Logi. Do you know, that's a long time, particularly in today's day and age, what was something then? I think that's a, that's a great sign for you, but what was it about working there and you, that you were able to work there so long?
Philippe Ghattas:
It was, I was still growing. I'm still learning. So that's where I that's where pretty much the jump happened. It's you got, so you get so much from our company, you get the career path, you may hit a wall. And to me there's a certain time where you need to be able to be self-aware and conscious that yeah, I can stay here and be comfortable, or can I bring more value someplace else and now take my career to that next phase. So for me, it was that plus I also met my better half. My girlfriend now five plus years that lived in Paris, Sarah. She's Polish Moroccan, but lived in Paris, her whole life. So she wanted me to actually to move to the States. That was the initial plan.
And the more we thought about it, the more it tied into, well, it's hard for you to move to the States. You're not going to be able to find a job as easily half American, half French. When we look at my passport, it's not the time. So thought about it for a few months, ended up packing my packing, a small suitcase, heading out to France for a small vacation. And while I was out there, I started interviewing and I didn't think it was going to move quickly, but within one week I had already three onsite interviews and one organization that was so aggressively trying to make an offer for me that, yeah, in my head, I was like, it's going to be the same thing. It's the same culture. It's tech, it's just a different country and took the risk and said, this should be it. That it's fine to place moved. Pretty much I've been here ever since that was a little over five years ago.
Chris Corcoran:
When you moved to Paris. What company did you join?
Philippe Ghattas:
So the company was called Galigeo and they had a very unique place in that. They worked primarily with SAP and Salesforce. I managed the entire relationship with SAP and also managed they saw the whole value of what I had just done at Logi with building a partner ecosystem. They needed that for their international presence. They were doing great in France, but it was internationally. They were trying to scale through partnerships, people that could help them in regions, that they didn't have a reach into.
Chris Corcoran:
You're working for a French company in Paris doing a lot of work with a German company SAP. So when you were trying to build out internationally, are you speaking in French? Are you speaking in English?
Philippe Ghattas:
There was French English, Spanish were the main three. I did use the Lebanese side, obviously when I was speaking to people in a more of the middle East region, but that was a very quickly limited, just to a few words, to introduce myself at the close calls. But no, it was very, it was very international, which is what I liked about it. A lot of traveling, which is also half the reason why I wanted to move to Europe is I love traveling. For me, it's easy to see parts of the world that I didn't get access to. Obviously when living in the US for 25 years, I fit in well. So the international school I was at was also people from all over the world. It's sort of the environment, the types of cultures I grew up in as well.
Chris Corcoran:
There's differences, obviously international sales versus a domestic US domestic sales, other than the language, isn't it done completely differently outside the US?
Philippe Ghattas:
No, I would disagree with that. So it's what you learn in the States is actually what a lot of companies are looking for here as well too. I feel that they train reps a little bit differently here, and almost a lot of companies want sort of some of the traits that I feel in American presents as a sales as a pretty much some of the things is sort of, we're a little bit more aggressive. Some of the ways that we're enabled and some of the ways that we drive a certain process are relatively different than here.
They may say I'm pushy. I'm not pushy. I want to agree to some type of process and plan and ensure that everyone's aligned before we invest resources in it. And the way I ask it is going to be a much more transparent and structured than I feel some of the things I've seen and certain regions here. The only challenge that you're going to have, I joke with Marc about this at times, is there are just minor nuances between some of the cultures themselves. It's how do you work with the people within that environment, driving and sales processes, driving a sales process. I'm a firm believer in that.
Marc Gonyea:
So, so you're in Paris, living in France, doing your thing, making keep an SAP in line, you know, obviously growing your career. At one point you ended up back in London.
Philippe Ghattas:
So France wasn't exactly. It was a bit different than what I wanted. It's tough for someone in my career or a little bit tougher for somebody that I felt was in my career, just because you like to be on vacation. All jokes aside you use a lot of people that half the year may either not be there or maybe on a coffee break or something else. And in my head, London had a lot of the things that reminded me of back home DC, as well as reminded me of Europe as well, too. So center, a lot of the business of what's being done is London. And that also ties to a lot of the different tech companies as well. So, I was trying to figure out my dad was actually also surprisingly working in London at the time.
And I started looking at different companies that were either emerging technologies or hot technologies at the time and ended up speaking to a company called MuleSoft. That was pretty much leading the space in terms of integration options and platforms of the service everything from integration and APIs. They pretty much give you that one stop shop to cater to any type of connectivity use case. So, got up there was really excited was there for six months and then went through the whole acquisition with Salesforce, which wasn't exactly what I signed up for in all transparency.
That's that really large company that's where you get drowned in the mix you become that overlay versus MuleSoft had something a little bit different about it. That fit exactly that mold of what I was looking for, I don't like giving up. So we stuck with it kept going through the journey. It's just a lot of processes and those types of companies, and again, not exactly what I was looking for at my career. So surprisingly enough, Sisense had just opened up an office in London. I had turned down an offer from them to move to New York, right. When I moved to France, that was my next step after lunch. And yeah, connected back with actually a few people that I knew from the industry. They got me in and they had the CEO meeting with me and about a week and a half.
Chris Corcoran:
Philippe, there's a theme that's developed here, here of you like liking to turn down opportunities and then go back and revisit them later.
Philippe Ghattas:
No, I actually never thought of that, Chris, but it comes back to when I go and have these conversations, you have a record, you have a track record. Sometimes you're being approached for this. Sometimes you're approaching them. It's how you leave that discussion. How you either leave that door open or close that door behind you. That is going to enable you to revisit that or not revisit that at a later date, the technology you're going to speak to a lot of your peers throughout the career. A lot of you going to find each other, maybe not five years from now, but 10 years from now, back in the same company. It's very funny how it works out. And again, I've seen it. All jokes aside Cristin Brant. I used to lifeguard with Cristin.
So, it's a small world, I made sure to leave some of my doors open specifically for that reason, but also I like being transparent into some of these conversations, helping them understand what value I can bring, what I'm looking for. And if there's a match, there's a match. If not, again, if we leave the conversation in the right term, hopefully we're respectable enough to revisit it and see if there's a fit at a later day. It's again, it's more of that mature adult conversation. It's not an easy one to have, but where we're thick, skinned in sales. So you should at some point feel comfortable with having that.
Marc Gonyea:
We're kind of up to modern day or present day looking back on it. What might be one of your most memorable wins?
Philippe Ghattas:
That's a very good question. You know, there's few wins, obviously that will stick out Gonyea in terms of deal sizes. If you want my honest answer, every single win is a memorable win. I remember most every, almost every single one I have, regardless if it's a small 20K deal or something that's getting in that million dollar range. But I remember the million dollar range for the commission check I'm getting, but it's the process and the battle scars that you get, what's crazy. Sometimes you may even work harder for those small deals then for those larger deals, I remember more some of the use cases.
So, recent use cases, for example, helping large retailers transform to start embracing digital channels, helping them ultimately productize integration into a certain faith that they can reuse that and accelerate delivering projects 10X, 20X quicker than what they would do with their traditional approach. So a few customers like Ted Baker, like it was another large catalog retailer that shifted 70% of its sales to online express gifts. If you other ones as well in that space, we're all supported while I was there things I'm doing now, it's nice. Since I love it, helping organizations look at different ways that they can productize and monetize data, how can they create an analytic app using our offering and then be able to deliver that insight that's much more actionable and that lets users also get different types of responses based on augmented analytics is also built in, I mean, it's, to me, it's the use cases that get you excited. I look for organizations.
I don't want to say that the product is too overly complex, but it's an organization where it's not going to be monotonous every single day where I have the same conversation every single day, it's similar projects, but it's different use cases and different value and different ways that you can work construct some type of agreement that really excited me about some of the more recent roles I've had with sales.
Marc Gonyea:
And, and, and that's great answer. I'll take that. And besides, the French national team's performance in the 2010 what would be your biggest be your most memorable loss or something that stuck with you?
Philippe Ghattas:
Losses are always painful. I had a painful loss six months ago. I still remember it. So it gives me pain. It's a company here that pretty much they deliver insights into the market. So you've probably walked into, let's say, we don't want to Safeway here, but imagine Safeway, you go into Safeway and you see on some of your wines, someone is saying this one is voted top wine based on XYZ. So they work with a lot of different industries and they sell those insights back to them. So they can go and see where to place a certain strategy. What we did with them is I beat out every single leader we had. We went, I understood their business, what they were trying to do, the pain that the business had and the bottleneck that the it process ultimately had in place that was pretty much causing all of that pain and then match that to pretty much our technology, our process, and how we can support them. And more importantly, how they can then build that custom pretty much productized model with they bought into it. No other vendor did that. No other vendor invested their time, understood their business model and pitch them this new way of operating.
We beat Microsoft would be Tableau. So these are the two biggest leaders in BI. For example, what happened 90th hour as we're negotiating. This was end of the year, last year in December, end of your contract, just a fun time of the year. There are things that you can't control the age pretty much took our entire model and brought it to a new player. And then each player, unfortunately, I was asking for quite a bit of revenue on this project and at four, four X less, and they obviously understood the risks that was implied, but it was tough for me to justify still pretty much four X is that equal to risk in this equation. Can we not get one or two more resources that will mitigate risk? And it just became a really just bizarre conversation that again, I thought I had control of the entire process and at the 90th minute, something can happen.
And so again, if you don't have a signed contract, you don't have a deal. I'll leave it at that because there was starting to get pretty much forecasted up to leadership as we're looking pretty good at it. And the most likely that it's going to close and s*** happens at the end of the day. Even if you have a process in place it's not easy. That's why it's very rewarding as a job, regardless of people would say how easy it is. It's not easy. You have to put time, sweat effort. You need to have a plan. You need to be regimented and you need to have some logic behind some of the things that you're delivering, both in what you're saying as well as some of the actions behind it as well.
Chris Corcoran:
Hey, so Philippe for our listeners, how much time, how long was that sales cycle? How much time? It sounds like you invested a lot of time, energy and resources into that, and how much time and like, what was the dollar, just ballpark dollar size of the opportunity?
Philippe Ghattas:
That would have been a half million dollar opportunity. It was pretty much over six months and it would have lasted a little bit longer. It was supposed to close in Q1 of this year, but we haven't moved their timeframe up, which you can't up here, incentives and how we can build a custom commercial model. We literally had everything playing in our favor, like we were taking every single box and two, these are the plan we laid out. These are the things that need to happen. Everything played out exactly as it was. This vendor came in, they weren't even evaluated literally in the 90th minute. And there was someone that outbound it, some BDR, someone like one of your guys at memoryBlue somewhere in the world, managed to get their foot in the door and took a sales rep to go in there and ultimately take that deal down completely for themselves and less than a month, because we did all the heavy lifting for them. We pitched the vision and we pitched the idea. They just want to lie something very similar. And the customer understood it was a bit riskier of an option, but it happens.
Chris Corcoran:
How do you keep your skills sharp?
Philippe Ghattas:
Two main things. Now, I mean, early in the career, obviously reading some of the more traditional sales or things I would recommend to anyone. Right now it's more continual and enablement. So in a lot of organizations, they're transforming, obviously the way they will teach you as reps around the technology and positioning of the company. They're from a salesmanship perspective. I like to find organizations that have some type of program in place. So what I'm doing right now is things like Force Management very good process, eh, really helps you deconstruct conversations and look at different either value drivers, certain types of topics, and how to paint, where they are today, and some of the negative consequences to where they need to go.
And some of the positive outcomes that they need to get to while focusing on the required capabilities that are going to lend themselves to get. And it makes it easy for us to, for example, trap them into thinking about things that they should be doing based on what we've seen at other customers, using certain styles of questions and proof points that we have to obviously back up and whatever discussion that we're going into. The other one is more aligning myself with the right people. So this again, what I look for in organizations is I've made that mistake I would say maybe once in the career, and it's not easy, align yourself with the right leadership, someone that wants to invest time in you, someone that believes in you and that you see yourself being able to grow with. I've done it successfully at two roles. There's one I think will be the second one I'm at right now Sisense. And again, I can see myself having a long run here for various different reasons that being a big one.
Marc Gonyea:
Philippe, who would you put on Mount Rushmore?
Philippe Ghattas:
Cheesy as it sounds, it's probably going to have to be pops. I'll put, put my dad on it. My mom probably would complain if I put her on Mount Rushmore, she wouldn't want to be put up there, but my dad helped me get where I am in my career. He's been the role model, he's helped coach me. He's helped me make some of the tougher decisions. I know he's always there to support me in the background. I know there's a lot of other people as well. I can be thanking, but if I've got to pick one it's going to be him.
Chris Corcoran:
What's the biggest mistake you think you've seen your former contemporaries make?
Philippe Ghattas:
The biggest mistake I've seen. Some of them probably do is thinking that this would be easy and not putting enough pretty much when tears into it. Again, I've seen this across, I guess some industry. Some people feel they may be entitled to that things are going to be handed to them easily. It's not the case. If you show that you're capable of doing things, and if you fight for your position and show your value, those things will naturally come towards you. So again, don't take this for granted that it's going to be easy. It's a very rewarding industry. If you put in the effort in the beginning to ultimately accelerate your career.
Marc Gonyea:
Awesome. PG in the house, man.
Chris Corcoran:
Thanks Philippe.
Philippe Ghattas:
Yeah, no problem.