Episode 17: David Collins – A Gift of the Recession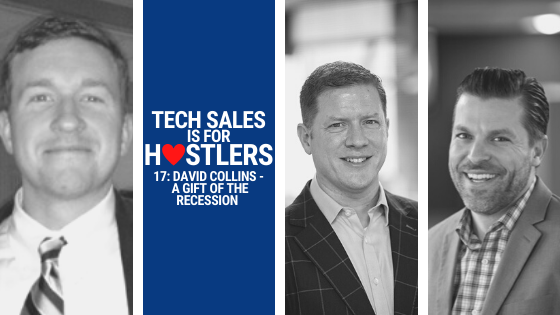 If one good thing came out of the Great Recession, it was David Collins. David was a senior at JMU when mB Cofounder Chris Corcoran came to his class and spoke about memoryBlue. Once class was dismissed, David emailed Chris and the rest is history. If the economy and job market were better in 2008, it's possible Chris wouldn't have been able to nail down such talent in those early days of the company. David went on to get hired by his client and he is now a successful Client Principal at Contino.
On this week's episode of Tech Sales is for Hustlers, David shares how he met his wife, Erica (Higginson) Collins, at a memoryBlue First Friday happy hour, how he created a professional network in Philly from scratch, and the key differences between selling products and services.
Full Episode Transcript
Name: David Collins
Title: Client Principal
Company: Contino
Exit Year from memoryBlue: 2008
Months at memoryBlue: 6
Alumni Path: Hired Out
***Introduction***
David Collins:
I switched a couple of jobs and don't feel bad about switching jobs, especially if you see a really good opportunity. It's a different time these days, you don't have to stay at a company for 10, 15 years. It benefits you to get different experiences and find out what you like.
Marc Gonyea:
This week on the podcast, we have David Collins, Client Principal at Contino. David walks us through the differences in selling products versus services, how he keeps his skills sharp, and he takes us back to tell us how he met his wife at a memoryBlue First Friday happy hour. Hi, I'm Mark Gonyea.
Chris Corcoran:
And I'm Chris Corcoran. And you're listening to Tech Sales is for Hustlers. Tech Sales is for Hustlers is a podcast where we catch up with memoryBlue alums and reminisce about their starting high tech sales with us.
Marc Gonyea:
Let's go get some Corcoran.
Chris Corcoran:
Gonyea, you know, I'm ready.
***Episode 17: David Collins***
Marc Gonyea:
David Collins joining Chris and I today. Mr. Collins How are you doing?
David Collins:
I am fantastic. It's Friday. I understand why you do these on Fridays because the mood is very bright in this household. So yeah, I'm happy to be here and good to chat with you guys. It's been a while.
Chris Corcoran:
So is it a mood or a vibe? I'm trying to determine what the difference of those is.
David Collins:
Ooh, that's a good question. I think a mood definitely comes with the weather, I think so if it's sunny out and it's Friday, I think your mood is definitely there. The vibe comes from the fact that it's Friday.
Chris Corcoran:
There you go. Coming at us from Philly. The city of brotherly love.
Marc Gonyea:
Collins, you started with us in July of 2008.
David Collins:
12 years ago, literally 12 years. Can you imagine? I can't fathom how quickly that went and it's so vivid, the memories of starting out because I interviewed in the Fairfax office right across from some construction zone.
Marc Gonyea:
Oh, we're going to talk about that, but before we get into it, just kind of, still kind of, I like to set the timeline and you were with us in July 2008 to December 2008. So only six short months, but it was filled with all sorts of fun stuff. And you ended up going to work for your client, which we'll get to in the heart of the financial crisis too, which, I think there's some interesting stories behind that. But before we get into that, just tell us a little about where you were born, where you're from, where you grew up, what you were like as a kid.
David Collins:
Sure. So I grew up like 10 minutes from where we live now outside Philadelphia, a town called Exton. I grew up youngest of five. My oldest brother is 18 years older than I am. So it was a unique, I also have brothers who are 16 and 13 years older than me. And then my other brother is three years older than me. So it was a unique way to grow up, but I loved it. I played a million sports growing up, everything that you could possibly imagine. And I can't, I don't have any complaints about my upbringing. It was a fun time and I'm still enjoying myself.
Marc Gonyea:
Good. Good. So what were you like, like in high school?
David Collins:
Yes. I had some interesting jobs. I was a paper boy. I started working when I was like 12, just by kind of how things were. So, I started off caddying. Then it went to be a paper boy. Then it was in landscaping. So certainly had jobs throughout. I played soccer and basketball, baseball, and then really focused in on soccer and basketball and played that throughout college or in high school. And then, continued to play soccer in college at JMU and club teams.
Marc Gonyea:
I've been on the pitch with you. You're a smooth player, man.
David Collins:
Yeah. I remember playing in like the torrential rain with you on one of your teams. And it was like you guys, I was the center defender? And you put me in at striker.
Marc Gonyea:
The new guy, you know, he's a good athlete. You put them up top and see what he can do, man.
David Collins:
It was a fun time. I'm not complaining.
Marc Gonyea:
Yeah. I remember you being a real good athlete. Did sales present itself to you in some form or fashion at all? Or was it a no flash of brilliance or anything like that?
David Collins:
So the way that it came into my life was through my Dad and then my Dad had his own pharmaceutical equipment company or just medical equipment company called COCOM. And he had gotten into that and started his own business back in the '70s. So I saw kind of his work ethic and what he needed to do to, to make sales. I did some work for the company sometimes, but outside of that, my brother Joe got into it for a bit.
I wasn't like this super enterprising or entrepreneurial kid, like selling things on the side. One time I tried to go up to the end of the driveway or like the side of the street and sell packages of cards that I had, like actually like baseball cards and other stuff that was pretty much junk and I sold nothing.
Marc Gonyea:
That sounds like my childhood, didn't sell a damn thing. Okay. And then, so you did go into JMU and what was that like?
David Collins:
I wanted to go somewhere that was far enough away from just like being in the Philly area suburbs or just go because there's like eight different schools you can go to in Philly proper. So I applied to a bunch of those schools. But JMU presented itself. One, I wanted to do international business, so I want to do a language and I wanted it to be in business school. They had a good business school. And when we went down it was like a beautiful day plus, I mean, it had a reputation for being a fun school. Let's just put it that way. I'll leave it at that.
Marc Gonyea:
So what'd you major in and then what'd you think you're going to do when you kind of got out of college?
David Collins:
I majored in international business and with a minor in Spanish, I could have gotten a double major in Spanish if I stayed around, I think for two more classes, but I wasn't going to make my parents literally pay for another semester for me to get another major in Spanish that I probably wasn't going to use. But when I wrapped up college or what, I was like, my intent, I had no idea, absolutely no idea. I didn't – there wasn't a career path.
It was like, Hey take sales. Like I took marketing, I took accounting. I took finance, all that type of stuff. I didn't want to do any of that. And we can talk a little bit about this as we get into it, but I don't think there's like a great career path that's set forth within colleges for sales professionals. And I think that's something that they definitely need to work on. I know JMU, I think, has worked on that a bit, but others should.
Marc Gonyea:
Chris and I are both finance majors. Well, when we were at the school, the undergrad, at least from where I graduated from regarding getting into sales it's definitely progressed quite a bit more since you and I were there. You're a lot younger than I am, but even when you were there, JMU has a phenomenal sales program that they put their undergrads through and they have a selling team and we've been lucky or fortunate enough, not lucky, fortunate to recruit some really good kids from James Madison who want to get into sales coming out of undergrad. And it would have been nice to have that existed when you and I were an undergrad, but it does now, which I think is a testament to the profession and to the career.
David Collins:
Oh yeah. That's fantastic to hear because I saw that as like a major gap, you know, when you just see one of those just very apparent gaps, whether it's in the marketplace or whether it's just in an education system. That's one that I saw there because I just didn't, there's so many people out there selling and there's no classes or no ways of even doing. If having a class where you're able to do like different scenarios sitting next to each other and show that it would be very easy to do role-playing but it's, you know, just wasn't there.
Marc Gonyea:
Yep. So, you got out of JMU ready to do something, and this is where I believe Chris came into your life. This is how it all began.
David Collins:
Yeah, it was actually, while I was still at JMU, this will bring back some memories for you, Mr. Corcoran. But we were, I was in one of the marketing classes and actually this one was kind of triggered more towards sales. The teacher was a guy who had been an executive and done some sales positions in the past. So he brought up, it was actually an interesting class, and Chris came down and presented.
It was my last semester there of course, waiting till the last minute to figure out what the heck I'm going to do. And he presented memoryBlue and just kind of the capabilities there as well as, at the time, Navy Horse, when you guys had a separate entity that was doing recruiting. So I sent him an email afterwards and he said, "Hey, come on up. We'll talk about some positions, all that type of stuff."
Now at that time, I didn't know, not giving myself much credit. I didn't know what recruiting was. I didn't know, like in what capacity, if I went into recruiting and a lot of young people do what I would be doing, I didn't know what memoryBlue did either. I knew I had to make calls and set appointments, but I was like, yeah, they work with high tech companies.
So I went out there thinking that I was doing an initial interview kind of screening for memoryBlue and Chris is going through all these different companies. He's like, yes, Liberty Mutual and a couple others that they're going through and I think you'd be great fit for these. And I'm sitting there just bewildered at first. And then I had to stop you kind of like midway in just to get a bearing on what was really happening. I'm like, Oh my gosh, what am I going to interview at these places? Are you just giving me life advice? And he's like, Oh no, this is a search firm. So this is what we do. I didn't get this separate entities and all that.
But, that's where I started out, it was actually you guys trying to find a role for me in a couple of different places where I got to the final stages and a couple in a row where I just didn't get the job right at the end, which was a little deflating.
Chris Corcoran:
You were kind of a gift to the company and Marc and me, graduating in the Great Recession, right? So during a below average economy, an average economy or above average economy, we probably wouldn't have been able to land you, particularly given that our business was so small and our office was right next to a waste management facility. So you were a reach at best. And so we benefited from the fact that you graduated in the Great Recession.
David Collins:
I appreciate that. I appreciate the kind words on that. Maybe you guys thought I was one. Now you're hearing that I didn't know what the heck I was doing.
Marc Gonyea:
That's why we did try to get you at first. Because we were like this guy's probably not going to come work for us, too. We had a dumpy office and we were really small, which we'll get to the cast the characters. You know, we'll work it for us. Like this guy is not going to work for us. So this has put them out, these other places and the labor market tightened up and you know, the five star guy became like you know, our guy.
David Collins:
Yeah. That's funny. I didn't know that at all. It's good to hear because I kept going to all these different places. And then I actually remember the day that you guys called me and were like, "Hey, we want you to come on board. We have this position for you at memoryBlue."
I had just received that day that I hadn't gotten a job at like Liberty Mutual or something. So one of the interviews where the guy asked me to like sell a pen or he legit asked me, I failed miserably, but I was at Kings Dominion in Virginia and just trying to like get my hopes back up, you know, and we had a nice day enjoyed it, got into the car and I had a voicemail from Chris being like, "Hey, we want to talk about getting you on board." So it was one of those things where you're really low in life. And then you're like, all right, here's the positive side.
Marc Gonyea:
All right. All right. So then, so what was the deal, had you moved up to Northern Virginia from JMU or did we do the, it doesn't really matter. I'm just kinda curious.
David Collins:
Yeah. Just did one of those things where me and my buddy, Kyle and Chuck ended up getting a place in Alexandria didn't really have the job yet or any job yet, but it was like, you know, just going for it with what little money I had. And so yeah, I was living.
Marc Gonyea:
So you started with us?
David Collins:
Yep.
Marc Gonyea:
All right. All right. So tell us what you remember about that.
David Collins:
I remember not knowing how to use outlook. That was a big thing. Like I was like, Oh, I don't even know how they don't teach tutorials on that. They do Excel. Right. They didn't know what was going on. I had two clients, one was Apptix, which I eventually ended up working for them. And then another one was you guys throw back Imagex. That was a small company that did like the document scanning and that, but I remember it, I was one of the younger people in the office, because at that time we had a lot of people who were transplants from other industries who are trying to get into sales and shift into it.
So I think it was the youngest person there with like Philippe Ghattas, Grant Way, David Gottschalk, Jack Wagner, Mike Rubin was there James Schieffer was there Cristin Brant. I think that's the majority of the crew.
Marc Gonyea:
You were upstairs? You were the you walk into that building. I have to walk up to those little rinky dinky stairs to get up to the second floor .
David Collins:
Yeah. So no, no, I started right the, like the first week we were in the new office.
Marc Gonyea:
All right. So you had an interview probably at the old office, but you probably, you kickstarted courthouse road, right?
David Collins:
Yeah. Nathaniel Semple and Trey Surber. Shout out to them as well.
Marc Gonyea:
Okay. All right. And then, and then were you on a team with anyone or were you rolling solo on both Apptix and Imagex?
David Collins:
I was rolling solo. So yeah, we didn't split it like, you know, the 20 hours a week and 20, but I was doing 20 and 20 for each of those two accounts.
Marc Gonyea:
What was that like then, so you had obviously had no sales experience and were like welcome aboard Mr. Collins. We're going to give you two clients to work on which that's the most anyone can have at memoryBlue. They spend half of their time on one campaign, half on another. Welcome. Good luck let's get you into the program. Who was your DM?
David Collins:
Well, I'm finding out now, you know, in hindsight, I'm very good when I'm kind of thrown into the fire. I didn't know that at the time it was, I was obviously nervous and didn't know what I was doing, but I was like, Hey, other people have done this and been successful at it. So there's a path here. So I just kind of dove in and because you guys do a good job of structuring things, even at that time, it was, we had our call scripts. It was just follow this. If you need to ad lib a little bit, just kind of go off what they're giving back to you. I didn't know how to do that. At the beginning. We were also just in a very small area with all of us.
So I was listening to other people and then I'd see what they were doing. See what made them come, you know, comfortable. I had to listen to Cristin Brant gets so many freaking leads because she would just like chit chat with them. And I was just like, why can't I do that?
Marc Gonyea:
CB taking them down. Yeah. Yeah. Some people it works that way or some campaigns work that way. How'd you figure it out?
David Collins:
So I think it was I had like a sales genie list for Apptix and it was like a service that you could literally sell to anyone. It was hosted exchange was email. So the problem there was, it was a wide net. And so the opportunity was endless, but then I had no way to like target things. So I did a lot of research and, and I got really good at understanding like what contact information was good. What wasn't, I'm learning to just ask for who the right person was pretty quickly, because a lot of the times it wasn't the right person. So just having those open conversations to get to the right person who a meeting would make sense for was something I realized right off the bat, instead of just selling the person you're calling every single time. So I think that was big.
And then I think for the Imagex account ended up finding a book of banks because there was this law that had come into place that they needed to basically have all the documents scanned. So I just ended up calling into all these banks, which was helpful cause they needed that. So just finding, you know, good shortcuts, I guess you could say to be more successful.
Marc Gonyea:
Who was your DM?
David Collins:
Lee Lawson. Nice. I think at that time he was the only one for the office.
Marc Gonyea:
He was, we were in the middle of the recession. So, you know, it was getting kind of skinny.
David Collins:
Yeah. And that's actually a good segway to I had some success with those clients, but it was hard to get to the end of 2008. That was like, literally the thing started in 2007, the effects really hit hard in 2008. And then in 2009 it was still difficult the first part of the year, but we came towards the end of the year and I think we had six people left six or so, you know, and people had gone to work for clients and stuff like that, but it was, it was lean and mean times, let's put it that way.
Chris Corcoran:
So, I remember, the lean years of '08, '09. And I remember a tumbleweed kind of blown down the aisle around the sales floor. But I love the fact that you're talking about how much you learned, not from formal training from Marc or me or your manager, but actually learning from the hive, just sitting on the sales floor and hearing, you're hearing your contemporaries on the phone and how much of that you pick up.
And it's just that environment is so important, particularly when you're new on how to learn and you hear someone say something, you're like, you know what that worked for her. I'm going to try it on my next call. And it just kind of feeds off itself, which is great to see my question for you is looking back. What advice would you give yourself the night before you started?
David Collins:
At memoryBlue? Be a sponge, learn from everyone, ask questions. Don't get embarrassed and think you're asking a stupid question. That's one thing like you just said, Chris definitely learned from your counterparts there. You know, it's certainly a competitive environment. I think we want it to be that, but it doesn't need to be a jealous environment. You know, if you hear someone else getting one, yet you have that feeling. It's like, Oh, it's you, you want them to, but you don't want them to because you want to be the one that's actually getting the appointments. I think we all have that.
And we all fight that in sales, as we go on in our careers, see someone get a Bluebird, it's like, come on, you didn't do anything for that. But then you just got to understand that if you're doing the right things, those types of things are gonna fall to you. So that mentality, which is tough to say would have been good to have at that point, but certainly be a sponge. And just going back to it, I understand that I don't understand anything like I I'm going in here. Take the guidance that I'm given from you guys from Lee, from the rest of the people that were there. I think that would probably be the most because there was no way that I was just going to come in and Excel without knowing anything. I just needed to learn.
Marc Gonyea:
I remember you working hard too, man, walking over there and to see you grinding away at your desk, if that guy was that guy, I knew you when you were working just by your body language, that stands out for me, my mind, for some reason.
David Collins:
Yeah. When I'm focused on something, it's definitely, I kind of get tunnel vision, but that was a good place to go for me. Cause I'm so glad it's gotten me to where I am now. And it's because it was that kind of competitive environment. It gave me the structure to do the uncomfortable things at the beginning of my career. So that going forward, everything else is a whole lot easier.
Marc Gonyea:
Great job. So you got to the point at Apptix wanting to bring you on board. And you're right Apptix had a solution that everybody kind of needed, but it's still really critical to some, a lot of people already had it. Some would argue that makes it harder. And then trying to find the right people who were interested, where it was important too. So you weren't wasting your time, but you did a strong enough job that they wanted to bring you in the mix. Can you kind of walk us through what, what you remember from that and how that happened?
David Collins:
I was almost six years. So, they, wanted to develop this capability internally, just like the way your guys model ends up working so well, you know, it's the, try it before kind of do a POC on this. And if you want keep using us for however long you would like we'll set meetings, or do you want to develop this capability internally? You can, you know, look to hire some of our guys and gals. So that kind of played out. They wanted to build their own internal sales team. So, they brought me in as the first, the first person to start doing that. And I started off just, you know, setting appointments and that, and the great part about that. It wasn't like a huge sales team over there. It wasn't a huge company and I just kind of bided my time to wait for the right opportunity was able to, after I think like six or seven months, we had one or two other folks join, I was able to be basically the lead for them.
And then I was able to make that shift into closing some small deals on the side too, as I was doing that. So I was doing some direct closing, but it was a nice way to enter into a closing position without having to, you know, they weren't super complex. And so I got my stripes doing that. And then I was able to parlay that into becoming a full time sales rep and closing position.
Marc Gonyea:
But you did this during like the recession or you're like, remember when you exited, you and I had that conversation.
David Collins:
Oh yeah. So that was that was funny. And it was, it was a brutally honest conversation that needed to happen. So it was, you know, we're coming up on that. I was going, when I left, there was five people that were still five reps that were still kicking there. And it was a lean, super lean time for the company super lean time for every company that hearty tech Valley down there with the government being there.
Marc Gonyea:
Chris wasn't joking about the tumbleweeds.
David Collins:
Yeah. Yeah. It was, it was a tough time. I even remember that Apptix was trying to negotiate with you guys on things you can do, like never negotiated on and you were even considering it. Cause you were like, when you're in those types of times, you do what you can. And it paid off. But the funny thing was you and I had this conversation and I was like, you know, they were offering me a base.
And I feel like I should at least have, It was basically the same base I have with you guys. And I'm like, if I'm going to go get a new position, I feel like I should to make some kind of leap. And who knows what the commission structure, how that's gonna work, it's new to them. And you're like, listen, this is an opportunity. This is an opportunity for you to one, take yourself into a closing position, advance your career, get out there. And really like you said, earn your stripes and really take it to the next level outside of just, you know, being in an Allegiant position. And then you said, secondly don't know if we're going to have a home for you here. Okay. Duly noted.
Marc Gonyea:
Yeah. I mean, it was kind of look there's brothers, rough, rough economy, and their campaign was winding down and they were going to go and rightfully so. You're like, man, I'm a five star pick I needed to higher base. But, and this was what Apptix was grateful for you for Stu Dyer for a Toby Haertl right. Is that it got you into an opportunity to close sooner rather than later. And that's rare for SDRs all the time, because there's still a big gap between your skillset, as an SDR, you being able to close business.
And the number one question that SDRs would always have for us is, well, when can I close? When can I close? That how I was that's how Chris was, or Chris started off closing right away, but I didn't start off closing right away. So that's hard to get going. And we were like, Colin's like, dude, you can get in there and you can start selling some other s***. So when you did that, do you remember like the transition? How did you make the transition to closing work from booking meetings? Or if you don't remember what's some of the skills that you think people have to develop the, you know, you've got to build a whole new muscle memory. Right?
David Collins:
Right. Yeah. Good question. So the first piece around, how did I make that transition? It was a nice, slow, like I said, a slower one because I started working. Some of these small deals have to cut a lot of inbound stuff that came in now, it wasn't huge deals. They payed monthly recurring. So it would be you sign up 10, what they call seats or 10 users is like 150 bucks a month. Right. But you add those up, you know, you can get it to two, three, five, $7,000 a month and you got paid basically on the monthly recurring that you had. Right. So I started, again, I can't say enough that everything that I learned, all the capabilities that I have, yes, I have them now, but I learned them from other people.
So I just sat, listened, learned from other people on that team, how they sold and then did a little bit of mix of that and just jumping in the fire and saying the wrong thing and giving the wrong answer. And then the good part about it too, is that you know, if you're going over email, you can go check with people. But if you're on a call, just bringing in other people that are, have more expertise than you do, I think it was just knowing my own strengths and weaknesses. At that point. At that point, I didn't have tons of strengths when it came to closing. So that was one thing that I did.
And then advice for people that are looking to get into a role, like is one thing is that Apptix gave to me, was that well I was able to talk with the CFO, CEO, the VP of Operations and the head of VP of Product. It didn't really matter. They were just people. And I always had this thinking, going into place that the titles meant titles meant everything. I think going into these roles obviously have respect for your boss and superiors leadership and all that type of stuff, but really use them as a way to learn about what they've done and how they've gotten there and try and mimic those same types of things. Oh, people that you look at as more of a mentor, not someone who just got there by bullying their way up.
I think that's a big thing that I realized that people want to help you and share information, but you need to ask them for it. And once I started doing that, I started learning a bunch. And then I was able to, when I was contract calls, like go sit with the VP of operations. When I was pricing discussions, I go sit with the CFO and a lot of people would be like, Oh, you know, I don't want to talk to a CFO. I'll just send them an email. But once you realize they're just other people just like yourself, that's helped me a lot in my own career when you're going and talking to C levels.
Marc Gonyea:
What do you feel is important in a sales manager to be SDR or be it a manager who's in charge of, you know, making sure you hit your number?
David Collins:
What manager in general leader, whatever you want to call it. I think if you're just a, just a manager, I think you want to be a leader in one way, one respect or another. And you're just getting to know your report pusher. But the terminology aside, I think a big thing that I look for from a direct manager or leadership within an organization and I work with, and this is the same thing with you guys and has been across the board is that you bring some sort of value to a conversation discussion when you're going to talk with a client, like if I'm just going to bring my manager and they're just there in their role in the company and I'm like, Oh, can we do that pricing or can we not? No, I don't want that. I want someone who's actually really good at selling too.
And there's so many of these middle management people who end up getting there, didn't sell, or if they did, they were mediocre salespeople. Those actually make the best type of managers. The ones that are not necessarily the killers out there. A lot of them shift into management and don't actually do that work. Don't like it or get into something else. But I like the fact of when you can bring someone who is your VP or director, and they can bring a ton of value to a meeting and they also are willing to step into the fire with you. And you guys did that all the time. You would hop on calls, you were cold calling people, you were drumming up business. And a lot of managers won't do that. They want to get out of that. They're like, Oh, but I moved on. I managed now other people sell and I just basically track their sales. If I'm working for someone like that, like, that's fine. I'll give you the reports that you need, but I'm not going to ever look at you in any ways, sort of a leader.
So I have, I'm pretty strong. I have a pretty strong opinion about that because I had managers that I could bring to meetings. We would just kill it and it was awesome. Help us sell more. And then I brought other ones where it was just they'd sit in and I do all the work.
Marc Gonyea:
When did your wife come into play here? Cause you know, we're proud of bunch of things at memoryBlue, the training, the comradery you build, the growing pains was personally, professionally, but you happened to be married to another memoryBlue alum, the artist formerly known as Erica Higginson. Now Erica Collins. So we'll take a quick little segway down romantic lane. How did that happen?
David Collins:
Yeah, you guys termed her what? The velvet hammer.
Marc Gonyea:
Chris tell the audience and remind David. Why we call her that?
Chris Corcoran:
Well, he knows better than I do, but Erica was very I'm sure she's still the same way. Very soft spoken, super kind would do everything for you. So soft as velvet, but hit like a hammer and always got the job done and made things happen. So we coined her, the velvet hammer.
David Collins:
Yeah. She was better at her job. He hit her number more times than I did and you're right. She has this way of, and I know it because she's is as delicate and soft spoken and all that type stuff. But with her family with myself, it can happen. And I think because you guys put her also in like a managing role there too, that was a good person to put in that role because she has no problem telling people when they're not doing what they're supposed to be doing. And they know that. So yes, she is way better than me.
Marc Gonyea:
That's an admirable trait man that's admirable trait.
Chris Corcoran:
So Tommy Gassman who has started his career with us, right? Is now our director of sales. Eight, nine years later, he says he wouldn't have lasted a month at memoryBlue without your wife being his mentor.
David Collins:
Yup. She loved that position. She honestly loved that position. She was very like straightforward with people, but at the same time, you know, she's absolutely the most helpful person in my life and in many other people's lives. So yeah, I think like when she speaks back on that, she speaks very fondly about that role and you're right. And she would hit her number and like everyone would be on Fridays. It was like hit three o'clock and she'd be like, okay, I'm out. I'll see you guys later. She just said that, that way about her. She's like I already hit all my numbers and stuff. And people were like staying until six or seven o'clock yeah, she has a good mindset.
Marc Gonyea:
And Corcoran's given her a badass nickname for the rest of her life that the velvet hammer. So take us through real quick. How'd you guys meet? Cause this has all sorts to do with some, this is part of the, like the advantage of working at a company where you can develop relationships and friendships with people. And you've done that in business too, but also, you know, personally.
David Collins:
So we worked didn't work there at same times. Nope. I think people can gather from our conversation, but I worked there in 2008. She worked there a couple of years later, two, three years later. We used to do monthly and now we do quarterly type of happy hours and Stu Dyer and like, Hey, you need to meet this girl. She worked at memoryBlue. And at the time I was single. And so I'm like, okay, yeah I'll go. You know, he had previously proposed this to me when she was dating someone for a long time and lived with him. And I was like, I don't understand what you're proposing to me, it's not going to work. So I ended up going and we hit it off.
Funny thing is we went to the same school. So I like to have the you know, corny dad joke that she heard all these cool things at JMU about how awesome I was. And then she went to JMU and then she heard all these great things about memoryBlue and how awesome I was. And she was following me. But we met there and then we got married in 2016. So we lived in the DC area for a number of years. And then she, Erica is from Jersey and I'm from outside Philly. And so we decided to move up closer to family. The memory blue connection, and now we have tons of mutual memoryBlue friends from my side and from her side, actually probably more her side now, like with Michelle Huynh, Brandon Taylor.
Marc Gonyea:
So you worked at Apptix and tell me what you ended up doing there when you left and then what, what you were, where you went after that. Cause I think then you moved back North, right?
David Collins:
Yeah. It was soon thereafter. So I went and I transitioned to like the data center, infrastructure service route, somewhat cloud space, more so their cloud, not like public cloud, because at that point it wasn't really a thing. So I went for this company called Windstream hosted solutions. It was back when data center companies or excuse, me, telco companies like Verizon and Windstream. They bought data center companies and they said, Hey, we have all this connectivity. People want to consume all these services. Let's just buy the companies themselves. There'll be a natural fit. Verizon bought TerraMark Windstream. Once you posted number of others, they all ended up selling them later because it wasn't a fit. Like they thought it was going to be different service model. But I went there for a bit.
That's when I transitioned up to the Philly area to switch to a new team, had a really good boss there that's the one we used to go into meetings, Mike Deetsch shout out and just kill it. We had like a game plan every time we'd go in. And he was a really good sales guy who ended up going into a VP position. So that was good. That got me a lot of exposure into outside of like almost a product and a service, which I was in before, which is like hosted exchange. It was like this packaged box expanded outside of that into, you know, virtual machines storage, how to, basically host an entire company's application infrastructure, and what that took.
But again, it was still managed services enjoyed my time there, they got bought by a company called Tier point. And I don't know if you guys know this, but after the company, came into and TierPoint bought, then they were data center company. They offered me because of my background to do, to basically run a business development team, like a lead gen team when I was there. So I did that for about a year, tons of stuff that we had from every book. So that was a fantastic time. And I had all the ammo to do it.
Unfortunately, it turned out there was no like level up trajectory from there. It was like the first program they'd ever put together. So I was literally going to be in that position for God knows how many years. And I liked direct selling side.
Marc Gonyea:
You've had some good experience working for companies of different sizes.
David Collins:
Yeah. All from like, I'd say companies that are under a hundred people, the largest one was Windstream hosted up until now, because we just I'll tell you about it in a bit. But we just, our company recently got as an entity by Cognizant, which is 250,000 person company. That's huge. But yeah, I think once your most was like 13,000 or so 15,000 and then other ones that were just, you know, 80 people into a couple hundred.
Marc Gonyea:
So, so you've talked to you, you've talked about what's important in a manager what's important in a company?
David Collins:
Small, small company, a smaller I'd say you don't, you don't get a lot of the bad habits and complacency built in within smaller companies. People have to wear multiple hats. I like wearing multiple hats. I like the ownership levels that come with that. And the fact that you can kind of control your own destiny. So I definitely like I've found from going on both ends of things that I certainly like smaller companies you know, somewhere, anywhere from the startup range up to a couple of hundred I think it's where I'm really comfortable as far as what makes a company good. What makes you want to stay. There's obviously the compensation piece. We all know that, but I think the big thing is the culture itself that you can kind of tell and I'm in a really good place.
Now, my last company was really good with this too. I can't stand when companies have people that are just, they don't really do anything. You don't know what their role is or like, it doesn't seem like they're constantly trying to provide value and they're always receptive to feedback and how they can improve. And so I think culturally a company where you hold each other accountable, but you also have a really good time. And it's open conversation like this. Like I like to be able to say, you know, bull**** and not have to worry about, it's not a formal environment. I think those things are intangibles that are important for sure.
Marc Gonyea:
What are you doing now? Tell us a little bit, what were you doing in the role you're in?
David Collins:
Yeah, so after the TierPoint thing, and then I went to another data center company, I was like, I need to get out of this space. Honestly, it was consolidating, it was more commoditized in my opinion. And I shifted over to a company called Logicworks, which did basically cloud for the public cloud Azure, AWS managed services.
Marc Gonyea:
Tell us what the public cloud is.
David Collins:
If you want to break it down in the most simple of terms, it's basically just another data center, but it's a massively scaled one with integrated services for everything that you need. So in the traditional sense, people used to have to go out, procure their own hardware, their own software and virtualize everything. If they were going to do that, they needed to get their own storage. They needed to get their own security products, they'd have to get licensing from Microsoft, like, like they had to go ahead and do all of those types of things, wait for it to ship implemented themselves.
They had to procure data center space, like they had to do all of these different things and a million different areas. And what that did is that just creates technology, sprawl what the public cloud does. It consolidates that all in one, scalable on demand space through these large CSPs cloud service providers, and they're constantly iterating and improving all the services integrated in there. So you don't have to go out and buy and they have a marketplace where all of those things that you need, whether you'd need Cisco routers, or it's all integrated in their platform, you can click a few buttons and then you don't have to talk to a rep, get it sent to you, go to the data center.
It's similar to when you guys, when you're looking at a new technology, you'd much rather use a SAS platform than have to go buy a server hosted on there, have someone manage it, shout out to Jack back in the day, IT guy running.
Marc Gonyea:
He did help with the, IT. There's no doubt about it. I would much rather he been on the phones more, but somebody needed to help us with the IT. Yeah.
David Collins:
Fair point fair point. So yeah, it's definitely a, I wouldn't even say a feature. It has been it's, it was a natural evolving path of where cloud consumption was gonna go or just compute, consumption, all that type of stuff. It's just on a rapid pace now.
Marc Gonyea:
So what are you doing? What are you selling?
David Collins:
Sure. So the Logicworks place was managed services. I wanted to actually shift out of that for more professional type growth. And I went to an organization called Contino, which is where I'm at now. So we're a global dev ops consultancy. And what we focus on is helping large enterprise organizations that are highly regulated spaces.
So banks, telecommunications companies basically companies that are Fortune100 list, really Fortune 500 at the most improve the way that they deliver software. So there's a lot of these companies are legacy born. They have some really archaic and manual ways that they deliver their software from development into production or idea into production takes a very long time. And there's lots of steps in there.
So what we do is we try and simplify that process through a number of different things and DevOps methodologies, and cross collaboration of working, breaking down silos, all that type stuff. So we're basically onsite consultancy. And we work on large like sow type orders. So, it's, it's been an interesting, interesting time for sure.
Chris Corcoran:
So is it more selling consulting in services over product?
David Collins:
Yes, absolutely. We'll use whatever tools, products they have. It is consulting services primarily on right now, obviously we're doing things remotely, which makes it a challenging in the sense that there's so many different routes. You can go within these opportunities and these initiatives, which makes my job challenging, but at the same time fulfilling.
Chris Corcoran:
Right. So definitely this is something that I want you to walk our listeners through is kind of the differences between selling a product versus professional services or consulting, how that's a different type of sell, which one's more challenging and why, if you could just kind of illustrate that for our listeners.
David Collins:
Yeah. Good question. So on the product side, whether it's software or those are most of the products that people are selling in the tech space, I think a lot of times you're selling a feature functionality. You're selling what, you're, what differentiates your product from another product, that's a competitor and how that's going to enable the business outcomes that they're looking to draw. Right. and how they're going to, you know, reduce their cycle time, or they're going to be able to have all these metrics because they have a dashboard that we have that the competitor doesn't have. Right. Long sales cycles, a lot of POC good place to be in for sure. It's just a matter of your kind of preference services on the other hand are especially consulting services.
You can do a lot, but it's not as much of a box. You know, a products that box you sell, what you can do. And then there's things that are just outside of that. And you're like, eh, it's probably not going to be a good fit for the product that we have consulting. You still have a framework of the things that your company is really good at what your core capabilities are, but you come in and you look at what is the overarching business outcome value that the stakeholders you're working with, they're trying to drive from a technology standpoint and you work with them to measure that as well as show the way that your organization can help them deliver that in a short period of time. But at least that's the way that we do it. So selling services is I'd say for me more challenging, but I think that you can differentiate a whole lot more easily than just saying, Hey, our features better than this feature because you're selling people.
And if they really liked the person that they're speaking with and the people you bring to the table, you're going to win that deal, as opposed to, if your technology just doesn't do something that they don't want, it can do everything else. Great. They could just go to someone else. That's what I've seen at least.
Chris Corcoran:
What would you say is more challenging?
David Collins:
I like selling services better. I also think that it is more challenging because there's a more diverse array of requirements. You have to have a really vast knowledge of lots of different technologies, as opposed to having a fast knowledge of one. And you know, if you're selling GitLab, for example, you're very plugged in on the exact features that you guys are selling at GitLab. And you kind of stay in that microcosm. You might branch out and go into development services and all that type stuff. But yeah, that's what I'd say. I think services a bit more challenging.
Chris Corcoran:
Alright. So I want you to think back over your entire sales career. What's been the most memorable deal, win or lose?
David Collins:
Most memorable deal. I'd say the, the ones that stand out to me are the early ones. When you kind of first understand like, Oh, I can land a big deal for whatever company you work with. It doesn't matter what it is. So when I was at Apptix, I think my first big deal was with a company called Zol medical. They had, I dunno, maybe not 6,000 – 8,000 people at the company is 6,000 – 8,000 users. For us like that was, that was a very big deal. So I think they paid us, I don't know, $30,000 – $35,000 a month or something.
And it was a big implementation for me at the time and to realize, and we originally lost it and then I just called and fought to get it back because I had worked so much on it. And that was a really cool experience. Cause it's like, okay, I can win these bigger deals. Let me go out and find some more. So I found another one with Aurora behavioral, which was another five or 6,000 users Blackboard the education company. So they're not huge enterprise accounts, but at the time for me, they were really big deals and getting that type of boost of confidence, I think was what I remember most now I work with Verizon and T-Mobile and CVS, like really large accounts. And it's completely different story, but those are, those are cool initial ones.
Chris Corcoran:
That first one you mentioned, how'd you breathe it back to life.
David Collins:
There's a grit. Really. When it came down to it, there was a competitor of ours intermedia that frankly had kind of a better offering and in a lot of ways but they had essentially sold them on a one time cut over migration of all these users at one time. And that's what it was included, their proposal. That was the way that they were going to do it. And they were, the client was concerned about this. I had talked with them about doing a stage one, and once they said they were going with them, they started talking about what the implementation would look like.
I reached out and I was like, Hey, listen, they're gonna take you down this one path. You know that it's not a viable solution for you guys to do this all at one time, it's going to be a disaster. Let's talk about how we can do this in stages. And that's essentially how I got them back.
Chris Corcoran:
Wow. So you lost a deal, but kept selling.
David Collins:
Yeah. Yeah, it was. I had done so much work to get to that point. And then for it to be pulled the rug to be pulled under from under me, excuse me, it was, I couldn't deal with it. I got so kind of pissed off and I just knew that we would be a better fit for them, which we ended up being.
Chris Corcoran:
That's great. So how do you keep your skills sharp?
David Collins:
I think pitching as much as you can, literally just doing pitches of your services, your product, whatever it is we do, especially now with the being remote it's been helpful. We've been able to set up more introductory calls and just going into those and running through my pitch and running through my pitch. You can never get, it's almost like your comedy routine. Like they always talk about how you can cut off fat off your comedy routine.
It should be the same thing with your pitch. You should be doing it more often and not everyone likes to do it. I understand that. I think we all understand that going through the same type of motions, but the 40th 50th time you do it, you're going to be like rock solid and people are going to know, and you're going to be able to find out which things resonate and which things don't. Those are big things. And then doing training, learning new technologies I think is important, but at the same time, just learning from other people, we have like these bad a**engineers that work at our company. And just sometimes I sit down with them and just have them whiteboard out. Okay. What does the CSED press process look like for this client? Like how would we improve it? Where's the core pain areas, do value, stream maps, all that type of stuff. So again, learning from other people and do your pitch all the time.
Chris Corcoran:
Excellent. In your opinion, what's the biggest mistake you've seen your former memory blue contemporaries make?
David Collins:
I'd say that pigeonholing yourself into a certain type of role or a certain industry is one like, it's just like, Oh, I know, I know telco, I know software. I'm just going to stay here. When you see an opportunity to go elsewhere and kind of make a shift in your career. I've seen people not only just at memoryBlue or people that have gone on, I think people from memoryBlue actually do a really good job of being able to be chameleons and be able to shift into another role if they want to do it because they took a chance to begin with.
But I've seen too many people that just get complacent that are sitting in a row forever and then 10 years go by. And there's nothing wrong with being the telco sales guy they can't get out of that role. And it's not that they couldn't, but they just don't want to. And then there's four or five options for them of like companies that they can work at. And they've already worked at two or three of them. So, I just never wanted to get in that for myself. So, you'll see that like, especially over the past few years, I've switched a couple of jobs and don't feel bad about switching jobs. Especially if you see a really good opportunity too, it's different time these days, you don't have to stay at a company for 10, 15 years. It benefits you to get different experiences and find out what you like.
Marc Gonyea:
Excellent Colin. So as you said, you've got to take some, take some chances and move around to figure out what you want and make some career transition changes. And you kind of said, Hey, I want to get out of this space it's becoming too commoditized. You got to have some support in that profession, too, right outside of the office, like who do you look for support?
David Collins:
It was about three, four years. So I bounce ideas off Erica all the time. She used to be in sales. She's not anymore, but she's a good little litmus test as to like, kind of what's going on. Even from a career path standpoint, she's got really good feedback. I'll talk with people in my family. Like my sister, my sister ended up taking over my dad's company from him. And she's been in sales for a while. So we talk a lot about different approaches and just bounce ideas off each other.
But a big thing that I did probably four or five years ago was I realized that down in DC I didn't do a very good job of building a network. I had a good social network. I had good network from memoryBlue and some other places, but with Apptix, it just didn't benefit you. A lot of our stuff came inbound and it was just kinda all over the place that having to go to networking events constantly and building relationships to get some bigger deals just wasn't in play then. So when I came back up to Philly, I made it a point to, I went to so many networking events, like I'm talking like three a week for like a year and a half. I was just cruising. And I met so many amazing people through that. And because of doing that, I know so many more people just in this area that have introduced me to other people in other areas, people that own their own businesses that have startups that I can go to for advice on just whatever you can possibly think of career wise. So that was a huge investment.
Marc Gonyea:
That's a great move. I wish more people did that sort of thing. I think some people have some reluctance going to those types of events either within their industry or not. So good, good for you. And we asked you this, when you interviewed back in the day, who would you put on Mount Rushmore?
David Collins:
I think with the recent documentary, Michael Jordan has gotta be on there. I mean, there's just the amount of will that men had to win was just insane. I remember growing up watching him and I just loved the Bulls. So I think that he would definitely be on there. I think from setting a good example and all that type of stuff. I put my dad up there growing up, I mean, most of mine just going to be sports figures.
Chris Corcoran:
Sports is near and dear to you. Right. I remember you telling me a story of a very competitive I think it was a basketball two on two- or three-point shooting competition, where you got paired up with a certain athlete professional athlete where you guys ended up winning.
David Collins:
Matty Ice, yeah. So we went to grade school together. We used to play against each other, like in a group all the freaking time we played a fifth and sixth grade basketball together. And Matt was a good athlete and all then too it was always a challenge too. The funny thing is, was there was, he was not the best player on the team. There was another kid AJ who was much better, super physical. And his brother ended up playing at Penn state who was the best player on the team, but Matt was just cool and calm as cool as could be. He was actually the point guard, but he was one of the tallest, which is funny.
Marc Gonyea:
Alright, Collins, dude. Thank you very much for joining us today. I'm glad Chris went down to JMU for that class that day.
Chris Corcoran:
Yeah, me too.
Marc Gonyea:
Or else we wouldn't be sitting here.
Chris Corcoran:
I'm glad of that 2008, 2009 Great recession. That's how we ended up securing Collins' services. Thanks so much. Take care.
David Collins:
Yeah. Thanks for having me guys.