Episode 22: Ashley Lounsbury – The Hand-Raiser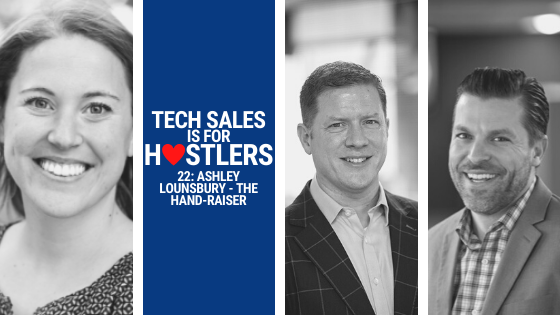 Everyone has had a moment in school where a teacher will ask you a question, you know the answer but you just simply don't raise your hand. If you sit idly by, who will hear what you have to say?
Ashley (Sprano) Lounsbury is a prime example of the benefits of raising your hand. She has always made it known what she wants and that she's willing to hustle hard to get there. Today, Ashley is an Enterprise Account Executive at Tableau, a Salesforce company. A soon-to-be new mom, Ashley's little elephant will someday reap the rewards of the wide array of professional tips and advice she bestows on our listeners here.
On this episode of Tech Sales is for Hustlers, Ashley shares the reason why courage is a pivotal characteristic for sales pros, the importance of raising your hand to progress your career, and what it's like being a woman in professional high-tech sales.
Full Episode Transcript
Name: Ashley Lounsbury
Title: Enterprise Account Executive
Company: Tableau Software
Exit Year from memoryBlue: 2013
Months at memoryBlue: 15
Alumni Path: Tour Completion
***Introduction***
Ashley Lounsbury:
There are just so many skills that you develop being part of memoryBlue, because selling is a core component of pretty much everything anyone does.
Marc Gonyea:
This week we have Ashley Lounsbury, Enterprise Account Executive at Tableau, a Salesforce company, as she shares that she will be expecting a future elephant this September, the importance of raising your hand to progress your sales career, and what it's like being a bad-ass woman in sales. Hi, I'm Marc Gonyea.
Chris Corcoran:
And I'm Chris Corcoran. And you're listening to Tech Sales is for Hustlers. Tech Sales is for Hustlers is a podcast where we catch up with memoryBlue alums and reminisce about their start in high tech sales with us.
Marc Gonyea:
Let's go get some Corcoran.
Chris Corcoran:
Gonyea, you know, I'm ready.
***Episode 22: Ashley Lounsbury***
Marc Gonyea:
Okay. Ashley Lounsbury in the house! Well, the artist formerly known as Ashley Soprano.
Chris Corcoran:
It's Sprano, Marc.
Marc Gonyea:
Yes, I know, she and I talked about it. Ashley, correct me, the artist formerly known as Ashley. How do I pronounce your last name? Because I always butcher it.
Ashley Lounsbury:
It's Sprano.
Marc Gonyea:
It's a tough one. I kinda like that whole thing we got going on. And the new name or not so new anymore. Like, that's easy. Lounsbury welcome to the podcast, Chris and I are thrilled you're here. It's been a little while since you left and you've got a lot of stuff going on, which we'll get to. So I was looking through and it looks like you bounced seven years ago this October. Would that be correct?
Ashley Lounsbury:
Yeah.
Marc Gonyea:
Seven years. Wild. Welcome.
Chris Corcoran:
Welcome back, Ashley. I haven't seen you since, I guess it was maybe last summer when Marc and I bumped into you in Georgetown and tried to kidnap you and take you with us on a booze cruise.
Ashley Lounsbury:
Yeah. I should've come.
Chris Corcoran:
You were smart enough to deny our requests.
Ashley Lounsbury:
My friends were like, "Who are these men?" You know, they were very confused by that whole interaction. And then they're like, Oh, but without context, they were very confused. Who are these randos trying to get us to go on a boat?
Marc Gonyea:
Who are these kind of old guys? They're a lot older than us, but not like, they're kind of dad status, but not dad status. And how come you've never mentioned them before? And why are they so casual? Like, Hey, come on. Let's go. And why is he, why is that one guy calling you a Soprano?
Ashley Lounsbury:
I was going to say old, but you said it for me.
Marc Gonyea:
Oh, okay. All right. Well, let's talk about. I think the most important thing you've got going on, let's get that out of the way. It's been seven years, but you've got a big, big day coming on September 9th. Tell us, you know, the biggest deal you're going to close ever.
Ashley Lounsbury:
I am 36 weeks pregnant today. So September 9th, in or around there, I will be having my first baby.
Marc Gonyea:
We're so excited.
Chris Corcoran:
Congratulations, Ashley.
Ashley Lounsbury:
Thank you.
Marc Gonyea:
You're gonna be an awesome mom. Awesome. Let's talk about Ashley growing up. Where'd you grow up? What were you like? Walk us through all that.
Ashley Lounsbury:
Well, I was, I had sort of a nomadic childhood. I would say my parents both worked in tech and so we moved around quite a bit. So my family's from New Jersey and I would sort of say I'm from New Jersey, but when I was very small, we moved to California until I was almost 11, and then we moved to Northern Virginia.
And then I pretty much grew up in Northern Virginia, but the rest of my family wouldn't say they're from there. I was pretty similar to how I am now as a kid, I'd talk a lot. I was pretty bubbly and energetic and yeah, mainly known for being a chatter box. My dad says I'm good company. That's a nice way of saying I talk too much.
Marc Gonyea:
I'm going to steal that from him. Alright. So what'd you do? Were you an athlete? Did you have a job? Were you in musical arts? What were your interests as a kid growing up? And both your parents worked together, right?
Ashley Lounsbury:
They did. They worked together, but that's not how they met, which is kind of funny. They met in college. So I mainly was the singer. So my parents would also say I came out singing and talking. So I definitely not an athlete. I mean, I sort of did sports, but that was not my primary interest as much. I was very competitive about choir.
Marc Gonyea:
Yeah. And when does someone know they can sing? Like that, did you know, like you're three years old, four years old? You're belting out notes and like, how did that happen?
Ashley Lounsbury:
I don't know. I knew because intrinsically, like I could tell, but I also knew because of how people reacted to me when I was that young.
Marc Gonyea:
Yeah. What's your earliest memory of when you're like, man, I'm pretty good at this?
Ashley Lounsbury:
My parents used to make me sing at parties and stuff when I was three.
Marc Gonyea:
Wow. Okay. And just go to the competitive nature of that. Because a lot of people may not think that it's a competitive thing. Tell us about that because you're in sales now. So that's a competitive business.
Ashley Lounsbury:
I've always been competitive my whole life. We always played lots of games and things in my house and it's, it can get very tense. But as far as choir goes, I mean, you have to audition to get into good groups. And then, you know, just like in sports, there's district choir and All State choir and regional choirs. And so I used to do all of that stuff when I was in high school and you get, I mean, you get scored and just like anything, you know, who's good around you and who do you want to beat.
And I remember being at this choir – this regional choir I was in – it was like across 17 States. And the girl who sat next to me was from Virginia. And I knew her name from the state chorus rankings. She was the only person who beat me in Sopranos when I was a Senior for state choir. And I was like, I know you, you know, it's the same thing as track and field or any other kinds of sports.
Marc Gonyea:
Completely, completely. And it's, and it's a solo effort. There's no team, I mean the choir, but like when you're performing solo, it's just you, right?
Ashley Lounsbury:
Yeah. It's both right? You to get into these groups. You have to present yourself individually, just like you would audition or try out, I should say for a sports team. But then when you're on it, you're a part of a team.
Marc Gonyea:
Got it. Okay. So you're in sales now, but when you're in high school, did you like sales or the idea of sales or any traits or characteristics you exhibited growing up? Did those, you know, rear their head at some point in high school? Was that later?
Ashley Lounsbury:
I don't know. I mean, people, I feel like, like to associate people who are personable with being salespeople which I think is right to a certain degree, but also not necessarily. But for me, I think that was a trait that people maybe identified in me that, that aligned to sales.
Chris Corcoran:
So while both her parents were in high tech sales, you've got to remember, and maybe you don't know this, Ashley went to high school with the blue bloods.
Marc Gonyea:
Oh, we're going to get to that. So that was on my list.
Chris Corcoran:
Where sales is frowned upon in many instances.
Marc Gonyea:
You mean she didn't go to South Lakes? The Seahawks. I love the Seahawks. Ashley, where did you go to high school?
Ashley Lounsbury:
I went to Flint Hill.
Marc Gonyea:
She's a good sport. So sales still wasn't in the mix, but you went to Virginia Tech.
Ashley Lounsbury:
I went to Virginia Tech and I majored in Marketing.
Marc Gonyea:
Okay. Did you have a minor in music though?
Ashley Lounsbury:
I had a minor in music, yup.
Marc Gonyea:
Very important part of your life. I mean, you're in a choir now and you're in a group, a group, Chris wished he was in, it was all women. Okay. The name you, do you remember what was the name of the group, Chris?
Chris Corcoran:
Solstice.
Ashley Lounsbury:
Yes. I was the Music Director of Solstice when I was in college.
Marc Gonyea:
Yeah. I love it. So, we've got some history of folks who've got some musical backgrounds at memoryBlue, or maybe you can mention them later. Alright. So you're in college, you're a business major. What'd you think you're going to do when you got out?
Ashley Lounsbury:
I had no clue. And as far as like majors go, I would say marketing is not maybe the best major. I mean, no regrets looking back, it all worked out, but you're not necessarily, I don't think it's as specific of a major, that's going to get you into like a clear job path. It's sort of a generic major. Like it's not like engineering or something where you're going to go be an engineer.
Marc Gonyea:
Yeah. Right. Would you have majored in something different? Would you have changed your major Like if you could go back.
Ashley Lounsbury:
At this point? No. But if I think if I were talking to my kids about what to major in, you know, you can always, you can major in whatever and end up in sales. It doesn't matter, but you can't major in whatever and go do other things that require a more, more of a hard skill, if that makes sense. So you'll just have more versatility.
Marc Gonyea:
That makes sense. I mean, you're talking, you're giving advice to the baby now it's part of the podcast as far as I'm concerned. So, all right. So you got out of tech, you weren't sure what you're going to do exactly. You know, through tech, which is just like most people in college. I was a finance major and I knew I wasn't going to do finance. What, how did you end up at the memoryBlue door?
Ashley Lounsbury:
I don't remember exactly. I may have found you guys on like a Virginia Tech job board, but like back then, you guys didn't do these massive, like recruiting events at Tech. Like I remember when we went to business horizons to go recruit folks from tech and Cvent had this really long line to recruit people and nobody was coming to see us. And we were trying to poach people from the line. You know, I don't think that doesn't seem like the dynamic at all anymore. Based on the last first Friday I went to and some of the folks I've talked to there and one of the women I now work with who went to tech and then got recruited by memoryBlue is, you know, you guys have a much bigger operation now and people know who you are, but I didn't know who you were. I think I found you on a job board. I needed a job. I didn't need a specific major. And then I ended up with you guys.
Marc Gonyea:
You know what? It has a funny way of working that way. And Chris has done a great job with the team of building out our presence at Tech. But one of the reasons why we're strong at Tech now is because we've hired ballers. Like you, I mean, that's absolutely. I remember Chris coming back up and tell me about how Cvent had this ridiculously long line, you guys are snaking people. And our goal was to try and have a line as equal to theirs. If not more, sometimes we do. So walk us through the interview. You remember anything about the interview at memoryBlue or kind of how it all, because it's your first job coming out of school. It's a big deal, right? Your parents had sales background. So I'm not sure if you remember it, but talk to us a little bit about that.
Ashley Lounsbury:
I remember coming to the office on the first floor at, on old courthouse. Right. And back then, like, I wasn't even sure you guys were a real company, Stock photos on your website. This was everybody's in the headset thing.
Marc Gonyea:
The sad thing is Chris and I, or at least I remember it was going through which stock photo you liked better. I think I like this one and we were going back and forth, but that's all we could like afford to get our hands on, but you're right. You said this might not even be a real company.
Ashley Lounsbury:
I mean the stock photos, a stock photo, I'm sure you guys made excellent selections, but they don't look like real photos no matter how you select.
Chris Corcoran:
So I think it's important for the listeners to hear that Ashley was observing the company once it had recently been upgraded. So we had left the office that was next to the dump and we had just done a website refresh. So, and she still thought we were sketchy as hell. It's amazing. It really is amazing to some people that we were able to persuade to invest their most precious asset, their time working with us when we had very little to show very little to show.
Ashley Lounsbury:
Let's say, I remember Tiana before your interview and after your interview. So I think so, I guess I interviewed with both of you guys. I remember that I more specifically remember my interview with Marc mainly because you talked about your wife and you and how she is in sales and she's a bad ass and all this stuff. And I remember you saying, you know, I think all things equal women can be a lot more effective in sales. I remember that.
And I dunno, I just like two guys, and also there were a lot of young people in the office. And so it seemed like it could be a fun place to work. And I remember thinking like, Oh, I really hope that I get this job. And then of course, Tiana called me like five minutes later and kept me on the phone for an hour, which at the time I didn't really know what was up with that. But you guys paid talk time bonuses and she was on the talk time. But of course you wanted to talk to me for an hour and I couldn't hang up on her.
Chris Corcoran:
So I think I want to share just a quick story cause it's important. And I think it's how we were able to land Ashley services. And it's also kind of talks about the importance of the people you work with and the network that you build over the course of your career. And so in 2003, I got a call from a gentleman out of Palo Alto and he wanted to outsource the sales development. And of course he didn't call it sales development at that time, but he wanted to outsource and I had a conversation with him and we were able to talk them into giving us a try. And this was, we had like, this was pre-Sohale. I think we have one employee at the time we were in that office right by the dump.
And we ended up working with that company and we ended up doing well with him and then he gave us more work. And then he left that company and we worked with him a bunch of different times. And then he ended up moving to Vienna, Virginia, Northern Virginia. And he begged him, begged him to come in and do a video testimonial, which he did. And then Ashley I think, you know, part of the, when we back in those days, we were like, you know what? We can, we can persuade these recent college graduates. The problem is their parents shut it down all the time. But fortunately for us, Ashley's parents are involved in her recruitment. And they said, Hey, who's this company. And they went to our website. The one that you were making fun of five minutes ago, lo and behold, you take it from here. Ashley,
Ashley Lounsbury:
My dad used to work with Ken Phillips who was one of the video testimonials on the homepage.
Chris Corcoran:
Instant credibility.
Ashley Lounsbury:
Yes. And he thinks Ken's great. And so he's like, okay, this must be a real thing. Despite the stock photos. I forgot about that. But totally my dad was like, Oh yeah, I know him.
Chris Corcoran:
It's crazy. So I guess it just goes to show you that the meter is always running and the people you work with can come into play years down the road, potentially even with your kids. So it's all important.
Marc Gonyea:
It's one big, hot tub. It's one big, hot tub.
Chris Corcoran:
That's one way to look at it if you want COVID.
Marc Gonyea:
I don't think you get it in the hot tub. So Ashley, so you accepted the job. You're in the mix to tell us about your early days. And we're gonna accelerate into all the great things you're doing now, but let's talk a little bit more about memoryBlue.
Ashley Lounsbury:
So in that office, I, there were a couple of offices, right? When you walked in your offices. And then there was an office that I sat in with Mike Breslin and Matt Bright, and we all started on the same day and sat in this little office and everybody else sat in like the bullpen or whatever. And I remember being like, Oh man, I wish I was out there. Not because the office was bad or anything objectively, the office was actually nicer. But you know, so much of the benefit of working at memoryBlue was like being in the trenches with everybody, you know? And there was no reason to walk over there. I just remember being like, I'm never going to meet anybody who sits over there because I have no reason to go over there without being super awkward.
And I remember my first client, I had two clients initially, one that only hung around for a month CFN services. And I remember that me and Matt were both on it and they were like, Oh, we'll do a GoTo meeting. And we didn't know what GoTo meeting was. So we thought that that meant we were going to go to their office. And we were talking to Jack Wagner. He was our delivery manager for that client. We were like, are we going to have to go to, like they said, we're like, we're going to do a GoTo meeting. He's like, yeah. And in hindsight, that's like such a funny thing. It's like, I didn't know what a GoTo meeting was. And I also worked with a client and portal, which was like my kind of main client when I worked at, at memoryBlue. And I worked with them for many months.
Marc Gonyea:
They loved you.
Ashley Lounsbury:
I was with them for months, months and months. Pretty much the whole time I worked there.
Marc Gonyea:
You did a phenomenal job for them. Remember they were over in that building over off of Jones Branch. I can see the building from my office now.
Ashley Lounsbury:
And I remember they were like ready to quit when I came in because unfortunately someone had come to work for you guys and they just, they didn't like it or something. So they quit really fast. Obviously isn't a great client experience, but not one that you can really prevent. You guys could've prevented.
Marc Gonyea:
You tore it up and just little bit about getting on the phone. So like, so you hadn't had a sales experience before really. Right. And then we're like, okay, come on into this company and start crushing the phones. There has been training, but there's a lot of on the job training too. So do you remember any of that?
Ashley Lounsbury:
Yes. I remember, you know, you develop your sheet music. I don't know if you guys still do that. And then it's basically like, okay, there you go, go, go call. You're like, Oh my gosh. I remember at least when I first started, you had to mark everything down on paper. Like you couldn't use the computer.
Chris Corcoran:
I'm loving it. Let's break it down for the listeners because this is my ideal environment.
Ashley Lounsbury:
So it was just you and the phone and your list, which I imagine is what you mean. And so you'd mark all your live conversations, voicemails, you left. If you've got any meetings. And it's terrifying, I know about like low latency connectivity. I'm like, what is latency? I probably wouldn't bet up, you know, that kind of thing. So it's very nerve wracking. You have to have courage. I would say, you know, it teaches you a lot and it helps you build a thicker skin because it's, you know, you just have to do it.
You don't have a choice and it's scary and it's hard. And I mean, some people are wired where that's not scary. I'm certainly not wired that way. And it was very scary to get on the phone at first, but then you get used to it and you hear people around you and it, it gets less hard, I would say. And you get better. It's that first year awkward and I wouldn't want to hear my first calls. I'm sure they were terrible.
Marc Gonyea:
What advice would you have for yourself the night before you started?
Ashley Lounsbury:
Yeah, I think have courage. It's such a huge part of really anything. I think, regardless of whether you're going to be in sales or not, there are just so many skills that you develop being part of memoryBlue, because selling is a core component of pretty much everything anyone does. So it's just, it's a really great transferable skill. And so try hard, learn as much as you can be a sponge. And, and you'll learn a lot about yourself in the process and try not to get too wrapped up in your head because your head can be your biggest enemy and your biggest obstacle in trying to get anything done.
Marc Gonyea:
So, you're putting the time and it memoryBlue, new to the game. Where'd you kind of see it yourself going, right. So when, when did you start to think about what you're going to do next?
Ashley Lounsbury:
Probably around the same time, most people, right around the 12 month mark around the time when you kind of feel like, all right, I get this, I get what I'm doing right now. And I want to do more. And, you know, memoryBlue really did make me think like, Hey, I want to go into sales. So, and obviously everybody wants to get into a closing role. And I was at a point where I didn't necessarily want to work for the clients that I worked for.
Marc Gonyea:
That's interesting, real quick. I just want to jump in because some folks nowadays, they fall in love with the client immediately and we love our clients, but we want people to kind of analyze where they want to go next and what they want to do and go to work for the client might not be a good fit for you. And as much as we just got done talking about how much end portal and DP loved you, for whatever reason, it wasn't a fit for you. We didn't really need to go into that. But like you said, okay, I want to stay in sales, but I don't think it would work for my client or they want to hire me. So what were you thinking about doing?
Ashley Lounsbury:
Yeah, so I just, I wanted to work for a company that was really growing and that had other, sometimes the clients that memoryBlue worked with are very small. And while that can be a wonderful environment. I want it to be an environment where I was going to have peers who did the same thing that I did. So I could be in more of a collaborative environment where I can learn not just on an Island, but like learn with people, not necessarily be spoon-fed, but just, you know, being around people who do the same thing as you, to me, there's a lot of value in that. And that's, that's actually a huge value of memoryBlue being around people, doing the exact same thing as you all the time. So then I started to look for roles. I don't remember exactly how, like, how everything played out, but I remember how I got my job that I ultimately left for.
Chris Corcoran:
I remember something about this. So Ashley. I remember you came into my office one day and you're like, Chris, listen, I know a lot of people are, you know, young and they say things and they don't follow through with them but I am Chris. I know, just watch I'm going to do this. I a hundred percent, I'm doing this my best friend lives in New York city and I am moving to New York city. And I was like, okay. And then what happened?
Ashley Lounsbury:
I did have a living arrangement. I was going to go live with her, her roommate for moving out and I was going to go try to find a job up there. And then I met my husband.
Chris Corcoran:
Yeah. That's awesome.
Ashley Lounsbury:
You know, and I told him too, when I, when we met, I was like, I'm moving. I mean, it was like, okay, so I have three months to change your mind.
Chris Corcoran:
I love it. I love it.
Ashley Lounsbury:
So yes, I'm one of those people who did not follow through on what I said,
Chris Corcoran:
But for good reason, other people they don't follow through for terrible reasons.
Ashley Lounsbury:
I would have moved 100%.
Marc Gonyea:
I remember you talking about that, but it all worked out.
Ashley Lounsbury:
I thought I did too. A lot of it worked out and you know, and then I got my job at TrackMaven, which I totally wouldn't have gotten without working at memoryBlue. And at the time TrackMaven was like the hottest, like startup in DC, kinda cool. And Shawn Cook, who had been a memoryBlue client and also had a testimonial on the website every time to be on LinkedIn. And I knew who he was because he was a sales director at Eloqua and Eddie Maglaya and Mike Daversa worked there. I didn't really know these guys. I just knew of them because they were, you know, like the alumni and you're like, Oh, like, these are the people like, I want to be like that. Right. And Oh my God. How could I forget my favorite John Parrot?
Marc Gonyea:
Oh, wow. He's going to be so upset. He's going to be so upset that you almost forgot him.
Ashley Lounsbury:
I associate him with so many other things. Now we work together again now at Salesforce. And I worked with him at TrackMaven, but anyway, so John reached out to me on LinkedIn. And this is another thing where I don't think I would have believed this was a real company or anything, except that I knew who this guy was. And I've got a concert on a Friday when I got his message and I'm responding to him. And then I had a job in like a week and I have no idea how I managed to convince them to hire me, but so much of it, I think just had to do with the fact that they trusted the memoryBlue training and you know, I'm smart.
And I can demonstrate that in a conversation, even if I didn't have the skills that I needed, which I totally didn't. He hired me into a role, a closing, like mid-market role, which, you know, everyone around me in that role that he ultimately brought over. A lot of them were from Eloqua. They all have like five to seven years experience. And I had a year of, you know, memoryBlue experience, which is good experience, but not equivalent. But I definitely wouldn't have gotten that job without working at memoryBlue. And it was great.
Marc Gonyea:
That's great. And thank you for being so kind. And when you are talking about memoryBlue, we appreciate that. But you know, most of that is all because of you. We do appreciate it. So when you got this closing role what were some of the skills you had to develop?
Ashley Lounsbury:
Actually, I think a lot of my innate skills that I have were really more tied to owning a full sale cycle, owning a client relationship. Part of the reason I think, and Mportal and DP liked me so much is because I think I just have, I have natural skills to be able to develop our relationship with people and establish trust with them. But know, I never closed a deal before. I didn't know how to negotiate a contract and I didn't know how to demo software and like how to do that effectively over the web. And what I did know how to do was like a pretty good discovery call, but there's just a lot of other components to the sales cycle that I just, I didn't know how to do like yeah, like demoing, I didn't know how to close a deal. I didn't know what levers we had to negotiate something. And so I had to work really closely with my manager to develop those.
Marc Gonyea:
What skill did you think was the most important one you developed that kind of helped you in the gig after that, or even to this day?
Ashley Lounsbury:
Like a TrackMaven or memoryBlue?
Marc Gonyea:
No, at TrackMaven. What you learned in that role that you think was extremely helpful because people are like, well, everyone at memoryBlue, a lot of people they want to get to the closing role, what was something that I need to know before? What should I be thinking about before I get into that closing role that I needed to know? So is it the negotiation part? Is it moving the sales cycle along? Is it getting the resources? Is there something else?
Ashley Lounsbury:
Effective qualification, you know, because qualifying someone for a meeting and calling, find someone for a deal and a sales cycle, I think are two different things. And people want to tell you what you want to hear a lot of times. And so you've got to get good at sniffing that out. Otherwise you'll waste a lot of time with like lookie loos, if you will.
Marc Gonyea:
That's gold.
Ashley Lounsbury:
I think that's a big thing because also, you know, when you're an SDR, you want to get someone for a meeting and that's a different close. It's a valid close on its own, you know, closing someone for their time. But it's different to like vet someone to actually make a purchase.
Marc Gonyea:
That's huge. That's Chris's favorite one, right? Corcoran. I mean, when you talk about SDRs, you say they're ready. And what do you say to them?
Chris Corcoran:
Learn to qualify. You need to start getting really good at asking questions and qualify the opportunity as much as you possibly can, because all closing, in my opinion all closing is nothing but great qualification. And then the closing happens automatically.
Marc Gonyea:
So yeah, that's actually gold because that's what people come to assume. We say, well, let's break out when your calls and listen. And they're closing for the meeting. They're not closing the deal, but when they get good enough as SDRs, they can close that close. They can qualify the opportunity more than they think they can, but they get really obsessed with booking and occurring the meeting, which is great. But we want them to try and learn that now. So that's great advice. All right.
Ashley Lounsbury:
There're different kinds of meetings too, you know?
Marc Gonyea:
Good. Now what does that mean?
Ashley Lounsbury:
When you don't have the full context of the sales cycle. You're just qualifying someone for like a base level of interest, and then you expect the account executive, you're handing it to, to do the next part. Right. But if you are the account executive, you're going to try to do all that in the first call to the extent that you have time. If you have four minutes, you're going to do this. You're just going to qualify them to get into the high and qualify them. You're just going to try to get another, get some more time, but if you get 15 minutes with them, you're gonna, you're gonna condense those two things into one. If that makes sense.
Marc Gonyea:
That makes sense. One call does it all. That's insightful. Okay. Okay. So, alright. So take us through you know, you're about to have this baby, so I don't have you all day. We've got some time constraints, but so take us through things from that TrackMaven job up until kind of where we are now. And Chris and I got some questions along the way, but I kind of want to hear your story as to how you evolve your career.
Ashley Lounsbury:
Yeah. So I didn't necessarily have a very linear progression into the role that I'm currently in. And I think people expect to have a linear career. And I don't think that's a fair expectation at all, because you don't know what kinds of roles you're going to be interested in at that time and what you're going to be well suited for. And so for me, personally, that first closing role I had at TrackMaven, it was really hard for me. I struggled, I struggled a lot because I didn't really have the skills I needed and I was working really hard and I was young and I didn't have confidence, the confidence that I needed to be able to overcome the fact that I didn't have the skills.
And I was so stressed out that it made me think I can't do this. I can't even handle the stress of sales cause there's a lot of stress in sales. So you can just throw that out there, the reality of the job. And so I actually moved into customer success and handled post-sales, which, you know, you get a warmer relationship. Basically we had a new logo sales team, and then after someone closed the deal and then the customer success person owned it. And so I was responsible for renewals. I was responsible for upselling, but we didn't really have anything to upsell. And I was responsible for onboarding and general client satisfaction. And I really liked that role.
I really thrived in it, but in the time that I did it, I realized, you know, what makes me good at this job or things that make me good at sales. And so, and I really want to get back into a role where I'm individually measured because initially I was individually measured in that role. And then it turned into like a team number. And while I'm all for team collaboration, I don't like to be measured in that way. I like, I prefer to have a large individual component into my measurement.
So, then I ended up going back into a direct selling role and, I left TrackMaven after having been there for three years, and I actually took a bit of a step back in order to learn and develop. So, when I moved to Tableau, I went into like an inside enterprise role where I worked with a field account executive and we both owned the number, that we were responsible for. And the reason I was drawn to that role is because I was like, I'm just going to be a sponge with this field account executive I work with.
Marc Gonyea:
Let's pause real quick. So when you said you kind of had to take a step back, let's talk about that. Why did you make that decision to do that? And I think you've already gotten to it, or you even mentioned already, how did you reconcile that or not reconcile rationalize it in your mind as to why this is a good thing for you to do at the time, because a lot of people don't have that sort of level of self-awareness to go that route. And with the mandate of doing is taking a job, they deemed better at a company, not nearly as enterprising as Tableau is or was before they got purchased.
Ashley Lounsbury:
It's hard to, like, I don't think there's any way to know if that's the right thing at the time, but there is no such thing as the right thing. I think that's one thing I've learned in just moving through jobs. Like you just gotta make the most of whatever job you're in and, and translated it into whatever else you want to do. At the time. I knew I wanted to leave TrackMaven. It didn't have what I needed anymore. I really had outgrown the company in terms of my career. Like, I didn't see what my next step was there. And so that was pretty, that was clear. I knew I wanted to stay in tech and Tableau is a fantastic midsize company. And I was passionate about the software. Like I still am like, Tableau has fantastic software. I really believe in what we do. So it was that plus I thought I could really develop skills.
Marc Gonyea:
Got it. So getting into the inside enterprise role where you're aligned with a field contributor. So tell us about that.
Ashley Lounsbury:
Yeah. And honestly, I had my doubts while I was in that role because it felt like taking a step back. I was in a role where like my hours in the office were much more monitored and I was much more metrics based in terms of like activity and, and things like that. But I worked with one of the best account executives in the whole company. And he was, you know, I was able to establish trust with him to really treat me as his partner, as opposed to just like someone who did tasks for him. And I still have a great relationship with him. We talk like at least once a month. And this was, you know, three years ago that I worked with him and I was able to take the skills I had from memoryBlue, plus the skills I had from TrackMaven and customer success.
Ultimately the role I was supporting a global account executive. And so you're responsible for the entire client relationship. There's not like I sell a logo. And when I move on to the next, it's like, I have three accounts and I'm responsible for retaining and growing them. And so that's a much different kind of job than like landing someone new. You have to, you also are sort of responsible for the install and the success and all of that. And you don't have anywhere else to go because you have three accounts, three big, big, big accounts. You know, I'm talking like our largest client has probably 250,000 employees, but still you're working with a limited number of people, a limited company.
And we sell products that, you know, it can kind of cut us out if they don't want to approve us, like we can be dead in the water, but you still have to work with these same it people every day to ultimately get in the door. So it was just a really, I was able to take sort of the hunting I learned at memoryBlue. I was able to take the client relationship stuff I learned at TrackMaven and combine those things together, plus learning from my field account executive to kind of get this more holistic picture on being an account manager for, you know, a global account.
Marc Gonyea:
That's very insightful because for a lot of people who listen for most people this is all new content to them. They don't even know what any of this stuff means. So this is good. So you're progressing along, you're moving along and you kind of felt like, okay, I'm in this more metrics-driven role. It's kind of a step back, but not really what happens after that?
Ashley Lounsbury:
So, Tableau went through a reorg and I managed to get promoted in the reorg. I didn't end up having to interview for my next role, but I had already been, I had already been socializing around what I would want, wanted to do next. I think that's a huge, very important thing that people do should do you need to raise your own hand. So if you're interested in certain roles, you need to go talk to the manager about that role, ask them to go to lunch, ask them to do whatever. So I was doing those things. I was making my desires known.
So, one thing I will say, that's good about the people at memoryBlue, who walk into your offices and say, Hey, I'm ready for the next thing. That's good. You should continue to do that. You might not be ready, but you should, you should continue. You should continue to verbalize what it is that you want and what you think you want and what you think, you know so that people can guide you in that direction. So that's how I ended up in my next role, which was a commercial sales role. I worked with accounts, but it was a blend of like new install based sales, as well as like growing existing footprints. And I was in that role for a year.
Marc Gonyea:
So you did get the New York eventually just in a different way.
Ashley Lounsbury:
Yeah, I worked here, but my territory was New York, so that was great. Cause I was able to travel up there all the time. So that was awesome. And I was in that role for a year. I did really, really well. And again, I had been sort of socializing that I wanted to get in the field and I had built a good network when I was in an inside enterprise rep. Anytime I was at an event with folks who were in that role or manage that role, I made sure that they knew who I was. And that I was at social events that like, I wasn't just a person in DC that they had no idea who I was. And then a role in DC opened up and actually had been open for, I don't know, like six or seven months, this was in 2019 or sorry, 2018. And it had sat open, but you hadn't found the right person. And it just worked out that I had a really good year and I had a long enough time in my role that I could then apply for that role. And so now I'm a field account executive.
Marc Gonyea:
Amazing. It's a good story.
Ashley Lounsbury:
Yeah. And you know, the only reason I got that job is because again, I raised my hand and people knew who I was and liked me. And I ultimately had to, like my VP at the time said, you know, Ashley people always ask me like, how did you get this job? And he says, well, you know, you have to show up on game day and you showed up on game day and you won. And like, that really sticks with me. And he also said, you know rise over run. Like, he's like, yeah, he's like, you have rise, but you don't have run. Meaning I don't have the experience for the job, but I have a lot of potential. And so I convinced them to hire me on potential and that's okay. You know?
Marc Gonyea:
Yeah. You know what, I think you've done a lot that way. And you're part of your story. I feel like you've done a really good job of positioning yourself to get into the next role. And you may not necessarily have all the experience, but the managers were confident enough in you to give you that opportunity. And then you've got the experience along the way. So yeah. And it puts you in some awkward situations cause you might be in a position you might not be entirely ready for, but as you can kind of gut it out and figure out that's okay and we're going to be comfortable with this being uncomfortable. You can get where you wanted to go. And obviously, you know, you've done a tremendous job with developing your career. And I think a good lesson for the listeners is clearly make sure that you're known within your organization, you know, do a good job, but then go out and branch and networking and kind of spread the word like, cause you said you have to raise your own hand. And I think in more ways than one.
Ashley Lounsbury:
The first time someone hears about you should not be when you are applying for the job that shouldn't stop you from applying, but you should just keep that in mind.
Marc Gonyea:
Right? Yeah. It might be over before it starts. If the first time they hear your name is when you apply, what's your worst or most painful loss?
Ashley Lounsbury:
So I might have a little recency bias on this, but I had a pretty painful loss just this past quarter. I was setting up to have like a blowout corner. I still had a good quarter, but I was setting up to have a blowout quarter and it was pretty exciting. And it was great to go out on maternity leave with this big bang, right. And I picked up an entirely new patch this year. So I don't have a ton. You know, I don't really have relationships with my customers now I do. But you know, I pick them up in February. You pick them up and at different stages in their journey with the company, they pick you up with different levels of trust in your organization. They could be pissed. They could be happy, like really can be all across the board.
So, one of my larger clients, they were looking to expand one of their deployments. So this wasn't a net new sale or anything. It was growing their user base. And it's a very large company. They offshore a lot of the work that they do and they have very separate formal procurement processes. So it's not something where you can work with the VP and then they'll just sign the contract. They have to submit this order. And the system, it goes through the procurement performance and constant negotiate the deal and the terms. And then once we negotiate it, it goes back through the approval process again. And in that process, something got lost in translation and we were in basically negotiating a deal that didn't exist.
So, it did exist. But what we had been forecasting we left 70% of the value on what we had been forecasting. And I had put this deal and commit based on the head of procurement telling me, Hey, we're good. Like I'm going to get this signed tomorrow. Well, it went through the approval process, starts going through the approval process. And what we realized was the quantities they had given us for the add on were inclusive of their existing footprint. And I had committed this deal and my boss had committed it to our head of North American sales who has, you know, 2000 people under him. I mean, it was bad. And when you commit something, you know, your job is making sure you like make your commit. You know, it's about your quota, but it's also making sure that you are holding consistent to what you say you're going to do. And we're a public company. So that really matters our forecasting. So I just couldn't believe it. It was a really tough loss and you know, I had been talking to the business the whole time, so it wasn't that, but we just, we weren't tight enough.
My team, we weren't tight enough on understanding the needs really, really, really well. And making sure that they communicated internally. These big customers. They don't talk to each other and in COVID, it's even worse because people aren't in offices. So they're not going next door and saying, Hey Bob, and you know, maybe in non-COVID times they would have realized this sooner. But you know, our job though is to help them kind of realize that too, because it impacts us as well. So that was just a big learning lesson for me to just kind of reminder to be like super tight on what the needs are, what are these are being used for what's the existing footprint, you know, like it was a pretty straightforward out on because we wasted a ton of time negotiating a deal that really should have just been an add on and it should have taken an hour kind of thing. And we negotiated a deal for six weeks.
Marc Gonyea:
Oh, that's a good one. That is a painful one. It's painful to listen to.
Ashley Lounsbury:
Oh man, I'm not gonna lie. The customer called me. I immediately started crying. It would've been bad. Had I not committed it, it wouldn't have been a good situation, but the fact that me and my boss had both committed it just the day before. And then we had to say, Oh wait, it's going to be, you know, 30% of the value.
Marc Gonyea:
The days in the life of a high tech salesperson right there.
Ashley Lounsbury:
Yeah. One other thing too is, you know, after that you have a lot of feelings associated with it. I'm a very emotional person. It's part of what makes me really good at my job, but it's also part of what makes me bad at my job. And I think that's true of most people, whatever makes you good also makes you bad. And I was so upset and I just wanted to be very punitive with these people. To say, you know what, I need to breathe on this. I'm not thinking rationally about it.
And you know, even though they didn't do the right thing and then they tried to renegotiate their new stuff, I was like, you guys have to be kidding me. You know, we ultimately went in at the, at like a fair rate instead of like being like, Hey, well you guys have to add these on that list. It's like, we would never do that if we'd entered this conversation initially. So we just have to do the right thing as partner for the customer. Even though this didn't go the way, the way that we wanted. And so try to remove the emotion from how you're going to work with the company, because even if they, they jerk you around, it's important to suss through that. But it's also important to make sure that you're consistent and that you're fair because that's how you're going to build a good reputation.
Chris Corcoran:
A hundred percent. So how about some sunshine? Tell us about your favorite win or most memorable win.
Ashley Lounsbury:
So my most memorable win was when I was in the commercial sales team. That was right before I got my field role. And, you know, I think my best stories are always when I turned things around. So I had this customer they're very invested in, in our software. They were planning to grow quite significantly and then they started having some serious technical issues and it got to the point where they were about to abandon using us. And so obviously that wasn't a good situation to be in. Well, one thing that I think I've been very good at in my career, and I'm still trying to get better at is I'm leaning on my extended team.
You don't have to be the same. You don't have to be everything to everyone. In fact, you're not going to be, so you need to leverage the resources that you have. And so much of enterprise selling his team is using your extended team. So I mean, what we did here was, you know, I made sure I got, got the right technical resources engaged. I ultimately got the customer escalated to the highest level of support that we have in the company, which they weren't actually entitled to have. And I did that to help them resolve the issue, but it also was a good thing because it brought up a conversation around, Hey, I'm going to do this in the spirit of our partnership, but we also need to have a conversation about making sure you have the right support model in place to make sure that you're successful because I'm electing you into a program that you don't have access to. But based on this experience, it seems like you need access to it. So let's have a conversation about that. And so I made it abundantly clear that I was going out on a big limb for them and that they were probably gonna need to make an investment. So it opened up a conversation for us to talk to them about our premium support offering, for example. And we had a conversation about like, Hey, what SLS are you responsible for to your customers? And if Tableau goes down, what does that mean for you guys?
And you know, we were able to, it took two months, but we were able to figure out what the problem was, which was outside of our software. Was it something in their environment was like such a dumb issue in the end. But with that, we were able to not only, you know, rescue the deal, but we were also able to grow it because we added on like $75,000 a year support contract on a three year term. So it grew the deal quite significantly. And you know, now that was the first time I'd ever sold a support contract like that. So now I'm a bit smarter about how to do it, but you know, sometimes unhappy customers are the best way to establish trust and you can actually grow deals out of it, not for you, but for them, you know, and ultimately this was because this was the right thing for them. It has happened now to me too, but as long as you set expectations correctly and really understand what's going on. So that was my favorite one.
Chris Corcoran:
That's great. Hey Ashley. So what I heard from that was a couple of things I would like you to elaborate on, particularly for our listeners is you did an amazing job persuading that your customer, but I think what you also did was talk more about this is that you had to sell internally within your organization and persuade the right people that give them access to that premium support. And they could have easily said no, but because you were so successful in your persuasion, they got the access and it ended up turning into a, not only a rescue, but kinda a much bigger sale for the company.
Ashley Lounsbury:
Yeah, I think that's a hundred percent true. And that's actually something I think I learned from working with that field account executive that I had worked with. I was more familiar with the resources that were available and that's actually something that I was able to help my team a lot with was they didn't even realize that these were resources that existed and that they could even opt themselves into them potentially. Cause the other thing I did was I got as a field engineer; I didn't have a dedicated sales engineer in that role now I do.
But I got, I still engineer engaged before I even had an opportunity because the account needed support because they were such a big deployment and in our commercial business, we're just not, we weren't set up that way. Like we are in the enterprise business where accounts have dedicated sales engineer. And so that's exactly it. You have to get effective at selling your internal resources on supporting you and marshaling your team. And they might not always say yes. So you definitely have to, there's a bit of persuasion involved for sure.
Chris Corcoran:
And you got to know when to ask and when to use that political capital and then another thing. So it sounds to me like this may or may not have been the experience with this instance, but a lot of times these clients, they don't want to overspend on support and services. So they just take the least expensive option. When in reality, they're really doing themselves a disservice and you have to go and kind of tell them very diplomatically that they didn't necessarily make the right choice in the world that they're living in is because of that choice. And how do you kind of diffuse that?
Ashley Lounsbury:
That's a really good point. So I think by being consistent in your message, I think by bringing up what they're gonna need early, because if you brought it up and they didn't go with it, four months later, they come back to you and they're upset not to play the blame game, but you can say, listen, this is why we talked about this. And ultimately, this is the impact of this decision. What do you want to do? So you know, don't be afraid to position what the right thing is just because you think the customer is going to say no, because in fact sometimes it's an important no, because they might not go for it. You can't persuade everybody, but if they say no, and then it's a problem later, you have something to go back to and to reintroduce the conversation and maybe they're going to buy it later, but if you didn't bring it up, then they can say, how come we never talked about this? How could we have avoided this? And you were part of the problem.
And sometimes customers are mad. I mean, I got screamed at, by a customer last year, which was absolutely ridiculous, but he was screaming about me about support. And I'm like, look, you're asking, you're making is not what you think it is. I'm trying to help solve your problem, which I understand to be this and that I'm telling you, that's not the best way to go about it. And you know, you just got to have some guts and confidence in it and stick by it because, because that's all you can do is set the right expectations and manage expectations with your client. If you over promise and under deliver, that's the best way to have your customers be upset.
Chris Corcoran:
Yeah. Ashley, so talk to me about this. So you're in technology and tech sales and all technology has support issues, even the best technology in the world. So I've heard, you know, junior salespeople and I'm sure I fell into this category myself is when there is a support issue, the response is, Hey, I did my job. I made the sale. Why can't the product do its job? And why do I have that? How would you react to that?
Ashley Lounsbury:
Well, I think probably every salesperson is guilty of saying that at some point in being frustrated, but ultimately you are the single throat to choke for the account. And that's very sort of graphic to say. But as the account executive and customer, then the person who owns the relationship between your company and that company, it doesn't really matter that it's not your job. It's your job to make sure that it's managed appropriately, internally and also, or, you know, with the customer, like it's on you to break the bad news sometimes. And sometimes the bad news is like, Hey, you know what? We messed up and I'm not sure we're going to be able to resolve it or whatever, whatever it is.
So, ultimately it falls on you because you can't, if you don't hit your number or your customer ends up quitting because they're upset with support, you can't just go, well, that's their fault. Like, no, that's your fault. It falls on you. There might be things that were outside of your control, but you have to do the things that you can control and make sure your manager knows about it too. I would say that's another dynamic because you know, sometimes things do fail as a result of, you know, whatever organizational structure exists. And so if that's, if you're in a tricky situation, make sure your manager knows what's going on, that they're locked in lock step with you. And so that if an outcome comes that you're not, that's not a great outcome, they at least know that you did your part to make it right. And that's part of like the internal management, internal selling.
Marc Gonyea:
As we wrap up, I want to get back to the something you brought up earlier about the interview you had with me initially. And I have this belief that women can be phenomenal in high tech sales. I mean, I think everyone can, but I still believe that all things being equal so on and so forth, how can we, how do you think we can get more women into the high tech sales?
Ashley Lounsbury:
So I don't know that I have a great answer. I think I think sales already, there's a lot of obstacles to becoming a salesperson anyway, because I still think we have a branding problem from a career path perspective. People don't understand what a great career sales can be. They associate it with potentially like negative connotations, but I mean, it's an awesome role, if you can get your head right. It's a great career. So I think that's our obstacle one. I think the other thing is sales sort of position as this like macho thing sometimes. And honestly, a lot of times the way sales teams are managed is in a very sort of macho way that I think women don't necessarily always identify with. I know I've certainly struggled with that because like, I'm not a sports person. I don't care about sports metaphors like that doesn't drive me. I'm like a very sensitive person. Like I just told you, I cried when I thought all this. But it's because I care a lot, you know?
So, I think to the extent that as a manager, you can be more empathetic and more aware of like other ways of doing things that might not be the way that you would have done them because of whatever your natural traits are. That's going to attract a more diverse group of people. And I think you also just have to look outside of your immediate network because your immediate network probably looks a lot like you, you know, I've been the only woman on my team, like many, many, many times, and I've gotten used to it, but there are things that just, I have to deal with every day. Because of that fact, I don't, I don't know if that makes any sense, but I think you gotta be more aware of kind of the people you have around you. You have to make a proactive effort. And also women I think are less likely to raise their hand for things. You know, you hear these statistics, but I think that's definitely true. I almost didn't go out for the role that I ultimately ended up getting.
And I had two guys I interviewed with against that exact day and they had no problem raising their hand for that role. In fact, they felt they were overqualified for that role. And I didn't feel that way, but I was just very honest about what I could do and what I couldn't do. And that's actually what my leadership liked about me. They were like, she knows what her gaps are and she has a plan to close them instead of being like, Oh, I know exactly what I'm doing and I'm going to beat my chest. And I'm not saying that all men do that. Cause I don't think that that's true, but you know, if you notice potential in someone in anyone really tell them and help them go forward. And I think women especially need that. They need that tap to say, Hey, you know what? I see this potential in you and you should consider this. I don't have a good answer. I wish we had more women. The best salespeople at Tableau are women.
Marc Gonyea:
There you go.
Chris Corcoran:
You see it all the time.
Ashley Lounsbury:
Yeah. We're not the majority, but like, I think like four of the top, like seven deals in history at Tableau were all done by women.
Marc Gonyea:
That's great. Good. Well, well thank you for joining us on the eve of the birth of our next memoryBlue employee or eventual memoryBlue employee. Sorry. I don't think the baby can pick up the phone.
Ashley Lounsbury:
This was fun. I miss you guys.
Marc Gonyea:
Thanks Ashley. Later.
Chris Corcoran:
Thank you, Ashley.