Sales Incentive Trips: A Great Way to Reward Your Biggest Performers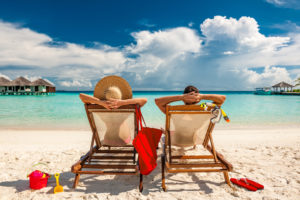 As the weather turns cold this Fall and Winter, sales pros across the U.S. are working hard to make their numbers and close the year out in fine fashion. Many of these revenue-generating rock stars have their sights set on hitting ambitious goals to ensure entry into their company's coveted sales incentive trips.
Let's face it: there's just no better way to warm up in the dead of winter than being whisked away on the company's dime to a tropical location as you soak up the sweet rewards of a hard-earned break.
Travel incentive programs in sales go by many names – President's Club, Diamond Club, The Winner's Circle – but they all signify the same thing: a fantastic travel reward bestowed on the top-performers typically to a warm-weather destination.
Sales organizations have long used travel incentive programs to help motivate individual performance and achieve lofty business goals. But if your organization doesn't currently offer such a rewards program, use this as a brief primer to set one up – shown through the lens of what we do at memoryBlue.
What is a Sales Incentive Trip?
A sales incentive trip is equal parts reward, recognition and relaxation. Top-performers get a break to recharge their engines and renew their energy, while also earning the recognition they deserve from upper management. In fact, many of the standout sales pros who make it on these trips will capitalize in one additional way – they'll use it as valuable time spent getting to know company leaders at a personal level outside the bustling office environment.
At memoryBlue, we call it "The TOPS Trip" because the aim is to recognize the entire top half of our SDR and management team. This travel incentive program goes well beyond the typical top 10-20% range offered by most other companies. We're taking things another step further by also offering this trip twice per year to our whole team instead of just one annual trip (the way many companies handle things).
The upcoming trip, which will take place in late November/early December, has a performance cutline at the end of October. Entry for the trip is based on a variety of classic sales development metrics to go with minimum standards that every winner must achieve. Employees must have a minimum of three months of time on the job to qualify, as well, which enables leadership to make sure enough work has been accomplished to merit the reward.
How Should You Set It Up?
According to travel incentive experts On the Vine, the following three elements need to exist in every great travel rewards program:
Plan an amazing trip that will appeal to as many employees as possible – High employee participation and enthusiasm for the program will ensure the highest results.
Set achievable sales goals – All sales members who reach the set goal become a part of the President's Club and are rewarded with the trip.
Track and monitor program results – Using a tracking system that makes program goal tracking clear to the sales team will encourage participation.
In our case, we've planned the memoryBlue getaway to the sensational Dreams Las Mareas in Costa Rica! Our crew is absolutely chomping at the bit to make it in and it's not hard to understand why when you read about this paradise:
"This beachfront resort boasts a contemporary design with tasteful authentic décor and 450 spacious guest suites that provide views of the beautiful ocean, jungle, or mountains. Guests can let their taste buds go wild at one of our world-class dining options with flavors from all over the world at five à la carte restaurants, a buffet, a grill and a café. Or they can enjoy a refreshing cocktail at one of our seven bars & lounges. Surrounding the resort is a fisherman community and the mountain range of Guanacaste, which offers guests with a variety of exciting tours and excursions."
The sales goals we've set are incredibly reachable and rewarding half of a massive team like this (over 80+ SDRs and managers are eligible to achieve entry) demonstrates just how much we believe in the power of a travel incentive program.
We keep our entire staff continuously updated on overall trip inclusion standings through large display monitors found across the sales floors of all our offices as well as a daily report emailed to the entire company. This scorecard details who's in and who's out if the cutoff for the trip was today.
In this fashion, we generate and keep alive a daily buzz about the reward while keeping entry motivation high with a large group of individuals. There's an incredibly powerful motivational effect when you see your name so close to the finish line for earning such a great reward!
Get Going
If your sales team or company doesn't currently offer a travel incentive program, get off the fence and start planning one now. Aside from the benefits outlined above, stand-out employees also see these trips as important achievements and noteworthy career honors. They know that future hiring managers notice things like this as an indicator of a high-level employee. It boosts morale and fosters a competitive spirit that pays dividends to the bottom line.
If you're interested in learning more about our unique sales culture at memoryBlue and the additional ways we reward our staff, read more about it here.
Kevin Harris is the Director of Marketing at memoryBlue. A seasoned professional with over 23 years of experience in public relations, marketing and content management, Kevin oversees all major internal and external communications programs for the firm. He holds a Bachelor of Science degree in Communications from James Madison University.