Sales Development Training That Sticks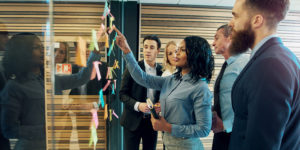 How do you train an army? No, not a military unit – a cadre of sales pros chomping at the bit to soak up practical knowledge and produce quality SQLs on behalf of high-tech businesses.
Sales training is a difficult endeavor that many companies either don't know how to do well or fail to make stick with their teams. As author Christopher Kingman points out in this article from Forbes (online), Three Reasons Your Sales Training Isn't Sticking, failing to plan a good training program is a huge killer:
"Sales trainers often miss the mark and ultimately under-serve their customers. I certainly don't believe that it's intentional, but without a well-thought-out and meticulous approach to training, it's easy to fall short."
With 100+ SDRs spread across three offices (and time zones), and an average of 15 new hires starting every single month, meticulous planning and a regimented program is a must at memoryBlue.
Practically speaking, sales training and education is an endeavor even the most tenured sales pros should never tire of or stop seeking out. At the same time, those who are new to the profession need to learn good selling habits early on and have those lessons incorporated in all of their professional practices.
While the school of hard knocks will surely result in hard-earned lessons and course corrections, we prefer to instill and drill the best habits in new sales pros right from the start.
If you've ever wondered if there's a better way to train and develop a sales squad, here is your all-access pass behind the curtain to show you just how we do it at memoryBlue.
Getting Off on the Right Foot
Launching a career in high-tech sales requires immediate and immersive training that will help speed ramp-up time and result in knowledge retention. And SDRs are being asked to get up to speed faster than ever. As The Bridge Group's 2016 "Sales Development Metrics and Compensation Research Report" points out, the average SDR ramp time stands at just over three months and groups that can do it in a shorter time frame will see even bigger benefits.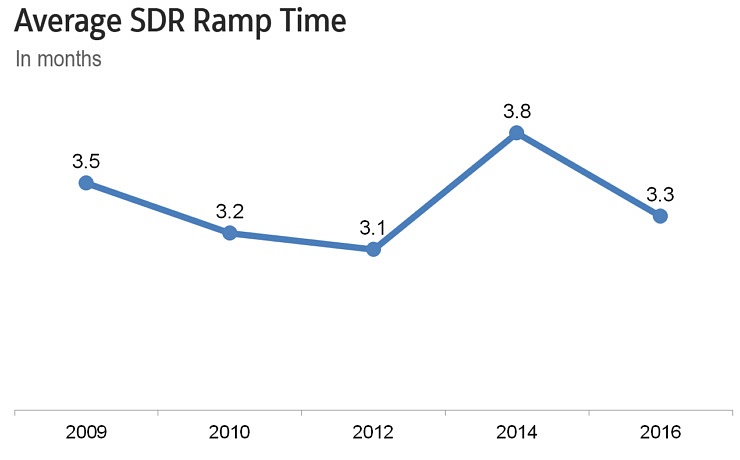 Additionally, any business with multiple locations (like we have) must ensure a standardized process that cuts across all offices and leaves nobody behind.
Here at memoryBlue, a massive part of our new hire demographic for the SDR role is recent college grads or those who are still relatively early on in their career (think 2nd or 3rd post-grad job). This demographic is comfortable working in groups and at-ease with technology, both of which played a major role when we designed our current onboarding program.
The primary directive for training, outlined by memoryBlue's experienced Director of Training and Development Kim McAvoy, is to foster a culture of continuous learning through mediums that new hires within our typical demographic are used to: e-learning, tutorials, videos, live sessions, Ted talks, articles, audio recordings, practical application of techniques, shadowing, homework assignments, and role playing. Portions of this program are delivered through an in-house Learning Management System (LMS) while other methods are used for a variety of additional pieces.
And while we're certainly not a military outfit, we've borrowed a page from their book by immersing our new hires in a high-intensity sales training experience right away. Fittingly, we call this the SDR Boot Camp.
Basic Training – memoryBlue Style!
The SDR Boot Camp is a six-week training program designed to teach new associates the fundamentals of sales and all aspects of the SDR role, regardless of the level of professional experience or background of the incoming associate. Everyone has different learning styles, so to accommodate our broad audience, we've incorporated visual aids, recordings, assignments, self-learning, and interactions with other SDRs in the program. Some tutorials cover core sales strategies while others focus on executing the tactical aspects of the role. This structured learning approach, with repetition and a steady flow of information, yields the highest results in getting our new hires displaying strong sales competencies in a very short time.
The topics and critical skills SDRs gain familiarity with right away include:
All-encompassing intro to professional high-tech sales
General business acumen
Knowledge of core business technology (Outlook, Salesforce.com, Excel, etc)
Sales prospect list building strategies
Sales prospecting tool competency (Zoominfo, Sales Navigator, DiscoverOrg, DialSource, etc)
Sales-specific skill-building such as:

Effective questioning
Effective sales emails
Elevator pitch
How to handle objections
Turning a sales conversation around
Listening 101
Working with gatekeepers

Developing a personal brand
A portion of the program is self-guided so new hires can complete certain modules at their own pace. These individuals work on real sales campaigns very early-on which helps them realize practical application benefits, as well. The learning materials are very prescriptive – it's clearly laid out what needs to be accomplished week-to-week. We utilize video technology for our live new hire sessions, which helps fully integrate all our new hires together regardless of which office they've started work within.
Twice a month we have cohorts of new hires that start together and share in the exact same onboarding experience regardless of which office they start in. Our two CoFounders (Chris Corcoran and Marc Gonyea) also get in the mix by doing regular fireside chats with new hire groups.
Frequently, companies miss the mark by having sales training focused too much on strategy and theory and too little on execution (or vice versa). We try to deliver both. In the first few weeks, the program stresses "nuts and bolts" tactical components laser-focused around how to purely execute the SDR job. This portion is followed closely by focusing on strategies to stay motivated, how to manage the day, the concepts behind future sales roles and much more. Our SDRs find a great deal of value in each portion.
We measure the effectiveness of our onboarding program based on how quickly SDRs are ramping up. Since implementing this immersive program in the past year, we've seen an eye-popping 20% increase in productivity across our new hires in their first 60 days.
The Importance of Continuing Education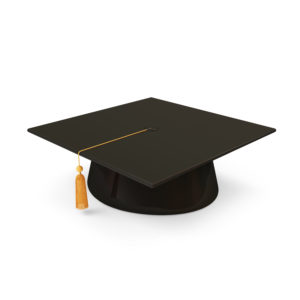 While the Boot Camp gets every new hire off on the right foot, sales education within our walls never stops.
The memoryBlue offices are built to be what we call "SDR-centric" – we are constantly focused on providing ongoing training and development for our full team. Outside of new hire training, we run recurring company training sessions out of each office. These sessions incorporate a variety of presenters including Managers, Managing Directors, members of the Leadership team, outside speakers, alumni (accomplished sales pros), and tenured SDRs delivering insights on a range of pertinent sales-related topics.
Our internal, veteran Sales team runs an Advanced Sales Huddle for more tenured SDRs where they impart more nuanced sales tactics and methods, as well as speak on complex sales methodologies. And every manager on our staff works with their team of SDRs on a daily, weekly and monthly basis to conduct sales call reviews, one-on-one coaching sessions, full team huddles, shadowing activities and more.
Adding to all of that, there are advanced workshops for some of our most tenured SDRs specifically geared to help them learn about future sales roles and give them a snapshot of the things they will want to pursue later on in their careers. These workshops are designed to give them a more in-depth look at sales including discovery calls, pipeline, forecasting, and more. We help them realize that the SDR role is only a portion of professional sales and we work hard to expose them to other areas that they may be interested in.
It Takes a Village
Conducting sales training the right way is an exercise that requires careful planning and consistent execution. The best companies aspire to never view this critical work as a one-time occurrence, but rather as a never-ending drumbeat of activity woven into every aspect of the workplace. Ideally, sales training is repeatable and immersive, so that the lessons learned are ingrained deeply in a practical way. Every member of the sales team (or department) has a role to play and should be a part of the ongoing process.
At memoryBlue, we choose to not see sales training as a finite task that can be checked off a list. Instead we view it as a core value and non-stop activity that shapes all we do.
To learn how you can put our well-trained team to use for your high-tech business, check out our Sales Services section now.
Kevin Harris is the Director of Marketing at memoryBlue. A seasoned professional with over 23 years of experience in public relations, marketing and content management, Kevin oversees all major internal and external communications programs for the firm. He holds a Bachelor of Science degree in Communications from James Madison University.