An Introvert's Guide to Sales: Five Tips for Getting Started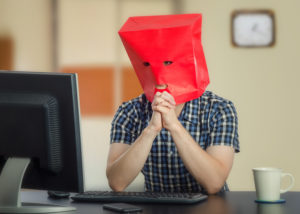 If you're anything like me, then your first instinct when faced with the prospect of making large amounts of sales cold calls every day is to run screaming in the opposite direction. I am, after all, an introvert and because of this, I'm generally averse to speaking with people I don't know. Fortunately, the reality of working in an entry-level sales position is not nearly as scary as it may seem at first. In fact, I've found there are certain aspects of being an introvert that you can turn into advantages to help jump-start a career in sales. memoryBlue's own Director of Sales, Tommy Gassman – a self-identified introvert – recently shared his own thoughts on the subject with me. Based off my own experiences, research and conversations with Tommy, below are some tips that can help the more self-conscious among us turn an introverted personality style into a big advantage in sales.
#1: Know your strengths and take advantage of them
Before getting started, it is important to understand that your strengths as an introvert will help you to succeed in your sales career just as much as an extrovert's strengths. For example, introverts tend to be excellent listeners and well organized; these skills are at least as important to maintaining a successful career in sales as any trait commonly attributed to extroverts.
During my conversation with Tommy, he noted that many sales professionals depend too much on their innate likability or on their strong conversational skills in the moment to carry them to success. While that may be enough to make a good impression on an introductory call, Tommy argues that good listening and organizational skills will pay off on future meetings during the sales cycle, when the conversation starts to get more serious.
Similarly, in this Salesforce blog post, "How to Succeed in Sales as an Introvert," Brad Shorr argues that "naturally outgoing, highly social salespeople sometimes may struggle because they never really get a handle on what the prospect needs," while "buyers love salespeople who really listen, who take the time to thoroughly understand their challenges and aspirations."
#2: Find ways to compensate for your weaknesses
While this advice is generally applicable to most careers, it is particularly important to consider during the beginning stages of a sales career. Starting out in sales is not easy (early struggles can be especially frustrating), so it is important that you understand your weaknesses and either practice to get better at them or find ways to compensate for them. For example, when I started out, my biggest problem was a lack of confidence on the phones. To compensate for this, I built large prospecting lists and made extra calls every day for my first few months. This allowed me more opportunity to practice my conversational skills and it gave me a better shot at hitting sales quotas during those tough early days.
Indeed, in the Entrepreneur article, "9 Proven Sales Tips for Introverts," Grant Cardone suggests introverted salespeople should do one thing every day that makes them uncomfortable. Facing and overcoming your fears will help you grow as a person, in addition to helping you improve as a sales professional.
#3: Focus on the non-cold calling aspects of the job
While being on the phones is undoubtedly a very important aspect of the Sales Development Representative job, it still only accounts for just one-third of your typical work day. Upon entrance to the professional world, you'll likely find that you are free to structure much of your day as you see fit. So in your early months in professional sales, it is important to make the most of your time away from the phones.
Take advantage of superior self-control and planning abilities to make your day as productive as you can make it; this will help ensure that your time on the phones goes as smoothly as possible. When prospect list-building, use your creativity and attention to detail to find the individuals a less vigilant salesperson would miss. Use those same skills to craft emails tailored to specific prospects. If you're introverted, then you're set up to succeed at any of these tasks – all of which will be vitally important to succeeding in sales.
Tommy strongly suggests all sales professionals use spare time to study up on their specific industry, which will help build confidence on the phones. Like many salespeople, Tommy struggled with confidence early in his career; he overcame this by learning as much as he possibly could about his product and his role. You will have a variety of resources (peers, literature, managers and more) that can help you do this. Use all of them.
#4: Don't be afraid of being persistent
Let's face it – calling strangers and trying to strike up conversations with them is going to be uncomfortable at first. You're likely to be self-conscious about asking too many questions, calling the same prospect repeatedly, or trying to close multiple times. Disregard that feeling. Remember that you're introverted and probably overthinking the situation; if you're being politely persistent, the worst that can happen is that you get told "no" (also known as the second-best answer you can receive in sales)!
In "9 Proven Sales Tips for Introverts," Cardone argues that you should be "so persistent that you're criticized for it." While this may be a slight dramatization, Cardone's larger point is valid: "If you believe in your product, company and yourself, then you will be willing to insist — and risk being criticized for it." If you're anything like me, then your aversion to being persistent is related to your dislike of confrontation and fear of rejection. Fortunately, a career in sales will force you to deal with confrontation and rejection daily, so you'll have ample opportunity to overcome this.
"If you believe in your product, company and yourself, then you will be willing to insist — and risk being criticized for it."
In addition, don't let pessimism hold you back; in fact, learn to make it work for you. Tommy argues that having an appropriate level of pessimism can serve a salesperson very well as it allows them to anticipate and prepare for problems other salespeople won't be ready for.
#5: Allow yourself time to recharge
In the Inc. magazine article, "Why Introverts Are Actually a Lot Better at Sales," Geoffrey James argues that extroverts tend to be successful on the phones because they "thrive on social interaction and tend to have thick skins and, therefore, the ability to cope with rejection." Introverts like me, however, can find their energy drained from even the most trivial social interactions. Because of this, introverts can sometimes find a career in sales to be exhausting. You must be mindful of this and take steps to ensure you avoid burning out.
Similarly, don't let a bad day, or even a bad month, get you too far down. If you're at all like me, you're probably pretty hard on yourself when you make a mistake or fail to achieve a goal. Self-reflection is always important, but keep in mind that sales is a game of peaks and valleys. Remember this when things are going slowly as well as when things are going great. It will help keep everything in appropriate perspective.
Finally, don't let a rude sales prospect discourage you! Everyone who works in sales must deal with rudeness and rejection, but introverts are more sensitive to these things than extroverts. Personally, I've found that, after speaking to a rude prospect, it helps to remember that I will likely never have to talk to that person again. It reminds me that there isn't any value to being overly stressed about the interaction. As you gain experience, it will get easier and easier to forget the less pleasant moments.
Ultimately, whether you are introverted or extroverted will have little bearing on how successful you can be in sales. The things that you can control are going to have a far greater impact on your success than the things you can't. Tommy sums it up like this: "Don't let fear hold you back. The reality is that some of the best salespeople I've ever met are introverted and some of the worst ones I've ever met are extroverted. There's really no correlation – it's just knowing how to adapt."
If you're an introvert (or extrovert) and curious about how memoryBlue can help you launch a wildly successful high-tech sales career, go browse our open positions right now – we're hiring!