Episode 03: Richard Reece – A Student of the Game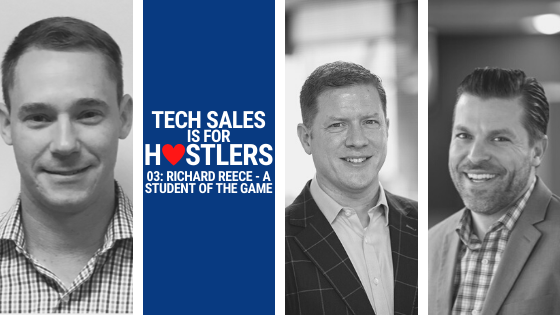 Sales is a game designed to separate the quota-busting hustlers from the bare-minimum stragglers. Richard Reece has been hustling since he started at memoryBlue in 2011. Reece learned early on how to study the game of sales to bring about incremental improvements, and he continuously keeps core skills learned during his time with memoryBlue at the forefront of his work today.
Today he's a highly successful Platform Account Executive at Informatica, an enterprise data management and integration company. His stellar year at Informatica in 2019 led to Reece earning a Finalist spot for the 2020 Alumni of the Year Award.
In this episode, Reece will let the audience in on the wild hustle he pulled off to even land his SDR job at memoryBlue, how the student became the master when he closed a deal with memoryBlue during his first job after leaving the company, and what important lesson he learned from his biggest deal loss.
Full Episode Transcript
Name: Richard Reece
Title: Platform Account Executive
Company: Informatica
Exit Year from memoryBlue: 2012
Months at memoryBlue: 15
Alumni Path: Tour Completion
***Introduction***
Richard Reece:
I probably would have been the number one rep worldwide in the company if that deal closed. I thought it was a slam dunk. I thought it would be one of the easier deals I'd close in general and they tell us that we finished third out of three.
Marc Gonyea:
Are you ready for some R&R? Richard Reece, Platform Account Executive at Informatica stopped by today to drop some serious knowledge. Learn how Reece broke into a closing role, closed a deal with memoryBlue at ADP and his biggest deal loss.
Marc Gonyea:
Hi, I'm Marc Gonyea.
Chris Corcoran:
And I'm Chris Corcoran and you're listening to Tech Sales is for Hustlers. Tech Sales is for Hustlers is a podcast where we catch up with memoryBlue alums and reminisce about their start in high tech sales with us.
Marc Gonyea:
Let's go get some Corcoran.
Chris Corcoran:
Gonyea. You know, I'm ready.
***Episode 03: Richard Reece***
Marc Gonyea:
Hi everyone. We've got Richard Reece here today. Hi Richard.
Richard Reece:
Hey Marc. Hey Chris. Good to be here.
Chris Corcoran:
Great having you. Appreciate you coming in. It's gonna be a lot of fun.
Richard Reece:
I agree. Let's get going.
Marc Gonyea:
Let's hop right to it. Richard, tell us a little bit about yourself and when I say that, where'd you grow up?
Richard Reece:
I grew up in the Fort Lauderdale area down in South Florida. I lived there for most of my life before coming up here, went to work with you guys.
Marc Gonyea:
Hold on. So you grew up down there. Tell us what you were like. What'd you do in high school? Were you a club guy? Did you have a job? Were you a sports guy?
Richard Reece:
I was a music guy for the most part. I pretty much spent most of my time either playing baseball or playing guitar.
Marc Gonyea:
All right. So, you grew up in Florida, you're a Florida State Seminole. How'd you go to school there?
Richard Reece:
Just kind of where I could go in state you know, based on tuition and stuff like that. And they had the music program that I actually wanted to go to initially. I was a music major at first. Started doing that and I realized pretty quickly that I wanted music to be a hobby and not a job. So, my whole reason for going there, it was sort of out the window after a semester and a half. It's kind of, figure out what else I was going to do. And so, I bounced around a bunch of different majors. Actually, graduated with 45 more credits than I was supposed to just to graduate because I bounced around so much, but eventually decided on a double major in Econ and Math.
Marc Gonyea:
Let's talk about college. So, Econ, Math. I remember interviewing you as like, man, this guy is super smart, too smart. A 3.9 GPA. How did you decide what you wanted to pick and then what, how did that affect what you want to do when you got out of school?
Richard Reece:
I kind of fell into doing the Econ major. I had taken an AP class in high school for Econ and thought it was interesting, but my teacher then admittedly didn't really understand the subject matter. So, it was kind of I sort of had a sense of what it was. I took an Intro to Econ class just to see if I liked it. And after I think the first week I declared it as my major because I, it just kind of all sort of fell into place in terms of how I sort of approach a lot of things. My thought process matched up well with at least how things were presented in the intro class. Like most things, it got a lot more complicated and nuanced as I got deeper into the subject. But it just sort of clicked for me right away.
And then I realized over time that the backbone of Econ is actually, it's more of a theoretical mathematical basis than anything else, than even observational stuff. I got into what was actually called game theory, which is, if you have ever seen "A Beautiful Mind" that's about the guy John Nash who invented it. But it's about if you consider how to get the best outcome in a situation, if you don't consider what the other players, whether it's an opponent, a partner or you know, kind of a fr-enemy or whatever, are going to do in the same scenario, you're probably going to pick a sub-optimal outcome, right? You can think about it in sports. If you call a pass every play in football, if there's no defense, you'll score a touchdown faster.
But game theory is considering the fact that they may play different defenses. So, you have to run the ball sometimes, too. And it's a way to conceptualize how to standardize that kind of decision making. I just thought that was really cool.
Marc Gonyea:
Richard tried to, and he wanted to, and we should maybe let you do it, apply some game theory to how we do quotas. He wrote a formula for it and we did consider deploying it. I wish we had, because it'd be nice to get some rigor, some academic rigor on how we do the quotas. But we didn't. So, as you're going through school, then you kind of, did you have an idea of what you want to do when you got out?
Richard Reece:
Initially based on my majors and everything, I was hell bent on becoming an Econ professor. I had a mentor who was really big in the game theory community. He got published at a pretty young age and basically his job was to go around and present his new findings experimentally at a conference. And then he would be hired for consulting for court cases and things like that, to try and prove collusion and things like that between businesses and such work or defend companies that probably were colluding, but want to defend themselves by hiring all the experts. I thought it was a cool, cool gig. You know, he does research, he teaches, he goes to these cool conferences and then he does kind of high-level corporate consulting.
Sounded really interesting, but when the time came to actually pull the trigger and go to grad school, I was just so burnt out on school. I'm more of a practical applied math thinking process person, theoretical math just fried my brain. So, I decided to kind of roll the dice on just entering the working world. Did so right when the 2008 recession hit. So, the timing could not have been worse. I probably should have gone to grad school, but instead I got a job working in a restaurant. Did that for a couple of years before I found you guys.
Chris Corcoran:
Tell us about what you did post-FSU and pre-memoryBlue.
Richard Reece:
Well so my full-time job was applying for other jobs. The way I actually made any kind of cash was I was a waiter in a restaurant and really unhappy about it. Nothing against the service industry. It just wasn't in the cards for what I wanted to do. It drove me nuts.
I have a family member who has been doing professional sales, you know, consultative tech sales for a long time, which is how I kind of found my way to you guys through a long route. Which I'm sure we'll probably talk about. He had been encouraging me to get into sales for a while.
And my experiences with salespeople in general up to that point were more so people in the mall trying to sell you perfume, things that are more transactional, quick hits. Trying to find someone who's going to bite right away. It was not a consultative approach. I had never encountered that and never really even seen it on TV or anything like that. I knew the concept, it was a real thing. The way I thought about sales was kind of the guy with a few quick jokes, a back slap or trying to get you to like them and then, get you to buy something you don't really want.
Chris Corcoran:
We'll talk about Michael Twist later.
Richard Reece:
So, I resisted for a while and eventually it got to the point where I wasn't really getting any bites. I was applying for at least a hundred jobs a week and not getting a single interview, phone interview. So when I had the opportunity to interview with you guys, I think I may have told you this before, but if you didn't make me the offer, I had already been talking to some military recruiters and I was going to join the Marines the next week. So, it was either move here, or start over. I didn't know anybody. I knew you guys. I didn't know a soul here. Or just join the military and kind of see what I could do with my life there and take a different path.
Chris Corcoran:
Well talk to us about how you came to us, the story there with your cousin.
Richard Reece:
So, he's been doing enterprise sales for a long time. He's about 10 years older than me and been very successful with it. And he was working with a company there, they're based in Northern Virginia somewhere. And I had interviewed with their VP of Sales. I think they were a client. I talked to somebody who I think was hired from memoryBlue I want to say, or it was about to be or something like that. And they were like, okay, let's do it. Let's bring you in.
I was going to do lead gen. Pretty much be an SDR, a Sales Development Representative, just in house they were building out their team. They got ready to send out the offer and finalize it. And then for some reason their HR team stepped in and said it was nepotism or something like that. I was kind of wondering if maybe they didn't really want to hire me but that was the excuse. It's also just a weird thing for HR to say to you, as I've, not my family, but I've been referred personally for every job I've had – from memoryBlue I believe onward.
And so, I mean to have an issue with something it was a strange, but anyways, so the VP of sales. We were looking forward to working together. It seemed like a pretty cool place to work. And he understood my situation and how desperate is kind of a strong word, but really, I mean it's, I guess its kind of applicable. We were talking and he was sort of commiserating with me and thought of you guys and said, Hey, you know, why don't you guys interview with this company called memoryBlue? It's kind of where we've found some talents already. They do good work with training people who wanted to get into sales. And you've already kind of crossed that path and decided that you want to take a look at what more of a professional salesperson does. You know, if you want, I'll, I'll shoot your info over. And that's how we got started.
Chris Corcoran:
So, then you found out about us and I remember talking to you about it and this was 2010 or so, kind of in the tail end of the recession. And I remember you were in South Florida and we needed you to come in for an interview. And I remember saying, Hey, we've got a lot of candidates and we need to have you in the office. So, if you want to fly up here, you got to pay yourself. And he did it, which says a lot. Walk us through. Did you consider not coming up here or cause that's a, that's a big ask?
Richard Reece:
No and it never even crossed my mind. I believed Ben when he was talking about the value of what you guys brought to the table in terms of turning kind of regular folks into walking, talking Sandler machines, right. And I know what Sandler was at that time but being a really good framework for becoming a professional salesperson and going from potentially going from being a server and getting cash tips and stuff like that to being at the top of the industry. Tech salespeople make a ton of money. You know, going to that seemed like it was really worth taking a shot.
To me, it was an investment to try to see if I could kind of cut the mustard for doing it. And if I couldn't, then I was young enough to fail, come home. I could have joined the military at that point. You know, whatever. I still had options to give it a shot and it seemed absolutely worth whatever potential risks there might've been.
Chris Corcoran:
Great. So fortunately, you decided to come up, we gave you the offer, you accepted the offer and then you moved up here or talk us through what happened and what client you went on.
Richard Reece:
For just getting here, it was a whirlwind. You guys made me the offer mid-week I want to say, and you're like, Hey, can you be here? You know, maybe not Monday, Tuesday or Wednesday, the following week. And I was like, okay. Yes, I'm going to say yes to everything because I want to make this work and do it. So, I waited for my dad to come home from work and we immediately went to go car shopping so I could trade in my beat up at that time already, 20-year-old Four Runner that I had. There was no way it would have made it here. Traded her in and made the first real purchase of my life with a car. Took that home, packed up everything I could fit in it.
Marc Gonyea:
What did you buy? What kind of car?
Richard Reece:
It was a Honda Fit. Very efficient. Both on gas and the wallet. So, I could fit a TV and maybe some clothes and that was it and the back seats laid down the whole deal. And it was Friday or something and I hit the road. Took me a couple of days to get up here. Had a hotel room booked at this Roach motel in Vienna for four or five days because it was really, all I could afford. And so, when I was not getting my feet wet at memoryBlue, I always in the afternoon I was trying to find a place to live. So, a couple of days in a couple days' time I found a finished-out basement to rent in the area and just kind of dove in headfirst, you know.
Marc Gonyea:
So then what happened? You start working at memoryBlue. What client were you on?
Richard Reece:
My client was Clarabridge. They were really interesting, and it was a little more complex than some. So I guess it kinda got me into like, okay, I need to know a little bit more about the sales game in general in terms of understanding how to create interest, understand a complex problem or product and boil it down into something that someone will digest who probably wants to hang up on me pretty quickly. it was an interesting way to get into it.
I would say that some of the skills I learned in the first three to four months at memoryBlue are probably some of the most powerful things that I've learned in general in sales. I've done several Sandler trainings pretty much everywhere. I've gone in tech at least has done some version of Sandler and I met John Costigan at Oracle. He did a training.
Informatica has just in the last year and a half, have gone full blown Sandler worldwide training our people in Japan on Sandler. And my team was actually the pilot, but I'd already been through it and it was sort of a re-indoctrination. Clarabridge was a cool client. I was lucky enough to be on them full time so I could really focus on that.
Marc Gonyea:
And who are you on that campaign with?
Richard Reece:
Tiana, Tiana bell. So, she was my mentor. It was a Sam, Sam Johnson, and then eventually Nimit.
Marc Gonyea:
And who was your DM? Was I your DM?
Richard Reece:
Yeah.
Marc Gonyea:
Boom. Those things you said you learned the first three or four weeks do you remember?
Richard Reece:
So, Sandler being the foundation. I think every time I revisit Sandler, whether it's with a training put on by my company, we'll have refresher conference calls and stuff like that with our Sandler trainer too. But I still have the recording of Ganesh that I listened to as needed really, but probably on average every nine to 15 months.
I'll just listen to it in the background while I'm doing stuff or I'll go find a track where I'm like, you know what, I've been getting killed on this one part of the submarine. Let me go back and listen to the track before that track and the track after and kind of think about how to apply this stuff. And it's all, it's always different.
Sandler is kind of a framework. If you're too indoctrinated in it, you're going to be a robot. But it helps me to kind of get back to basics and kind of relax in my comfort zone. It's like a baseball player watching tape of when they were hitting 400, why am I now striking out every time? You kind of go back to what was working and that's been huge, but also, I think the methodology of sort of having a plan of attack, which is what Sandler is.
But that was really kind of ingrained in me really early on. Just thinking about it. I always thought of salespeople as people who were just had the gift of gab. They just get in there and they make you feel comfortable and then they kind of slide a contract in front of you. Hopefully you sign it. But I think even if your plan isn't the best plan, it's a lot better than no plan. So that kind of stuff has really stuck with me. And I see that in my opportunities now. And, and my team that I work with would tell you if we don't have a plan, I'm typically trying to pull out of the opportunity or force a plan into place. Because if we don't have that, I'm probably not gonna pursue it cause it's gonna be a waste of time.
Marc Gonyea:
Give me an example.
Richard Reece:
At the very least, just understanding we might have some information that we want to gather in terms of customers not just their needs, but also their decision process to really qualify if they're for real about it. Because I meet a lot of people who have problems that my company can solve. I'm lucky enough to work in a space where pretty much every company of every size, even a one-man company might have data management challenges. But I'm not interested in necessarily talking to someone who has a problem interested in someone who's also interested in buying a solution. If you're not interested in making the investment, then either it's not worth it to your organization or the problem really isn't really that bad, which is kind of the same thing as being not worth it to the organization.
So that's a big part of what I try to do all the time is not just say, okay fine, they want to do all this cool stuff and its costs $1 million per year. That sounds great. But at the same time, if we don't qualify that out and there's really no point in pursuing it and I'll nicely tell my prospect there's probably a time to have this conversation, but I don't think that time is right now. And they can always, it's like stripping line a little bit. And they can, they kind of come back and say, well, no, no, no, no. Here's how we can convince you or ask, Hey, what, what are your criteria for continuing to have this conversation? Or they can say, Hey, you know what? That's fine. Let's shake hands and part ways as friends. But I'll hit you up when we're ready.
Marc Gonyea:
It's good. Dropping some science. We'll come back to that. This is a Chris Corcoran original, or maybe it's not. Maybe it's a Tim Ferriss original. What would you tell yourself? The 22-year-old, almost about ready to join the Navy on Honda Fit driving self the night before you started at memoryBlue, if you could from that Roach motel in Vienna.
Richard Reece:
You know it's interesting cause a bit of that is like playing the result, right? Let's say that I, I started here and after six months I flamed out and did terribly well. I guess I would have told myself not to do it right.
But that, it has worked out so and so in a way it's kind of like survival bias. So, when you only hear from, from the people who it's worked for, in some ways it's just do what you're going to do. Right. But I would say some of the things that I wish I had done earlier is I believe that I have never been more indoctrinated in Sandler than when I was here because it was such a constant weekly reinforcing of it. And that is needed because for the most part, none of us really knew what it was. So, you're starting from different proficiencies with it. So, the constant consistent training is really helpful.
But I think every time that I've revisited it, my results have not even, a graph line trending up. It's been a straight up line in terms of my pipeline and closed deals comparatively. So, I think maybe to trust the process more. I was going to trust it because I had no other option but to really go in headfirst because I don't know if it would've gotten me to a further place than I am right now, but I would've just got here faster I think. And not that I'm at the summit or anything like that, I'm in a good place and I'm happy with where the results have been. And so, I guess just trust the process.
Marc Gonyea:
We're going to come to that. That's good. I do want to fast forward to what you're doing now and how great you're doing. But before we do that though, I'm serious. Do you have any memoryBlue stories? I know I'm fishing here a little bit. I'd walk into a courthouse. You were on that first office on the left was for a while. Who were you in there with?
Richard Reece:
Andrew Bass, Tim Fabian.
Marc Gonyea:
And I just feel like you were really good about making it fun with people. Hitting meetings or posts. I thought you had something on the wall.
Richard Reece:
Well, Bass is an interesting character. And so, he had all of his dead animals, his taxidermy and stuff. So, he brought in a deer head that we had on the wall. He had an alligator head, skull or something. I brought in a beer fridge. The lodge that was our office. So, we I guess we were all tenured enough that we could have a little fun between focusing on our call times. And then actually you get the job done while making it pretty fun. There were times where we had to be, you guys gotta get outta here cause people will come hang out cause we had to actually make our calls and stuff. But it was fun, and I don't know how it affected the company or our results for the lodge members we did fine.
Chris Corcoran:
Didn't you have a camera on it? Didn't you guys set up a cam? I think someone had a camera in there to see if anyone would come in there on the weekend and take any of your beers.
Richard Reece:
Again, that was Mr. Bass. I think it was actually his client, his client. It was a motion activated camera, alert his phone. I think he thought people were moving things on his desk or something like that. Paranoia runs deep. But I appreciate that.
Chris Corcoran:
So, the experience with memoryBlue I think was, you would think it was positive for you so much. So that you ended up referring one of your friends from college. So, walk us through that whole thing.
Richard Reece:
So yeah, it's actually someone who was a roommate, best friend. It was actually the best man in my wedding and last year and you'll see where we were very close, and he was experiencing some of the same challenges with just getting something that has long term prospects. You know, after all the economic issues and stuff that were going on. And especially for young graduates and especially in the South Florida area, jobs are hard to come by. And so, I was trying to convince him to do it, took a little while and then eventually there was an opening and kind of a similar process with the interview and everything.
He actually stayed with me, through that process. I was trying to get him into something that I saw a good future in, and I thought, Hey, why don't you get on board with this too? You know, it's kind of a similar story. He's doing great and technology sales now too.
Chris Corcoran:
And so how long were you an SDR?
Richard Reece:
I think just a bit under a year and a half.
Chris Corcoran:
This is something that I definitely want to talk about your exit from memoryBlue. Let's, let's talk about that. What do you, what do you remember it because I'll share my recollection with it.
Richard Reece:
So, my primary memory at least in these four walls is you telling me that I was the most impatient potential placement that you would ever had. Which I was surprised by, I feel you guys have had a lot of inpatient people. It's kind of something that I thought it's something you guys look for. Paying your dues is stupid. You know, I don't want to pay my dues why would I want to do that. I want to just get into where I want to be. And hopefully have the experience to do well.
I don't want to go over my head necessarily. That was my primary memory is just trying to push really hard and also having some other options. Just trying to just sort of make the best move for myself short term. But also, I kinda had a long term goal of getting to eventually being in a field role in technology, but I was willing to go outside of what people would consider pure tech, right. To further some of the skills and develop them mostly around closing because I wasn't closing anything. Right. That led me to make the choice. I did.
Chris Corcoran:
So yeah, I remember. So you, you wanted to go get into the field immediately and selling something that was more, I would say transactional and I was trying to encourage you to go to something that was more solution oriented. And so, you ended up going to ADP. And you did really well there, and I don't know if you took it as a challenge, but I remember you were like I'm going to, I'm going to get them to buy ADP from me.
Richard Reece:
That's right. You guys were my first meeting and actually my last meeting you were the last deal I closed.
Chris Corcoran:
So, did you get paid on that?
Richard Reece:
I remember I made sure I did.
Chris Corcoran:
So, we were using a different payroll provider and you called me and I was like, it's all the same. I don't want to switch. I don't want to switch. But then you were relentless where you brought in a bunch of different people to talk, a bunch of different things. And then I got to the point of like, our other provider wasn't delivering what we needed. And I'm like, alright, I'm tired of dealing with this. Cause we'd worked with other providers before. ADP is the biggest, they're the best I know Reece take care of us. And then we got the deal done and you left.
Richard Reece:
So, I'm sorry about that.
Chris Corcoran:
But the good news is, is we're still with ADP, so they'd made a lot of money on the deal that you brought them. But that was years ago and we're still a happy ADP client, so appreciate it.
Richard Reece:
I think Tiffany had a hand in helping me.
Chris Corcoran:
And how long were you at ADP?
Richard Reece:
Three years.
Chris Corcoran:
Were you there that long?
Richard Reece:
Yeah.
Chris Corcoran:
Wow. And you were really successful there?
Richard Reece:
I hit my number every year, I think. Well, I think I missed it by 1%. My first year I finished at 99%, which crushed me. But yeah did several roles. They're all within the same type of product and sort of end customer base I worked with different types of channels throughout the time I was there, whether it was just straight up knocking on doors, cold calling. I worked with some banks that would have business leads through their business loan programs and stuff. And then eventually I worked with Tiffany and other accountants.
Chris Corcoran:
That's good. So that's where we really learned how to close.
Richard Reece:
Yeah. I mean, I, if you compare that to the, my, the number of times I was in a closing situation to now it's crazy. The ratio, you know, I was closing something like 70, 80 deals a year, which means I was pitching or getting in, trying to close, probably twice that or more, I don't know. My close ratio was good, I was successful, but you don't win them all. So, compare that to someone who spends their entire life and consultative technology sales, they might pitch 160 deals in a decade because they're really strategic solution.
And so, it's just, it's a different kind of close, but it helped me to kind of sniff out some of the subconscious things you might not learn from training and things like that. And just kind of being in the moment and being like, something's off here or thinking, I don't really care what you're saying right now. I smell a deal here. Let's get it done. This is all about kind of compartmentalizing the stages of, of the selling cycle and figuring out how to work the margins on each stage and get a little better at each one. And then that cumulatively it's a huge result. You can fix that one part.
Marc Gonyea:
It's good stuff, man. So, you did the ADP and kept going. So, when you decided you wanted to go field sales at Oracle?
Richard Reece:
I mean I always had. And so, there was a guy that I worked with at ADP who was kind of thinking about a similar type of career trajectory and had some similar reasons for working there. And he maybe about a year before I left, ADP had moved over to Oracle and was doing inside sales. They call it Oracle Direct OD out of Reston. And for public sector. And he and I kept in touch and eventually I was just like, I've been here long enough. I didn't want to be hopping from job to job. I wanted to have some stability that a company that people recognize is, can be really tough on salespeople to have kind of some street cred. And then after that I was like, okay, well after three years or approaching three years, I think that's enough and I'm ready to kind of see what else is out there. And so, he referred me in to OD and I made a move from there, from ADP to get back into tech.
Chris Corcoran:
And what were you doing at OD?
Richard Reece:
I sold Oracle's middleware stack. So, it's a very tech forward sale, which was helpful to learn that quickly. But not so helpful for closing deals and identifying prospects. I was in a lot less closing cycles. I probably wasn't even making more money than ADP cause I was closing less deals. They were just more strategic. But I got to learn a lot of tech very fast. And the lingo and how it's described in a sales process more so than when here we're talking about features, benefits, solutions and stuff after uncovering pain but not necessarily aligning solutions.
Marc Gonyea:
Did you ever regret, or did you ever think you might ever regret leaving ADP?
Richard Reece:
No.
Chris Corcoran:
Where were you? Where were you? So, was it was all over the phone?
Richard Reece:
Yeah. Well I had my territory encompassed Florida too. So, whenever I had conversations with customers or prospects in the South Florida area I would try to structure or schedule some meetings during times. I was planning on going home anyways and I got Oracle to pay for a business trip. To go see my parents. But I'd also go rent a car and drive to Miami Dade county's IT department and have a meeting there. So, it was 99% over the phone, but occasionally I was able to swing some in person meetings, which I liked a lot better, which reinforced I need to get in the field, get back into the field.
Chris Corcoran:
So how long were you at OD?
Richard Reece:
About a year and a half less time than I probably intended to when I first started there. I'm sure that there's tons and tons of great jobs at Oracle. That one wasn't one of them. So eventually I started trying to think about my exit strategy and see what was out there and had enough success at OD to give myself time to really look for something that fit well.
And I ended up in Informatica, so actually one of the guys on my team at OD had some family connections to Informatica and he didn't want to start there first because he didn't want to be seen as kind of a prerogative of his dad's nepotism. But anyway, so once he was very successful in OD and he decided to just make the jump into a field role at Informatica. And he had been there for maybe about six months before he approached me for a role that was available in New York. And I didn't really want to move. I had just started dating my now wife and was not interested in leaving the area for the first time really since I first moved here.
I was always open to anything. I almost moved to New York city four or five times in the last 10 years based on potential jobs. I ended up not taking. So, he said, okay, I'll keep my ears open for anything more in this area. We don't have to move.
And then couple months after that he got back in touch and said that the person who was covering this area had left the position. They've been successful in the role; you know he thought that the company was poised to do big things and he was liking it and thought that I would be a good fit for the role too. So, he introduced me to the manager of that team. We started talking and you know, kind of went from there. So, I was sort of passively looking, just looking for a great opportunity and then it showed up so I put it in.
Marc Gonyea:
What are you selling now? It was a quick, the quick and dirty version.
Richard Reece:
So Informatica in general is all things, data management started off as a company to help. When you have various software suites that maybe weren't engineered to work together to share data, but it's critical for your business that they do.
That's sort of the backbone of where Informatica started, is to help those two systems talk to each other and share data. But as you start to do that, other challenges arise around if there's a similar data sources where let's say your name, address and email are in four different applications and maybe they don't agree in all of them because you only update one of them or your sales rep is maybe the most active person to update them and that's where the current information resides.
Well, you can have some real challenges figuring out what's the best information source, right? And there's, there's a lot of different things we converted a table around it, but basically it comes around. Data resides in siloed systems and you want to be able to combine that data in an easy and thoughtful way to then get value out of it. And that's essentially what Informatica does at a high level.
Marc Gonyea:
I know you're doing real great there and we're going to talk about that, but I wanted to hear some, give some feedback and some insight from you on things because a lot of people who are listening are folks who are SDRs now who want to figure out how they can get into the next role. And what it takes are people who are thinking about coming to work as SDRs and maybe questioning whether or not they want to do it or not.
But one question would be, when you made the transition from an SDR at memoryBlue into that closing role at ADP, what were some things you had to learn that you didn't necessarily learn how to do when you were an SDR?
Richard Reece:
That's an interesting question cause I thought about that a lot when I first started at ADP because I had a little bit of a learning curve, which I guess is typical for a job. But it was a very transactional sale and all of my sales training up to then had been more in a consultative level and I was seeing people having success more in the mode of sort of this, what I thought was a typical salesperson before starting at memoryBlue, which is more of just going for the kill, ABC, all that kind of stuff.
And so, I had to kind of think about reconciling the theory of everything beyond initial meeting, which is really what I was focusing on so hard here to apply closing deals, actually getting, pen to paper in reality. And so the challenge there was to just to reconcile those two concepts and sort of find my own style and path and way forward using what I knew would work, but also knowing that I didn't have the frame that a strategic IT project can afford you to qualify and find, if I ask somebody what is your, what is the business value to you of or lost business, a consequence of sticking with recurrent payroll provider, they probably say, I have no idea what you're even talking about right now. I'm selling to people who are blue collar workers, stuff like that.
Some of the things that we talked about where you initially resisted making a move, it was because the things I was talking about weren't relevant to you. And if they're not relevant to you, then why are you going to make the effort of something that could be potentially kind of pain? I have to find value for you in overcoming that. And so the main thing that I wanted to avoid was making that value purely just a discount compared to your current provider because that's not sales, that's how you rack up close transaction numbers but not revenue numbers towards your quota.
That was one of my big challenges was just sort of becoming closing oriented versus here I was oriented towards just closing for that first meeting and then kind of think about the big picture rather than just my piece of the puzzle.
Marc Gonyea:
What about the boss versus the job? Is it better to have a great boss at okay company or at a great company and an okay boss?
Richard Reece:
I mean, I don't know. That's a good question. I think that a good company and a good product can carry you pretty far cause this is going to get you in front of people and people are going to be decided on your product before they even talk to you as long as they don't hate you. Or you're not trying to rip them off or something like that.
But at the same time a really good approach and being selective about the opportunities you chase can help you overcome a so-so product by leaps and bounds if you just focus on the right opportunities. So, I wouldn't guess that having a good boss in general is going to help you a lot more just because if you have a great product, you're going to do that much better. And if you have a so-so product, they'll at least help you get to where you need to be by helping you focus.
Marc Gonyea:
I mean it's important to know because some of the folks, I'm always going back to the SDRs that are leaving memoryBlue and sometimes they chase the base. They're not even thinking about where, what was this job may take them or it might be a higher base and then there no ability to make more and they're not going to instill some sort of sales mindset because they're just living off their base. Some people, the company can be phenomenal but the boss is a little quirky or the boss's great, but the companies might be on shaky footing or it might be really early to the market and my advice is I think you all should look for a role where you can get into the next step which is closing and you went to that right away, which is you recognize that I said that was free minute at the time.
I thought maybe you were a little crazy for it, but it totally worked out for you and I still think it was a good move. So, you're also dispensing some advice and feedback to other people who are working here or thinking about working here who don't want to hear it from their manager, from Chris and Marc. They want to hear from somebody who, Chris and Marc you guys have been working 18 years.
Richard Reece:
I think it's different for everybody too, for what they want to do. I mean you see who could take the path of what Nimit's done. I don't think Nimit's really closing business. Maybe he is, I'm not sure. But he's more so kind of taking what he knows as he could probably jump into doing the hands-on work for any account really. Because he knows it so well in the process. But then being at many places at once by managing a team, I mean think that's just as valid as closing deals. It's just more so what do you think is suited for your personality and what you want to do and, and your risk appetite and all that kind of stuff.
Marc Gonyea:
So, you've got, you've closed a lot of deals. Through your career. What's your favorite or most memorable?
Marc Gonyea:
You obviously.
Chris Corcoran:
That's not the case.
Richard Reece:
That was a good high note to go out.
Chris Corcoran:
That was a three-year sales cycle.
Richard Reece:
Pretty much. You've been my most strategic and long-term sales cycle.
Chris Corcoran:
The best thing about it was that you were able to know or figure out that I was not a decision maker and then you sold the decision maker and got the deal done.
Richard Reece:
Well I think you made the decision, but I found a key influencer.
Chris Corcoran:
So other than other than the ADP deal with memoryBlue, what's your most memorable or favorite win?
Richard Reece:
That is a good question and I probably one I should've prepared for, but I'm not, I think there's two deals that have been kind of signature wins that I've had both at Oracle and now at Informatica that have kind of helped me make a name for myself internally. And the interesting thing is I think they both kind of started in a similar way with working with the customer on some kind of less strategic low-level stuff. They found us through Googling something about what I was doing at Oracle or what I'm doing now at Informatica and just sort of said, Hey, why not? I'll go on the contact me. Well, you'll see what the deal is, you know, a science project, right. Not a real strategic type of project.
And finding out through probably opportunities I would not pursue now wasting a lot of time essentially that they weren't supported. There was no budget, the needs were kind of there kind of not. I was doing free consulting essentially and kind of just feeling I had a bad taste in my mouth from it and being able to just point in the process.
And then nine to 12 months later, them coming back and this happened with both opportunities and saying, we have this strategic project. You know, it's part of a, really high level, whether it's a CIO at a state agency at Oracle or through a Chief Data Officer for what I'm doing now at Informatica is pushing for a transformative project and we want to talk to you about specific things within your portfolio and clearly having done their research.
And initially I was kind of looking at its side eyeing a little bit, trying to understand am I heading down the same path again? And really having to go back to basics and qualifying some of these deals and then finding out through that process that these are absolutely real funded deals. And quickly getting into past proof points and everything that and into negotiations and things like that. But the result for both of those was an Oracle. I closed $1 million deal for a pretty niche technology that's not really all that popular anymore, but it was really important to this agency. It's, it's a service-oriented architecture that kind of stuff.
And then at an Informatica, I closed a recent deal in March of last year. It was a $2 million annual contract for a company that has $300 million revenue. So, it was a huge part of their business that they are committing to doing with us. And that was at the time and I think it's still is the largest deal that anyone like in my team or my other teams in North America. It was the biggest deal that had been closed.
Marc Gonyea:
310% quota, 2019 top 10 worldwide commercial rep of the year. El presidente club. 2018 119% quota, El presidente club, 2017 100% of quota. Reece you're lighting on fire man, it's great to see. So do you think those two deals, the Oracle one and the Informatica one, are those a byproduct of you getting a little bit lucky or you build some relationships with these people and you help them and maybe if this guy agrees, knows what the hell he's talking about or the product works so well. I don't think it's luck, but what do you think that same opportunity may present itself to a similar sales professional and it may not end up that way. So, what do you think it is? If you had to boil it down in 15 words or less, why did that happen twice?
Richard Reece:
So I think chance is involved in a lot of big opportunities, not luck necessarily, but then seizing that opportunity to, to qualify it out and making sure that it is business you want to go after and go after hard is probably the primary thing that made those deals bigger. I could have treated them more transactionally and just thrown out some much smaller number to get the deal done and they would have been ecstatic, I'm sure to save some money, but I would have been less well compensated for it. So, I think that that's the big thing about closing big deals is not necessarily recognizing the opportunity, it's qualifying and finding justifications to charge a higher price. And recognizing the business value there that that maybe without thinking about it a little more deeply, you may miss.
Chris Corcoran:
So, question, we talked about the wins. What about, is there a loss most memorable or one that haunts you?
Richard Reece:
Well I mentioned before, I have a bit of a goldfish memory. You can call it out what you want. Closer's mentality. A quarterback if they get burned on a deep pass, can't ask out of the game. You gotta you got it right back out there. I try to learn from the losses and then as much as I can forget about them, but there is one from last year that kind of would have been a repeat of that big deal I referenced before and it would have, I probably would have been the number one rep worldwide in the company if that deal closed.
It was a current customer, really good relationship. I met with them several times on site. I had a meeting with their CIO who introduced me personally to the person who was leading the project. I thought it was a slam dunk. I thought it would be one of the easier deals I'd close in general. We went through the technology, crushed in all of our custom demos and stuff. We had a full day workshop brought in lunch the whole thing, taking the vultures off of the lunch spread the whole deal in your office. And we get down to the wire.
Procurement proactively contacted me and said, Hey, we're working together, looking forward to it. Buddying up to the guy and they tell us that we finished third out of three and I was floored by that. So, come to find out that and looking through their board of directors, the CEO of a major competitor was on their board.
And we still don't know the answer. They're still a customer. They're still one of my customers. But our suspicion is that we were never really in the running in the first place. Despite all of that stuff that they committed to doing. And so, one of the things that that taught me was that I probably got a little complacent. I had just closed that huge deal.
I thought I was the best there ever was and it looked like it was going to happen again. And I probably skipped some steps in qualification and trying to weasel out some of the weaknesses in the deal and just thought we were going to go crush it again and then I could take the rest of the year off basically. And it definitely didn't happen.
So that one was the one I learned a ton from. I've referenced it probably every QBR I've done since because it's a huge learning experience. And that was actually one of the catalysts for me for going back and revisiting Ganesh and all that stuff. You guys still use that same recording?
Chris Corcoran:
We still have it, you know, of course we need to bring it back out.
Marc Gonyea:
Chris and I were talking about this because we've got in many ways so sales development, SDR, is not the name that we had when you worked here. It's a much more accepted role in high tech, much more accepted. I mean, there are companies that are just one might go public because it's just a tool that SDRs use and there's conversational analytics. Reps can record calls and it can be chopped up by instantly transcribed and then we can run reports on words that your reps use and how do you sound and charts of how much do you talk versus the rep.
It's pretty different from how you recorded calls back in the day when you worked with us. I feel in some ways we do a lot, the training is so much better, but some of the hardcore tactics. You got to stay focused on those things.
Chris Corcoran:
So, in the abstract philosophical pieces that you're still referencing today, but a lot of what's gone on the floor is a quick book mentality. A quick book mentality of just book the meeting.
Richard Reece:
That's how they get paid. Comp plans dictate activities, right?
Marc Gonyea:
So, we score leads out. So, we do Sandler it's at our core, but we don't teach Sandler per se. So, our modified version of it perhaps.
Chris Corcoran:
But we need to get, we need to bring it back.
Marc Gonyea:
We were talking about reward and reverse two days ago. But I know it's rewarding and reversing and then we're like, you know they may not know. Some of the folks, we were walking the floor. How many people worked here when you worked here?
Richard Reece:
Like 20.
Marc Gonyea:
20 maybe you were coming out of the low of the recession, knock on wood. So, we were in the weekly calls, Chris ran training every week versus now as Chris has been doing it with feedback from Tommy and I. So, the answer, sorry, the answer triggered me. The answer is yes, we still do it. This is why this podcast is phenomenal for, Chris and I, at least for me, because it reminds me some of the things that we need to go back to keep doing. What's helped us get from 20 to 150 people. Back to basics.
Chris Corcoran:
I guess it was '98, 1998 I was selling, and I needed some training. So, I needed some training and my company didn't provide any training. The funny story is I went to Marc's house to watch Monday night football, and on his coffee table was the Sandler book, "You Can't Teach a Kid to Ride a Bicycle at a Seminar." So, I started reading it instead of watching the game. I was like, Oh, I need this book, Marc's like you're not taking mine.
So, I found a bookstore and called it and read the book. And in the book, they talked about how they had these president's clubs across the country call this number. So, I did and that's how I got linked up with Ganesh. He said you have a two day, there's a two day seminar and I went and took two days off of work and I think it was 1000 bucks, paid $1,000 to go and got cassettes and listened to those things through the years, the years we were able to eventually upgrade to CDs and then you know, the rest from there.
Richard Reece:
So, I got it on my phone. I don't like having saved music on my phone. I just use Spotify, but the only tracks on my phone are Ganesh and Costigan.
Chris Corcoran:
That's a great point. I'm loving this because whenever we expose people to training material and Richard, you have the grades and GRE scores to prove that you're one of the smartest people that's worked here. And yet when we typically give people this material, I ask people, Hey, did you listen to it? Answer was like, yeah, I listened to it. They listen to it once and they think that that's enough and that they got everything. Well how many times? Once. Versus here you are and you're listening to it years later, multiple times, and you're taking kind of what you've been giving and really maximizing that. So, it says a lot about you. Maybe that also hopefully leads to why you're so successful.
Marc Gonyea:
Hopefully people listening will learn a thing or two, just not to be condescending. That reminds me I used to play for my kids when I had it in the CD. But it'll wear off. With them talking to people in the car on the carpool, how to ask questions and pull, pull things from people.
Chris Corcoran:
Since you've left, there's been kind of an explosion around SDRs in the industry. And you'll hear some SDRs make the declaration that the prospecting and the initial meeting and being an SDR is the hardest part of the sales cycle. What would you say to that?
Richard Reece:
I would say that most people's opinions on what's difficult in something is based on their personal experience. Well, I'd like to think I might've been more open minded and realized that there were parts of a sales cycle I wasn't familiar with. There's a good chance that when I was here, I would have said that this was the hardest part.
I remember wanting to get into field because I thought when would talk to the reps that I worked with who were all great, but I didn't see that there was some kind of huge jump in my mind to doing what they were doing. And it was a lot more than I probably realized at the time. But I didn't see it. Yeah, I was impatient. I was doing well here; confident I could do it.
And I thought, well, if I can do this, all I do is just apply the rest of the methodology. And that's how you close deals, which is kind of true but also insanely not true. There's so much nuance there. And so, I just didn't know what I didn't know. And so, based on my experience, I guess that makes sense. But now seven years later or whatever, it's absolutely not the case.
Chris Corcoran:
What about your contemporaries, you from your old memoryBlue days, what's the biggest mistake you've seen the people that you were at memoryBlue with make in your opinion?
Richard Reece:
I don't know. My guess would be for people who have not gone the way that they would want to or something like that or hop around a lot. My guess is they're probably chasing a higher base and moving jobs. As soon as the recruiters show up. After nine months or so company's fiscal years start to come around, they've cut off whoever was underperforming or didn't meet their metrics and now they're looking to fill out teams before sales kickoff. They want to have a full team and that's a great way to consistently get a 10, 20% bump to your base every so often.
But in my experience, the real money in sales is not getting to your base rate ranges in your commissions. Wherever your accelerators will kick in. That's when you really make money and chasing the base, you might luck into a great opportunity where you can really blow out your actual number more so than just having a nice base and, and letting someone who makes, whatever base might be 130K or whatever it might be. That's a great living. But if you can get to 300 or beyond on that, by blowing out your number, that's night and day, a different type of lifestyle, if you can replicate that.
Marc Gonyea:
That's gold Klotz we're snipping that feedback and advice for everyone. What's your favorite memoryBlue memory? Is it the lodge? Did we say it already?
Richard Reece:
The lodge was cool. Don't tell him I said this. I think seeing Nimit become really successful on his own and not have to come and talk to me about every conversation he had. We had our weekly meetings on Friday, everybody would have a beer or whatever in the Lodge and listening to his call and realizing he hadn't brought that call to me, but he crushed it. Before I'd be like, why didn't you reward reverse there? You should have gone negative. What's this? What's that? Why is your ala carte terrible? I know I pretty harsh on him.
Chris Corcoran:
He was your mentee?
Richard Reece:
Yeah.
Marc Gonyea:
So, for the folks listening, we still do this. You have a mentor and a protege and Richard was the mentor. And little Nimit was the protege.
Richard Reece:
So, seeing him kind of grow into becoming a powerhouse in the account, I would assume in some ways he kind of replaced me as sort of leading the account and then his role now, that's pretty cool. So, I guess that's sort of just a broader feeling than one memory, but I thought that was pretty awesome.
Chris Corcoran:
That's good. Well said. That's good. I think that's it.
Marc Gonyea:
Dude. Cool. You are a student of the game. Thanks for coming by.
Richard Reece:
Sure, sure.