The Professional Sales Internship That Gets You Noticed
It's Fall, and that means college students everywhere are returning to campus and soaking up all the experiences that come with this fantastic season. From reuniting with old friends to taking on interesting new challenges in the classroom, undergraduates count these days as some of the best days of the year.
At memoryBlue, this is one of our absolute favorite times, as well. Our Talent team is visiting a massive amount of campuses and attending college career events all across the country right now. We absolutely love meeting tomorrow's sales stars! But even better than that, this higher education campus tour allows us to catch up with our recent crop of professional sales interns who spent time with us this past summer.
And what a group of interns it was.
Spread across multiple offices, memoryBlue employed 11 enterprising undergrads this summer. Each one of these students performed very well and received a first-hand immersion into the world of high-tech sales. Things went so well this summer, in fact, that many of our interns have elected to launch their sales careers with us when they graduate next May!
While we're thrilled that they are joining us in the Spring, this means our summer 2020 internship positions are officially open.
If you're a motivated college undergrad interested in the abundant opportunities available in the world of high-tech sales, there's no better place for you than in a memoryBlue professional sales internship role next summer.
The Gold Standard for Professional Sales Internships
That's our goal for the memoryBlue professional sales internship program. But like everything else about our company, this internship experience is a bit different than your garden-variety summer job. We're looking for college students who want something big out of their summer employment – a true stepping-stone towards a career path and a major opportunity to earn actual on-the-job sales experience.
Here's a closer look at what the memoryBlue professional sales internship role is….and what it is not.
What It Is:
A "Hands-On" Experience – memoryBlue interns slide right into a Sales Development Representative (SDR) role from the jump. This role is active and thoroughly engaging, offering participants a real slice of the professional high-tech sales world. Interns learn, practice and execute a multi-touch sales cadence shoulder to shoulder with professionals doing the very same thing. The position builds strong sales skills and the experience gleaned here can transform your future.
Tangible Results, Big Rewards – Our professional sales interns surface business opportunities in a high-energy environment that veteran sales executives ultimately close as new revenue. These are five, six, and seven-figure deals that take 90 days to 18+ months to close. Interns work directly for an experienced manager who once was a top-performing SDR, and they have monthly sales goals to help benchmark progress. And interns get performance bonus opportunities that can lead to major cash, too. In fact, we have had interns earn paychecks north of $3,000 in one single pay period!
Professional Sales Training – Interns complete an intense sales training course where they share the acclimation and ramp up experience with others in a cohort. It is the exact same training we put every new hire through, step by step. This ongoing education is led by a dedicated sales trainer with direct experience in professional sales. The training fosters a culture of continuous learning through mediums that undergrads are used to: e-learning, tutorials, videos, live sessions, Ted talks, articles, audio recordings, practical application of techniques, shadowing, homework assignments, and role playing.
More Training – Alongside the training course, professional sales interns experience a wide array of ongoing activities which build upon lessons learned. This includes our highly focused weekly staff training sessions. Here the whole staff takes active part in presentations on professional sales best practices, dissects sales calls, and discusses industry changing sales materials.
Unique Benefits – We aim to enhance the summer internship experience at memoryBlue in a variety of ways. This includes participation in our award-winning culture events, direct access to company leadership, special intern-only happy hours and social outings, intern-focused fireside chats and guest speakers, and even the ability for interns to earn their way on to our twice-per-year TOPS Trip (multiple interns from last summer are headed with us to Cancun in December!). Professional sales interns earn base pay and uncapped commission opportunities during their time here much like full-time SDRs.
What It Is Not:
A Hide-in-the-Corner Admin Job – these summer internships are a dime a dozen. Not much is expected (or asked) of the individual, not much of worth is produced, and your talents go dramatically underutilized. The job may be relatively easy, but it is mostly mindless and there won't be many lessons learned beyond how to make coffee and copies.
A Role Future Hiring Managers Won't Care About – house painting, lawn mowing, retail shelf stocking, and restaurant server gigs will all earn you money next summer. Unfortunately, you'll be hard-pressed to explain the significant professional skill growth and experience you accumulated during your few months on the job that is highly applicable in a business setting. memoryBlue professional sales interns accumulate direct experience and training that matters in the competitive job market.
A Stuffy, Lifeless Work Environment – working in drab, quiet office settings surrounded by practically nobody your age or stage of life usually means less camaraderie and longer days (let's face it – if it's boring, your days will feel downright endless). That job may earn you a few bucks, but it will feel like a continuous chore most days. The environment at memoryBlue is energetic and the atmosphere is continually buzzing with major sales activity.
Are You Ready?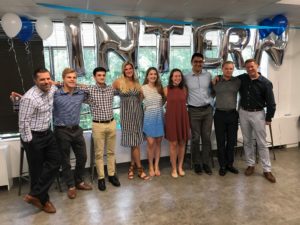 If you're looking for a rewarding challenge and professional experience you can take to the bank, the memoryBlue professional sales internship program is for you. Summer interns become part of our company fabric during their time in our offices and have a great shot at earning a permanent position with us after graduation.
Spots in our 2020 program will fill up fast and we plan to fill these competitive roles with highly motivated undergrads. This is a career opportunity, not just another summer job.
To apply for the memoryBlue professional sales internship program, please send an inquiry email to talent@memoryblue.com and include your: current school, expected date of graduation, preferred office to work out of (VA/CA/MA/TX) and current resume.
Kevin Harris is the Director of Marketing at memoryBlue. A seasoned professional with over 23 years of experience in public relations, marketing and content management, Kevin oversees all major internal and external communications programs for the firm. He holds a Bachelor of Science degree in Communications from James Madison University.